How Elite Athletes Come Back After Childbirth
For the first time, the International Olympic Committee is researching what it takes for new moms to return to high-level competition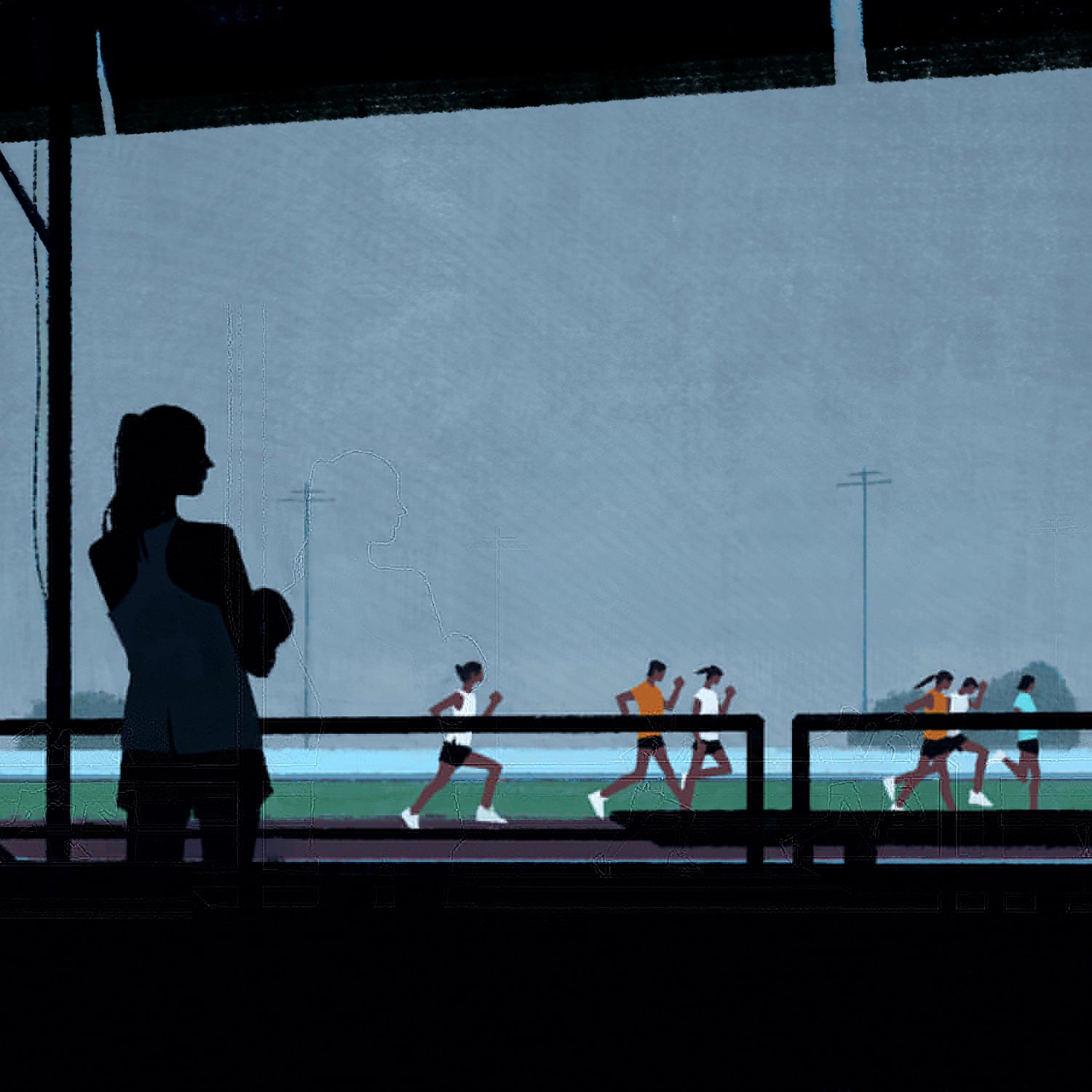 Katherine Lam(Photo)
Heading out the door? Read this article on the new Outside+ app available now on iOS devices for members! Download the app.
On the morning of August 14, 2017, pro triathlete Gwen Jorgensen, heavily pregnant and two weeks past her due date, went for a bike ride. It was a mellow ride, but still, she was out there. The year before, she won Olympic gold in the triathlon at Rio, then took off the next 12 months from racing after she found out she was pregnant. But Jorgensen kept running and biking throughout her entire pregnancy—she stopped running just three weeks before her baby was born, due to a strain in her Achilles. After the August bike ride, she went to the hospital and, per her doctor's orders, was induced into labor.
Two days later, Jorgensen was still in the throes of childbirth. After 4.5 hours of pushing, her doctor suggested either using a vacuum extractor or going in for cesarean surgery. Jorgensen and her husband, Patrick, decided on the vacuum, a rare intervention these days, used in less than 3 percent of births.
Their son, Stanley, arrived soon after, healthy at seven pounds, ten ounces. But the birth had taken its toll on Jorgensen. She spent an hour getting stitched up and remained in the hospital for six days due to high blood pressure, fever, and other physical complications. (Most women stay in the hospital for just a couple days following a conventional vaginal birth.)
Eighteen days after Stanley was born, Jorgensen went to the gym to attempt a workout on the elliptical. "In my head, I always thought I would be running ten days after giving birth, and it actually took six weeks until I was ready," she says. On her first post-birth run, Jorgensen jogged for a minute, followed by four minutes of walking, and repeated that pattern for 20 minutes.
She spent a lot of time working on strengthening her pelvic floor muscles, which are under a great deal of pressure during pregnancy and birth. "Dealing with the new baby and trying to recover from the birth was a lot to handle on both a physical and emotional level," Jorgensen says. "That first month trying to get back into training seemed like an overwhelming mountain to climb. I didn't think I was making any progress."
Eventually, though, she did. In November, less than three months after having a baby, Jorgensen announced via Twitter that she was switching sports. Her new goal? Olympic gold in the 2020 marathon.
---
It's a common narrative: The endurance or outdoor athlete who returns quickly to her sport after giving birth, with apparent ease and often great success. British distance runner Paula Radcliffe started running again 12 days after welcoming her daughter. She won the 2007 New York City Marathon nine months later. At the 2011 Boston Marathon, American runner Kara Goucher set a personal record and finished in fifth place just seven months after delivering her baby. American Nordic skier Kikkan Randall had a son in April 2016 and came back to win the bronze medal at the 2017 world championships in February. This February, Randall competed at the 2018 Olympics as the only mother on the 244-person U.S. Winter Olympic team—and went on to win her first Olympic gold.
Yet there's a wide spectrum of what recovery from childbirth actually looks like, in both elite and recreational athletes, and there's no straightforward rule for when women should return to sport after having a baby. Many women, pro athletes or not, seem to return to normal quickly after giving birth, but in some cases, the recovery is much more complex and prolonged.
Take the case of climber Beth Rodden, who spent months recovering after having her son, Theo, in 2014, and didn't return to climbing challenging routes until more than a year later. "I was under the assumption that since I was an elite professional athlete, I would get back to normal quickly after birth. I had friends who went on a monthlong bouldering trip to Europe when their baby was two weeks old," Rodden says. "For me, the first few weeks after birth, I couldn't walk around without extreme pain and pressure and feeling like my insides were going to fall out."
"That first month trying to get back into training seemed like an overwhelming mountain to climb. I didn't think I was making any progress."
Rodden says it took her several months before she could even hold Theo without pain, and breastfeeding was a nightmare at first. "I was pretty much a wreck and in fight-or-flight mode for a very long time after Theo was born," she says. "I couldn't even imagine climbing, and in some ways I felt like such a failure because I saw other moms just bounce right back."
Middle-distance runner Sarah Brown has a similar story. At 29, she became unexpectedly pregnant during the peak of her career. Brown trained throughout her entire pregnancy, which was documented in an ESPN video series Run Mama Run. She even ran ten miles the day before she went into labor. Brown gave birth to her daughter, Abigail, in March 2016, then returned to training one week later to start prepping for the Olympic Trials that July. "I'd seen other women come back from pregnancy and run very strong," Brown says. "You think you're going to feel amazing because you don't have this giant bowling ball in your stomach anymore, but I was still running in that pregnant-runner form. It took a lot of work and drills to get my normal stride and form back after having a baby."
About six weeks after her baby was born, Brown suffered from multiple stress fractures and was diagnosed with a rare condition called postpartum osteoporosis. At the Olympic Trials, a bone issue in her Achilles, caused by the osteoporosis, forced her to run in devastating pain. She finished last in her heat and failed to make the Olympic team. "There wasn't regret. I'd done everything I could," Brown says.
Brown had Achilles reconstruction surgery in December 2016 and is just now getting back into racing, with an eye on the 2020 Olympics. "My personality is such that I like to know what I'm doing next. I don't like things to be touch and go. I want more certainty," Brown says. "But I can only do what I can do each day and see where I end up. It's very humbling."
---
Professional athletes are now competing well into their late thirties or forties in some sports, so it's no surprise we're seeing more women balance motherhood with being a high-level elite athlete. Women are no longer forced to give up their running, triathlon, or climbing careers because they've had a baby. Because of this, in 2015, the International Olympic Committee held a first-of-its-kind meeting to look at the research surrounding exercise during pregnancy and returning to competition after childbirth for elite-level athletes.
Kari Bø, a professor of sports medicine at the Norwegian School of Sport Sciences, authored a report from that meeting, which was later published in the British Journal of Sports Medicine. "For the first time, this consensus report on exercise during pregnancy and in the postpartum period is addressing all the different illnesses and problems women may meet," Bø says.
Traditionally, women have been advised to abstain from intense exercise until at least six weeks postpartum to let the body recover. Bø's report declares that the six-week window is just an "arbitrary time point" and states that many athletes start exercising again even earlier.
Before Bø's report, there were very few studies conducted on elite athletes doing high-intensity training during pregnancy and after childbirth. These women simply weren't studied. So the findings are novel and broad—the report addresses everything from how serious exercise affects the ability to breastfeed (it doesn't), how body posture and anatomy change during pregnancy (mostly in changes to the pelvic floor muscles), and when elite athletes return to the same level of performance as pre-pregnancy (that depends). The key takeaway is this: The fact that the IOC is acknowledging these complex issues for the first time and recognizing that each woman recovers at a different pace is a major turning point.
Exercise after childbirth, of course, has been found to be beneficial in many ways, including reducing the risk of postpartum depression and aiding in weight loss, and it's been found to have no negative impact on the ability to breastfeed. Bø does warn, however, that returning to strenuous exercise too quickly can strain the pelvic floor muscles, which generally take six months to a year to recover after childbirth. For athletes returning to training after cesarean births, her study points to issues of abdominal pain, fatigue, and wound healing.
"Elite athletes are at the same risk as all others for these injuries," Bø says. "But the female body has a tremendous capacity for getting back into shape."
Lead Photo: Katherine Lam