How to Mentally Recover from an Injury
For an athlete, being injured is often harder psychologically than it is physically. But the elites have developed a few key tools to help stay happy and sane while healing.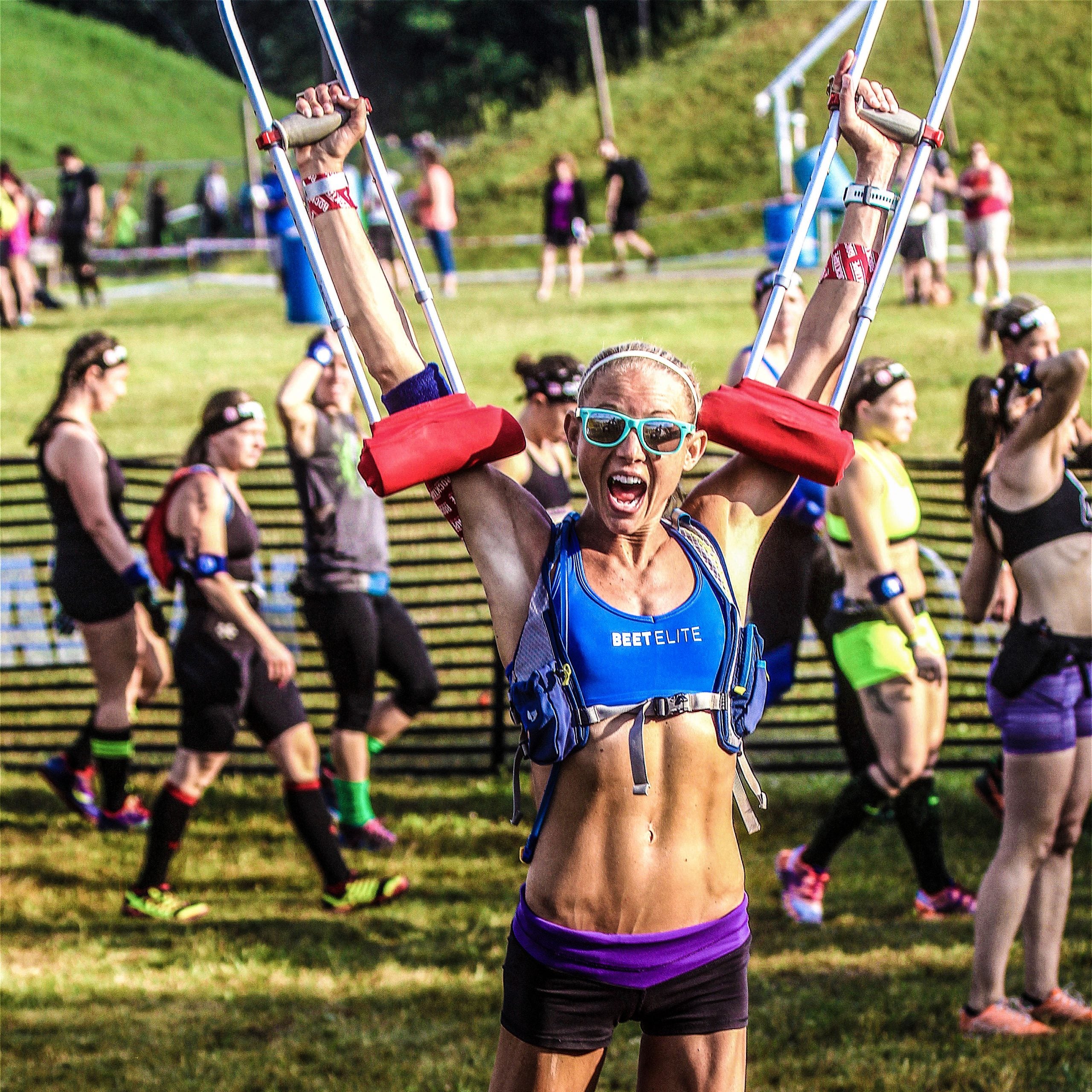 Heading out the door? Read this article on the new Outside+ app available now on iOS devices for members! Download the app.
"Being injured sucks," says world-class endurance athlete Amelia Boone, who, after winning four consecutive obstacle-course-racing world championships, from 2012 to 2015, suffered two successive stress fractures—one in her femur and then her sacrum—that sidelined her for all of 2016. "A body that carried you through so much in the past is now betraying you—it's hard to come to terms with that," she says. "It really messes with your head." 
Injuries, by definition, are a physical affliction to the body. But according to Boone, whose toughness and grit earned her the nickname Queen of Pain, the psychological elements of the recovery process are often harder than the physical ones. This is the case for many athletes. "Emotional recovery isn't really linear," says Carrie Cheadle, a professor of sports psychology at John F. Kennedy University in Pleasant Hill, California, who leads an injured-athlete support group. "It cycles through denial, distress, determination, and often back to denial again. There are lots of highs and lows." 
Though injured athletes work very hard on physical rehabilitation, most neglect their minds. Cheadle believes that this is a mistake, and one that sets them up for a more arduous recovery process and even lackluster performance once they're healed. Fortunately, a handful of practical tactics can help athletes keep their minds right even when they're sidelined.
---
Keep Your Athletic Identity 
When Boone suffered her first stress fracture, in her femur, friends and fellow racers suggested she work on cultivating other interests while she recovered. So she tried to remove herself from the sport as much as she could, going as far as to unfollow just about everyone involved in it on social media. But after a few days, she realized that isolating herself wasn't a great option. "So much of who I am is wrapped up in being an athlete in the endurance-sports community," she says. "It was like I was telling myself a shallow lie by trying to suddenly check out." 
Boone ended up doing the opposite: she continued to immerse herself in the sport—for example, showing up at races to support others—rather than pretending it was no longer a part of who she was. As hard as it is to be on the sideline, it's often much harder to not be there at all. "Losing your ability to do your sport is bad enough," says Cheadle. "You don't need to lose your community, too."
Cheadle also encourages athletes to put the energy they normally reserve for training and competition into recovery. "Recovery itself becomes the sport," she says. "This not only ensures they adhere to whatever rehabilitation process is prescribed, but it also helps them maintain their identity as an athlete." 
---
Focus on Joy Over Pain
Trying to deny the frustration and grief that accompanies getting hurt is a fool's errand. But that doesn't mean you can't consciously direct your attention elsewhere. "If you focus on the positives in your life, and give yourself permission to have some joy, it makes you realize that everything isn't shit," explains Cheadle. It may sound a little cliché, but it works, and Cheadle says it's often as simple as focusing on something that makes you happy outside of sports. She also says that keeping a gratitude journal and writing down three things you're thankful for every night "can help focus your attention away from your injury." 
Early on in her injury process, Boone says she caught herself starting to "spin into this cycle of rumination that made it seem like my life was over. But then I'd step back and realize that was nuts." She began wearing a bracelet that says, "The struggle ends when the gratitude begins." She started to spend more time reflecting on how lucky she's been to compete at such a high level—"Whatever happens in the future, no one can ever take my four world championships away," she says—and began mentoring younger women in the sport. "I realized that a lot of my emotional pain was self-inflicted and I could ease it by diverting my mental energy elsewhere," she says.
---
Maintain a Daily Practice
For many people, exercise functions as a feel-good drug. "When you're injured, not only are you feeling down because you're hurt , but in many cases you can't do the one thing that normally makes you feel better—it's a real double whammy," says Cheadle. She encourages athletes to do what they can to stay active—within the confines of their injury—even if it means something like water aerobics or riding an exercise bike. If that isn't an option, Cheadle says it can be helpful to adopt a mindset of "from obstacle to opportunity." She asks athletes: How can you use this additional time in a way that you'll feel good about? Injuries also present the opportunity to teach athletes not to be overly dependent on exercise. "It's a forced chance for athletes to round themselves out a bit, to develop other practices," Cheadle says. 
When Boone was dealing with her stress fractures, she tried swimming and cross-training, but she also realized that she needed to give her body plenty of time and space to heal. "Movement is such a central part of setting the tone for my day," she says, "so it was hard to let go of that a bit." Instead, Boone took up a daily meditation practice. 
---
Don't Think About Coming Back—Think About Moving Forward
Boone is currently in the midst of returning to full-on training and competition, and her last—and perhaps most challenging—hurdle is self-doubt and fear. "What do I fear more than anything right now? Returning to racing. I fear my own return to racing," she wrote in a recent blog post. Boone says her fear is twofold: she's worried that every little ache or pain will turn into a major injury, and that she'll never be the athlete she once was. Cheadle says it's only natural to be hyperaware of pain or soreness after an injury. "It's your body's way of protecting itself," she says. That's why it's crucial to return to your sport gradually, giving yourself the time and space to be more conservative than you've been in the past. Cheadle says it's also useful to take note of aches and pains when they occur and then reflect on what ended up happening after the workout—in essence, proving to yourself that you'll be OK.
As for fears that you won't be the same athlete you were before getting injured, they're often accurate, because the truth is, you probably won't. Boone writes that her friend told her to "stop trying to 'get back' to the athlete you once were. You aren't going to—it shouldn't be the goal. And you will drive yourself nuts in the process." Cheadle agrees, and says that it's liberating to release oneself from the past and focus on what lies ahead. "We can let the past inform our future, but clinging to an idea of returning to an old self only limits what we could be," writes Boone. "Our goal should never be to return to the athletes that we once were. It should be to chart a new course. To build a new identity. To define our own terms."