How the New York Times Got Fitness Wrong
We're siding with the functional fitness junkies on this one. CrossFit and ultrarunning are far from disturbing, ridiculously extreme—or worth writing off.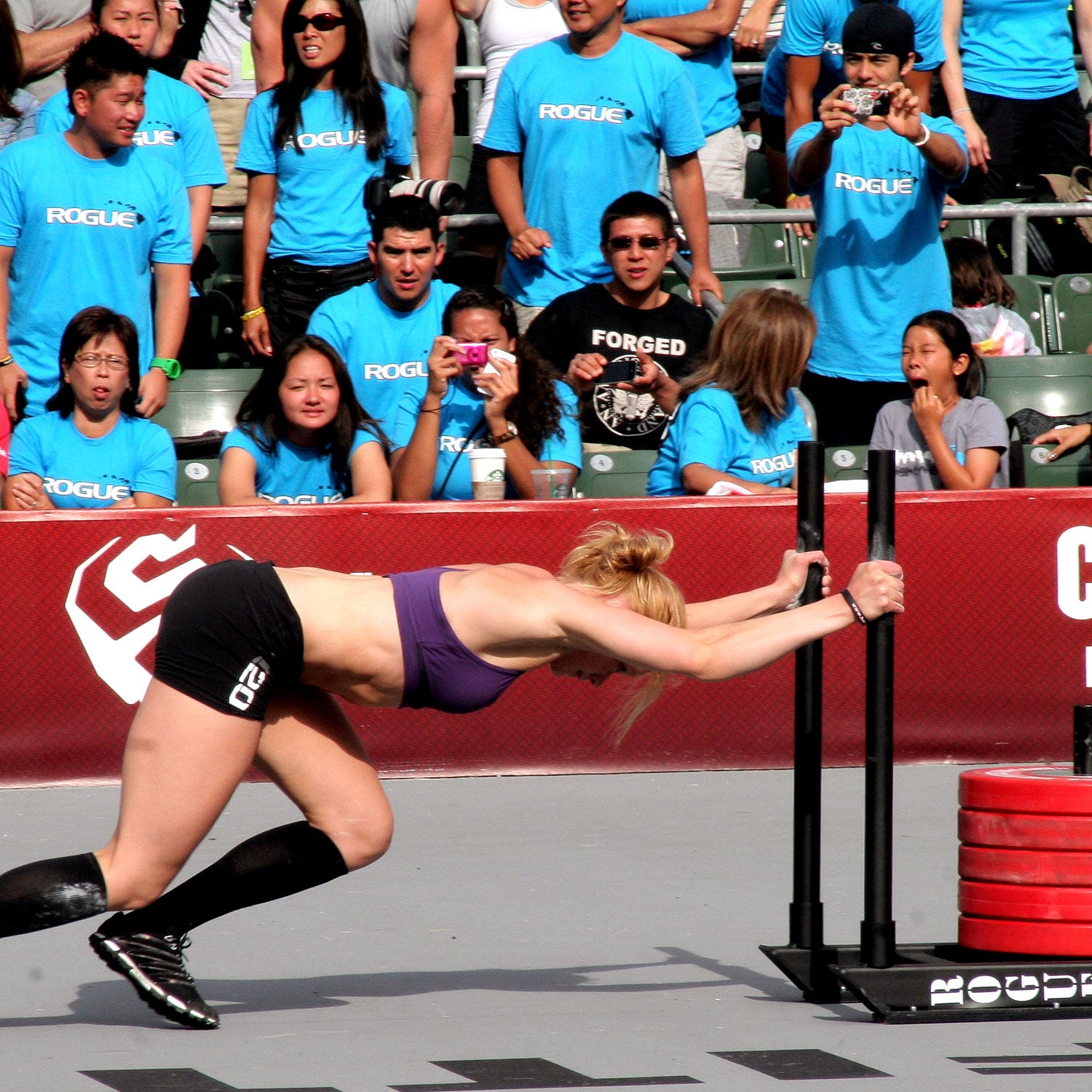 Anthony Topper/Flickr(Photo)
Heading out the door? Read this article on the new Outside+ app available now on iOS devices for members! Download the app.
This week, the New York Times posted an article by New York Times Magazine contributor and Bookforum columnist Heather Havrilesky that attempts to paint the CrossFit-fueled turn toward functional fitness as the latest fitness fad—a troubling shift toward the extreme that is no fun, unduly difficult, and results in endless injuries. She got it totally wrong.
Havrilesky organizes her essay by taking us through the evolution of the "lighthearted" fitness fads that preceded today's "enthusiastic re-enactments of life on a steel-driving chain gang." Those earlier fads, however, were exactly that: fads—fleeting notions of what it means to be fit. Today's functional fitness, I'll show, is an enormous improvement on the trends of decades past. Havrilesky starts in the 1960s, so that's where I'll begin.
Havrilesky states that "fitness culture couldn't have changed more significantly since the late '60s." That is absolutely true. During the '60s, a significant portion of American jobs were shifting from labor-intensive farming to less-active jobs in service industries. Add the "the substitution of the automobile for walking, lifts and escalators for stairs, or television for more physically demanding pastimes," as the authors of a Cultural Geographies journal article on the rise of jogging in the '60s write, and it's easy to understand why America was getting out of shape—and why fitness became a hobby.
During the '60s, jogging emerged as a fitness craze, though back then, like today, the South was slow to join in. Southern states still have abysmal exercise rates 50 years later. Havrilesky's point that her dad was an anomaly for jogging in her small Southern hometown in the '60s is more a reflection of geography than a national trend.
Moving on to the fitness trends from the '70s and '80s, Havrilesky states that "Jane Fonda and Richard Simmons once painted exercise as something fun and faintly sexy," and that "fitness today isn't supposed to be easy," as if difficulty and fun and sexiness are mutually exclusive. It's widely known, though not explicitly said, that CrossFit is practically a dating service. Apparently spending so much time in a steamy box together can be a turn-on.
Finally, in the '90s, she says, "you still worked out to prepare for the beach or the bedroom." Which about brings us to today. "These days," she says, "you aren't preparing for fun or romance. You're preparing for an unforeseen natural disaster, or a burning building, or Armageddon." This conclusion seems to come from a quick read of CrossFit's mission statement ("We have sought to build a program that will best prepare trainees for any physical contingency—not only for the unknown, but for the unknowable") and casual observation ("These days there aren't that many joggers in my Los Angeles neighborhood, but every other block there's another fitness center offering boot-camp classes").
What she misses is that functional fitness is, in fact, a move toward a more sustainable idea of fitness—one that is user-friendly, nondiscriminatory, and encourages people to stick to it.
Yes, marketing efforts have trended toward the extreme, a savvy play to Americans' current and understandable fascination with military culture. If we're using CrossFit as the poster boy for extreme fitness, consider this: Functional fitness e-zine Every Last Rep estimates that nearly half of CrossFitters fall in the 25 to 35 age range. Those millennials grew up in a country at war, bombarded with images of extreme situations where military members from the Navy to the U.S. Coast Guard were lauded as heroes in action. The Coast Guard motto: Always ready—"regardless of hazard or risk in peace, in war, natural or unnatural disasters and whether on duty or not," states an official history of the motto.
Building off that military culture is simply smart marketing. But if you actually look into the functional fitness movement, you'll find something that's most often not extreme, is accessible to everyone, requires little to no monetary investment, and improves motivation to make training part of a regular routine.
Researchers have shown that the group aspect of this fitness movement "can help improve physical and mental health and create lasting exercise routines," the Los Angeles Times reports. None of the fads Havrilesky notes from previous decades came close to covering all of those bases.
Havrilesky, a runner, thumbs her nose at people who would "sprint up sandy hillsides with backpacks full of rocks strapped to their shoulders" and carry jugs full of water to get in shape—without noting that those are two highly effective ways to improve strength and VO2 max by being a little creative and using stuff you already have to create resistance. In fact, rather than an extreme form of exercise, the farmer's walk (carrying jugs of water or something else heavy at your sides) has been touted as a "one-stop shop to excellence in most sports." Adding them to her routine would likely make Havrilesky a better runner.
Finally, Havrilesky cites the copious amount of injuries coming from this "extreme" form of fitness that's taken over. Yes, much has been made about CrossFit's injury rate, pegged somewhere between 16 and 75 percent—a spread exactly as vague and severe as running's 19.4 to 79.3 percent injury rate.
To write off the functional fitness movement as extreme is to get caught up in the marketing and to ignore its daily use—like saying SUVs are extreme vehicles because the commercials show them crawling over boulders. How many people actually take their cars off-road?
Lead Photo: Anthony Topper/Flickr