Sponsor Content: Under Armour
How to Find a Running Partner This Winter
Want to keep training this winter but finding it hard to motivate? Find a partner.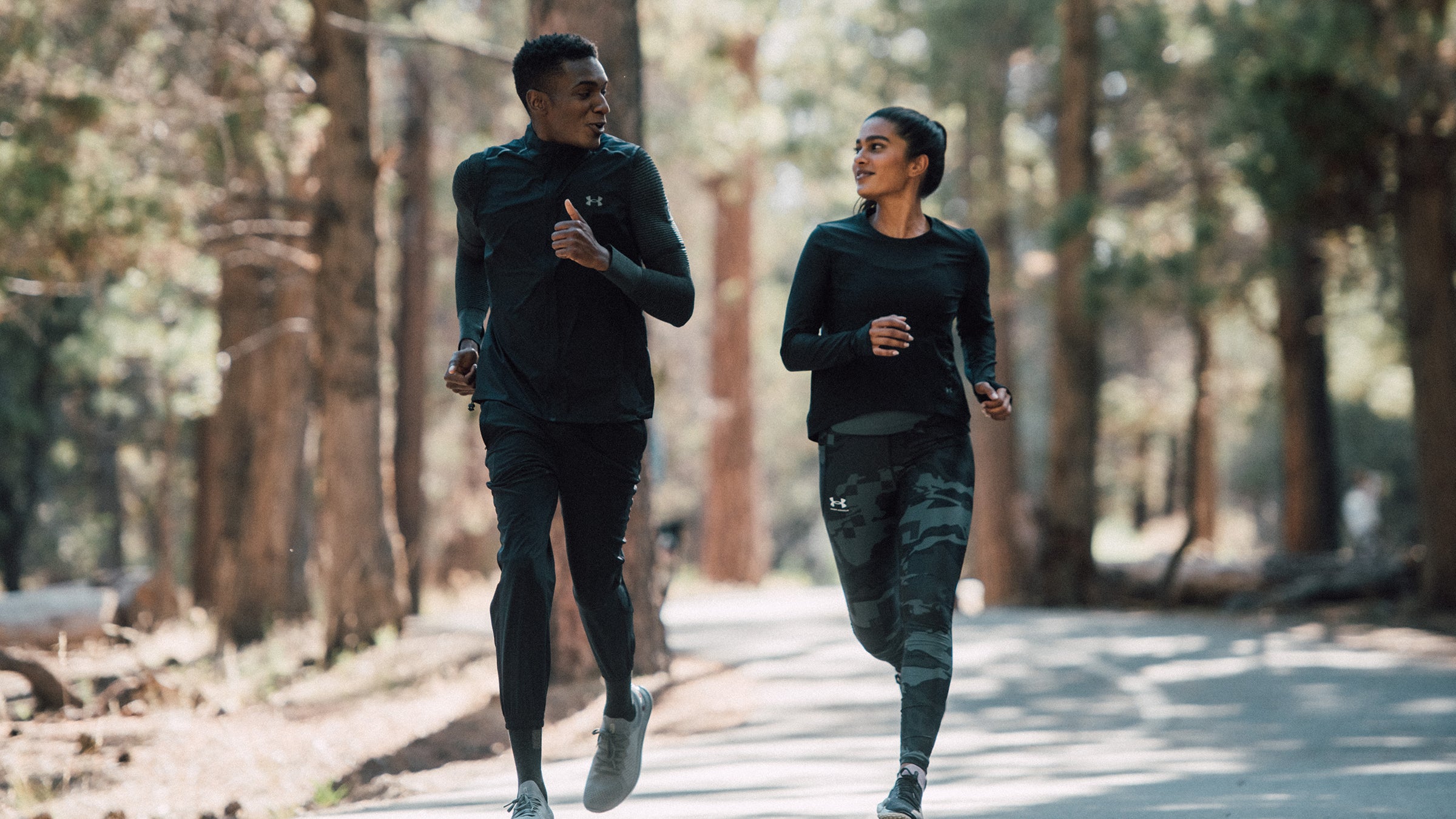 We don't need to tell you that winter can be a tough time to keep your running mojo. The good news? It's easy to find reinforcements. Having a running partner or a group can go a long way toward getting you out the door. They offer companionship, conversation, motivation, and even just someone to commiserate with when the weather is, well, bad. A running partner will help you stick to your schedule, run farther than you might on your own, and turn winter's mileage into spring's results.
Husband-and-wife team Hannah (Under Armour, Sports Marketing Manager: Run) and Jordan Tropf are fortunate: they are each other's running partner. "We motivate each other," says Hannah. "If one of us isn't feeling it, the other can help get you out the door." But you don't need to be married to your partner to run with a companion. Here's how to find a partner or group to keep you in the game all winter long.
Try Local Running Clubs
Ranging in size from a few dozen to well over a few hundred, running clubs often host weekly runs, workouts, training programs, and social events. They're welcoming to all levels of runners and serve as a fantastic way to make a new best running friend. Hannah, who prefers running with others to going solo, reaches out to local groups in Baltimore to find group runs that fit her schedule. "I've made a point of connecting with local clubs and groups and hopping around between them," she says. "It's so much fun to mix it up this way."
A quick Google search can help you turn up listings for local running clubs, as can a search on the Road Runners Clubs of America website, which has a locator for all registered clubs. If you don't strike gold with these searches, try your local Meetup.com. Don't forget local races, either, which are often sponsored by clubs or running stores. Some of these are low-key series where you might end up finishing near the same runners every time you race. These are easy, natural opportunities to strike up a conversation and coordinate efforts. "I've often found running partners during races or training runs," says Jordan. "I just pick up a conversation with them and see where it leads."
Take Advantage of Your Local Running Store
Besides helping the local economy, being a regular at your town running store opens up all kinds of opportunities to find new running partners. Many stores host weekly runs that begin and end at the store. All types of runners usually go to these events, and finding someone with a pace similar to yours shouldn't be difficult. Check out their website for all the details, and if you're lucky enough to have more than one store in town, give them all a try.
If you strike out on a store-sponsored group run, ask the store staff for recommendations on organized runs. They should have all the local intel, and chances are they'll know about smaller groups that meet throughout the week.
Put Social Media to Work
A run didn't happen if it's not on Instagram, right? Start following local runners on social media, and if you get the sense you might be a good fit for a local group or runner, reach out with a direct message. "I've used Facebook to find local groups," says Hannah, "and it has worked well for me."
MapMyRun is another great way to see who's local and where they're running. Tap into the community feed and see who's running what, and where. Because the app seamlessly connects with many of Under Armour's running shoes, you can also zero in on potential partners with a pace similar to yours.
Don't Be Shy
It can be hard to put yourself out there when you don't have a direct connection. But on the whole, runners are a friendly bunch ready to bring others into the fold. The Tropfs actually met at a running camp years ago, and to this day they remain running partners. Whether at the gym, the office, or even your kids' sporting events, that potential running partner is waiting to be found. Together you'll make it through the challenging months of winter—and maybe well beyond.
---
Under Armour, Inc., headquartered in Baltimore, Maryland, is a leading inventor, marketer and distributor of branded athletic performance apparel, footwear and accessories. Designed to empower human performance, Under Armour's innovative products and experiences are engineered to make athletes better. For further information, please visit http://about.underarmour.com.