What It Takes to Climb Everest with No Oxygen
Cory Richards and Adrian Ballinger summited the highest mountain in the world last month—Ballinger without supplemental oxygen. Here's how they trained their minds and bodies to accomplish one of mountaineering's most difficult feats.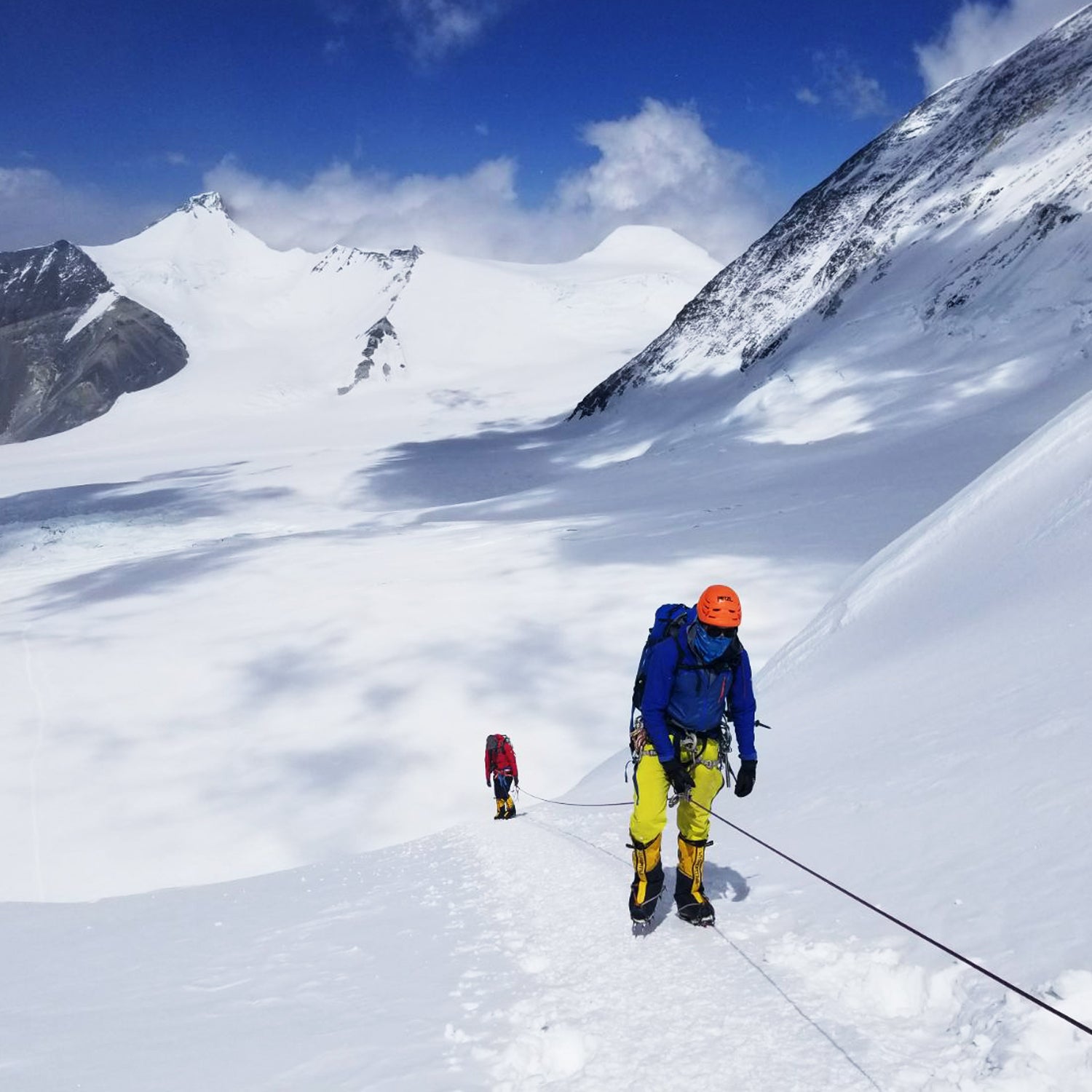 Heading out the door? Read this article on the new Outside+ app available now on iOS devices for members! Download the app.
In 2017, Adrian Ballinger was determined to stand on the top of the world without the help of supplemental oxygen. He had spent the better part of a decade guiding people to their Everest dreams as founder of Alpenglow Expeditions and had already summited six times with supplemental oxygen. But, Ballinger says, Everest is all about finding your limits, and for him, that meant making the ascent sans oxygen bottles.
He and his climbing partner, Cory Richards, first attempted to summit Everest without supplemental oxygen in 2016. Richards was successful. Ballinger was forced to turn back just 200 feet shy of the top. But 2017 was different. Ballinger and Richards, both Eddie Bauer-sponsored alpinists, summited Mount Everest together, and this time it was Ballinger who made it without supplemental oxygen.
Ballinger had started training for that moment six months in advance. But how, exactly, does one prepare for arguably the most daunting physical challenge on the planet? We asked him. This is what he had to say.
---
Mindset
The idea of climbing to the altitude of a cruising airplane (29,029 feet) without supplemental oxygen—which has only about a 10 percent success rate—is daunting. Fueled by last year's failed summit bid, Ballinger adopted a singular, selfish mindset: "I had to be solely focused on this goal." That meant sitting out one of Lake Tahoe's best ski seasons in years and letting his staff and other guides at Alpenglow shoulder more weight while he trained.
Richards' strategy, on the other hand, was to not think about the task in its entirety. "The best way that I've found to put my mind in the right track is to reduce the task to a level that allows me digestible bites that boost my confidence in my fitness and my ability. Ultimately, it culminates in that final summit day," he says.
---
Training
For Ballinger, training for Everest was his first priority and full-time job. He fit work and other responsibilities around his weekly training schedule, which included 30 to 40 hours of backcountry skiing, skinning, hiking with added weight, and regular runs. He logged all his training on Strava. The charts below depict the four months leading up to his summit bid.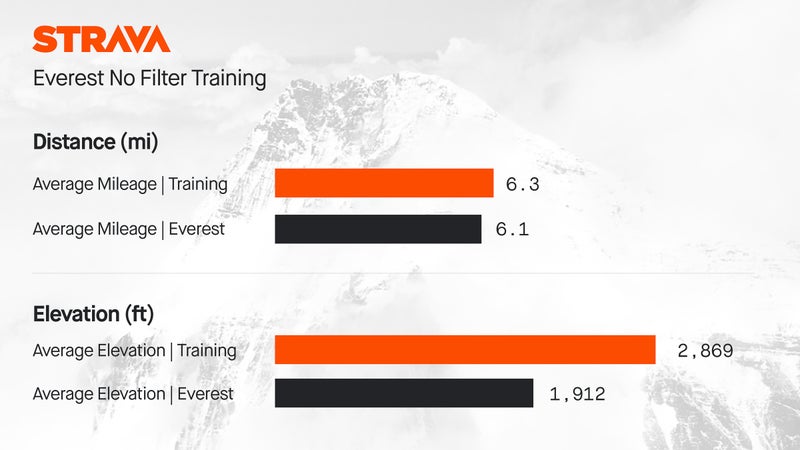 An average workout for Ballinger included a five- or six-mile run at a casual pace and elevation training, where he'd cover nearly 3,000 vertical feet—sometimes much more. "On Everest, the biggest day we did was 5,000 vertical feet, and both of us were doing considerably more than that in training," says Ballinger.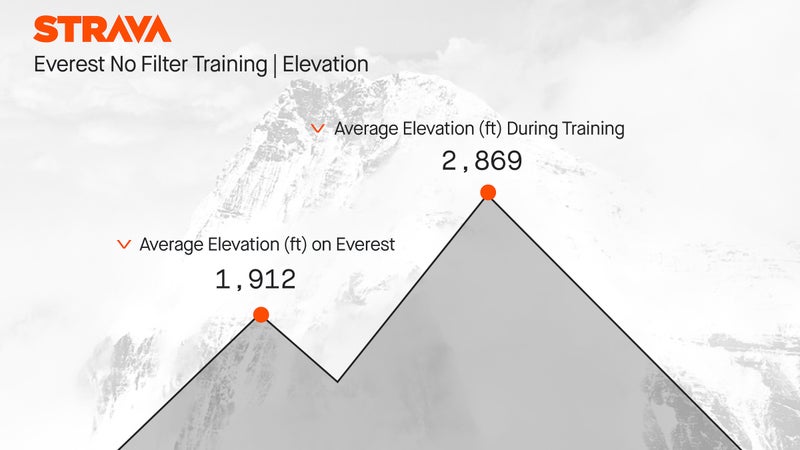 "For me, everything was elevation-based, not necessarily distance-based," says Ballinger. "My hard workout days were about having heavy backpacks on—65 pounds plus—and doing elevation." His elevation training included a muscular endurance workout where he gained 2,500 vertical feet at the highest possible intensity or skiing anywhere between 6,000 and 10,000 vertical feet in the backcountry in a single day. Ballinger usually covered between five and ten miles during each training session.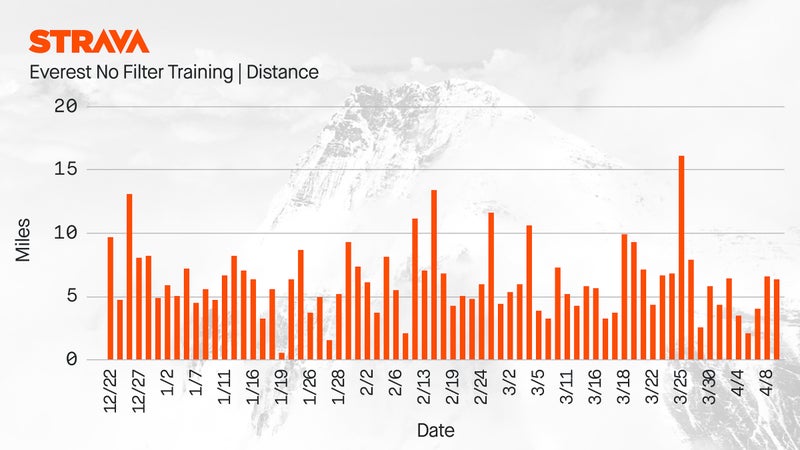 Ballinger's training also included many long, low-intensity fasting workouts. This meant keeping his heart rate in zone one or two to build strength, endurance, and metabolic efficiency. By consistently keep his heart rate low during training and abstaining from eating while working out, he adapted his body to burn fat as fuel.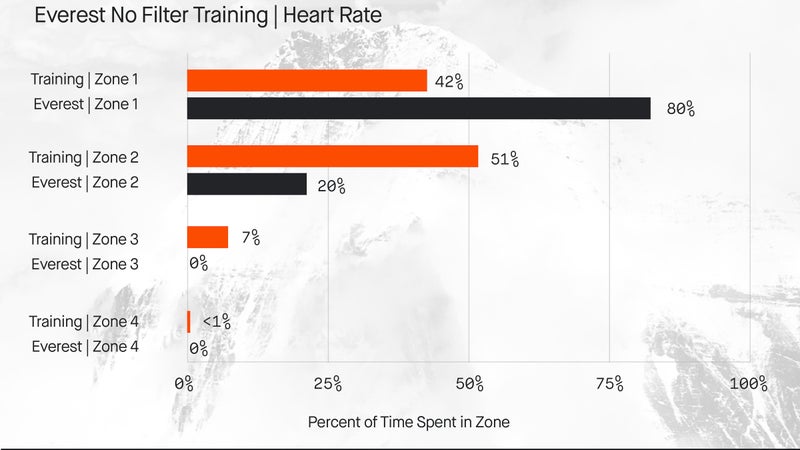 For Richards, training for Everest was a logistical challenge of fitting his workouts around his work schedule. To prepare for the ascent, Steve House of Uphill Athlete designed workouts that Richards could do on the road, like keeping water jugs in his backpack so he could complete weighted workouts even while in New York City. "I remember one night, after an event, I came back to the hotel—Adrian was here as well—and I put 90 pounds [of water] in my backpack and went into the stairwell and worked out for two hours," says Richards.
---
Diet
Ballinger drastically altered his nutrition strategy for this summit bid. He blames his reliance on sugar as a possible reason for not summiting last year. "My body has been super sugar-dependent for the past 20 years, and one theory is that's why on summit push, I got too cold. Essentially I had a massive sugar crash," says Ballinger. To make sure that didn't happen again, Ballinger and his team at Uphill Athlete retrained his metabolism to primarily burn fat instead of carbohydrates throughout his workouts.
He adopted an eating plan that resembles the ketogenic diet, where the majority of his calories came from fat. Ballinger loaded up on healthy fats and protein from nuts, seeds, oils, and animal products and restricted carbs to less than 10 percent of his diet. He says the first month was difficult because he had to cut out some of his favorite foods, like bread and chocolate chip cookies, and he initially had trouble completing his workouts. But three months later, Ballinger felt completely different, and the results were undeniable. "When I used to wake up in the morning, I couldn't do anything until I ate breakfast, like I didn't want to talk to anyone. I certainly didn't want to go for a workout. I was just so hungry after eight hours overnight without food, and that completely changed for me," says Ballinger.
Ballinger continued to adhere to the diet for the first few weeks he was on Everest and added more carbs into his diet only for the the final summit push. "I think that made a big, big difference on Everest. I was warmer this year throughout the season, and I also just felt healthier. I recovered much more quickly," he says.
A typical breakfast for Ballinger in the months leading up to Everest consisted of coffee with coconut oil, heavy whipping cream, and grass-fed butter, and occasionally Greek yogurt with nuts and fruits. For lunch, he ate a three- or four-egg omelet with avocado, and at dinner he loaded up on animal protein and a salad.
Richards, on the other hand, had eggs and a decaf latte most mornings, a salad with chicken or a variety of nuts for lunch, and sushi for dinner.
---
Climbing Everest with No Oxygen: How It Came Together
The tweaks to Ballinger's diet and training plan, plus learning about the importance of rest and recovery periods, made him feel like a different athlete. "Before I starting to work with Scott Johnston [a coach at Uphill Athlete], I don't think I could tell you a period when I took rest," he says.
"I'm just super proud of Adrian," says Richards. "Accomplishing his goal in the way that he has was really special to watch. Obviously I didn't this year, but that's okay. I did it last year. I feel satiated with that, and I'm just super proud of my partner."
Corrections:
(07/25/2022) A previous version of this story incorrectly described the type of coffee that Ballinger drank during his training.
Lead Photo: Courtesy Cory Richards