How Ultrarunner Joe Grant Scaled All of Colorado's 14ers in a Month
With nothing more than his bike, running shoes, and small amount of gear, Joe Grant managed to climb every fourteener in Colorado in record time. Here's how he pulled it off.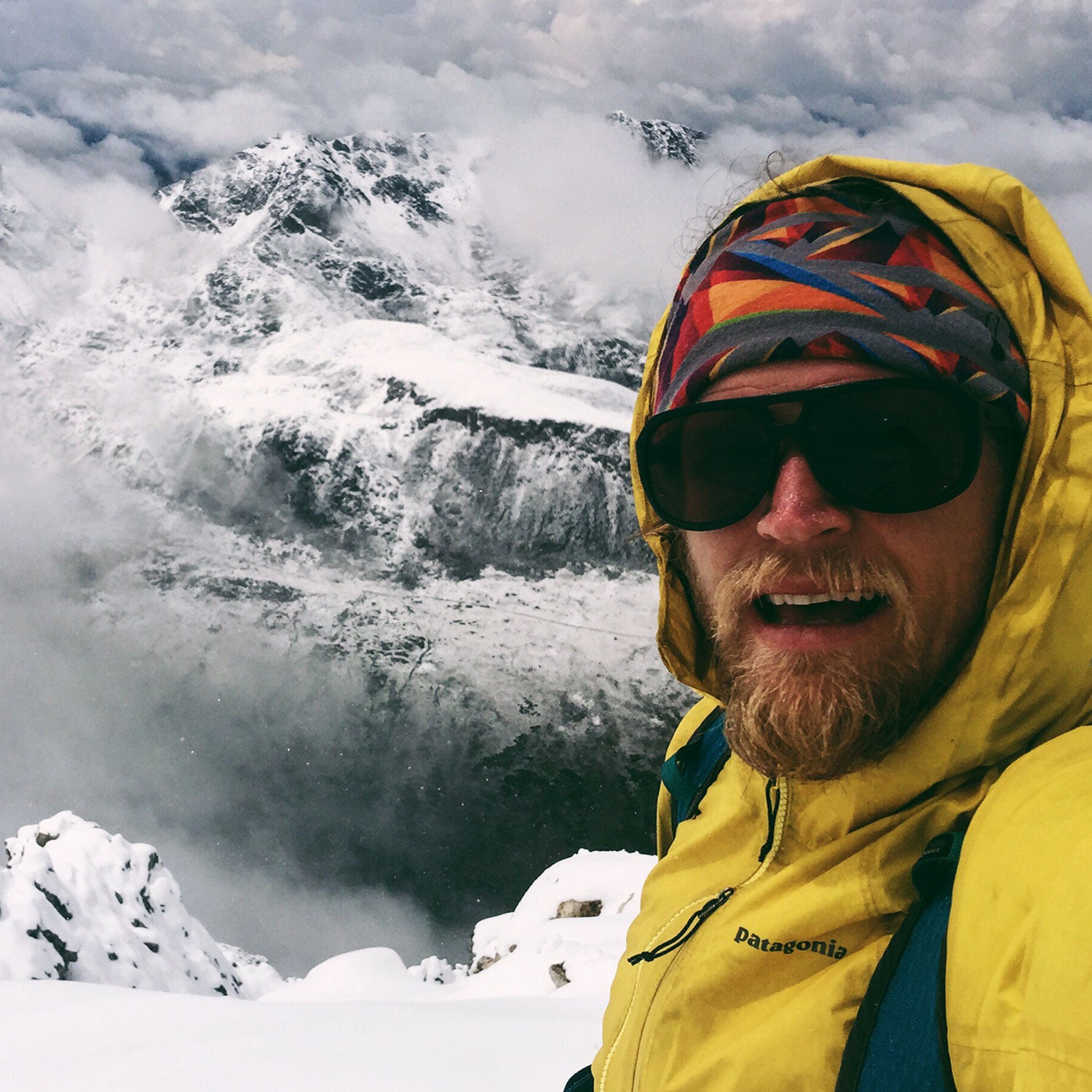 Courtesy of Joe Grant(Photo)
Heading out the door? Read this article on the new Outside+ app available now on iOS devices for members! Download the app.
At 5 a.m. on July 26, Joe Grant set out from his home in Gold Hill, Colorado, with the goal of running every fourteener in the state using only a Reeb Cycles X bike and his own legs for transportation. The weather was clear as the lanky ultrarunner, who looks a bit like Health Ledger in Lords of Dogtown, peddled away from his front door toward Bierstadt (14,065 ft) and Evans (14,265), the first two out of 57 peaks. "I wasn't trying to break any records," he says. "Mostly I wanted to bring attention to the idea of self-propelled adventures." But 31 days, 8 hour, and 33 minutes later, the 33-year-old had set a new self-supported record on the Tour de Fourteeners, breaking Boulder athlete Justin Simoni's mark, set the previous year, by almost three days. Here's how he did it:
Training
Grant is no stranger to feats of endurance: he's been running ultras since 2007, and just last year, he biked the 560 mile Colorado Trail race—his first time on a mountain bike. While he didn't train specifically for the Tour de Fourteeners, he had solid base after spending the spring preparing for the Hardrock 100, which he unfortunately DNFed due to a concussion sustained halfway through the event. Although Grant says it proved to be a blessing in disguise, as it forced him to rest, recover, and prepare for this trip. "Luckily my recovery [from Hardrock] was pretty quick," he says.
Navigation
Grant knew that he wanted to start and finish at his house, and that he needed to make it to Culebra (14,049) by a certain day per his permit (it was the only peak on his trip that required one). This was the primary framework he used for establishing his route. "I was linking the peaks by bike, so I basically picked the most efficient route. Culebra was a challenge, though, because if I didn't do some of the peaks on the way there, I would have to make huge detours to get them in." 
Gear
Grant carried only a bivy sac and a sleeping bag, two pairs of Scarpa running shoes, rain pants, a long sleeve shirt, and a jacket in the frame bag of his bike. At trailheads he would stash his bike in the woods with a cable lock, and try not to think about the possibility that it might get stolen.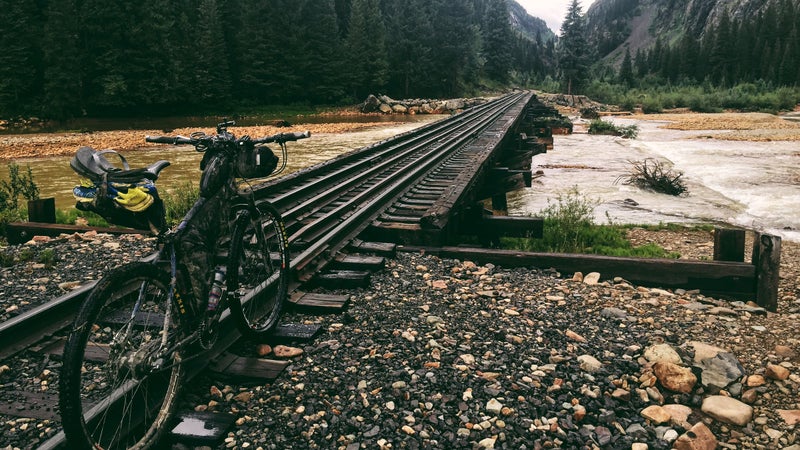 Food
"I didn't carry a stove, and relied on a lot of frozen burritos from 24 hour gas stations," he says. "I'd put the burritos in my frame bag, and let them thaw while I was riding. Occasionally, when I was in a town, I'd eat real meals, but otherwise it was a lot of easily transportable food." 
Weather
The late summer weather proved to be Grant's biggest challenge, with afternoon thunderstorms and the possibility of snow. "The weather imposed a certain rhythm on the trip," he says. "I needed to bike to the base of the peaks at night so I could start them early in the morning." Still, one night Grant slept in a forest service bathroom because the storms were so bad.
Danger 
Apart from a broken bicycle rim, which required a two-day stop for repairs in Alamosa, and the expected wear and tear of a 30-day self-propelled adventure, Grant ran into few issues. "The biggest challenge was weather." 
Stoke
"There were a lot of awesome peaks I hadn't run before," says Grant. "I thought this would be stressful, not knowing the routes, but it was actually really positive. It ended up being the peaks that I'd already seen that were more of a grind. It was a lot of up and down of familiarity, wear and tear, curiosity, and excitement."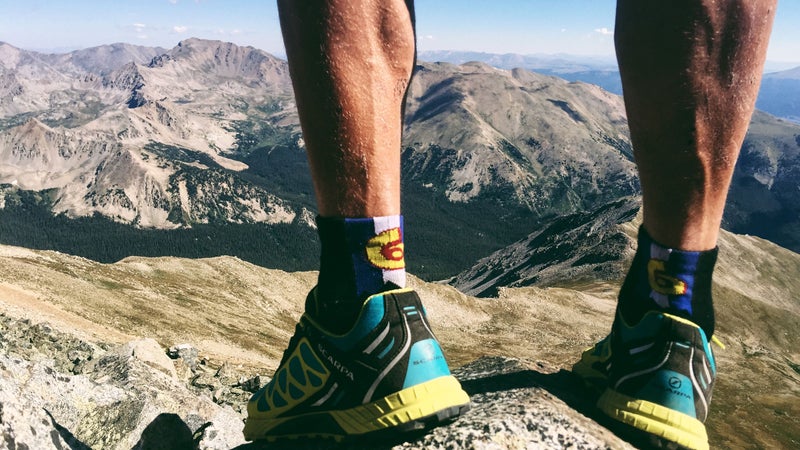 Loneliness
"There was definitely a loneliness factor," Grant admits. "People don't know you when you're going through town, and I don't know them. Friends joined me along the way, but not that much. My friend Fred Marmsater did a few peaks with me, and another met me on Princeton (14,197), and Yale (14,199), and one other guy on Mount of Holy Cross (14,009)." But, Grant says, loneliness wasn't really an issue, "more of an observation that at times it would be nice to share some of these moments (particularly the good ones) with someone."
Finishing
All told, Grant had traveled roughly 1,500 miles—1,100 biking and 400 running and hiking—with around 100,000 ft of climbing. "When I finished, I sat on my porch for about a half an hour. My wife was at work. Only my dog was home. Fred came out to see me. It was pretty anti climactic." 
Lead Photo: Courtesy of Joe Grant