Keep Your Edge
How professional skier and Olympic gold medalist Ted Ligety recovered from a debilitating knee injury.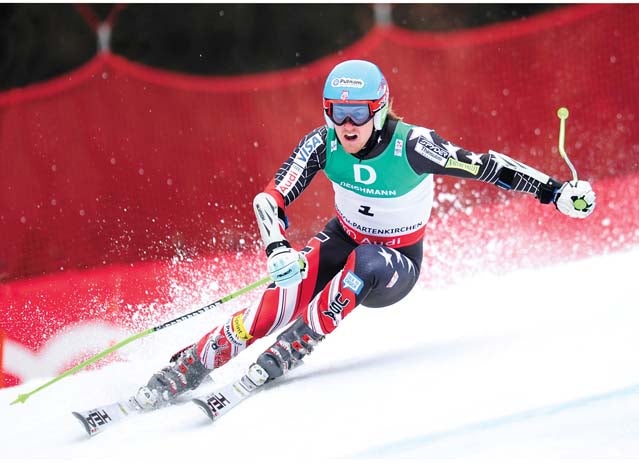 JON MARGOLIS(Photo)
Heading out the door? Read this article on the new Outside+ app available now on iOS devices for members! Download the app.
In 2006, just 12 months after ­making the U.S. Ski Team, 21-year-old Ted Ligety hurtled to an upset win and gold medal in the men's combined at the Winter Games in Turin, becoming only the fourth American male to win Olympic gold in alpine racing. With his first World Cup ­victory later that season, two more ­podiums in 2007, and a World Cup season title in giant slalom in 2008, the youngster's rise to American alpine-­skiing domination looked assured. Then, on a training run at the 2009 U.S. nationals, Ligety caught a tip in soft snow, pinwheeled 30 feet downslope, and didn't get back up. "My knee was bad," he says. "I got my first toboggan ride off the mountain, and I wondered when I'd ski again."
In sports, injuries are inevitable. They may also be the most insidious barrier to fitness, because few athletes consider the implications of getting hurt until they're hobbling around in a knee brace or laid up on the operating table. "At some point, almost every athlete gets injured," says Lynda Wallenfels, who coaches some of the country's top endurance-mountain-bike racers. "And though we focus on the catastrophic stuff from crashes, many injuries stem from too much training or training above your threshold." Sixty-six percent of respondents to a 2009 Runner's World ­survey said they had sustained a running-related injury within the past year. And in a 2003 study of triathletes in the Journal of Orthopaedic and Sports Physical Therapy, overuse accounted for 68 percent of injuries during the preseason and 78 percent during competition. Julie Emmerman, a clinical sports psychologist whose clients include pro cyclists from Garmin-Cervélo, stresses that the effects of an injury reach beyond the ­physical toll. "It isn't just about getting hurt," she ­explains. "It can also be mentally debilitating. Years of work can evaporate in a second, and the athletes are left to wonder why."
It's easy to think of injuries as simply bad luck. But planning and a little common sense can go a long way toward preventing both chronic and acute injuries. Progressive-overload training plans, with exercise routines that gradually increase weight or repetitions, can get you fitter without risking a stress facture or tendinitis. Cross-training regimens that target imbalances created by your specific sport build all-around strength that can prevent an ACL tear or shin splints. And when you do get injured—and you will—advances in healing practices, from simple solutions like precut Kinesio tape to noninvasive surgery and rehab programs that include swimming, core work, and lateral muscle training, will have you back on your skis (or bike or surfboard) before next season.
Such was the case for Ligety. He'd torn his MCL and PCL, which meant he'd have to endure eight weeks in a straight-leg brace. "The toughest part was missing all the off-season powder skiing and mountain biking," he remembers. "And when the brace came off, it was tempting to rush back out. I had to take it slow with my rehab." Months of intensive physical therapy followed, with hours spent walking on a treadmill in the pool and endless mini-band sessions. "It felt stupid because it was all so easy," he says. The meticulous approach worked, though, and Ligety returned to competition five months after the crash, winning his second World Cup title within the year. "It was a good lesson in patience and perseverance," he says. "I feel thankful to have come back stronger than I was before, and that makes me want to work even harder, to stay healthy and keep winning." Even today, he still employs the eccentric weight-lifting techniques ­(using more weight on the way down than on the way up to prevent strain) that he learned at the onset of his rehab.
Like Ligety, you can't dodge every injury. But with a careful approach and the right regimen, you can preempt many potential problems and come back stronger and smarter.
Trending on Outside Online