Laura Van Gilder Won't Stop Winning
She's one of the most successful cyclists in U.S. history. And she's done it her way.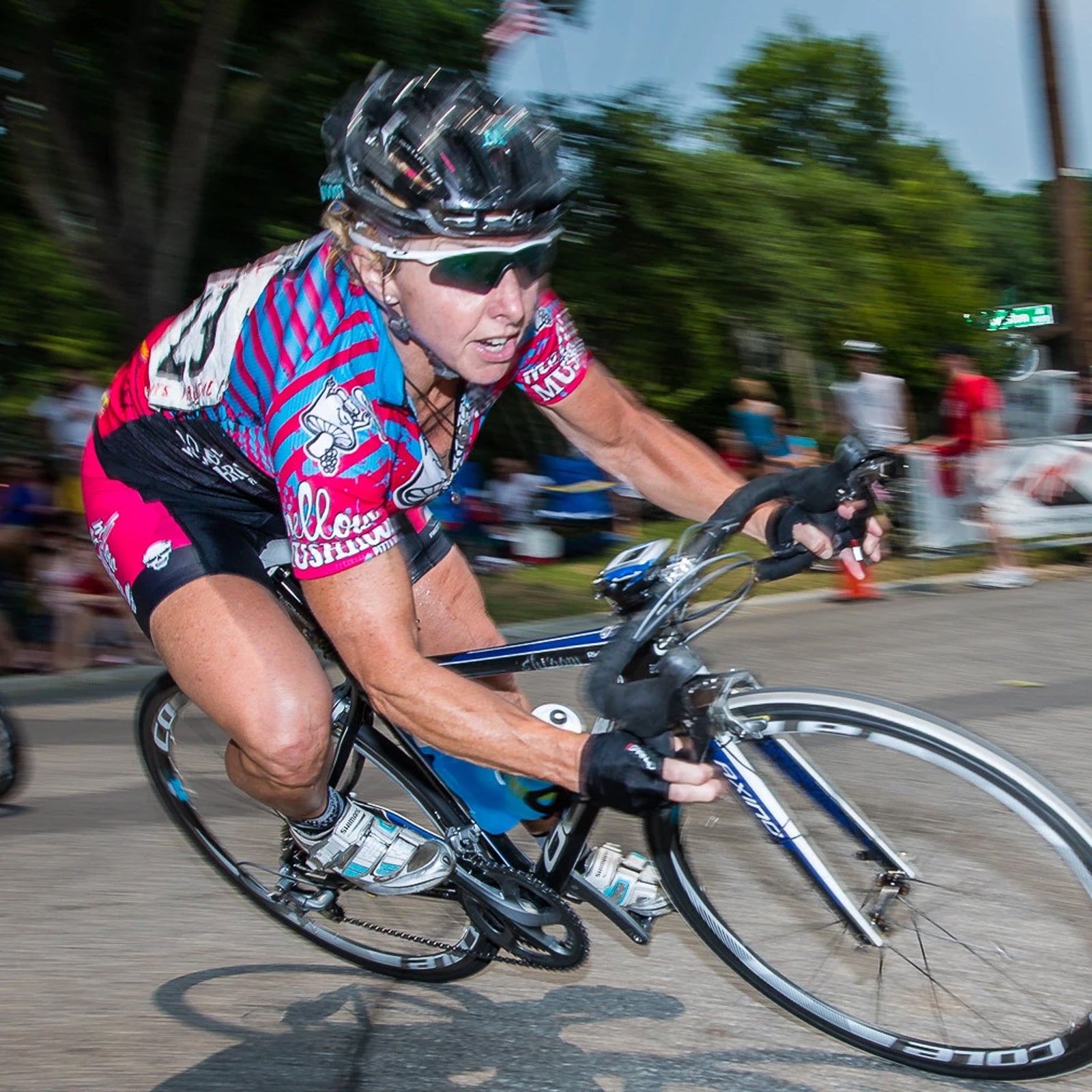 Heading out the door? Read this article on the new Outside+ app available now on iOS devices for members! Download the app.
Laura Van Gilder didn't know what she was getting into when she bought her first mountain bike 30 years ago. Fresh out of college, she was working in her family's restaurant and just wanted to get fit and maybe raise some money for charity. She started riding the roads around her Pennsylvania hometown. A few months later, she signed up for a charity ride for multiple-sclerosis research to honor her mother. She loved it. She tried a local mountain-bike race and was hooked.
Three decades later, Van Gilder is now the winningest American woman in professional cycling and has dominated a variety of disciplines. "I tried everything at first: road, time trials, track, mountain biking," Van Gilder says. "I did 75 races a season and worked full-time at the restaurant for the first few years of my career." In 2000, Van Gilder won the women's U.S. criterium championship, and throughout her mid-forties, she was the top-ranked woman on the Union Cycliste Internationale (UCI) world cyclocross standings. All told, Van Gilder has more than 350 victories to her name.
For most of her time as a cyclist, Van Gilder raced as an independent, turning down multiple offers to join high-profile professional teams—and the salary, logistical support, and training that comes with them. Van Gilder says it made more sense for her to tackle the peloton alone. She liked having complete control over her training and race schedule and thinks it helped her avoid burnout. "I joined a big team during one season, and I was so unhappy," she says. "But it made me realize that I just love riding my bike. Period. I didn't want it to feel like a job, and that's what racing for a big team felt like."
But in 2009, Van Gilder found Mellow Mushroom Cycling, an Atlanta-based team that she says still gives her the autonomy she craves while providing a certain amount of logistical support. She was drawn to the group's comradery, which she says feels more like a big family than a race team. Van Gilder also discovered cyclocross that same year and instantly became a powerhouse in the niche discipline. She now divides her year between criterium races in the spring and summer and cyclocross races in the fall and winter. Unlike many professional cyclists, for Van Gilder, there is no off-season. Still, she says the two styles are complementary and feed off each other. Cyclocross requires bikers to race laps on short dirt courses full of mud, hills, singletrack, and stairs, while criteriums see them peddling around road courses closed to traffic. "They're both short and explosive," Van Gilder says. "You're racing for an hour, really hard, in both disciplines. I usually come into the spring road season pretty tired, but I love both so much, I can't pick just one."
"I don't look at myself as a fifty-something-year-old athlete," she says. "Mentally, at the start line, I'm very much the same as the 17-year-old I'm racing next to."
Van Gilder also takes an unorthodox approach to her training: She doesn't have a coach and doesn't even follow a set plan. She doesn't hit the gym, and she doesn't run or cross-train. She simply rides her bike. "I don't use a heart-rate monitor or power meter, I don't do intervals," Van Gilder says. "I ride about five times during the week and let the terrain and riding partners dictate the effort. And then I race every weekend."
That lack of structure is atypical for professional cyclists, who generally follow a strict training regimen. But Van Gilder says it helps her keep cycling enjoyable. She discovered that when she's happy, she wins. And after almost three decades of racing professionally, her approach still works. At 55 years old, Van Gilder dominates both cyclocross and criterium events: she won back-to-back cyclocross national championships in 2017 and 2018 and the Masters Cyclo-Cross World Championships in her age group last year. She's also still competitive in a field of pros half her age—in May, she took second place behind 20-year-old Colleen Gulick, a former national track-cyclist champion and one-time overall winner of the U.S. Criterium Series. "I don't look at myself as a fifty-something-year-old athlete," she says. "Mentally, at the start line, I'm very much the same as the 17-year-old I'm racing next to, and I want to accomplish the same thing that person does."
Even though Van Gilder is aware of her limits—she's added more rest into her training and can tell she doesn't recover as quickly as she used to—she has no plans to slow down any time soon. She's racing every weekend, and if all goes well, she's looking forward to competing in the Masters Cyclo-Cross World Championships again this year. Next year will probably bring more of the same. "In the winter, when it's dark and cold and I'm training alone, I wonder if it's time to find something else," Van Gilder says. "But then spring rolls around, and I love it again. It's such a big part of my life, I don't know how I'd replace it. I can't imagine a day when I'm not pedaling my bike somewhere."
Lead Photo: Courtesy Pactimo