Mountain Biker Kirt Voreis Isn't Afraid to Get Hurt
The former downhill champ has had his fair share of spills—and he likes to show them off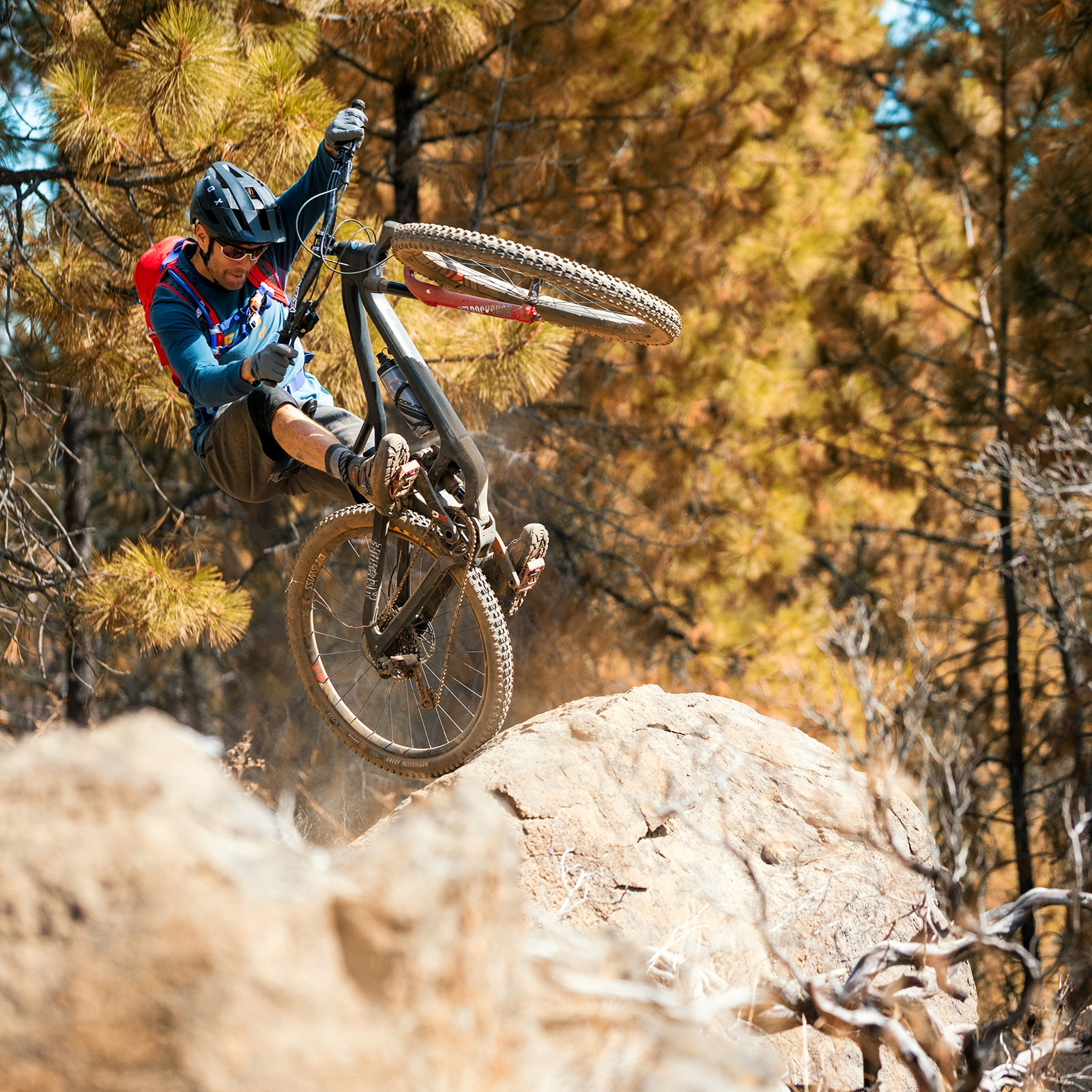 Ian Hylands(Photo)
Heading out the door? Read this article on the new Outside+ app available now on iOS devices for members! Download the app.
Nobody has more fun on a bike than Kirt Voreis. Just look at his Instagram, filled with epically high jumps, skids through parking lots, and 360's on ice. At 45, Voreis has been a professional mountain biker for more than half of his life. He's spent much of that time on the downhill racing circuit, where he earned a dual slalom national championship title in 2002. But while many of his contemporaries have burned out or retired, Voreis is still going strong, riding his bike with the enthusiasm of a kid who just learned how to wheelie. "I'm still chasing the dream," Voreis says. "The stuff I'm doing now, it's the same stuff that I did when I was a kid." 
Aside from the occasional downhill race, Voreis doesn't compete anymore. "I only raced so I wouldn't have to get a job, so I could spend more time skating and just riding my bike," he says. "I wasn't thinking about winning a championship. It was about doing what I want on a bike and in life." He cut back on racing in 2005 and then spent years roaming the country with his program, AllRide, where he introduced kids to mountain biking through demonstrations at public schools. He moved on from AllRide in 2016 and now crisscrosses the country filming short and long videos for his sponsors. Throughout this process, Voreis has evolved from a bike racer to a bike character, using Instagram to build a brand that extends far beyond his former racing glory. And in every video, he's always on message: biking is fun. 
It's borderline miraculous that Voreis is still able to ride his bike at all—let alone produce these high-octane videos—because he is constantly getting hurt. When I talked to him in August, he was recovering in his Bend, Oregon, home from a kidney complication he sustained while filming in Whistler, British Columbia—he essentially rode himself into rhabdomyolysis, a breakdown of muscle fibers that can lead to kidney failure, and ended up peeing blood in the hospital. He's broken four helmets in separate accidents this year and smashed a few teeth while trying to ride up a tree backward. He's had ten different surgeries over the past two decades on his ankles alone. "There have been times when I'd get hurt while racing, and they wouldn't let me on the plane to go home because there was blood soaking through my sutures," Voreis says.
Watch those crashes—including Voreis catching a back tire while trying to land a wall ride or rag-dolling while failing to huck over a big tabletop—and you'll wonder how he's able to bounce back at his age. But Voreis says recovery is actually easier now than when he was younger. That's because he knows the fastest path to getting back on the bike: resting. "It was hard to do nothing when I was younger, but I've learned," Voreis says. 
Hot baths also help. Voreis says he takes at least five soaks a week, incorporating an ice bath into the routine if he's really hurting. (Although many athletes include an icy dip as part of their recovery, the science behind this practice is still inconclusive.) He also goes through some yoga poses postride and does high-rep shoulder and leg exercises with 25-pound dumbbells every few days. "I'm a firm believer in that sort of regular maintenance," Voreis says. "And really, crashing is stretching. You put yourself in so many positions crashing, you become limber after a while—if you don't break anything." 
And Voreis doesn't like to sweep his crashes under the rug. Instead of uploading a sick trick on Instagram, he shows the progressive trial and error it took to nail that tire tap or wall ride. A lot of times, that process is downright painful. "I'll get mad if the crash wasn't captured," Voreis says. "We're so desensitized in this world—we watch these videos, and it's unreal how good people are. Kids look at it and think you can just sling your body through the air. But that's not the case." Voreis also says that posting these mishaps helps keep his ego in check, a task that, he admits, can be difficult. "I want to show off and be seen, sure, but I like to trip and fall on that ego, too," he says. (Another ego check: a tattoo on Voreis's right leg reads "High Performance," while one on his left leg reads "Low Expectations.") 
For Voreis, the ability to keep experimenting into middle age is all about managing these expectations. "It's good to have a goal," Voreis says. "That's what makes you a better rider. But doing tricks can be a goal, too, and it's a way to be creative. You gotta remember that there's always somebody better than you on the bike, so you might as well have fun doing it."
Lead Photo: Ian Hylands