The Pain Cave
To find your limits, you must go past them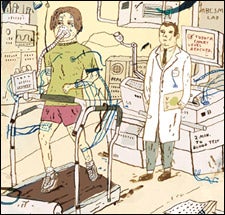 Heading out the door? Read this article on the new Outside+ app available now on iOS devices for members! Download the app.
Podcast Version:
The Lab Rat Obeys
Tell Nick Heil,
Outside
's Lab Rat, what you want him to test next—from diets to workout routines to performance-enhancing pharmaceuticals—by emailing
labrat@outsidemag.com
Lab Rat

LAST SUMMER, a few months before my 40th birthday, I did what many men do, and many more consider doing. Chest wax? Nyet! I went on a pilgrimage.
My journey didn't take me up some dangerous mountain or to an even riskier beach bar filled with coeds. Instead, I drove from my New Mexico home to the world's biggest health club: Boulder, Colorado. I had an appointment with Neal Henderson, sports-science manager at the Boulder Center for Sports Medicine. BCSM works with a small platoon of pros looking for an edge, but they also help hundreds of schmoes like me—recreational athletes interested less in a podium finish than in pushing personal limits.
As a former health-and-fitness editor for Outside, I'd long been a student of exercise physiology. But despite my accumulating knowledge, my own habits teeter on a platform of spontaneity, improvisation, and laziness. Now that I had signed on to write this monthly column, in which I will personally try out, and report back on, the latest in training techniques, products, and nutrition, I knew winging it was out.
First step: a full baseline analysis. Henderson had cued up a gantlet of tests—lactate threshold, VO2 max, body-composition analysis—to determine what I had "under the hood." How fit was I? What was my potential? This was what I hoped to find out as I chugged away on a treadmill, huffing through an air hose plugged into a bank of computer monitors and getting my finger jabbed every four minutes to track my escalating blood-lactate levels. (Sound enticing? These tests are now widely available for upwards of $500 and offer a useful, even revealing, tool, as we shall see.)
What I had under the hood was, well, a Toyota Camry—dependable but nothing special in terms of power or performance. My LT (labspeak for lactate threshold) kicked in at a 7:42-per-mile pace. Lactate-threshold training is the denominator common to almost every endurance sport, and the entire concept of periodization—manipulating the volume and intensity of your workouts to achieve a target=ed goal—is built around this figure. Once you cross this threshold—the point where you're producing lactic acid faster than you can clear it—muscle fatigue is quick to follow. "The good news," Henderson told me, "is that your LT is eminently malleable. With proper conditioning, it's possible to improve it by 20 percent or more."
VO2 max, by comparison, measures the amount of oxygen your muscles can process at maximal effort. The test is intended to gauge your genetic potential to, in technical terms, kick some righteous ass. I'd redlined it up to 50.9 milliliters of oxygen per kilogram of body weight per minute. Elite athletes of my age and gender tip into the seventies. At peak form, Lance Armstrong's VO2 max was 85.
Afterwards, Henderson and I sat down to review the data. "See this line?" he said, pointing to the graph of my VO2 max test attached to his clipboard. "If you reached your full effort, it would plateau at the top. But it's still rising." He looked a little let down. "You kind of went up to the pain cave, peeked in, then walked away. I'd call this a VO2 peak, but I'm pretty sure it's not your max."
I mulled this over during my six-hour drive home, my legs aching. It dawned on me that the point of all the measurements was, in the end, to be able to transcend the data. The numbers had been a little depressing, but they told only part of the story. Who really knows what I'm capable of? My best effort still awaits somewhere inside the dark recesses of the pain cave, where lurks the ineffable mystery at the limits of human performance.
I'd be back in a few months, after following Henderson's new training plan, and I resolved to enter the pain cave, build a little fire, and hang out.