RIP Vineman 1990-2015
The spirit of long-distance triathlons is being swallowed by behemoths like the World Triathlon Corporation. And it's our own fault.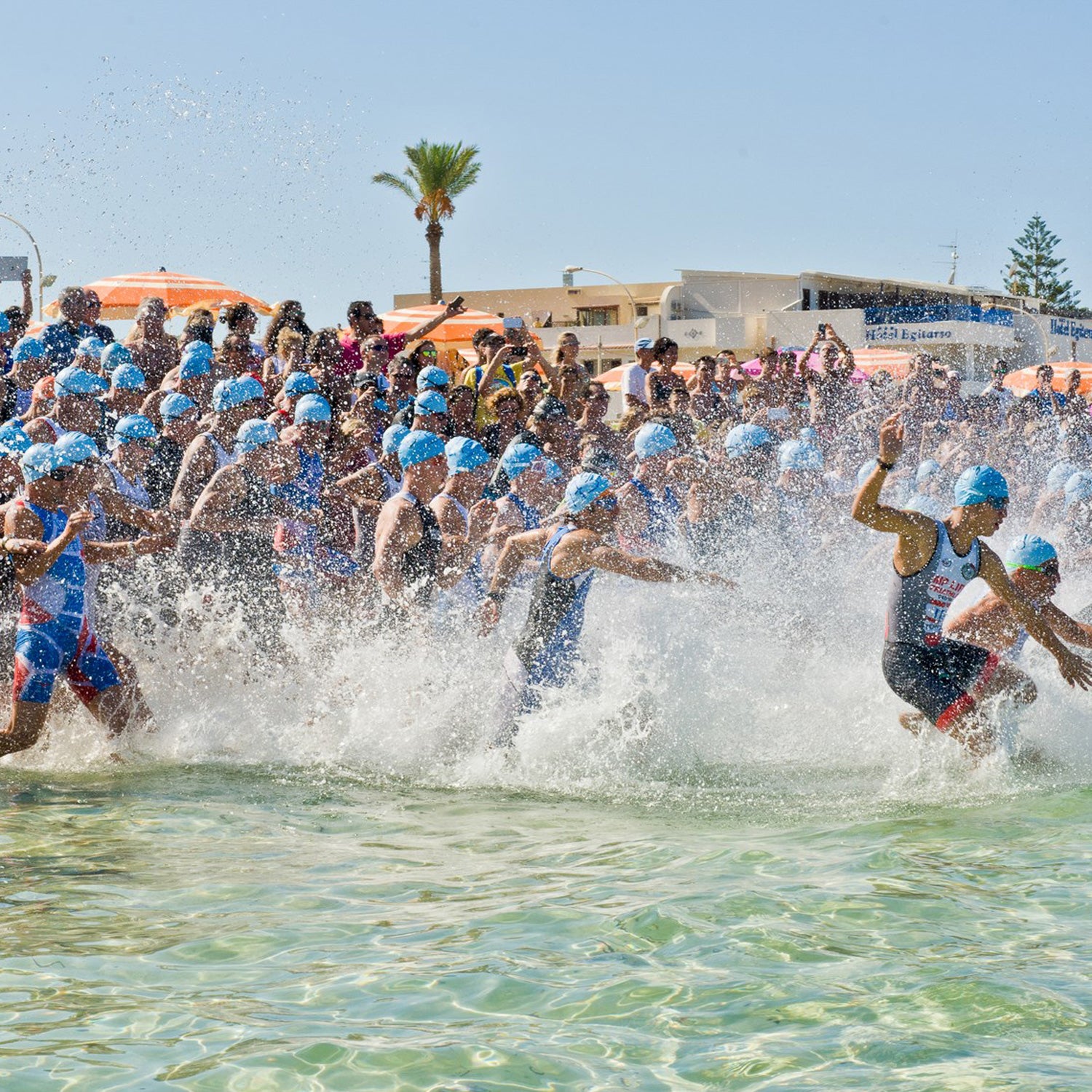 Heading out the door? Read this article on the new Outside+ app available now on iOS devices for members! Download the app.
A few weeks ago, Ironman announced it bought Vineman, a 25-year old Iron Distance race in California's wine country. A day later, 34-year old San Francisco-based triathlon Escape from Alcatraz announced a 67 percent rate hike, jacking up entry fees from $450 to $750 for an event that's slightly longer than the Olympic distance. 
These announcements aren't just a blow to triathletes' pocketbooks; they're the death knell to the spirit of long-distance triathlon in the Golden State, and, one could argue, in general. That spirit of communities coming together to celebrate the insanity and determination of people pushing the limits of their own endurance—and not just people who make over 160K per year—is wasting away as behemoth companies scoop up iconic, independent races. But here's the kicker: it's our—the triathletes'—own damn fault that we let that spirit go.
Just like we've lost the true meaning of Christmas in a mad quest to put retailers in the black, we've lost the true meaning of triathlon in the pursuit of Kona-qualification, M-Dot branding, and the willingness to pay a hitman's salary to make like old-timey criminals and swim across San Francisco Bay. 
Triathlon does not have to be an elitist sport. But when we justify outrageous entry fees by forking them over while simultaneously snubbing well-produced, less costly events, we're making it just that. Because we're telling those races that their courses, which are just as beautiful and challenging, if not more so, are second class—that finishing them is somehow less of an achievement. And that's absolutely not true.
Look at Vineman. Race director Russ Pugh started the Sonoma County event in 1990, and it is now the longest-running Iron Distance tri in the continental U.S. The race was affordable, consistently offering athletes the chance to experience one of the most beautiful courses in the world for less than $300. Moreover, athletes didn't have to sign up a year in advance, and entries were often transferable to other events in the series, including an AquaBike (Vineman or the Vineman Half without the run), or the women-only half, Barb's Race. 
But entries took a drastic nosedive in the past five years. In 2011, there were 819 official finishers. In 2013: 589. This year, only 296 people completed Vineman. 
In a letter sent on Oct. 27 to past participants in Vineman events, Pugh, whose company will direct the event through 2018 under WTC, not-so-subtly hinted that the power of the M-Dot brand was the main contributor in Vineman's demise as an independently run event.
[blockqoute]In recent years the landscape has changed in the world of long-distance triathlon as the number of Ironman events in the United States has increased. In the past three years the participant numbers for the "Full" Vineman have fallen by more than fifty percent. In an effort to continue to provide athletes with what they really want, Ironman branded events, we have made the decision to join forces with Ironman.[/blockquote]
It's a death knell to the spirit of long-distance triathlon in the Golden State and, one could argue, in general. But here's the kicker: it's our own damn fault that we let that spirit go.
Ironman's managing director of global race Operations, Steve Meckfessel, says WTC plans to host 2,500 athletes at the 2016 event, with entry fees similar to those at other Ironman events, or around $700 each. There will no longer be an AquaBike or Barb's Race. 
Vineman isn't the only beloved independent race in California to sell to WTC. Santa Cruz's half, Big Kahuna, also became an Ironman event this year. And another popular event for southwestern triathletes, Las Vegas's Silverman, sold to WTC five years ago. The purchase marked the end of the full-distance event, as Ironman chose to produce Silverman as a 70.3 only.
Let me be clear here: None of this is meant to knock WTC. They've created one of the world's most powerful endurance brands and put on spectacular events filled with all the pomp athletes, perhaps rightly, feel they deserve for covering 140.6 miles (or 70.3) under their own steam. My first three iron-distance races were all M-Dot events. And I will happily do another one. Like most other Ironman athletes, I dream of qualifying for Kona, one of the only Iron-distance events with more history than Vineman. 
The issue here—of creating a sport composed solely of elitist athletes hell-bent on chasing a logo that friends and family and strangers on social media will immediately recognize—comes when we refuse to race other events for vanity reasons. I can't count the number of times friends who completed an independent 140.6-mile tri then lamented that they couldn't call themselves an Ironman, even though they'd done the same exact thing any other Ironman has. 
So stop being so pretentious. You're an Ironman if you've covered that distance, and there are plenty of non-Ironman branded races worth signing up for.  
The HITS triathlon series, for example, started in 2011 with one event in Palm Springs and grew to 10 events this year. At each event, triathletes have the option to race one of five distances ranging from a beginner tri to the full iron distance. Their Napa Valley race next year features relay and AquaBike options at every distance beyond the beginner race, with iron-distance entry fees starting at just $200.
The key to keeping the price down on the longer events is producing them with the other distances, which draw more athletes, says HITS vice president, John Eickman. But of the approximately 1,300 athletes who raced this year's Napa Valley HITS event, only 21 raced the full iron-distance tri. That number should be higher. If Ironman Vineman can sell out all 2,500 slots (entry opens Nov. 10), more than 21 athletes should be racing HITS Napa Valley; the demand to race in that region is clearly there.
"California is a great state that produces a lot of endurance athletes," Eickman says. He's right. Let's hope those athletes will make a better effort to support race organizers dedicated to making the sport accessible to everyone. Guys like Eickman and Russ Pugh. RIP Vineman.
Lead Photo: Salvatore Ciambra