Why Climbers Have the Head Game of Zen Monks
The focus-demanding sport could affect the brain more deeply than we know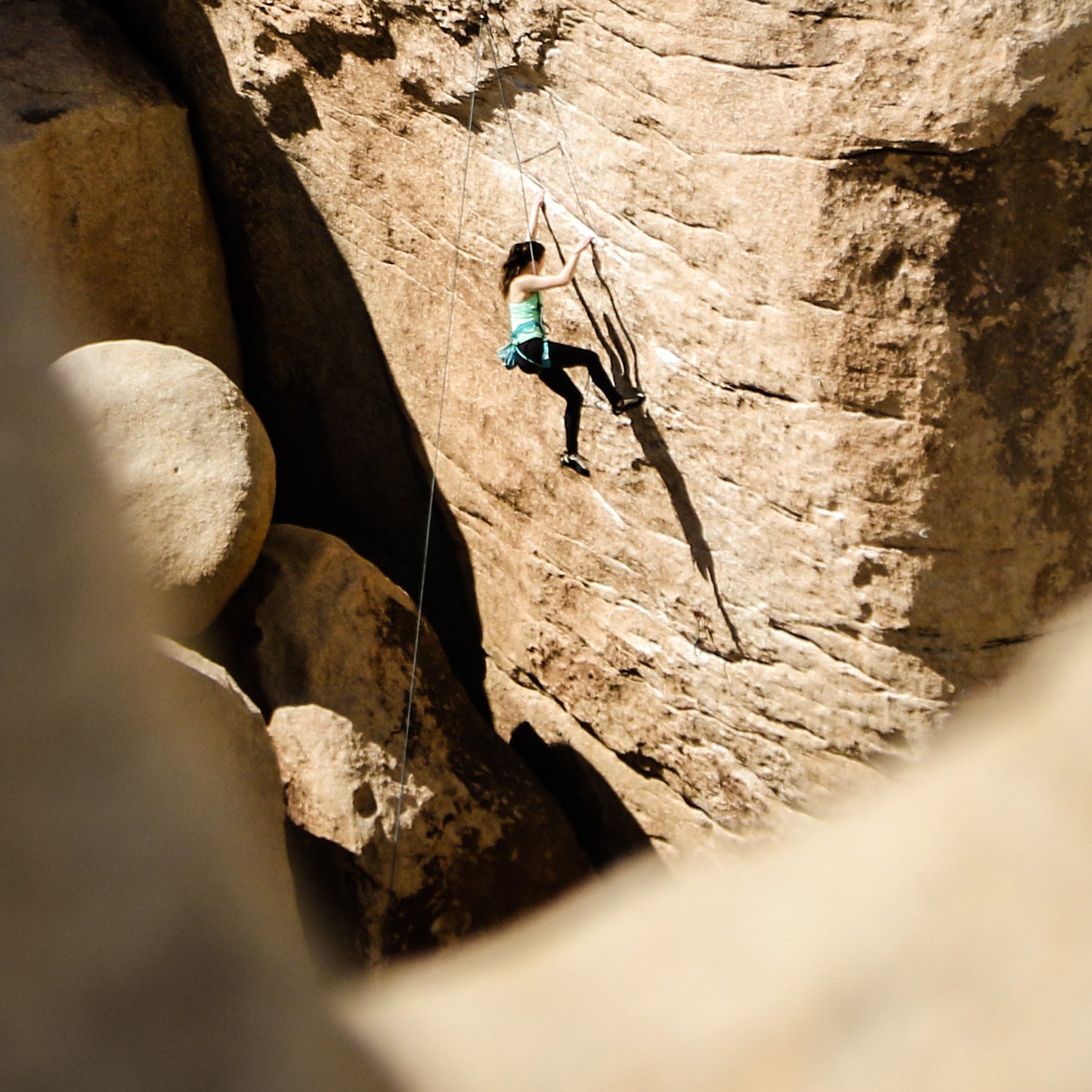 Heading out the door? Read this article on the new Outside+ app available now on iOS devices for members! Download the app.
Cars droned past on the highway behind Gaby James as she lowered from an easy granite crack climb in Squamish, British Columbia—the exact kind of climb that sent her world into shambles six weeks before, when she'd fallen on lead, flipping upside down and smashing her head below her helmet.
That day, James left the crag with a fractured skull and hemorrhaging brain that interfered with her ability to concentrate and remember, to feel like herself. Today, she left with a glimpse of freedom and clarity she hadn't experienced since the accident. Not everyone around her supported James climbing again so soon—or ever—but she followed her intuition that climbing was exactly what her recovering brain needed. A growing number of specialists agree: Rock climbing could be a promising new way to help people recover from traumatic brain injuries (TBIs).
Research already supports mindfulness exercises like yoga therapy for TBI recovery—they help rewire the brain connections that a TBI essentially scrambles. And though there isn't hard data yet to support rock climbing as TBI therapy, it demands a similarly focused state of mind, says Eric Spier, a brain injury physician at Craig Hospital in Denver. "You're not going to see that with a lot of other activities that don't require that kind of attention and concentration," Spier says. "It requires kinesthetic awareness of your body and movement." The hospital has added climbing to its recreational therapy program for TBI patients in the past two years. A number of other community programs across the country, like the National Sports Center for the Disabled and Adaptive Adventures in Denver have done the same. But Spier says only a handful of therapy programs across the country—including Craig's—have begun to specifically study the TBI-climbing connection.
"The most reasonable way I believed to turn my brain on and get it moving was by the basic function of it telling my limbs where to go and initiate problem-solving."
Millions of Americans suffer brain injuries each year, and the most severe can change a person's sense of identity and self. But TBIs occur on a spectrum: Typical symptoms can include fatigue, memory loss, headaches, feelings of depression, and other emotional disturbances, while a severe TBI can cause more serious attention and memory issues, visual problems, speech and language disruption, and social-emotional struggles.
The potential of rock climbing as therapy lies in how it addresses both the physical and mental aspects of recovery. The physical might seem obvious. "Rock climbing would offer many of the retraining components that are part of physical therapy, such as strength, coordination, and balance training," says Rolf B. Gainer, founder of the Neurologic Rehabilitation Institute of Ontario. It can also build self-confidence. "That's especially important to people after a brain injury, when they can say, 'Yes, I did that.'"
But the mental benefits of rock climbing go beyond a sense of accomplishment, says Spier. Climbing could, for example, help rebuild the damaged neural networks that allow for concentration and focus. "When those [networks] are disrupted, you're more likely to have headaches and have disrupted sleep and stress and other medical problems that are downstream of that," he explains. Rock climbing, Spier says, could help patients work on those pathways in the brain that better allow them to maintain attention in resting states—which could help decrease stress and depression, while improving a patient's sleep-wake cycle and sense of well-being.
Craig DeMartino has seen this firsthand in his work with Adaptive Adventures in Denver, climbing with veterans who've suffered TBIs from exploding IED shockwaves. The program, which has been working with veterans for ten years, isn't specifically TBI-focused, but DeMartino says he sees the connection. A longtime rock climber himself, he explains that getting on the wall quickly narrows focus to the three feet immediately in front of a person. "These guys don't have that, ever," DeMartino says of the TBI victims. "They come back, and their brain is doing whatever it's doing from the injury, and they don't get that focus." For the clients he's taken climbing as part of a partnership with Veterans Affairs, that newfound clarity is like a gift, he says. "When they come down, [the mental noise] comes back, obviously, right away. But they understand that by doing this on a repeated schedule, they're actually going to be able to keep that noise quiet for a little bit."
For some, like professional rock climber Brette Harrington, climbing has helped alleviate the emotional side of symptoms. Harrington suffered several concussions throughout her childhood and early adulthood, many from freestyle-skiing crashes—including one that left her unable to speak Spanish after previously being fluent. She fell into a depressive state. "It had taken my personality away—I wasn't me," Harrington says. "I knew what I was expected to act like, so I'd put on a false persona. I didn't feel anger or any emotion. I was like a zombie. And I had no focus, no inspiration, motivation." She had been seeing a therapist, trying to find out what from her past might have led to the depression.
It wasn't until after another injury, at age 20, that Harrington saw a concussion specialist who helped her make the connection between her brain injuries and her emotional state. Beginning to understand her condition for what it was, she was slowly waking from a three-month depressive lull when she took her first trip to Indian Creek to learn to crack climb—and began to glimpse her normal self again. The key? Harrington thinks it may have been the challenge of learning something new that put her in the moment but wasn't physically risky. She was climbing on a top-rope, so she wouldn't take big falls. "It took the risk factor out of the equation, and I could just focus on learning new techniques, like solving a physical puzzle."
Since then, Harrington has found that climbing helps clear her head and motivate her. She's now a pro climber with a wide range of accomplishments, from big walls to 5.13 trad routes, and was the first person to free-solo the 2,500-foot 5.11a route Chiaro di Luna in Patagonia's Fitz Roy massif in 2015.
Gainer points out that brain injury recovery doesn't come in a quick fix. The process of relearning cognitive and physical skills after a TBI can take months, and patients need to continue skills maintenance over subsequent years. That can look different for each person depending on level of injury and will range from intense inpatient therapy to occasional recreational therapy like DeMartino's climbing outings. The crucial thing, Gainer says, is to keep TBI patients inspired throughout their recovery, when it can be difficult and emotionally challenging. "It's important for the person to stay motivated and healthy in mind, body, and spirit to climb Mount Brain Injury," he says.
That's a final potential strength of rock climbing: For a certain type of person, climbing can be motivating in a way other types of mindfulness exercises aren't. Gaby James, for example, started off with recommended brain exercises on her phone after her injury. They left her feeling frustrated. James was already uncharacteristically sedentary following her accident, and the brain apps felt even more mundane. They also gave her headaches, because her vision was impaired. "The most reasonable way I believed to turn my brain on and get it moving was by the basic function of it telling my limbs where to go and initiate problem-solving," says James.
Climbing can work the same way as those mindfulness exercises, says Spier. It's like practicing meditation—except you don't have to sit still. The point is simply training the mind. Spier points to studies performed on meditating Buddhist and European monks: "They've looked at functional MRIs of these monks versus controls, and [the monks] can maintain focus much better because they've practiced that state of mindfulness." Turns out, when you've got only a nubbin of rock to hold onto, you've got a pretty direct path to just that.
Lead Photo: Jeremy Bishop