Saddle Up
Spring is here. Time to wipe the cobwebs off your bike, oil your chain, and kick your fitness into a new gear. Here's how.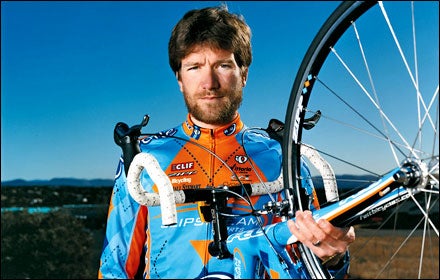 Heading out the door? Read this article on the new Outside+ app available now on iOS devices for members! Download the app.
Positive Spin

Take it from Jim Ochowicz, the guru of professional American cycling: If you're not having fun, you'll never be fast
If there's a wizard behind the curtain of American cycling, it's Jim Ochowicz. Lance Armstrong? "Och" was an early mentor and his first pro director, and is the godfather of his son. Greg LeMond? He won the 1983 and '89 World Championships riding for the U.S. team managed by Ochowicz. Team 7-Eleven? Ochowicz, now 56, founded and managed the first U.S. pro team to compete in the Tour de France. He also competed in two Olympics ('72 and '76) and headed up the 2000 and '04 U.S. Olympic cycling teams. Here, Ochowicz shares his tips for getting the most out of your training, whatever your level. Rule number one: Enjoy the ride.
1. Find Your Motivation Remind yourself that you're riding because you want to. Don't let it become work, and don't be afraid not to ride when you need a break.
2. Don't Stress About Form Some of the strongest riders out there have terrible form—their toes are pointed and their pedaling is choppy. As long as everything fits you right, you'll be fine.
3. Get Gear That Fits Proper bike fit is about more than just comfort. A bike that's too big or small can be dangerous, because the handling will be way off.
4. Pamper Your Bike For day-to-day training, check the tires and lube the chain. For big events, take it to a shop and have them do a full tune-up. Then, be sure to take it out for a good ride before the event.
5. Love Your Wheels and Tires They get the most wear and tear. If you're thinking at all about racing, do everything you can to have two sets of wheels—one to handle the heavy miles of training, and a nicer pair for racing.
6. Join Group Rides Your bike shop should have information on rides in your area. It's essential to learn how to ride in a pack. And conversation makes long rides more fun.
7. But Be Careful Never trust anyone riding ahead of you. Watch the tire of the rider in front of you, but also be aware of what's happening in front of him. It's easy to let your guard down and crash. Don't.
8. Take Your Turn Ride in the front of your group and allow others to take a break in your draft. Nothing turns off fellow riders more than someone who won't take his turn. When it's yours, ride up naturally and maintain the speed of the group.
9. Get Lean and Mean Obviously, "lean" for a weekend ride and "lean" for the Tour de France are different things. But the physics is the same for both: Any extra weight you've got is weight you'll have to carry.
10. Get Your Nutrition Dialed For long rides and races, the old strategy of carbo-loading is a good one. On the bike, experiment with energy foods and drinks. Find out what your body can handle, then stick with it. Race day is not the time to try something new.
11. Work Your Core Abdominal and trunk exercises stabilize you on the bike, so you can better put your power to the pedals.
Rules of the Road
1. Traffic laws They apply when you're on your bike. The exception is Idaho, where cyclists can treat stop signs like yield signs.
2. iPods Most states allow cycling with music players. But just because it's legal doesn't mean it's smart.
3. Brakes Fixed-gear riders, listen up. Most states require brakes on bikes. And even if your state doesn't, insurance companies can use the absence of brakes to deny accident compensation.
4. Middle fingers The Supreme Court says it's not obscene, but some local laws might consider the gesture "fighting words." Our recommendation: Keep all ten fingers on the bars.
5. ID No state requires you to have a driver's license to ride a bike, but you will usually be required to produce some form of government-issued identification if you're stopped for a traffic violation. We recommend using your passport and riding in Italy as much as possible.
6. Public peeing The law treats this as if you were drunk outside a bar—you can get cited for it anywhere.
7. BUI Many states have strict laws against bicycling under the influence—Oregon, for instance, applies the same penalties for BUI as DUI. Seattle bar-hoppers get off easy, though: In Washington State, you cannot be arrested, no matter how drunk you are—although you can be taken into protective custody.
8. Helmets There's some form of helmet law in every state (for a complete list, visit the Bicycle Helmet Safety Institute at helmets.org).
9. Visibility Most states require lights and reflectors in low-visibility conditions, though almost any light, no matter how dim, will suffice.
10. Insurance There are no comprehensive policies for cyclists available in the U.S. However, you can piece together solid coverage from your existing policies: homeowner's (theft), medical (injury), and auto (liability and injury).
A two-time Olympic cyclist, attorney Bob Mionske is the author of Bicycling & the Law.
Fit to Ride
Andy Pruitt has worked hard to become the world's leading expert on bike fits. He lost part of his right leg in a childhood hunting accident, so when he started racing bikes years later, he decided to master cycling biomechanics. He went on to open the Boulder Center for Sports Medicine and write Andy Pruitt's Complete Medical Guide for Cyclists. Here h
Sizing Get fitted at a shop with technicians who use stationary trainers to evaluate your body in motion. Don't take advice from anyone relying on only mathematical formulas. "The key is to make the bike fit the rider," says Pruitt.
Shoes Sit on a table with your legs dangling. Note how the outsides of your feet hang lower than the insides. "That's called forefoot varus," says Pruitt, "and 90 percent of people have it." Most shoes fail to take this into account. Buy wedges that slide inside the shoe or under the cleat to maintain the foot's natural cant. OUR PICK: The Wedge, $25; bikefit.com
Saddles "Find a saddle with a flat top that supports the sit bones and has a cutout," says Pruitt. Saddles come in different widths, so buy one that best supports your sit bones; it will reduce pressure on tender areas. OUR PICK: Specialized's Toupe Saddle, $145; specialized.com
What's in your frame?

A quick, authoritative review of the most common bike-building materials
Steel: Cheap and buttery smooth on the road but also heavy and prone to rust. Popular with traditionalists. $
Aluminum: Relatively cheap and incredibly stiff, which means efficient pedaling but also a slightly harsh feel on the road. $$
Titanium: Light, rust-proof, and extremely durable. It provides a ride quality similar to that of steel, but the cost is much higher. Primarily found in boutique and custom bikes. $$$$
Carbon Fiber (as shown in the new Parlee Z4, $3,200; parleecycles.com): The material of choice in nearly all top-end frames, with an amazing strength-to-weight ratio. It can be easily manipulated into different shapes to deliver countless variations in ride quality. The one caveat, beyond expense: If it cracks, it's finished. $$$$
Farther, Faster, Sooner
Express Train with Chris Carmichael
It may look daunting, but this 12-week century-ride training plan(printable PDF) will actually save you time. Designed for beginning riders, it involves shorter, harder workouts—and fewer hours on the bike. With the key below as your guide, start working your way toward mile 100.
Also, check out our century rides calendar to find a ride near you.
Century Program Key

Set your training zones with a field test: Ride a three-mile, flat-to-rolling course as fast as you can. Record your time and average heart rate. Repeat. Use the higher of the two average field-test heart rates (FT HR) to calculate your training ranges based on the percentages in the key below.
1. Ride: Your base standard. Keep your cadence (pedaling rpm) at 80–100 and your effort at 50%–91% of FT HR.
2. Recovery Miles: An easy spin. Ride at 80–85 rpm, 50%–70% of FT HR.
3. Intervals: The following intervals should be performed in the middle of your ride, with recovery periods coming after each interval. FastPedal: In an easy gear, pedal as quickly as you can without bouncing in the saddle. No HR range. Tempo: In a heavy gear, ride at 70–75 rpm, 90% of FT HR. SteadyState: Ride at 90–95 rpm, 92%–94% of FT HR. PowerIntervals: Maximum-intensity intervals. Ride at more than 90 rpm and at least 100% of FT HR.
Home Is Where the Hurt Is
To shake his off-season ennui, our man tests out a new virtual indoor training program
The Tool
Heart-rate monitors are great, but for serious cyclists, nothing beats a power meter. While variables like caffeine intake can affect heart rate, power is an objective measure of effort expended. Hub- and crank-mounted systems offer the most precise data, but they can cost more than $1,500. That's why we're fans of the iBike Pro (ibikesports.com). It measures the forces working against forward motion (wind, gravity, and friction), along with a cyclist's speed, then calculates power output. It's not quite as accurate as high-end systems, but at $429, it's less likely to lead to divorce.
Many cyclists consider indoor training a necessary evil. Spinning, as it was dubbed during its rise to health-club ubiquity in the eighties, hones technique and provides the kind of intense workout that's hard to get in winter. Pros swear by it. And it's about as fun as indoor ultimate Frisbee. You want me to ride nowhere when I could be out skiing?
In previous years, I'd pass, emerging from hibernation several gears slower than my basement-trained buddies. Determined to avoid the humiliation this year, I signed up for Cadence TV, a new on-demand video service that allows you to participate in group cycling sessions via the Internet. Designed by Cadence Cycling, a high-end Philadelphia-based training facility, Cadence TV is the latest evolution in online coaching. There are other downloadable workouts available, but Cadence is the first to let you to join an actual—if virtual—class.
My first challenge was setting up an exercise station. This meant hitching my road bike into a stationary trainer in my living room and positioning my laptop on a stool. Cadence loaned me a PowerTap rear wheel, which measured my output in wattage, so I could track my improvement over time. It took me a few dry runs before I got everything dialed—Internet working? Water bottle full? Dog that barks incessantly at whirring flywheel stowed outside? At last I was grunting my way through my first workout, pacing the other clients, who were visible on my computer monitor, through intervals and drills (one-legged spinning, anyone?).
I could see immediately why this makes someone a better rider. By the end of the workout, I was exhausted, a pool of sweat glistening on the floor. My laptop provided a numerical display timing each interval, and the coach barked audio prompts. Since I didn't have to deal with the road's variables—cars, flats, gnats—I could just sit and spin.
Watching my classmates was about as exciting as watching C-SPAN's Washington Journal, so I supplemented with iPod mixes and TiVo'd stages of the Tour of California. Soon I began to look forward to my multimedia indoor sessions—my sound system thumping, the coach urging me to keep up my rpms as I chased Team Astana through the Sierra Nevada. True, I was actually in my living room on a drizzly winter morning. But my legs already thought it was May. >Cadence TV costs $35 per month, with a minimum three-month sign-up; cadencecycling.com.
The Goods
Eight keys to a safe, comfortable ride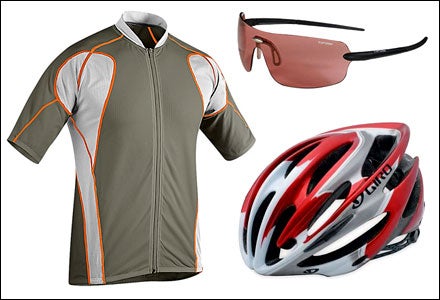 1. Specialized BG Gel gloves, $32; specialized.com
2. Sugoi Pulsar jersey, $60; sugoi.com
3. Pearl Izumi P.R.O. Bibs, $150; pearlizumi.com
4. Tifosi Vogel with Fototec lenses, $60; tifosioptics.com
5. Louis Garneau Carbon Air Compo shoes, $170; louisgarneau.com
6. Rapha merino socks, $27; rapha.cc
7. Craft Pro Cool Superlight Mesh Sleeveless, $35; craftsports.us
8. Giro Pneumo helmet, $145; giro.com