Meet the Navajo Nation's Only Paintball Team
What started as a scratch team playing an alternative sport has become a rallying point for a community in Chinle, Arizona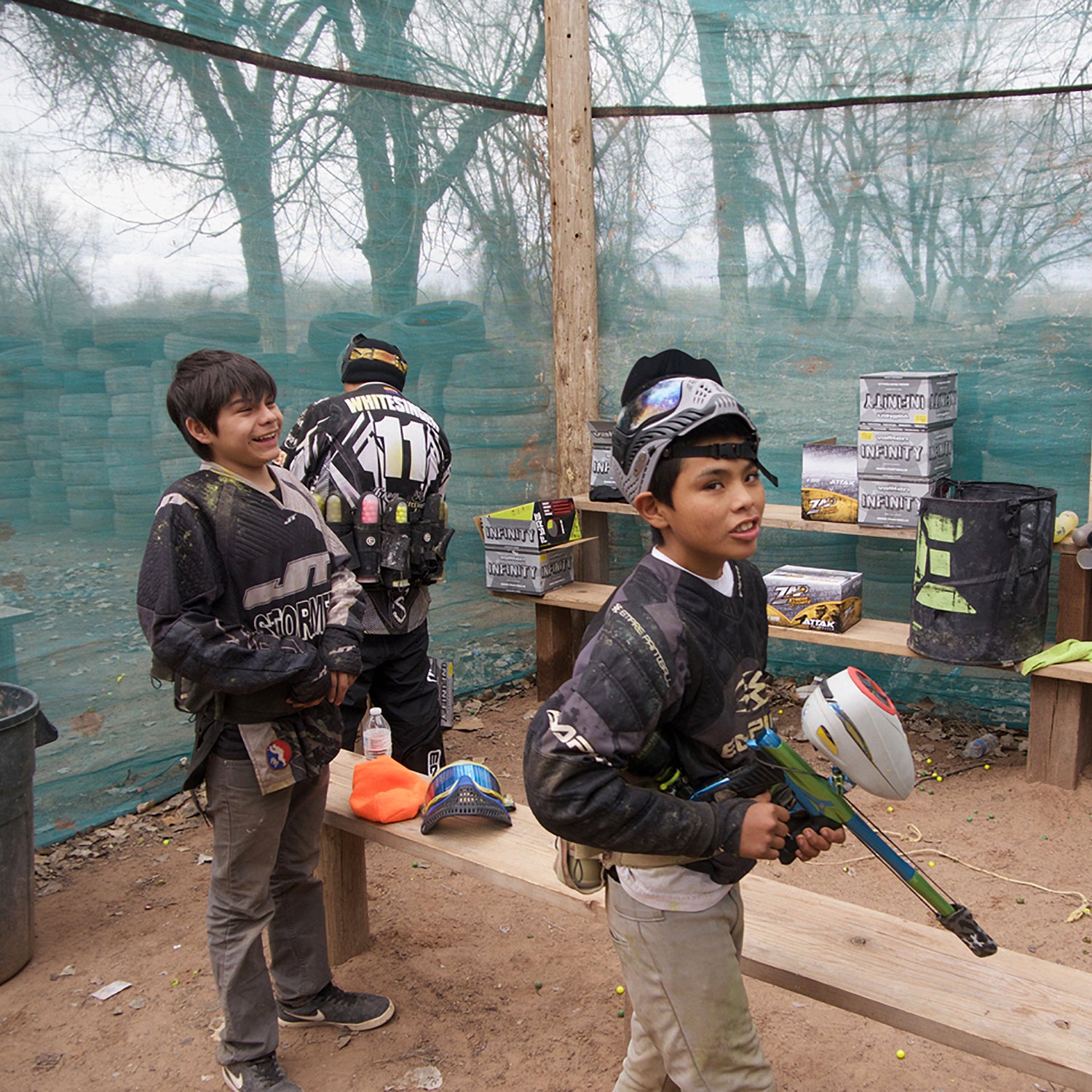 Heading out the door? Read this article on the new Outside+ app available now on iOS devices for members! Download the app.
There's no map to find the field I'm looking for. When I finally locate it, I'm standing in a flattened plot of dirt. The area is framed by several telephone poles and scattered with wadded-up strips of Astroturf and deflated paintball barriers. On the edges of the field are a toppled desk chair, a toothbrush, a bottle of glue, an empty vodka pint, sandpaper scraps, a bike tire hung wreath-like from a fence pole, cinder blocks, a buzz-saw blade, and an entire deep freezer. I see fluorescent paintballs scattered like berries from some impossible tree. Nearby, an empty can of Campbell's bean and bacon soup rattles, windblown, against a plank of wood spray-painted with a single word: Stormerz.
The Stormerz are a Division III competitive paintball team and the only one in the Navajo Nation. I'm on the Navajo reservation in Chinle, Arizona, at the invitation of brothers Edward and Edwin Whitesinger, the two founding members. To be honest, I'd arrived lugging along my own assumptions about paintball. What more could it be than just a bunch of guys taking shots at each other, sending folks scurrying home with an array of welts? Yet the Whitesinger brothers explained how the sport serves as an anchor in their community. "It gives the players discipline," Edward told me. "Their grades are up. It gives them motivation, quick thinking, and that competitive edge." It's early on a Sunday morning, and there's already a group of kids and young men whirling through assigned tasks. The field is taking shape.
Ladders are hauled out and strips of AstroTurf are dragged, unfurled, and flattened into place with a stomp. A group of younger kids wrestle with some netting. One giggles and flails on the shoulders of another, struggling to feed an errant bit of rope through a pulley. A young man slips a leaf blower into the opening of each bunker. Each is staked down in a precise location that aligns with the layout of competitive paintball fields. One by one, the inflatables shrug up from the ground, bulging with air.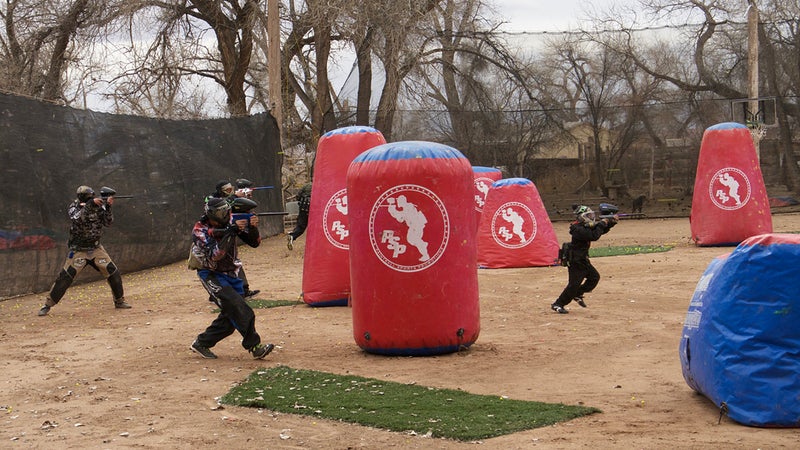 Edwin, 53, used to play on the team, but in recent years has transitioned to the role of lead referee. He's also the Stormerz' designated supply man, ensuring that there's enough dyed-oil gelatin capsules for the team to splat against each other. Every few weeks, he makes the ten-hour round-trip drive to Phoenix, where he buys wholesale boxes of ammunition.
Edwin speaks frankly about his community's challenges. For decades, the poverty rate in the Navajo Nation has hovered around 40 percent. Since 2003, methamphetamine use has more than doubled, and alcohol-related disorders among Native youth are among the highest in the nation. According to some estimates, obesity affects more than half of all Navajo children, constituting a serious health crisis in itself. Edwin sees a clear reason why drugs and alcohol flourish on the reservation: boredom. "There's no other place for these kids," he says. "They don't have a recreation center, an activity center, or a Boys and Girls Club. There's no place for basketball, baseball, arts, or crafts. There's not even a park, and the tribe doesn't pay for youth activities anymore."
He turns and gestures to the plot of dirt we're standing on. "This is it," he says.
No one is arguing, of course, that shooting paintball guns will cure every local challenge. But some of the benefits are obvious, such as the sport's demand for regular exercise, self-discipline, and healthy eating. Other aspects were less quantifiable but equally valuable, like the travel afforded to the young team members for nationwide competitions.
Edwin would much rather discuss the game itself than its abstract virtues. It's all about communication, he explains. When the opposing side advances up the field, they'll be calling out the positions of the other team members using agreed-upon nicknames for each of the inflatable bunkers. The bulging triangle shapes are known as "Doritos," for instance, and the zigzagging set of low-lying tube-shaped bunkers are known as the "snake." I had guessed that the team might employ Navajo words, but Edwin shrugs. "The kids these days no longer know the language," he says.
Beyond pinpointing locations, it's about lighting up the bunkers and keeping opponents pinned down. It's about changing it up and anticipating habits. It's about finding a lane—an opening on the field where you might be likely to see an opponent bolt past—and filling it with a steady stream of paint. It's like a combination of chess and hockey, reflexes and chutzpah, force and psychology.
The boys scream out codes: "Dorito Two!" "Fifty snake!" The referees begin to signal successful shots. There's a final fierce round of firing, and then it's over.
The Stormerz are ready for the first scrimmage of the day. Each of the youngest players, ranging in age from ten to 15, pulls his mask down over his face and jogs onto the field to face the three adult opponents. Deondres, in a gray hoodie and shorts, aims his gun straight down and plans a beeline sprint. Samuel, wearing a neon orange ski hat and socks with a marijuana leaf pattern, stares downfield, left leg jiggling, readying for a break toward the Doritos. Darrell spreads his legs wide while craning his neck downfield, assessing the positions of the opposing players. He'll be bolting snake-side.
Edwin slips through a small gap in the mesh, chases a tongue-lolling dog named Sparky from the field, then turns back to the players. "Five seconds," he yells.
---
The Stormerz team began in an appropriately makeshift way. While firearms had been a normal part of life for the Whitesinger brothers growing up—they regularly hunted coyotes, bobcats, and foxes on reservation land—neither had ever heard of paintball. Then, in 2002, while traveling through Tennessee, Edward came across a group playing paintball at a park and was transfixed.
The version of paintball that he initially brought back to the reservation was a bit madcap. "We just went out there and started shooting each other," says Edward, 51, laughing. He learned the rules of speedball, a variant of paintball favored by competitive leagues, by watching YouTube videos. Eventually, he formed and named the team the Stormerz after the harsh storms that blow across the mesas into Chinle. "Out here, we get a lot of rain and snow," Edward says. "We're always getting pounded."
The team began to compete more seriously in cities around the county, from Las Vegas to Nashville. Chinle residents helped the team purchase additional bunkers through roadside food revenue, and when the high school football stadium received a new spread of Astroturf, Edward was able to salvage the discards. During Sunday practice, community volunteers set up shop at the corner wooden benches, cheerfully squeegeeing equipment. To this day, when the Stormerz load up a U-Haul trailer and road-trip off to a competition, Chinle residents donate Gatorade, snacks, and other supplies for the team's travel.
Still, the team's path hasn't always been smooth. It can be especially difficult to retain the younger players, Edward tells me. "Kids move away or just become interested in other things," he says. Perhaps as a result of this ongoing turnover, the Stormerz have recently slipped from Division III to Division IV in their competitive rankings and seem to be in a period of transition. Similarly, it's been difficult to sustain the community's initial generosity, and the Stormerz have needed to seek additional funding elsewhere. "Youth development used to help us out with expenses, but they don't do it anymore," Edwin says. "They don't ask questions and don't pay attention."
In 2007, Edward's son was killed in a car accident in Phoenix, and his nephew died from cancer; both young men had been core members of the Stormerz. "It was kind of hard doing it without them. I was going to quit," Edward admits. "But I have to look at these kids, and be there for them and guide them through it. Sometimes I don't have any other life. I went through a divorce, and I'm a single man now. But the Stormerz are my family."
---
Deondres hunkers down behind a towering bunker, holding his lane. Darrell dives a slim length of Astroturf near the snake, then begins shimmying up its length. And Samuel stares down his sights, methodically advancing upfield. The bunkers are lighting up, and there's a steady cascade of pops and pings, as if a cluster of inflatable rafts were caught in a hailstorm. The boys scream out codes: "Dorito Two!" "Fifty snake!" The referees begin to signal successful shots. There's a final fierce round of firing, and then it's over.
The initial match was an explosion of activity and blasts of paint. It lasted a little over 30 seconds.
For the young Stormerz, simply pulling the trigger and picking off folks wields far less pleasure than attacking as in-sync unit.
The entire afternoon is given over to skirmishes like that one. Many matches ended with a tense standoff, with two opposing players hunkered down behind a bunker, each waiting for the other to expose themselves. Driven to outfox, outrun, or outshoot the other team, the Stormerz slid, dove, sprinted, and picked off opponents with what seemed like burgeoning expertise. Yet in all the hours of practice I observed, I never once saw any player lose their temper or complain. In match after match, these young paintballers showed both love for the game and pride in their skills. When I asked Samuel if he ever played against his brother, he shook his head no emphatically. For the Stormerz, simply pulling the trigger and picking off folks wields far less pleasure than attacking as in-sync unit.
---
By now, there's a fierce March wind blowing in, whipping up grit and buckling the field's netting. It feels as if it even might snow. The Stormerz decide to call it a day. The cleanup work can wait. Instead, we hop back in our cars and take just a few turns on those dirt back roads before arriving at Edward's house, a gray one-story structure with a metal roof. Inside, a group of women, all wearing Stormerz sweatshirts, carry out folding tables and pitchers sloshing with fruit punch. Before anyone else is served, a woman hands me a paper plate packed with a hot dog and hamburger wrapped in fry bread.
During lunch, Edward leads me around the kitchen, showing me trophies the Stormerz have garnered, while also admitting that his team has endured many losses. In a recent National Xball League championship in Las Vegas, they were bounced from the tournament in their division's first round after earning a tenth-place standing. For Edward, that kind of defeat hardly matters. Each time they compete, the team hits the field and tries hard, and they always have a lot of fun together.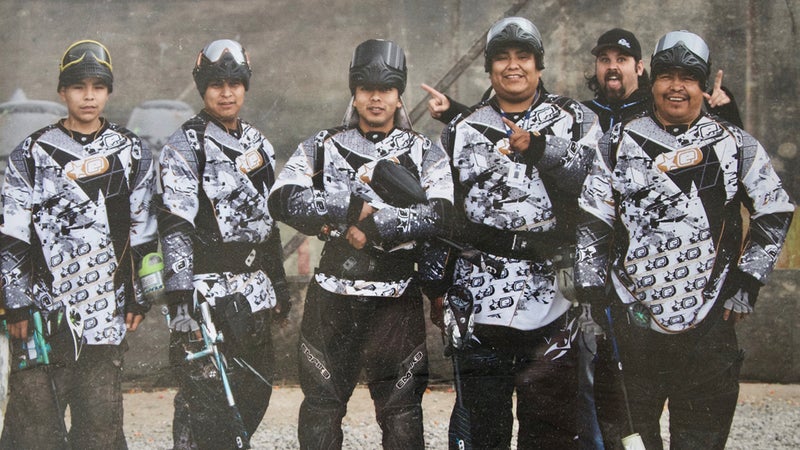 It's hard to resist the notion of underdog triumph, of an against-all-odds victory, of hardship overcome through transformation, revelation, and reward. But Edward's goals for his team—discipline, endurance, the ability to hatch strategic plans—are so much larger than any one tournament's results.
"A lot of these kids don't have opportunities," Edward says. "They don't have anyone behind them. It's not there. So we have to step in. We tell them, 'We'll show you a better life,' and paintball changes everything for them."
Lead Photo: Tony O'Brien