Winning Isn't Everything—Just Ask the Dogs
We switched up our dogsledding training plan and rode our way to dead last on a husky-powered bus. I loved every minute.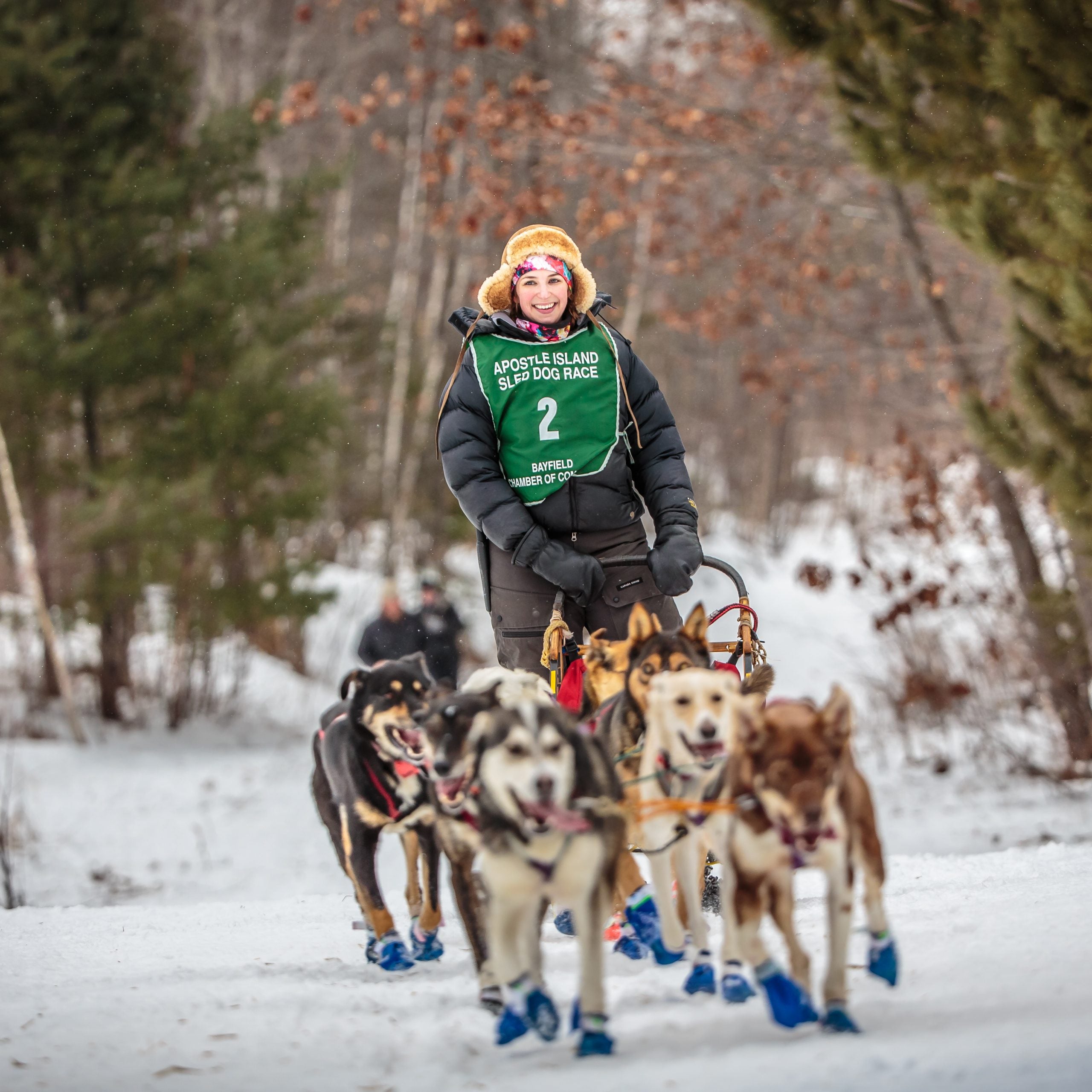 Heading out the door? Read this article on the new Outside+ app available now on iOS devices for members! Download the app.
My husband and I bought a new training cart for the dogs last fall. It was massive, almost futuristic: imagine the moon rover with three rows of bench seating. We picked it up in the Yukon, strapped it on top of a 20-year-old dog truck, and drove the whole rickety machine 4,400 miles home to Wisconsin, being extra careful under every bridge.
This cart was going to revolutionize our dryland training. We'd no longer have to nudge a four-wheeler behind the dogs, but could instead travel motor-free, powered by the 16 or so manic huskies that it took to pull the behemoth. Plus, the cart had passenger seats with room enough for nine people. It was a dog-powered bus! We invited kids on every run. When we met hikers and hunters on the trail, we welcomed them aboard. On Thanksgiving, we took all our guests for a moonlit stargaze by dog team, and on election day we offered rides to the polls.
The training cart weighed 550 pounds, five times more than our old ones. Within a few weeks, our dogs—who already look like little bodybuilders—were ripped, biceps and triceps bulging through thick fur. The cart's weight didn't seem to bother them at all. They were running slower than usual, sure, but that wasn't a big deal. Then we entered eight dogsled races, running a total of 900 miles—and came in dead last in every single one.
Each time, the dogs ran beautifully. They finished 150-mile races looking sprightlier than they had in the starting chute. They trotted as steadily as I'd ever seen them, climbing infamous mountains without a backward glance, weaving through rocky terrain like it was nothing. But they would not, under any circumstances, run faster than eight miles per hour.
Within a few weeks, our dogs—who already look like little bodybuilders—were ripped, biceps and triceps bulging through thick fur.
There's an award in dogsledding for the last-place finisher—you know, the loser. It's called the Red Lantern and consists of a red lantern. We now have eight cluttering our mantle, which came in handy during a two-day blackout last month. The tradition stems from when Alaskan roadhouses hung lanterns to guide dog teams to safety, snuffing them only when every musher was off the trail. As such, mushers have a certain degree of respect for last-place finishers. They're the teams that faced the wilderness the longest and (possibly) struggled the hardest. They're shadowed by the wolf packs that follow racers up the trail, hunting for scraps. They cross ice bridges that have half-collapsed from overuse. Their sleds break, and they piece them together with, like, a ski pole and a strip of duct tape. Or else—as happened in our case—their dogs are just really slow.
My theory is simple: Our new fall-training cart was too big, too slow. The lead dogs adjusted to a new pace, the wheel dogs slowed down at the back of the team, the whole group settled into a rhythm that felt right and rode that rhythm for the next four months. By the time winter was half over, we had a strong hunch as to why most mushers don't train their dogs with a super-cool husky-powered bus. But at that point, what were we going to do—not race?
The thing about dogsled racing, the reason we're hooked, is that a big race is the best dog run you'll have all year. All that exists is the next sharp turn, the next checkpoint, the dogs' feet patting an even beat on the snow. You don't even have to worry about road crossings or navigating a new trail—volunteers take care of all that. For those hours, those days, the whole world is about running dogs, loving dogs, and being with other people as crazy about dogsledding as you are.
The last race I entered this season was the Midnight Run, a technical 90-miler near Marquette, Michigan, that started in the evening and stretched through the next morning. It was late February, and the snow was already melting when the race started, but that didn't stop trailgaters from setting up bonfires along the first ten miles of the route, cheering for teams who slipped through the darkness. It was odd to delay the usual solitude, to be racing in a state of anything less than utter privacy; the palms of my hands stung from high-fiving so many children as my sled went by. I made a mental note to hand out popsicles next time.
Last year, I scratched from this same race after staying with a musher I found lying hypothermic on the trail in 18-below temperatures, but this year's conditions had swung to a different extreme, and my main concern was rubbing wax on my dogs' foot pads to protect them from the half-melted slush. At the midway checkpoint, I skipped the crowded shelter and unrolled my sleeping bag beside the dogs in their piles of straw, burying my face in fur, soothed into a light sleep by the gentle kicks of dreaming huskies. Two hours later, an orange dawn cast a misty halo over a herd of cows, who mooed as my dogs trotted past them. By the time the hot sun flashed through the trees, the wind off Lake Superior felt like breath. I envied the faster teams—which is to say, all of them—who had covered more distance before the heat of day. I offered the dogs some gas-station Gatorade, but only Gabby liked the sour yellow flavor; she drank everyone else's portion.
That morning's trail retraced the route from the night before, and I knew exactly where we were, how far we had to go. After leaving the forest, we'd run a ten-mile stretch that threaded between the highway and the lake, a gusty straightaway where highway passengers leaned out the windows with their phones. By 9 a.m., after 11 hours of racing and eight hours on the trail, we were nearing the edge of the woods. And then we turned a corner and there was the finishers' archway, the crowd. Ten miles early.
A knot in my chest: this is what happens, I realized, when your beautiful dogs are too slow. The race officials and fans had gotten tired of waiting for us. They had moved the finish line so they didn't have to stand around anymore.
As it turned out, that last stretch of trail had melted into muddy asphalt, too warm for the huskies to run safely without the cover of shade. The finish line had moved for everybody, and I was only eight minutes behind the second-to-last musher—a fair difference, sure, but not enough to annoy officials. My handlers hugged me and the veterinarians cheered and the other mushers beamed, red-faced, while 200 gorgeous huskies stretched and gulped down cool broth, already out of their booties and harnesses, bedding down in soft straw. My own dogs leaped against their tug lines, trying to keep running, confused, until I kissed all their foreheads and distracted them with chips of frozen walleye. It didn't matter how long it took us to run the trail. It would always be too short.
Blair Braverman (@blairbraverman) is the author of Welcome to the Goddamn Ice Cube. This is her fourth of four columns about raising a sled dog team.