The Shatter-Proof Skeleton
Want an unbreakable superstructure? Building tough bones can be as easy as grabbing your skis and charging bumps all day long.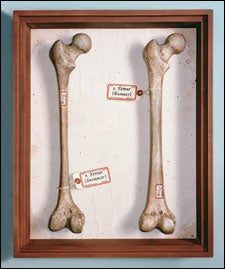 Dan Winters
Heading out the door? Read this article on the new Outside+ app available now on iOS devices for members! Download the app.
FOUR YEARS AGO, Bill Holland, a middle-aged bike builder and avid cyclist from San Diego, thought he was in the shape of his life. Friends told him that, with his five-foot-ten-inch, 147-pound frame, he looked ten years younger than he really was. He ate a balanced diet and rode an average of 150 miles a week. And he'd kept that lifestyle up for the last 25 years.
strong bones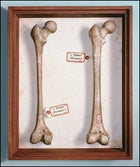 BONE UP: Hard-pounding exercise and extra calcium separate a fragile frame from a rock-solid one
Then, in May 2001, Holland, 48 at the time, volunteered to help a friend with her bone-density study at San Diego State University (SDSU). The results shocked him: He had borderline osteoporosis. "A doctor told me that I had the heart and lungs of a 17-year-old," says Holland, "and the bones of a 70-year-old."
Whoa. Osteoporosis? Isn't that something that afflicts the elderly? Yes, but not exclusively: If you maintain your fitness level solely through non-impact sports like cycling and swimming, you could be at risk for waking up at age 50 with the bones of a person 20 years older. Despite Holland's rigorous exercise habits and healthy diet, his bones had grown weak—and ripe for failure.
Until now, few athletes have had reason to worry about skeletal strength. They assumed that a good diet and regular training—two of the many requirements for bone health—would keep their bones robust forever. But the results of the SDSU study (published in 2003), which measured the bone density of 27 masters cyclists like Holland, showed researchers just how significantly bones can deteriorate when not subjected to the rigors of load-bearing activities such as running or lifting weights.
Scientists have long known that low-impact exercises fail to trigger the body to fortify bones, but another significant discovery, often overlooked, is just how much precious bone-sustaining calcium leaches from the body via sweat. Besides the fluids and sodium we lose while hammering the pavement, pumping iron, or playing a pickup game, an additional 120 milligrams or so of calcium is sweated out during every hour spent exercising. And unless you replace that missing calcium with the right foods, it ain't coming back. So even those who go for high-impact sports like skiing and running can face a calcium deficit—and an increased potential for broken bones.
Fortunately, you don't have to hang up the handlebars or pawn your Speedo: Calcium loss is both avoidable and reversible. To help counter the two things that affect healthy adults' bone density most adversely—participation in non-load-bearing sports and calcium lost through sweat—we've drawn up a two-part skeleton-insurance plan that will easily fit into your fitness regimen.
Deep-Impact Workouts
strong bones
PACKED WITH PRESERVATIVES: Your bones need calcium to last.
For better or worse, the human body adapts to its environment. If you stop applying force to your frame by focusing on low-impact sports, you'll build muscle, but your bod will assume that it can slow down bone maintenance.
This process came to light in 1996, when a study of six Tour de France riders showed bone-density losses of up to 17 percent over the course of the race. Seven years later, the SDSU study demonstrated that two-thirds of the masters bike racers tested had, on average, 10 percent more bone-density loss when compared with the male control group. The results led the study's author, exercise-physiology professor Jeanne Nichols, to warn of the risk in those participating exclusively in low-impact sports—like cyclists and swimmers. The latter, according to Scott Going, associate professor of nutritional science at the University of Arizona, are engaged in the sport ranked dead last for bone maintenance. The best sports for that goal? Weight lifting and gymnastics.
To counteract this problem, just add bone-building workouts to your program, like a weekly ski session this winter. "Logically, the weight-bearing loads that come from mogul skiing or snowboarding should spur bone growth," says Going.
No snow? No problem. Jogging or jumping rope daily will also prompt bone growth. These load-bearing exercises—as well as a weight-lifting program where you pump enough iron to reach muscle failure after eight reps—will stop your bones from weakening and could help multiply bone cells by as much as 2 percent a year. "Just make the impact on your skeleton significant," says Warren A. Scott, a medical director for the Hawaii Ironman Triathlon. Activities that are too mellow, like casual walks, don't cut it.
Trending on Outside Online