Up Your Game
We're Bad at These Sports, but We're Not Giving Up
Being a beginner (or just perpetually mediocre) doesn't mean you should quit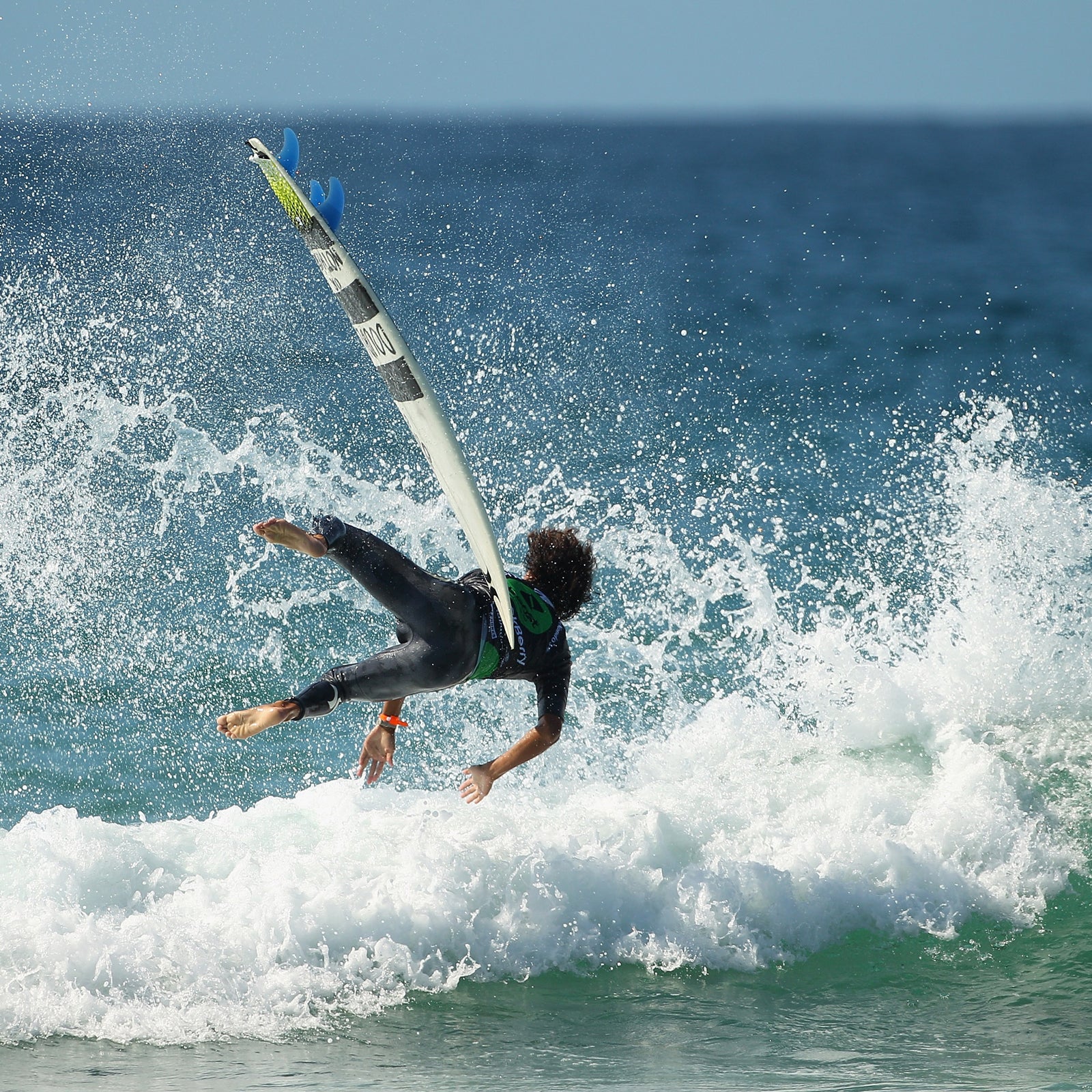 Heading out the door? Read this article on the new Outside+ app available now on iOS devices for members! Download the app.
There's something beautiful about being a beginner. The learning curve for any new sport can be intimidatingly steep, but progressing from total rookie to somewhat competent usually comes a lot quicker than graduating from intermediate to expert. Even if that progress never happens, it's good to stay humble, get out of your comfort zone, and try new things. Here are all the ways we're still getting after it, even if we'll never be that great.
Mountain Biking
Despite an implicit distrust of wheeled things, especially at speed, once or twice a year I break out my cheap hardtail, pump up the tires, and drag myself out to a mellow local trail system. I usually make it a few very slow white-knuckled miles before deciding I've had enough. I'm not sure why I haven't gotten rid of my bike yet. Maybe it's the fact that trying something I'm awful at gives me an excuse to feel accomplished. When I'm decent at a sport, I'm pretty hard on myself. I don't stop to congratulate myself after a routine six-mile run or day at the crag; instead, I think about how I could go faster or in better style. But there's never anything routine about mountain biking. I know I'm terrible at it, so every moment I'm not on the ground or in tears is reason to celebrate. 
—Ariella Gintzler, assistant editor
Cycling
My dad was a semiprofessional cyclist, and was even featured in Outside in 2004, but I didn't inherit those genes. I have always loved to bike, but as a kid I was so much more invested in my sparkly tassel handlebars and sick bumblebee helmet than I ever was in actually going anywhere. I can't say I ever really made peace with the cycling gods, but recently I got an awesome bike from local Santa Fe bike co-op Chainbreaker, and I've been riding to work every day since. I'm definitely sporting a lot more pedal-induced shin injuries, but I feel pretty cool riding around town—and that's what really matters, right?
—Kyra Kennedy, photo editor
Swimming
At least once a year I get sidelined from my preferred sport and find myself, like clockwork, back in a musty locker room, wrestling with a too-tight one-piece and foggy goggles. I dropped out of swim team at age 11, when I had to practice with the ten-year-olds because I couldn't figure out how to flip turn. I took a decade-long hiatus after that. To be fair, I don't hate swimming. Lap swim feels meditative and refreshing, especially since water is scarce in New Mexico. But I am really bad at it. I'm slow, my form is poor, and I always lose count of my laps. I never did learn to do a flip turn—that level of underwater coordination (so close to a concrete wall!) still eludes me—but something about going easy on my joints and getting out of my element feels totally worth my time.
— Abbie Barronian, assistant editor
Running
I'm probably one of the slowest runners you'll ever meet. I used to really beat myself up about it, but when I signed up for my first ultra a couple of years ago, I discovered that, while I'm not great at speed, I sure can suffer. So now, instead of trying to go fast, I focus on going far. I'll probably never win a race, but there's something satisfying about crossing a finish line after covering a distance I didn't know I was physically capable of not too long ago.
—Abigail Wise, online managing editor
I love running, but my legs just don't seem to want to run. After the first brisk quarter mile, I inevitably slow down to more of a shuffle walk. At about a half-mile, my knees feel like they're collapsing into my ankles, which are rolling around too much, and then I sprain one of them. From there I usually hobble home with plenty of endorphins but not anywhere near the mileage I was hoping for. Can someone teach me how to run?
—Samantha Yadron, editorial production fellow
Surfing
I insist on trying to surf almost every time I'm near the ocean. Sometimes I take a lesson, sometimes I just rent a board and a wetsuit for a day. Sometimes I manage to catch a few waves, and sometimes I just flail around in the water for a couple of hours. On my last attempt, in San Diego this winter, I found I wasn't strong enough to even paddle out to the break, which was pretty humbling. But hey, I live in landlocked New Mexico, so it's not like I get a lot of opportunities to practice this thing. I'll keep trying whenever I can, because surfing gives me a reason to stay in the water for hours at a time—and stokes my endless fascination with the sea.
—Svati Narula, associate social media editor
I love the meditative element of surfing, but sadly, my surf style looks anything but peaceful. I'm usually getting thrashed by waves, and if I catch one (and it isn't a crumbling mass of whitewater), you'll probably be able to see my limbs flailing from the beach. But I keep paddling out, because another wave will always come. That is, after all, the wisdom you can glean from surfing… right?
—Jeremy Rellosa, assistant editor
Climbing
A few months ago, I started going to Santa Fe's local rock-climbing gym. The experience taught me two things: one, I have absolutely no upper-body strength (OK, that one I kinda knew), and two, as soon as I get more than two feet above the ground on a bouldering problem, my mind goes into full lockdown mode, with the only goal to get to solid ground as fast as possible. Thankfully, a few weeks ago, I got belayed certified. I'm still capital-H horrible at the sport, but I like that it takes me out of my comfort zone—and lets me work on my Michelle Obama arms.
—Kelsey Lindsey, assistant editor
Skiing
I grew up in Florida and would never have gotten into skiing had my job at Outside not provided the gear and exceedingly kind, expert-skier coworkers to get me to try it. I was surprised to find that as soon as you're able to stay upright most of the time, skiing is fun no matter how bad you are. It's hard not to whoop when you're zooming downhill, even if your zoom is a little on the slower side. And even if progress means shakily making it down a tree run without crying, it's pretty exciting to watch myself get better. Plus, most skiers I've spent time with are so nice that it's hard to get stuck in a bad mood. I still hide behind my Florida excuse many days, but I'd like to think I'm owning it a little more by advertising my signature survival-skiing move, the Florida Snowplow (it's just pizza-ing really hard, but still). Feel free to spread the term around.
—Erin Berger, senior editor
I was in middle school when I first tried skiing, on a family trip to Rocking Horse Ranch in upstate New York. My dad, brother, and I grabbed rental planks and boots and tried getting up the bunny hill via the towrope, but I kept falling down, unable to keep my balance or the skis straight. All the attendant did was shout, "Hold on to the rope!" Right, thanks. I swore off the sport for a while after that. But now that I work in an office full of ripping skiers—where I hear the telltale crinkling of ski pants as people roll in late on a powder day—FOMO is getting the better of me. I've been taking lessons and am thinking of investing in a season pass next year. Hopefully, instead of wiping out on the bunny hill, I can french fry my way down the slopes with the big boys and girls.
—Will Egensteiner, senior editor
Lead Photo: Cameron Spencer/Getty