These Inspirational Quotes Will Make You Faster
In The Art of Competition, Ironman-turned-author Mark Allen gives insight into the thoughts that helped him race his fastest while living to the fullest.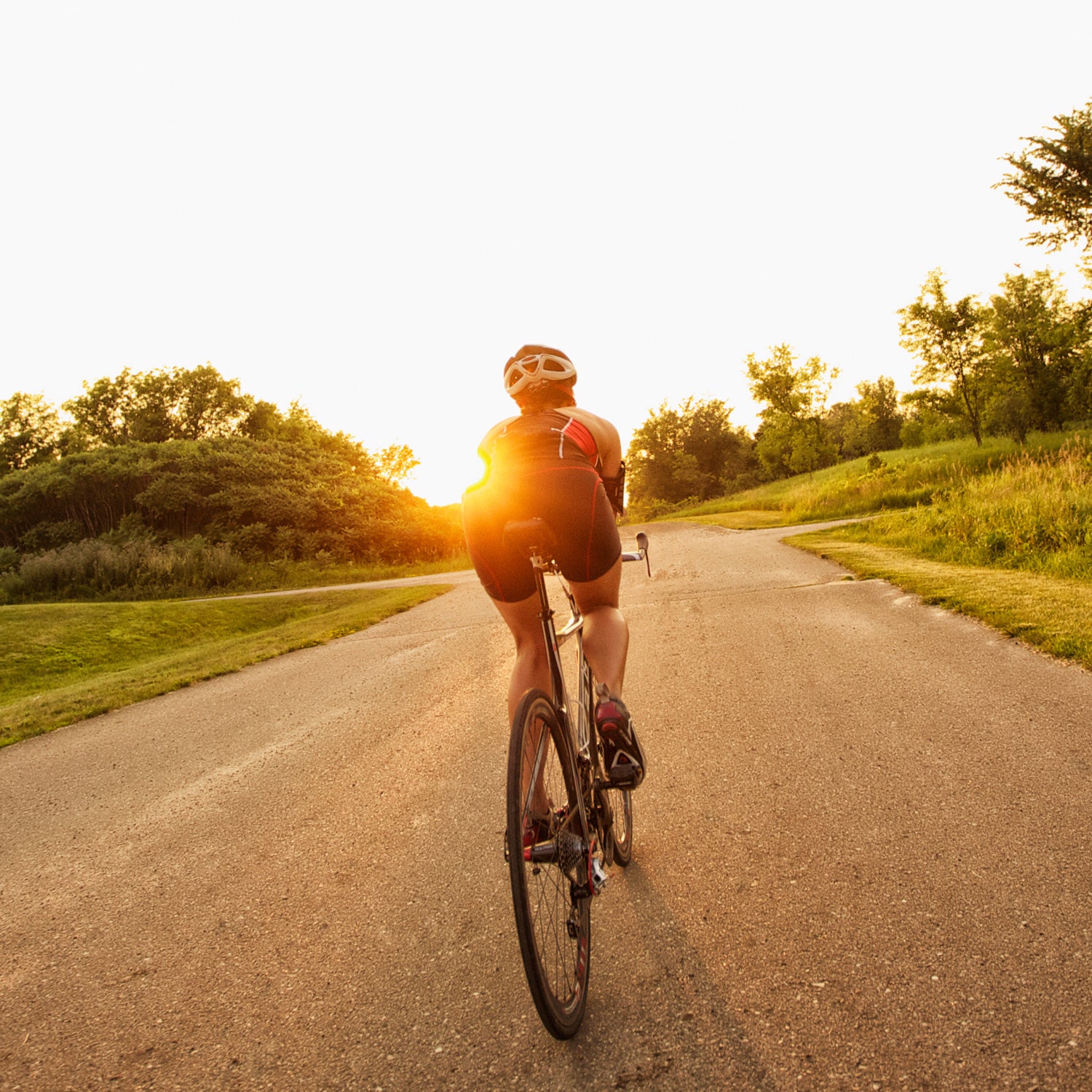 Heading out the door? Read this article on the new Outside+ app available now on iOS devices for members! Download the app.
Can inspirational quotes make you a champion? It worked for six-time Hawaii Ironman champion Mark Allen—and he wants to share his moral support with us mere mortals.
The legendary triathlete's new book, The Art of Competition, combines scenic photographs with Allen's own spiritual thoughts. The finished product reads in bit like a series of inspirational posters, but also as a serious reflection on healthy competition.  
We talked to Allen about the book, triathlons, and the spiritual work he does with Shaman Brant Secunda.
OUTSIDE: What made you decide to write a book of inspirational quotes?
ALLEN: For years, people asked me, 'What did you think about during races? How did you hold it together?' I always felt I was falling short of explaining the essence of what I was doing.
How did you begin to compile the quotes?
I was on a retreat with Brant Secunda in Japan. I was lying down and these quotes just started coming to me, out of thin air. It was like a faucet. By the next day, I'd written down 35 to 40 quotes. I thought, these are pretty cool, but I didn't have a vision for what to with them. Five years later, I decided that I needed to pair them with photographs from nature.
Why is nature such an important part of the book?
We are hard wired to feel good in nature, and the quotes have everything to do with us feeling good in life. That is how I raced best; when I felt good about life. I trained in San Diego in the winter and Boulder in the summer and I just loved those environments. You're running by the ocean and then riding in the foothills of the Rockies. It doesn't get any better. Nature has always been a huge part of my training. When you go outside and immerse yourself in nature, you inherently feel better.
Did you write this book for triathletes?
I wrote this book for everybody. There's not one photo of an athlete in it. There are no numbers or formulas. It's meant to test people on a deeper level. Obviously, there's a sport slant to a lot of it, but it applies to personal challenges in any arena.
Should someone read this book straight through? Or take their time with a few quotes at a time?
When I had put everything together for the book, I sent out a PDF to people to get feedback. One of the guys I sent it to I thought was as far at the end of the spectrum of people who might like it as possible. He finally called me, and told me he'd at last finished reading the book. He'd started reading quotes and flipping through the pages, and then realized he could only look at two or three quotes each day because he would start thinking about each one. I think a lot of people will read a little bit at a time and go reflect on it.
The book contains positive quotes, but it also addresses problems such as being stuck, jealous, or grappling with self-pity. Do you deal with all of those?
I've had to overcome all of those things. I didn't want to make the book just about fluffy positive things. I was feeling sorry for myself all those years I didn't win races. I could be in the lead at hours five, six, or seven, but I couldn't be in the lead at the finish line. I had jealousy and self-pity when Dave Scott kept winning and I couldn't. We all have to find a way to move beyond those things.
Your best known race is the 1989 Ironman Hawaii battle with Dave Scott. What did that win mean to you?
It was an amazing race because we were side by side for eight hours. It had never happened before, and it hasn't happened since. It was a defining moment for me. I made the switch to finally having the race I wanted to have. It was the first time I really integrated the soul-body concept. I really embraced how the internal space dictates what is going on outside of you.
What happened mentally with you in that race that enabled you to push through to the finish line?
Dave was surging at the half marathon point. I remember looking around at the black lava surrounding us, and thinking that it was the most amazing creation nature could make. It was like a cloud had lifted. I stopped thinking about everything and became a vehicle for performance to take place. I think almost all great athletic performances happen when you are in that space.
What was the tougher race: The duel with Dave Scott or your final Ironman Hawaii victory in 1995, when you had to make up 13 and a half minutes in the marathon over race leader Thomas Hellriegel?
I would say the final victory was the hardest. When I was racing with Dave, we were side by side the whole time. There was zero doubt about how he was feeling. With Hellriegel, I was racing a guy who'd passed me on the bike and I didn't see again for hours. It was very hard mentally to keep going and say this is something that could turn around.
How did you keep going when you were that far back?
I knew I had to make up 30 seconds per mile in the marathon. It seemed so impossible. I threw off my heart rate monitor. It would tell me if I was running out of gas, and I didn't want to know that.
What made you a great triathlete?
Tons of guys have the same genetics as me. I'm not a freak of nature genetically. There are a lot of guys with better numbers. But the numbers in the logbook don't necessarily tell what you will do in competition. I discovered how to persevere in difficult moments. When you just want to quit, you have to surrender to the moment, and find a calm.
What did you love about Ironman Hawaii?
I loved that Ironman is such a complex puzzle to figure out. The wind, the heat, the energy of the Big Island. Everyone willing to give 100 percent. I really loved that.
Have you been surprised by the enormous growth in the sport of Ironman?
When I started in 1982, there were 1,000 people in the race in Kona. You didn't have to qualify. There were very few Ironman races to enter. Now, there are races everywhere. I think people do this sport because of the community of people, and because you test yourself and challenge yourself.
What do you do in the retreats you host with Shaman Brant Secunda?
We teach retreats all over the world. We've been doing it since 1998. The Art of Competition is a teaser of what you can get if you develop your mind and body, which is what we work on at our retreats. We get a huge range of people at our retreats. Everyone from world class athletes to inactive, overweight individuals. The way we set up the workshops is so there's something for everybody.
Do you also work with triathletes?
I do training camps periodically. I'll be in Boulder in August. I talk about both the physical and mental because there's a lot of misinformation about training. I believe in getting fit in a way that is healthy instead of burning yourself out. I tell a lot of Ironman stories because it brings to life that even champions struggle.
Do you still do triathlons?
My day-to-day exercise now is surfing. I live in Santa Cruz and absolutely love it. I get out on the water most days. It's my cardio, my strength, my stretching, and my nature fix. I also run and lift weights.
Lead Photo: aaron_belford/Thinkstock