Training Secrets from the Fittest Woman on Earth
CrossFit champ Samantha Briggs believes in resting as hard as you train and ditching the set exercise schedule. She shares her favorite training tips.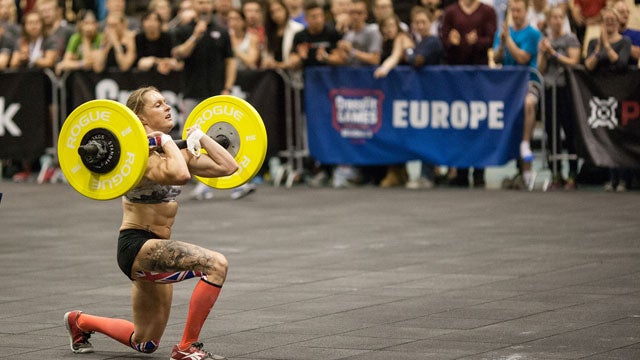 Photo courtesy of CrossFit, Inc.(Photo)
Heading out the door? Read this article on the new Outside+ app available now on iOS devices for members! Download the app.
After three days of grueling physical tests at the 2013 CrossFit Games in Carson, California, at the end of July, Samantha Briggs stood atop the podium as women's champion. For the 31-year-old from Manchester, England, that crowning achievement capped a long hard journey back to the upper echelons of competitive CrossFit.
Samantha Briggs' Vital Stats
Age: 31
Height: 5'6″
Weight: 132 pounds
Hometown: Manchester, England

No stranger to success, Briggs played elite soccer in England in her younger days and competed in the World Duathlon Championships as an age group member of Team Great Britain. A firefighter by trade, she started Crossfit in 2009 and quickly made her mark in competition, placing 19th at the 2010 Games and fourth in 2011. However, her seemingly inevitable rise to the top was derailed when she was forced out of the 2012 edition of the games with a painful knee injury that turned out to be a broken patella.

A year of rehab, rebuilding and refocusing toward 2013 followed. Making the most of her time, Briggs trained smarter and kept herself busy as the co-owner of a new Crossfit box, TRAIN Manchester/Crossfit Black Five, where she continues to work out and coach other athletes.

On the eve of the Crossfit Games, Briggs was happy just to be back, but she wasn't in California just to coast—she was there to win. Here she shares some of what she's learned along the way to becoming the "Fittest Woman on Earth."

Work Your Weaknesses
The knee injury ruled a lot of exercises out but I found a good gymnastics coach and chose to use this time to work on my weaknesses. Long sessions were also spent with a functional movement therapist ensuring when I was able to squat and lift again my mechanics were more efficient. There were definite positives to come out of taking time off due to injury. The rehab and attention to technique that was employed, newly improved gymnastics and more efficient movements resulted in me being a more rounded athlete.

Go by Feel
I will still do more training than is planned if I feel OK, but I always let my coach know what I've done so it can be factored in. Also, I'm more aware of programming and the effects of training so I'm not constantly beating my body up anymore. I do now allow some recovery time too!

Train Hard, Rest Hard
I typically train every day but two of these will be lower intensity or active recovery days. The normal training day will be broken into two sessions both ranging from two to three hours, depending on loads or intensity of training employed. I try to mix the training up as much as I can.

Rest Actively
I don't typically have a complete rest day—I'll have active recovery days where I enjoy getting out on my bike, going swimming, or skiing.

Avoid Alcohol
I try to eat as clean as possible. If I fancy a treat I'll have it and not worry about it. My favorite treat is a white chocolate and raspberry cookie. I don't really drink. Occasionally I will indulge, but I find alcohol has the biggest negative effect on my training so I see it as a waste of time.

Competing Isn't Everything
I'm still a firefighter at the moment.  I just took a career break to concentrate on the games this year. Along with that I part own TRAIN Manchester/CrossFit Black Five. Sometimes it does get stressful trying to juggle everything and ensure I manage to get my training in. I guess that's life though!
Lead Photo: Photo courtesy of CrossFit, Inc.