Training Tips From Ultimate Mountain Man Josiah Middaugh
The multisport athlete wins at the GoPro Mountain Games for the eighth consecutive year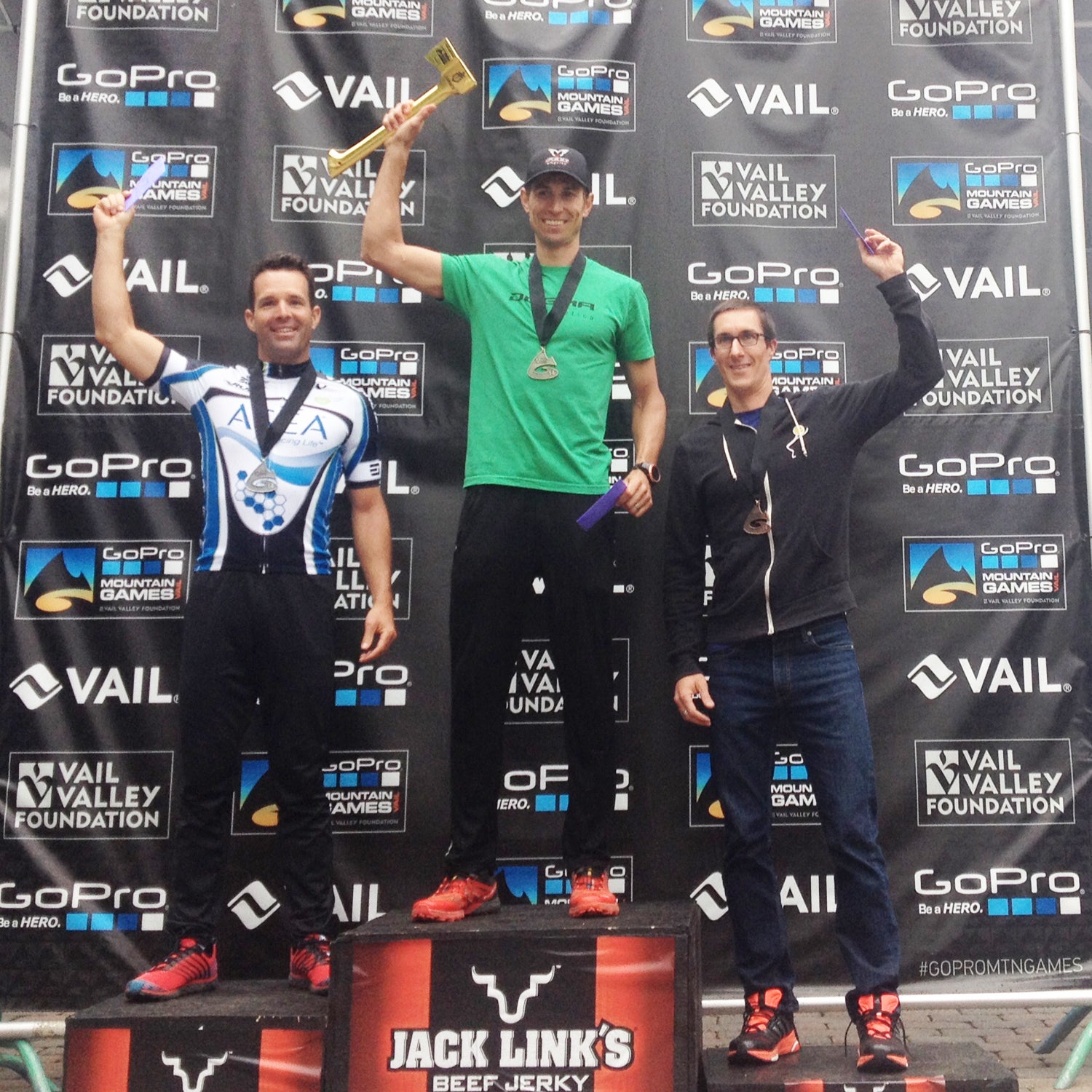 Heading out the door? Read this article on the new Outside+ app available now on iOS devices for members! Download the app.
The GoPro Mountain Games are a little more hardcore than your average weekend sports festival. After all, this is the place where an obstacle course is called the Badass Dash and the half marathon route climbs 2,900 feet and 13.7 (not 13.1!) miles to the top of Vail Mountain Pass.
The Games' most hardcore athletes tackle not one, but four events over two days. This combination of kayaking, mountain and road biking, and trail running is called the Ultimate Mountain Challenge (UMC). For the past eight years Vail local Josiah Middaugh has dominated the UMC, claiming the title of Ultimate Mountain Man and taking home the coveted golden hatchet. 
What does one do with a golden hatchet? We didn't know, so we asked. The 35-year-old father of three was nice enough to tell us a bit about his training and nutrition, too.
The hatchet is real; it's great for camping but not so great for kids. At the awards ceremony, my kids were running around the podium with it. We are going to try and keep it away from them. 
The GoPro Mountain Games isn't a big deal for me. It's is a local event. I live right down the road so this is where I train; it's nice to compete in my hometown. 
You pay the price if you come into a race beat down from hard workouts. I don't have any high-intensity workouts a week before competing.
I'm a multisport athlete, so I train for each event at the same time. On a weekend, I will go for a long swim, long mountain bike ride, and a short run on Saturday. Then on Sunday, I will run anywhere from 12 to 15 miles off-road.
When you train for three to five hours a day, you have to eat. A lot. I eat 4,000 to 5,000 calories a day. I eat a lot of high-calorie foods and carbohydrates. 
My diet is not bizarre. It's just double the portion size of most people's. I'm vegetarian because I grew up eating vegetarian. Hunger dictates what I eat—and I eat carbs and gluten and sugar and dairy. Fad diets are like cults.
Ice cream, semi-sweet chocolate chips, and sea salt kettle-cooked chips are what I crave. Man, I love those things and I eat them quite a bit. More than I probably should.
The 10K trail run portion of the UMC usually leaves me the most sore—it is straight up and down Vail Mountain.
There are two hours in between the 10K and the 9.75-mile road bike time trial. I carried my 4-year-old son around Vail Village for one of those hours.
Kayaking is my weakest event. But this year, a buddy owed me a beer after not catching me in the Class II down river sprint during the UMC. I don't really party down after wins, though.
This year's GoPro Games win celebration consisted of my wife and me just getting the kids home and getting back to work. I cooked dinner. That's what you do when you have kids aged four, eight, and ten.
The satisfaction is enough of a reward. I have big goals for this race season.
Get a behind-the-scenes look at the 2014 GoPro Mountain Games: