The World's Hardest Endurance Race
Uberman, a SoCal ultra-triathlon with a 21-mile swim, a 400-mile bike ride, and a 135-mile run, might be the most demanding challenge of its kind. But in the eyes of its founder, the physical goal is secondary to the mental one.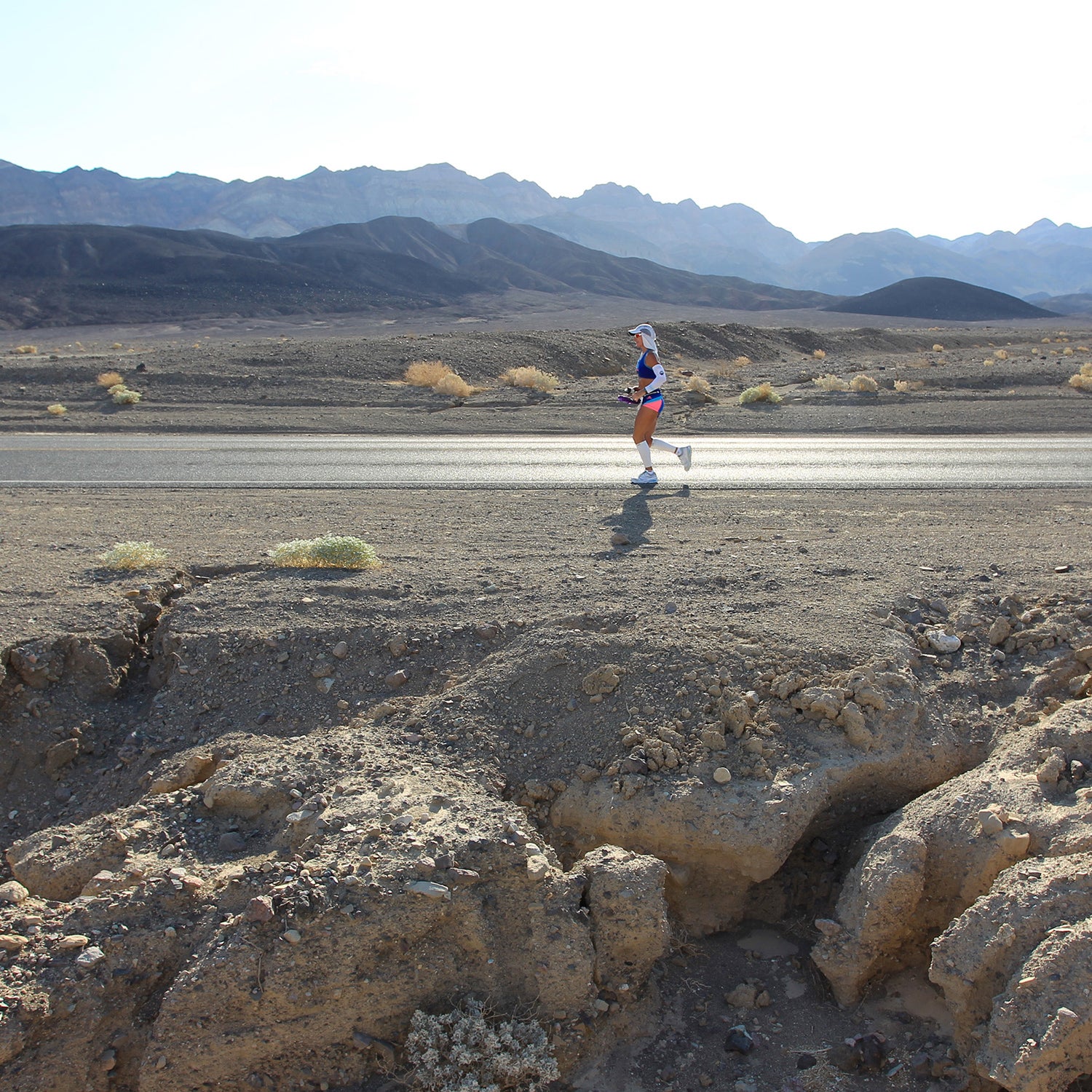 David McNew/Getty(Photo)
Heading out the door? Read this article on the new Outside+ app available now on iOS devices for members! Download the app.
Last October, a 51-year-old Italian named Giorgio Alessi became the world's first Uberman. He completed a swim that was the equivalent of crossing the English Channel. Then he biked a distance that worked out to roughly five stages of the Tour de France. Finally, he ran the length of five marathons, straight, through the world's hottest desert and up the flanks of a 14,000-foot mountain. He did all of this, consecutively and over the course of eight days, without leaving Southern California.
Alessi was competing in the inaugural Uberman ultra-triathlon. "Often, when men have a midlife crisis, they buy a sports car or they start dating a stripper," says Daniel Bercu, the event's founder. "They're people looking for meaning in life. As people get older and their lives become more stable or less adventurous, they ask, 'What's out there that can make my life more uncomfortable?'"
With Uberman, Bercu wanted to create the most uncomfortable adventure possible for city-bound seekers. The first leg of the trial is a 21-mile swim in the Pacific Ocean, from Catalina Island to the shores of Palos Verdes—itself considered one of the world's most grueling, dangerous tests for endurance athletes, due to strong currents, ocean freighters and cruise ships, plus sharks and jellyfish. Next, there's a 400-mile bike ride from Los Angeles to the Badwater basin of Death Valley. The route climbs more than 20,000 feet and descends to 200 feet below sea level. Finally, participants run 135 miles through Death Valley before ascending to the Mount Whitney trailhead at over 8,000 feet. Alone, each of these events is considered an extreme, elite endurance challenge. Together, in succession, they're almost suicidal.
Bercu, a resident of Malibu, California, doesn't consider himself a particularly gifted athlete, and he describes his ultra-triathlon—which he organizes at his own expense—as "the everyman's journey to try and be a hero." Uberman has no prize purse and no sponsors, and it isn't recognized by any governing body. Whoever can finish all three legs the fastest wins.
The commercial real estate developer had turned 50 in 2015, and dreamed of completing the three feats purely as an individual pursuit. "You need a giant goal to get out of bed in the morning," he says. He started ticking off each leg, finally completing the Uberman quest within the year. Then, throughout 2016, he recruited endurance athletes from around the world to give the combined mission a shot.
In October 2016, seven people, including Alessi, from six countries toed the start line. Spanning ages from mid-twenties to early fifties, the competitors all had full-time jobs and varying degrees of endurance-racing experience. There was Shangrila Rendon, of Los Angeles, who holds a Guinness record for another ultra-tri; Sam Brenkel, from Scotland, who once undertook a 3,800-mile bike ride through the United States; and Tobias Frenz, a German who does Ironman challenges and runs through the Sahara Desert on a "leisurely basis."
Alone, each of these events is considered an extreme, elite endurance challenge. Together, they're almost suicidal.
Three of the seven, including Rendon, participated in Uberman on a relay team, with one competitor for each leg. They finished the race in 112 hours—a little under five days. Only Alessi finished the slog solo. (Brenkel made it about halfway through the swim before withdrawing, while Frenz, who completed the bike ride, didn't have the energy to attempt the other two segments.)
Alessi, who called me during an 5,000-mile bike trip through the United States with his brother, has taken part in the Triple Deca Ironman—completing one Ironman race on each of 30 consecutive days—and several other mind-bendingly difficult challenges. "As a good Italian, I used to play soccer when I was young, of course," says Alessi. But after he got married, his life became quieter. To change that, he ran a marathon in Honolulu, Hawaii, in 1999. Since then, Alessi has attempted incrementally harder challenges, one after the other, including swimming the English Channel, which he says took him 27 hours. "I didn't want to push," Alessi says of his Uberman effort. "I was only competing against myself."
He thinks the Uberman is the hardest single race in the world, yet he said he still thoroughly enjoyed the solitude, the wildlife, and the route itself, especially that of the race's last leg. "Going through Death Valley was a new experience," he says. "A lot of people go through Death Valley by car, but on foot you have a different perspective of the land."
Another 2016 competitor, Scott Sambucci, an author from San Francisco who runs a business development firm, completed the Uberman swim more than 2.5 hours quicker than Alessi and survived portions of the latter two legs, but he did not finish either, citing safety concerns from mild injuries he'd sustained while in the water. However, Sambucci trained for six months and came away from the experience exceedingly proud of his attempt. "I got a sense of what it might be like to be a professional athlete," he wrote on his blog. "I felt completely satisfied and a sense of 'enough' for perhaps the first time in my life."
The second Uberman, which kicks off October 10, is already attracting talent set on beating Alessi's record. One entrant is Timmy Garrett, an Aussie out of Sydney who's also preparing for an unsupported solo expedition to the North Pole. He thinks he can complete the race in about six or seven days by focusing on short-term benchmarks—the next feed or rest time. "I'm not really doing this because it's a race," Garrett says. "I'm doing it just for my own personal challenge and as a stepping stone for my fitness."
Bercu says nine others have expressed interest in joining Garrett on the Uberman trail this year. "I know it's Tony Robbins–esque," Bercu says. "But instead of dreaming small, why not dream big? Pick the biggest, hardest thing that could possibly be done and try that."
Lead Photo: David McNew/Getty
Trending on Outside Online