The Underdog King of World Cup Soccer
Why Clint Dempsey is the perfect player to shoulder Team USA's daunting World Cup campaign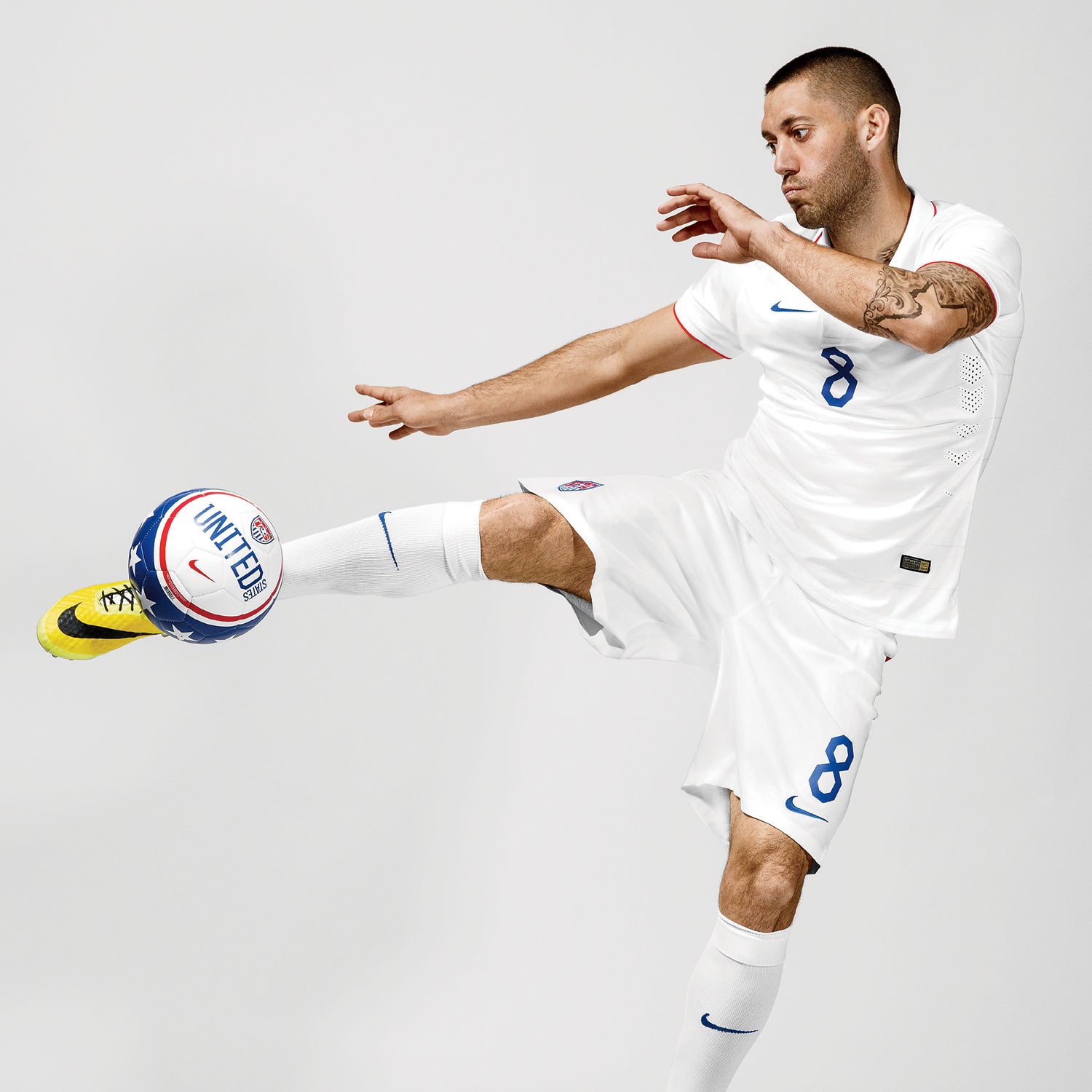 Dylan Coulter
Heading out the door? Read this article on the new Outside+ app available now on iOS devices for members! Download the app.
America's relationship with soccer has always been a little complicated. For one thing, the entire universe cares more about the sport than we do—we refuse to even refer to it by the same name. Then there is the matter of our utter futility. Team USA's best result at the World Cup—third—came back in 1930, long before the game had reached its competitive zenith, and since then just getting past the tournament's first round has required agonizing struggle. That doesn't exactly help sell the sport to a spoiled American public used to measuring success in World Series titles and Super Bowl rings, not advances to the second round. (We're referring, of course, to men's soccer. Our women's team won the World Cup in both 1991 and 1999.)
And yet. Going into this summer's World Cup in Brazil on June 12, our national team is more popular than ever. Why is that? Here's one theory: America, a country founded on one of the biggest upsets in military history, misses playing the underdog. It's no accident that the 34-year-old Miracle on Ice remains one of our most treasured international sports memories. It's way more fun to witness the unexpected than, say, the joyless victory lap that USA's heavily favored basketball team undertakes every four years at the Olympics. Slowly, we've even come to appreciate the joy in our fútbol failings. Each game, each crushing defeat, only builds anticipation for what might someday be a raucous celebration.
It's fitting, then, that the man shouldering our underdog soccer fantasies, team captain Clint Dempsey, is the epitome of a dark horse himself. The 31-year-old striker ascended from a trailer home in East Texas—is there a state more seemingly predisposed to despise soccer?—to become arguably the most successful American to ever play the game. "As a kid," he told me one afternoon last March, "I used to play in Mexican leagues on Sundays. I was playing against men out there, getting elbowed in the face. It forced me to be tougher."
We were sitting in a training room in the bowels of CenturyLink Stadium in Seattle, where Dempsey had just finished practice with the Sounders, the Major League Soccer team he joined last year, when he became the highest-paid American player in league history, making a reported $32 million over four years. A nearly four-story-tall photo of Dempsey now hangs outside the complex. Wearing a flannel shirt and jeans, his jaw covered in three-day scruff, Dempsey came off as a mix of southern nice guy—he still calls people sir and ma'am—and wrong-side-of-the-tracks roughneck, with tattoos covering much of his torso.
Dempsey was telling me about his unlikely rise, which began in high school, when his nurse mother and carpenter father started ferrying him six hours round-trip between their home in small-town Nac­ogdoches and Dallas, where he developed his skills against better competition. (They burned through a Pontiac Grand Prix, a Mazda 929, and two GMC Suburbans.) In his high school yearbook, Dempsey was asked where he'd like to be in five years. His answer: "Playing professional soccer in Europe." In 2004, he attended tiny Furman University in South Carolina, and after being drafted by the New England Revolution in 2004, he got his first call-up to the ­national team for a World Cup qualifier against Jamaica. Since then he has earned more than 100 caps and scored 36 goals, making him the team's second-all-time leading scorer, behind Landon Donovan.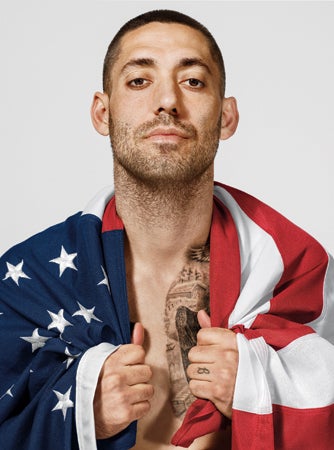 Developing players who can find the back of the net has always been America's weakness, which is what makes Dempsey so special. He seems to generate chances through sheer willpower and instinct. "Clint has daring, quickness, and incredible ­technique," says national-team coach Jürgen ­Klinsmann, who was one of the game's canniest scorers during his prolific career playing in Germany. "And he can create something out of nothing."
He's also the antithesis of the stereotypical striker, the kind who falls in agony at the slightest bump in the way that drives so many American fans bonkers. In Dempsey's first professional season in Major League Soccer, he played through two games with a broken jaw before it was diagnosed. Since then he has developed a reputation for dealing out as many elbows as he takes—both in the MLS, first for the Revolution and now the Sounders, and in the English Premier League, where he played six seasons for Fulham and Tottenham, scoring 57 goals and earning respect from some of the sport's most discriminating fans. Dempsey plays with a gritty passion that Americans have often found lacking in Donovan, our other, more guarded soccer superstar. Dempsey pleads with refs, scowls at opposing players and fans, and thumps the tattoo on his heart after goals. (A tattoo, it's worth mentioning, of an eagle.) He'll do whatever it takes to win. Often overlooked in Donovan's triumphant score in the final minutes of the game against Algeria, which advanced the U.S. past the knockout round in the last World Cup, is that Dempsey, after a full-field sprint, was the player who collided with the opposing goalie, allowing the ball to pop up right in Donovan's path.
This summer's World Cup campaign begins with the U.S. lodged in the dreaded Group of Death, facing Ghana, the team that knocked it out of the 2010 World Cup, along with Germany and Portugal, the number two and number three teams, respectively, in ­FIFA's world rankings. At press time, Las Vegas put our chances of winning the group at eight to one. And winning the whole tournament? A daunting 160 to one.
"We have a difficult group," Dempsey says, trying to downplay the ridiculous odds. "But we're doing everything we can to do something special. The team is getting stronger and stronger." No one is giving them a chance—and that's just how he likes it.
Trending on Outside Online