Unstoppable
Introducing our 2011 READER OF THE YEAR, Ryan Levinson, an athlete who competes like a champ while fighting a savage form of muscular dystrophy. PLUS: SIX HONORABLE-MENTION HEROES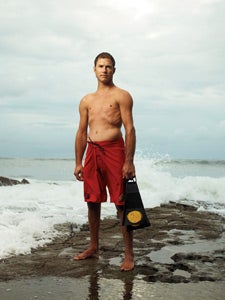 Bryce Duffy
Heading out the door? Read this article on the new Outside+ app available now on iOS devices for members! Download the app.
Ryan Levinson knew something was going wrong with his body. In 1990, he was 18 and a promising cyclist—competing on an elite development squad with the likes of George Hincapie and Jonas Carney. But his performances began falling off, and one of his calf muscles seemed to be shriveling. "I thought it was an imbalance in my training," he says.
Résumés Wanted
Help us find
Outside's next
Reader of the Year
Ryan Levinson's story was at the top of a thick stack of incredible nominations submitted by readers. We were blown away by the applicants' quality, and the final selection produced a heated debate. What were we looking for? Above all, a fearless adventurer who's helping others and pushing the limits of what's humanly possible. Our Reader of the Year serves as Chief Inspiration Officer on our masthead for 12 months, blogging, writing, and adventuring on our behalf. Know someone inspiring? Nominate them at
outsidereader­oftheyear.com
. Shelby Stanger, who nominated Levinson, won
,800 worth of our favorite gear. Meanwhile, last year's …
Ryan Levinson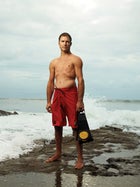 Ryan Levinson
It took six years of doctors' appointments and tests before Levinson was diagnosed with an incurable and progressive form of muscular dystrophy called FSHD (facioscapulohumeral muscular dystrophy). The most prevalent type of muscular dystrophy, FSHD slowly weakens and destroys muscle cells and tissue. Doctors told Levinson to stop strenuous exercise, believing the physical effort would speed the deterioration. Levinson chose to prove them wrong. He postponed working toward his degree in outdoor recreation at San Diego State University and continued a binge of sports and adventures—including surfing, kiteboarding, diving, kayaking, and sailing—that has now lasted 15 years.
"You can't choose what happens to you, but you can choose how you respond to it," says the San Diego–based 38-year-old. "I thought, if I'm going to lose these muscles, and all I risk is losing them faster, then I'm not going to quit doing what I love."
In 2006, Levinson, an Emergency Medical Technician with San Diego Medical Services, completed the grueling off-road triathlon course at the Xterra World Championship in Hawaii, which entailed a one-mile open-water swim, a trail ride up and down 10,023-foot Haleakala, and a seven-mile trail run. This year alone, he won the stand-up paddleboard division for challenged athletes in the Hanohano-Huki Ocean Challenge in San Diego; took third place in the challenged-athlete division of the Long Beach to Catalina and Back personal-watercraft race; made the semifinals in his age group in the World Bodysurfing Championships; and was a first-place finisher in the highly competitive challenged-athlete surf contest at Duke's OceanFest at Waikiki Beach. "People think 'challenged' means slow guys who get a hug afterward," Levinson says. "These are guys who broke their neck at Pipeline or got their arm bitten off by a tiger shark. They rip."
His accomplishments are all the more impressive when you consider that his biceps are as thin as his forearms. (His shoulder muscles have grown larger to compensate.) He has almost no muscle in his chest, and his belly bulges out because there is little remaining of his abs. His legs are thinning, and his pelvis jostles around after he runs a quarter-mile, lacking the muscles to stabilize it. He can't lift his right arm over his shoulder, do a push-up, sit-up, or pull-up, and it hurts to hold the phone to his ear.
But that hasn't stopped him. Despite failing several times to qualify for the San Diego Lifeguard Academy—his swim times on flatwater couldn't meet academy standards—Levinson performed the grueling physical challenges and completed the 39th academy last spring, after being voted Most Inspirational Recruit. He's been on the prestigious water-safety patrol for California's Mavericks Surf contest and Mexico's Todos Santos Big Wave Event.
Along the way, he's opened doors to tri­athlons and other races for physically challenged athletes. "When I was diagnosed, I looked around the Internet for resources for people like me, and all I saw was atrophy and sorrow. So I decided I would be that guy." Here's more, in his own words:
"DOCTORS TOLD ME I would accelerate my muscle loss by being active, but it turns out being active didn't increase muscle loss any more than if I just sat around. That was pivotal, because that changed how a lot of doctors tell people with FSHD how to live their lives. It's a good feeling, knowing my efforts give people hope.
PEOPLE GET STUCK thinking there's only one way to do something, but it's incredible what can be accomplished simply by modifying equipment or technique, whether or not you have a disability. When I'm operating a rescue watercraft for an event, or I'm on the ambulance at work, the people I help don't know I have FSHD; they're just glad someone is there.
ANYONE WHO OVERTRAINS, under-rests, eats poorly, or overstresses will physically break down. With me it's just hyperexaggerated. I train hard, but I train smart. I do yogalike stretches for an hour every morning to help mitigate pain that muscle imbalances put on my joints and connective tissue, and I continuously have to adapt to ongoing muscle loss. Certain movements can cause intense pain no matter what I do. Staying active and loose helps a lot, as does meditation.
A COMBINATION OF THINGS drive me: a sense of duty, love for my wife, being able to help other people, the fact that even pain is an experience in itself.
My FSHD ISN'T something I need to outrun. It's a part of me, and I own it. Yeah, I'd be stoked if there were a cure, but that hasn't happened yet, so I live every day with a deep passion that comes from loving what I do and knowing that it will be increasingly challenging to do it. When you think about it, that's true for everyone. This is not a dress rehearsal. This is life.
Mike Coots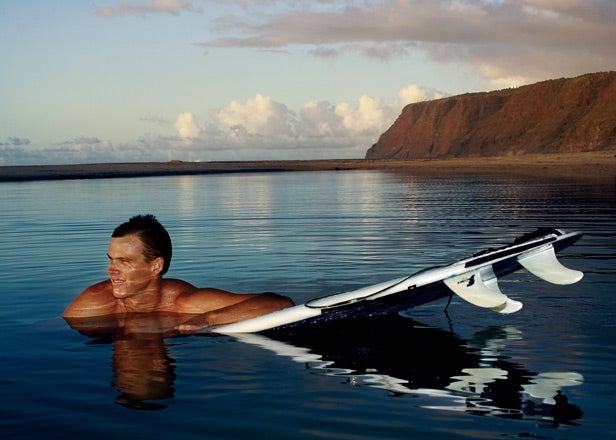 AGE: 31
HOMETOWN: KILAUEA, KAUAI, HAWAII
MISSION: SAVE THE SHARKS
THE SHARK CAME UP vertically and latched on to both my legs. I instinctively stuck my right hand into its mouth to try and get my legs out. With my other hand I punched it in its head and it let go. I looked at the finger I had stuck in its mouth and it was peeled open like a potato. I looked at the guy next to me and his eyes were out of his head like silver dollars. He was like, 'Shark! Go in!' And I was like, 'I know!'
FOR MOST FOLKS, having a leg bitten off by a tiger shark would be a debilitating setback. Photographer Coots is not most folks. On October 28, 1997, when Coots's right leg was bitten off below the knee while he was bodyboarding at Waiokapua Bay, Kauai, it jump-started his life. The bite caused a nearly perfect amputation, and a quick tourniquet applied by a friend slowed the bleeding enough for Coots to make it to the hospital. Five weeks later, as soon as his staples and stitches were out, Coots went bodyboarding—at the same beach where he'd been attacked. "The waves were really good that day," he says. It took about a year before he was comfortable on his prosthetic leg. In the meantime, he developed a passion for photography and, in 2002, enrolled in the Santa Barbara, California–based Brooks Institute, graduating four years later. His clients now include American Express, Surfer magazine, and Quiksilver. In early 2009, the public-policy group Pew persuaded Coots to use his story to bring attention to the need for greater protection for sharks. He was shocked to learn that in 2000 roughly 73 million sharks had been killed for use in shark-fin soup, so he signed up to be a spokesman for Pew. "Shark fishermen are doing this killing and finning for something that's not a staple," Coots says. "It's a delicacy for restaurants in China for the really rich. Maybe losing my leg will help save a species that's been surviving for millions of years in our oceans." His work has since helped create the law to stop shark-finning in Hawaii. Then there's his surfing habit: Coots took up the sport after the attack, while at school in Santa Barbara, where the waves were too slow for bodyboarding. He now surfs daily and tows in whenever the winter swell is big enough. Did we mention that he rips?
Chris Rutgers
Chris Rutgers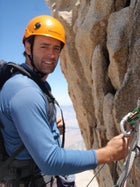 Chris Rutgers
AGE: 36
HOMETOWN: SAN DIEGO, CALIFORNIA
MISSION: TRANSFORM THE LIVES OF AT-RISK KIDS THROUGH ADVENTURE
IN NOVEMBER 1992, at age 18, Rutgers left behind an abusive childhood in California and moved to Alta, Utah. He became a dishwasher and later started freeskiing competitively, an experience that changed his life. After seven years, Rutgers left the mountains for San Diego, to start a nonprofit called Outdoor Outreach. His goal? To transform the lives of at-risk kids by introducing them to positive experiences in the outdoors. Now 11 years old, the program, which works with underprivileged youth from inner-city schools, teen homeless shelters, foster-care facilities, and drug-rehabilitation programs, has taken more than 5,000 kids on 1,500 trips throughout California—all for free. One of the organization's biggest achievements is its Adventure Clubs, set up at inner-city San Diego high schools, where graduation rates and performance scores are well below the national average. Students meet weekly to plan outdoor trips, and all of last year's participants graduated and went on to college (except one student, who joined the military). "I was the original case study for my organization," says Rutgers. "In the end, skiing saved my life"
Erika Vohman
Erika Vohman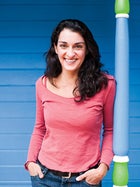 Erika Vohman
AGE: 45
HOMETOWN: CRESTED BUTTE, COLORADO
MISSION: EMPOWER WOMEN TO SAVE THE ENVIRONMENT
VOHMAN SKIS 80 days a year, has kayaked the Grand Canyon six times, slings from a catalog of hundreds of dirty jokes, and is a five-time winner of the costume contest at Crested Butte's Al Johnson telemark race (thanks to variations on her flesh-colored "naked suit" leotard.) Classic ski-bum stuff, but underestimate her at your peril. The agronomist's Maya Nut Institute combats hunger and tropical deforestation by teaching women in places like Mexico, Honduras, and Haiti to cook the Maya nut, a forgotten traditional food source littering the forest floor in the New World tropics. "The Maya nut is an important food source for wildlife," Vohman says, "but people living near these forests have never heard of it, despite sometimes being able to afford only one meal a day." Since 2001, Vohman's workshops, led by local staff, have taught more than 14,500 women in 800 rural communities to turn the protein-rich nut into pancakes, soups, and drinks. Some 3,000 graduates now use their skills with micro-enterprises, and more than a million Maya nut trees have been planted as a result of her efforts.
Charlie Wittmack
Charlie Wittmack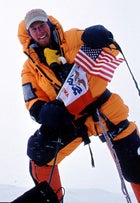 Charlie Wittmack
AGE: 33
HOMETOWN: DES MOINES, IOWA
MISSION: THE WORLD TRIATHLON
THIS YEAR, Wittmack ditched his job as a trial lawyer and sold his home and two cars to attempt to become the first person to swim, bike, run, and climb the roughly 10,000 miles between England and the top of Mount Everest. We admire his commitment. "I've been obsessed with this idea for 20 years. It's a perfect line, a perfect expedition," says Wittmack, who swam 230 miles down the River Thames before crossing the 21-mile English Channel on August 8. Three days later, he forced his waterlogged feet into bike shoes and began the 8,544-mile ride between France and India. As of press time, Wittmack had pedaled 4,500 miles and was in the midst of crossing southern Kazakhstan with an armed escort. If all goes as planned, he'll complete the ride in Calcutta on December 1 and begin the 1,086-mile run from Calcutta to Everest Base Camp, summiting sometime before June 1. Inspired by a Nepalese midwife's stories about the lack of care for Nepalese women, Wittmack is using his triathlon's novelty to partner with the White Ribbon Alliance for Safe Motherhood and Des Moines University to create a $500,000 maternal-health program to teach Nepalese midwives and doctors up-to-date obstetric practices. "There's too much riding on this," he says. "I have to continue on."
Loyal Mehnert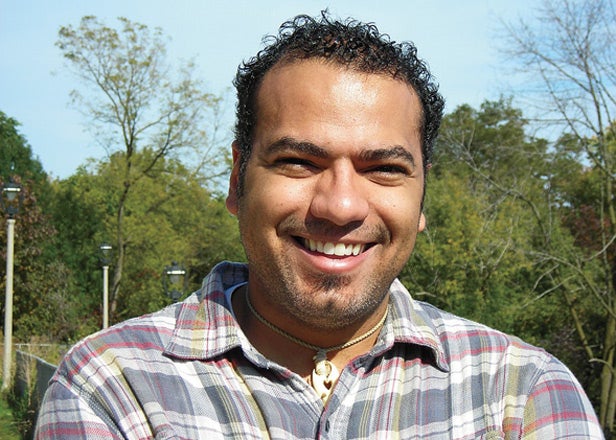 AGE: 33
HOMETOWN: MILWAUKEE, WISCONSIN
MISSION: TRAVELANTHROPY
IN 2007, MEHNERT was working as a media spokesman for Habitat for Humanity, but he wanted to move from advocacy to action. So he conceived of Travelanthropy. "You hear about people running marathons for charity; I wanted to go bigger," Mehnert says. The following year, he reinvented himself as an adventuring fundraiser for Habitat and began securing per-mile pledges for endurance endeavors. Since then, he's driven a road rally from London to Banjul, Gambia; hiked the southern half of the Appalachian Trail; and traversed 500 miles of the Pyrenees. The next big thing on his list? Driving the entire Pan-American Highway in 2011, by the end of which he hopes to have raised $100,000. Here's more, by the numbers.
$13,000
MONEY RAISED SO FAR FOR GAMBIAN PROJECTS AND HABITAT FOR HUMANITY'S MISSISSIPPI GULF COAST PROJECT
6,000+
CHARITY MILES MEHNERT TRAVERSED TO RAISE IT
one
MARRIAGE PROPOSALS HE'S DELIVERED WHILE TRAVELING (SHE SAID YES)
16,000
MILES MEHNERT PLANS TO DRIVE FROM ARGENTINA TO ALASKA NEXT YEAR
Trending on Outside Online