Virtually Fit
What happens when training goes digital? Your workouts get real.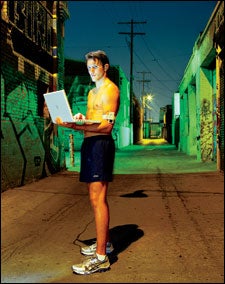 Heading out the door? Read this article on the new Outside+ app available now on iOS devices for members! Download the app.
The Internet democratizes everything: music, news, encyclopedias, and now—the best yet if you're an athlete—fitness. The Web has put the country's top personal trainers within reach. Want to ride like Lance Armstrong? His coach will talk you through a spinning session. Want to blitz a triathlon? Let Paul Huddle, coach of former Ironman champions, be your guide. This unprecedented access to expert trainers, plus other high-tech offerings—like an online data cruncher used by the pros, downloadable workouts for your digital audio player, and a heart-pumping video game (really)—make getting in shape what it should be in the 21st century: fast, cheap, and fun.
bodywork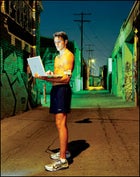 Worldwide Workout
With these online programs, you get customized exercise plans delivered straight to your inbox—and a personal trainer who's only a click away
Ultrafit One-on-One Coaching

www.ultrafit.com

PRICE:
$200 initial fee plus $250–$1,000 per month, depending on coach

DETAILS:
If top trainers were stocks, this would be your broker. The site hooks you up with endurance coaches like two-time national cycling champ Lynda Wallenfels and training guru and author Joe Friel. A typical plan includes unlimited e-mail contact, with some phone access.

PROS:
Only four to six new coaches are welcomed to Ultrafit's exclusive ranks each year. The screening process, which includes reviews from current clients, makes getting into the CIA look easy.

CONS:
It's pricey if you don't need an expert, and Ultrafit doesn't provide centralized online support after the handoff.

BEST FOR:
The high roller who retired early to focus on competing at the Ironman level
Carmichael Training Systems
www.trainright.com

PRICE:
$99 per month (Signature package)

DETAILS:
Launched by Chris Carmichael, Lance Armstrong's longtime coach, CTS offers six packages, delivering more one-on-one coaching with each upgrade. The Signature level provides the most economical approach to working closely with a personal trainer.

PROS:
Preoccupied with work issues during your training? Your coach will see the dip in productivity on your daily logs, call to find out what's up, and tweak your program accordingly.

CONS:
Coach time is limited to roughly two hours per month. If your schedule changes frequently, consider the Select level ($50 extra).

BEST FOR:
The recreational endurance athlete who needs a kick in the ass to train more efficiently
Multisports

www.multisports.com

PRICE:
$75 per six-week cycle

DETAILS:
Feel like you're part of a team with this site. You'll train with a virtual group of athletes during each six-week program cycle, supported by an online forum with your coaches, Roch Frey and Paul Huddle, both former Ironman pros and coaches of past champions.

PROS:
The cohort acts like a training peloton, keeping you motivated and providing access to online discussion boards where you can share experiences with others going through the program.

CONS:
Because the coaches don't initiate any communication, there's no accountability from the top.

BEST FOR:
Triathletes looking for the best program without the coddling of a daily coach
HDO Training

www.hdotraining.com

PRICE:
$65 per month (Platinum membership)

DETAILS:
HDO combines the customized program development and e-mail contact of personal trainers with a boatload of site-specific resources, courtesy of Harvard software developers. The result is a personal approach that still puts a lot of tools in your hands.

PROS:
A fast and intuitive new interface was launched last summer. The slick program is also being used as the official training planner for entrants in this November's New York City Marathon.

CONS:
For the price, you'd expect to talk to your coach on the phone, but you're limited to corresponding by e-mail.

BEST FOR:
The time-crunched executive who wants daily workouts sent to his BlackBerry
GymAmerica

www.gymamerica.com

PRICE:
$6.99 per month

DETAILS:
Here's a true Digital Age option: Your workouts are developed exclusively by software created by a team of fitness experts, and supported solely via e-mail customer service. The customized programs are impressive for the price.

PROS:
My Diet, a nutrition component available for $3 more per month, allows you to personalize meals based on what you like to eat, not just the number of calories you should consume.

CONS:
With no phone support, you need to be versed in fitness and computer basics to maximize the benefits.

BEST FOR:
Tech-savvy former high school heroes hoping to lose the gut
My Cyber-Coach
What's it like to have a digital trainer? Research editor Justin Nyberg reports.
How to Pick the Program
1. TEST RUN
Ask for a free trial, sample plan, or access to forums to get current members' impressions.
2. CUSTOMIZATION Evaluate the initial questionnaire—the more extensive it is, the more personalized the program will be.
3. TECH LEVEL Are you comfortable with the Web and software tools required? If not, you won't stick with it.
Snubbing a friend is never easy. But it's particularly hard when you have a lame excuse, as I did when I turned down my buddy Thayer's invitation to grab drinks after a long workweek. The reason, I sheepishly explained: I was too tired to go out.
Well, Thayer, I lied. The truth is, there was an e-mail in my inbox calling for an easy six-mile run, and ignoring it was harder than dissing my wingman. Never mind that it was 10 p.m. on a perfectly sociable, drizzly Friday night. I needed to run. I nixed the drinks, pounded out a lonely 50 minutes on Santa Fe's dark back roads, and hit the sack.
Call it the Randy Effect. Randy Ashley, an elite trainer with North Carolina–based ZAP Fitness, is my virtual coach. Each week he sends me a personalized slate of training runs, prepping me for 5K races this fall (long, slow miles are just part of the target=ed routine he devised). With just a few brief keystrokes, this coach I never see motivates me to run more consistently, with more discipline, than ever before. It's like having a personal trainer who's always watching over my shoulder—from 1,300 miles away. It makes for a poor social life but a really fast time.
Plug 'N' Play
Put a coach in your iPod, a heart-rate sensor in your shirt, and more
Adidas Fusion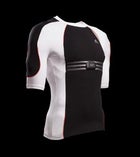 TALKING THREADS: Adidas's Fusion shirt measures your heart rate.
EAR BUDS

Attention, fitness instructors: You're being replaced. A slew of digital audio workouts are putting coaches into iPods, allowing A-list trainers to reach the masses at D-list prices. These three customized personal fitness routines make the local spin coach obsolete.

iTrain:
Through its L.A.-chic site, iTrain offers ten categories of à la carte programs divided by type of workout, with instruction and motivation for everything from strength training (iStrength) to stair climbing (iClimb) coming from Hollywood's top trainers. From $3.99 per download; www.itrain.com

Podfitness:
Want control of the playlist? Instead of utilizing preset songs and beats like iTrain, this service lets you use iTunes (check the site's new Sport Music service) to choose music that is then incorporated into specific exercise routines, fading in and out with the trainer's voice. It's more expensive, but you can get new workouts and build new playlists every day. $20 per month; www.podfitness.com

Carmichael Training Systems:
Ride seven stages of the Tour de France—on your indoor bike trainer—with help from the ultimate insiders. Chris Carmichael and OLN commentator Bob Roll use a combination of music, Tour stories, and route details to make getting to the top of l'Alpe d'Huez much more pleasant than it should be. CTS has also launched a new audio/video service that allows you to download coach-crafted routines and use iTunes to build indoor cycling workouts from 64 training plans. $0.99–$9.99 per download; www.trainright.com
TUNE IN YOUR SHOES

Equipment and electronics makers have teamed up to create the world's first . . . well, we're not sure what to call these category busters.

Nike+iPod:
With this system, your sensor-equipped shoes talk to your Nano during runs, so in addition to tunes you get real-time voice updates on data like distance covered, pace, and calories burned. Every time you sync your Nano, it automatically transports the numbers to your computer-based training program. Shoes with underfoot sensor pocket start at $85; adapter kit (includes sensor and wireless receiver), $29; iPod Nano not included; www.nikeplus.com

Adidas+Polar:
Now it's your shirt that's communicating—to your heart-rate monitor. Adidas has outfitted its adiStar Fusion running shirts and bras with soft textile sensors that relay your heart rate, via a removable chest-mounted transmitter, to your Polar wrist-top computer. The line also includes shoes with a built-in Polar stride sensor that measures pace, distance, and more. Shirt, $65; shoes, $120; Polar RS800 computer, $489; www.adidas-polar.com
GAME ON

Like my grade school classmates, I wore my thumbs raw on Mike Tyson's Punch-Out!! So when I unwrapped EyeToy: Kinetic, which uses a motion-capture USB camera (included) to transport your image into a fitness-oriented PlayStation 2 game, I thought I was ready to kick ass. Then this cardio/video combo kicked mine.
The "game" is really an exercise program divided into four categories (Cardio, Combat, Toning, and Mind and Body). Your trainers—Matt, a buff American, and Anna, a svelte Brit—lead workouts that require you to jump, punch, and kick through a video starring . . . you. After some initial futzing to get the camera just right (your space needs to be well lit but not overexposed), I was cavorting around my living room, doing squats and slides while playing Ricochet, a virtual game of dodgeball. Then I busted through bricks in kickboxinglike Combat Wildfire. The aerobic mayhem was followed by a tai chi–inspired routine called Reactivate, and the program ended with a set of body-weight-only toning exercises like push-ups and dips.
Verdict: Playing EyeToy was the most fun I've ever had training indoors; my sore muscles erased any doubts about getting a real workout; and I was glad the curtains were drawn, as it might be hard to explain Ricochet to the neighbors. $50 (requires PlayStation 2); www.eyetoykinetic.com
SOFTWARE FOR HARDCORES

Take the number-crunching nerd from your high school cross-country team, cram him into your hard drive, and you get Training Peaks, a Web-based program that turns fitness data into porn for trainers. In minutes you can analyze two years of exercise and nutrition data to find out why you've peaked—or plateaued—at certain times. Plus you can do digi-tricks, like locate a road you passed on a ride and build a new route with Google Earth. Geeks, beware: It's so fun you might lose training time. $20 per month (Athlete Edition);www.trainingpeaks.com