What aerobic workout can I do using only my upper body?
I tore my MCL playing football. Unfortunately, the only working out I can do is upper body strength training. Please help me out with some sort of aerobic workout not using my lower body. My whole life is outdoors and I want to get back to it as quick as possible. The Editors Santa Fe, NM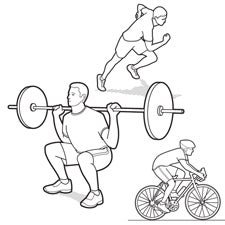 Heading out the door? Read this article on the new Outside+ app available now on iOS devices for members! Download the app.
Check with your doctor to see if it's okay to swim. Doing the front stroke or back stroke is often okay with an MCL injury, but do not perform the breast stroke as it will stress the knee and exacerbate the injury.

If your doctor does not want you to swim and you can only do upper-body exercise, check for one of two bikes in your gym: An Airdyne or upper-body ergometer. The Air-Dyne has pegs that stick out on the front wheel where you can rest your feet and push and pull with your arms. The ergometer is an upper-body bicycle made specifically for your arms.
— Sue Falsone
Related articles
Prehab 101
MCL Injuries
Build Strength for Swimming
Trending on Outside Online