What I Learned from Sweet Spot Training
To start with, long steady rides are a boring waste of time, power meters are both absolutely vital and extraneous bullshit, and you can get faster without training like a lifeless automaton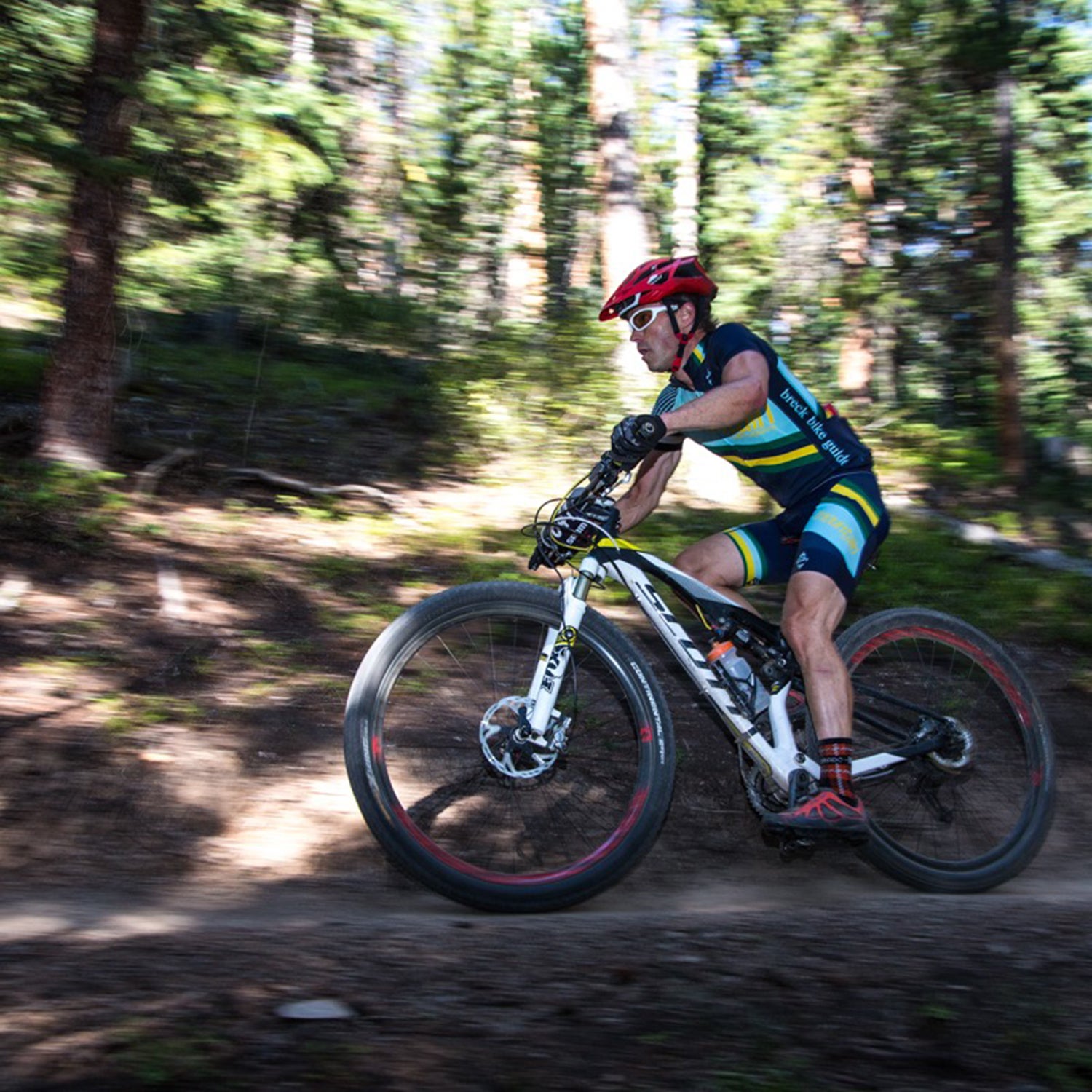 Liam Doran(Photo)
Heading out the door? Read this article on the new Outside+ app available now on iOS devices for members! Download the app.
Training is soul crushing. I avoid it like a hot-tub norovirus. Don't get me wrong, I like riding bikes (mountain, gravel, and road) and skiing (Nordic, backcountry, and alpine) and generally consider myself a fit guy. But the few times I've tried to actually train for cycling, with all the rigmarole of power meters, rigid scheduling, midweek intervals, and back-to-back five-hour weekend rides, I burned out on the drudgery by week two and quickly reverted to my status quo: having fun hammering with friends.
The problem with choosing recreation over training, though, is that the body adapts to routine stress (exercise) and quickly finds homeostasis. Your fitness flatlines. And when it's time to compete in an event like a 50-mile summer mountain bike race, fall gravel grinder, or even a beery Saturday cyclocross jamboree with snow threatening, you won't live up to your potential. Riding ain't racing.
To get fast, most coaches will tell you, one must embrace a periodized plan of polarization, meaning a schedule (the periodized part) in which an athlete mixes high-volume work at low intensity and high-intensity work at low volume (polarization) to hit peak form on race day. A polarized week might involve two extended weekend rides at a steady pace, plus two to three high-intensity midweek workouts. There's no arguing that polarized training works—it's a training staple for Tour de France cyclists. But even for recreational cyclists, it can pretty quickly suck up 16 to 20 hours in a week, which is why I've never been able to commit to such a plan.
Luckily, though, there is another way to ramp up your fitness for an endurance event. It's called sweet spot training, and it involves focusing your effort on moderately hard weekend riding with just a dash of threshold (race pace) work and moderate efforts thrown in midweek. Which happen to be the things that give me cycling joy. If I could somehow make that work in a periodized schedule, there was hope that I could get faster without boring myself into a roadside ditch or kicking myself for my half-assed attempts at intervals.
Sweet spot training dates back to 2004, when Frank Overton, of Boulder, Colorado–based FasCat Coaching, was just breaking into the business. At the same time, power meters, which gauge how much work you're doing on a bike far more accurately than a heart rate monitor or perceived exertion, were becoming widely available.
As an early test, Overton worked with famed exercise physiologist Andy Coggan to graph a few months of power meter data from Overton and a dozen other athletes. The result was a near-perfect bell curve that offered a tantalizing training secret: Focus the bulk of your workouts in the middle of the bell curve, and you'll maximize your efficiency on the bike and recover faster than you do from high-intensity intervals. Coggan drew a circle on the graph: the sweet spot.
If you're climbing with friends and going hard but not trying to attack, you're probably sweet-spotting.
Intrigued, Overton built himself a periodization schedule heavy on moderately hard riding backed by attainable threshold intervals (those sustained efforts just beyond the sweet spot curve) and promptly earned his best placement ever at the 2005 Colorado State Time Trial Championships. "I produced the most power of my entire life," he says. "I just smashed my A race."
In the years since, Overton has incorporated sweet spot training into thousands of personalized plans and web-based programs for pro and recreational athletes with similar success. You still bake in the rest days and recovery blocks of a periodized plan, but the activity better emulates what most workaday athletes do for fun and with time commitments that are attainable. So I set out to see if it could work for me, too.
---
Late last summer, with no direction, I started incorporating my own interpretation of sweet spot training into my ride schedule. For me that meant that on weekends, instead of riding for six hours with my heart rate around 135, I went out and climbed for three hours with my heart rate at 155. I did this for about five weeks; by September, I was riding noticeably faster.
This summer, I decided to see what a formal plan could do for me and signed up for one of FasCat's six-week, $50 web-based training programs. It would culminate with me racing the Firecracker 50 in Breckenridge, Colorado. I'd raced the Firecracker a few years earlier and finished with a respectable time in my category, but I was sure I could improve my result with some structured training. FasCat's description of the plan promised that I would soon be "sweet spotting up the wahzoo."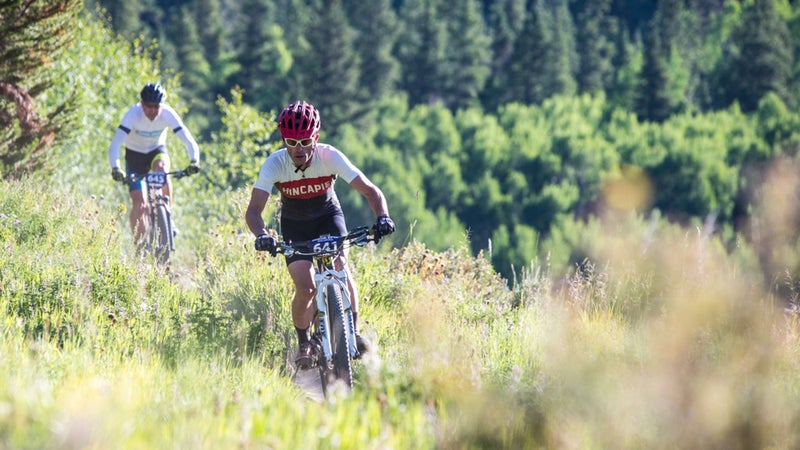 My six-week plan included eight to 12 hours a week of riding—as opposed to training—with one big week where I bumped up to 16 hours. (I typically ride eight to 12 hours a week anyway.) The big week involved a masochistic six-hour mountain bike ride, plus some extra-credit spinning with my son, but the rest of the plan was easily incorporated into my normal ride schedule. To compare: An equivalent big week on a polarized regimen would require 16 to 20 hours of riding.
Before we could find my sweet spot zone, which differs for everyone, Overton needed some data. I was tasked with performing what's called a functional threshold power (FTP) test, which is exercise jargon for going as hard as you can sustain for 20 minutes up a steady climb.
Plugging that heart rate information and the power data from the meter on my bike into a FasCat spreadsheet told me what I already knew from years of riding with a heart rate monitor: My sweet spot target was between 148 and 164 bpm, 90 to 98 percent of my FTP. During my first summer of self-directed sweet spot training, I'd guesstimated it at 155 bpm, which, as an aging athlete, is exactly 90 percent of my max heart rate. My target wattage was in the 193 to 226 range, which is so tiny compared to bigger, stronger professional riders that I'm embarrassed to even type it. Anyway, that was the last time during the six-week program that I paid a whiff of attention to my power rankings.
Moderately hard riding is sweet spot riding. The pace is harder than an easy tempo, a speed you could sustain for hours while chatting on and off, but not as hard as the upper reaches of threshold, where talking is nearly impossible. At the sweet spot, you're audibly breathing but not gasping. Your tolerance of suffering may vary, but on a perceived exertion scale of one to ten, I'd put my sweet spot zone in the five-to-seven range. (Hard-ass Overton says it's from four to six.) If you're climbing with friends and going hard but not trying to attack, you're probably sweet-spotting. And in fact, group rides are rife with sweet spot efforts—especially if you move to the front and pull the peloton into the wind if the pace feels too easy.
By week three of the sweet spot program, the benefits were kicking in, and I was riding comfortably with faster groups.
All of which is why FasCat's six-week plan worked so well for me: I just incorporated the prescribed efforts into my weekly rides. A typical sweet spot week involved one three-to-four-hour ride on the weekend, eventually riding in the sweet spot half the time. Then I did three 90-minute rides midweek. One focused on threshold work—essentially race pace. A second outing would involve what are called tempo bursts—cranking up the speed for 30 seconds while riding in that chatty tempo zone. And a third outing might require 20 to 40 minutes of sweet spot efforts. Throw in an optional recovery ride, where you're simply spinning the pedals at an all-day pace, and call it nine to ten hours all together. And yes, those periodized rest days are baked in. For the weekend ride, I just rode with faster friends to stay in the sweet spot.
By week three of the sweet spot program, the benefits were kicking in, and I was riding comfortably with faster groups. Ten days before the Firecracker, I entered a 17-mile mountain bike race at altitude and surprised myself by nabbing third on the expert podium in my age group. A recovery block just prior to the Firecracker had me feeling well-rested and superhuman on the weekly club ride. And then came the big race.
Overton had promised that riding at the sweet spot gives you a second advantage over polarization: Because it simulates racing, going moderately hard better prepares your legs for the sustained effort of a long mountain bike race. When I raced the Firecracker two years prior, I let the lead group roll away from me as I found my comfortable pace. But this year, I had the legs to hold their wheels until we entered the singletrack. Looking around, I'd already improved my positioning by five places over the previous year. Now I just needed to hold on and settle into the top end of my sweet spot pace.
And then, rocketing down a fire road strewn with talus, I exploded the air out of my rear tire and somehow broke the valve stem. An epic flat-tire scenario ensued, which eventually saw me pull out of the race. But I had another test coming just five weeks later: the Steamboat Stinger. The race is 53 miles long (90 percent of it on singletrack) with 7,000 feet of climbing. Despite the expert coaching, I'm not really much of a racer. I screwed up the start and got behind a line of slower riders I couldn't pass. But even after losing my mojo—I race better when I have rabbits in sight and back off when I'm isolated—I took ten minutes off my 2015 time and finished feeling kind of fresh.
Meaning I went easier but finished faster—which is the ultimate testament to a conditioning program.
---
Find Your Sweet Spot
Want to guesstimate your sweet spot zone without a power meter? A dedicated heart rate monitor or even a smartwatch with heart rate at the wrist will do. First, find a gradual climb without any dips in the road to let you recover. Warm up as you would for a race, and then hit your timer and ride for 20 minutes at your maximum sustained effort. If you're an extrinsically motivated slacker like I am, ask a faster friend to pace you, staying a few bike lengths in front so you don't cheat in their draft. Your average heart rate after 20 minutes is your functional threshold. That's the extreme top end of your sweet spot zone. Multiply it by 90 percent to find the bottom of the zone. After six weeks, retest yourself to fine-tune.
Sweet Spot for Cyclocrossers
Since cyclocross races are relatively short, 90-minute efforts, many casual racers assume you don't need to train much for distance. Overton, who also specializes in cross, will dissuade you of that opinion. In summer, his cross athletes sweet spot train for six, 12, or 18 weeks before he redirects them to shorter and more intense efforts. "The trick," Overton says, "is to leave time post–sweet spot training to allow for cross-specific intervals—usually that's three to six weeks."
Trick Yourself into Training
My "Six Weeks to the Sweet Spot" plan was tailored exclusively to the demands of a largely solitary and prolonged effort like a 50-mile mountain bike race or a long time trial, where you're actively avoiding redlining and trying not to surge. But road races, cyclocross, and sub-three-hour mountain bike races require more top-end power to chase down breakaways, get the hole shot, or pass on that final ramp before the downhill. In such cases, adding high-intensity interval training to top off your sweet spot form is a must. FasCat coaching will set you up with a plan. Can't make yourself do intervals solo? On your next group ride, let yourself drift off the back of the peloton and then chase back on. Do this six times—or until you get spit out.
Lead Photo: Liam Doran