What's the Best Treadmill Desk Alternative?
I work at the computer, at home. I considered modifying my desk to accommodate a treadmill, but after a reality check, I have no room or money for one. Are pedalers any good? If not, what is another option?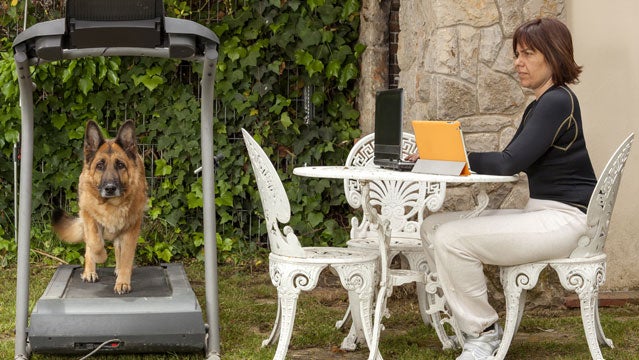 Heading out the door? Read this article on the new Outside+ app available now on iOS devices for members! Download the app.
First, kudos to you for recognizing that prolonged sitting is bad. The Wirecutter's Mark Lukach wrote an excellent column detailing exactly why. The gist: sitting for more than six hours a day lowers your life expectancy, and increases your risk of heart disease and diabetes.
While treadmill desks have been touted as the antidote, they do have their downside. University of Tennessee researchers found the desks interfere with fine motor skills and math problem solving. They've also been linked to injuries including cuts, knee sprains, and Achilles pain, according to this Wall Street Journal article. And, as you know, they can be insanely expensive. (The Woodway DeskMill costs a rumored $12,000, while treadmills specially made to slip under your existing desk cost around $1000.)
Small pedaling machines that easily fit underneath a desk, like Stamina's In-Motion Elliptical Trainer or InStride Cycle are cost effective alternatives. However, it's possible your knees will hit the top of your desk, and that using the machines could exacerbate issues associated with poor sitting posture.
If it's the calorie burn you're after (and it probably is, unless you're a cyclist looking to fine-tune your motor skills), you might be better off simply standing. One study found that when desk workers were provided access to a pedal exercise machine for four weeks at work, the workers used the machine an average of 12.2 out of those 20 working days for an average of 23.4 minutes at a time. The result: An extra 180 calories burned per day. 
That's nothing to scoff at. But if you weigh 140 pounds, and stand instead of sit during your eight-hour workday, you'll burn 258 extra calories a day. (To find how many calories you'll burn standing instead of sitting according to your actual weight, check out this calculator.)
You might plan on riding longer than 23.4 minutes per day, thereby upping your caloric burn. At only $35.69, the InStride isn't an enormous investment if you want to try it out. But you can convert your desk into a standing desk for free. Yours truly did so about two months ago, perching a monitor, keyboard, and mouse atop stacks of plastic containers and old shoeboxes. It's not the most elegant design, but it gets the job done.
THE BOTTOM LINE: If cost takes a treadmill desk out of the equation, investing in a small pedaling machine is worth a try. But to get the most bang for your buck, just stand up. 
Trending on Outside Online