Which Fitness Apps Should I Actually Use?
I want to see if my smartphone can make my workout better, but there are so many choices. What are some tried and true apps that I won't just delete a week in?
Phil Roeder/Flickr(Photo)
Heading out the door? Read this article on the new Outside+ app available now on iOS devices for members! Download the app.
Even before the Apple Watch was announced, fitness apps were a booming market. The only problem? Knowing which one to download. Popularity rankings can't tell you which app will get you out of bed and on your run each morning. Instead, think about your fitness weak spots: energy and motivation, structure, or something else? Most apps target one or more of those elements. Figure out what you need from your download, and it will make your next workout that much better.
Motivation Is the Problem
"Gamified" apps turn exercise into a competition—pitting players against themselves or other users, or enticing them with digital rewards and recognition. These can make working out more fun, experts agree—but according to a recent Brigham Young University study, they're probably not enough to get someone who hates exercise off of the couch, or to keep users engaged once the novelty wears off.
"If you hate exercise and you're looking for an app that will change that, it probably doesn't exist," says study author Cameron Lister, Ph.D. "The motivation's got to come from you, not from a game or social network." Still, says personal trainer Greg Justice, games may help people who really do want to get in shape get past initial hurdles of discomfort, insecurity, or boredom.
Best for: Committed exercise newbies who need to jump-start their routine; athletes who need a break from their daily grind and just want to have some fun.
Try: Fitocracy (shown below) awards points, badges, and medals for workouts based on duration and level of intensity. Superhero Workout assigns "training missions" to get you in shape for fighting aliens. (And it's fun—really!)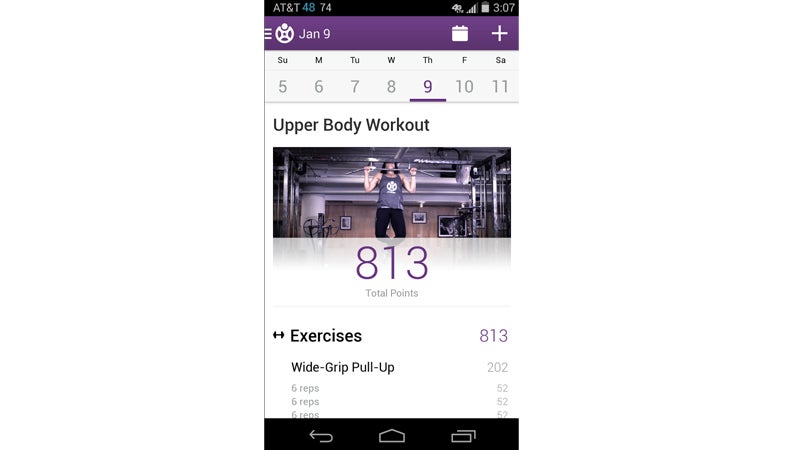 You Need to Be Held Accountable
Some apps take the "game" to another level by putting users' own money on the line. But as anyone with a lapsed gym membership can tell you, just because you're paying for something doesn't mean you're getting use out of it. "Money, coupons, digital prizes—these are all examples of extrinsic rewards," says sports and motivational psychologist Harris Stratyner, PhD. "They may work for the first three months or so, but eventually you need intrinsic motivation—like seeing yourself losing weight or getting healthier—to keep going."
Best for: People who already have an established routine and just want to hold themselves accountable.
Try: Pact, which takes money from users who don't log regular workouts and pays it to those who do.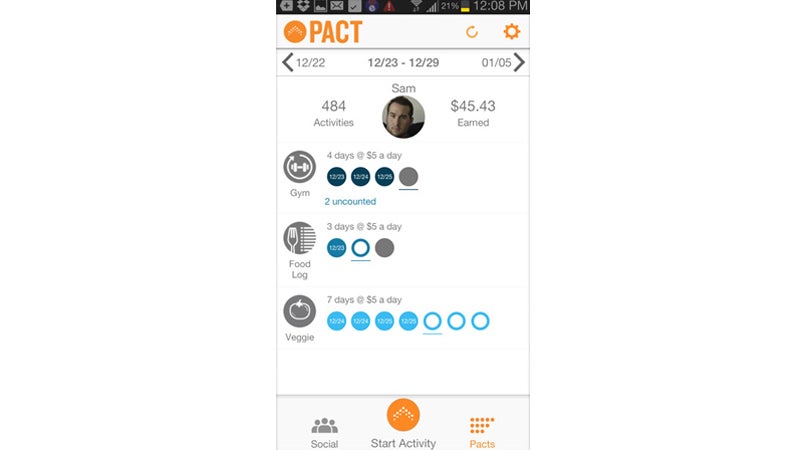 You're Sick of Running Alone
In the age of the Fitness selfie, if your workout's not on Facebook, did it actually happen? Technological cynicism aside, Justice says that being held accountable by a group of friends (real or virtual) is all some people need to get out and go.
Best for: Social network junkies or people who want to connect with long-distance friends and like-minded athletes.
Try: Strava (shown below) connects you with running and cycling buddies to share routes, updates, and support. Teemo lets a group of people worth together to accomplish a fictitious goal (like climbing Mount Everest) by logging real workouts.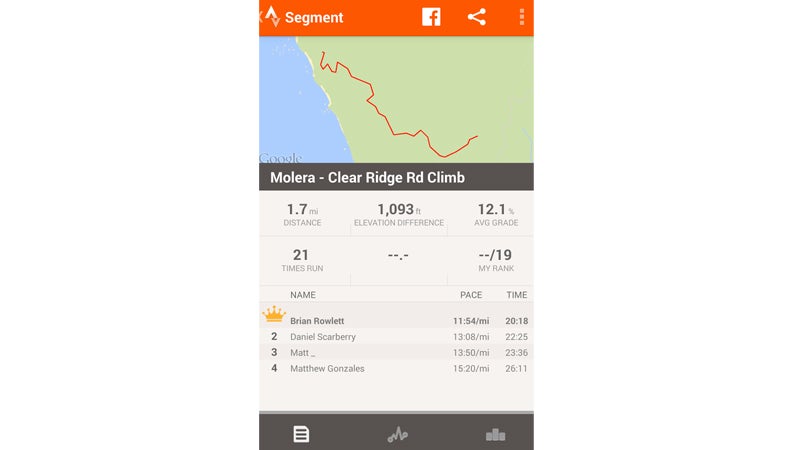 Coaching Is What You Crave
Instructional apps that offer training programs or step-by-step direction for form and technique are more helpful for people who want to develop and stick with a fitness habit long-term, says Stratyner. Even better if they tap intrinsic motivation by letting you know you're getting faster, stronger, or slimmer over time.
Best for: People who have a goal in mind but don't know where to start or how to reach it.
Try: The 7 Minute Workout Challenge app provides detailed instructions and a real-time workout mode that counts down each move. MyAsics (shown below) is a cool adaptive training program for runners (with 5K, 10K, half and full marathon options), which modifies future workouts based on how well you're performing.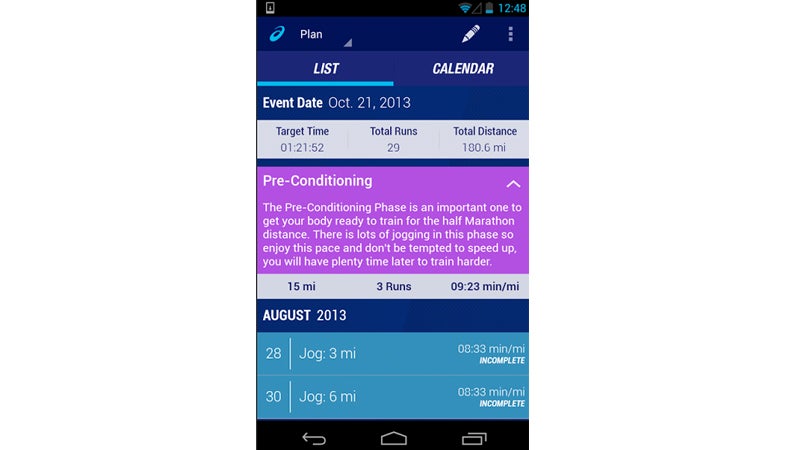 You're Looking for that Final Percent
Finally, there are basic tracking apps, which estimate your daily steps and activity levels. These can be useful tools for people who are already motivated to stay fit, says Lister, but need to be reminded of their progress.
Best for: Desk jockeys who work out regularly but need to push staying active throughout the day. 
Try: FitBit, which can be used alone or—for more accurate results—with a sold-separately tracking device.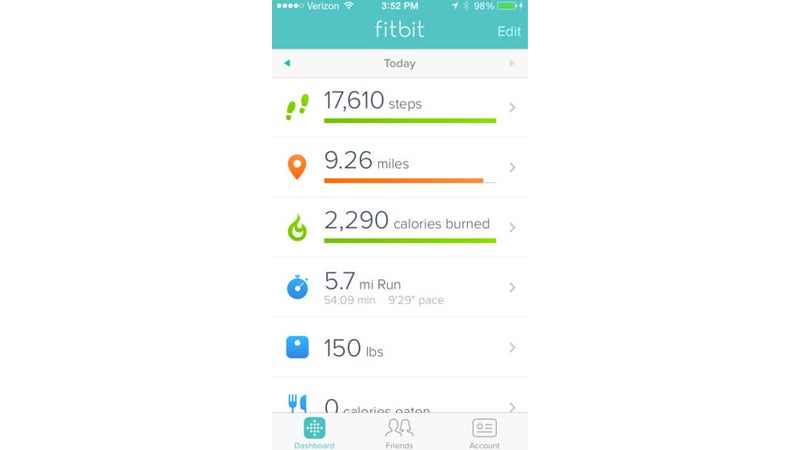 ---
Bottom line: If it's long-term motivation you're seeking, you're better off finding that through a real-life experience, says Stratyner—a workout buddy who keeps you company, a coach or trainer who holds you accountable, or a fitness class you actually look forward to attending. Apps can get you so far, but ultimately they're much easier to ignore or delete. 
Once you've got that motivation, use apps to enhance your workouts. Luckily, many of them combine several of the above elements. Zombies, Run!, for example—the most downloaded fitness game app of all time—puts users in a complex game scenario, rewards them with prizes, tracks their routes on a map, encourages interval training, and even offers a 5K training program.
As with all fitness apps, though, think of it as a tool more than a game-changer. As one reviewer summed it up, "It's a fantastic app, as long as you like working out more than you like zombies.
Lead Photo: Phil Roeder/Flickr
Trending on Outside Online