Why Exercise Isn't Enough
Just hit the road to stay healthy? Not quite. If you're working a desk job, exercise may not be enough.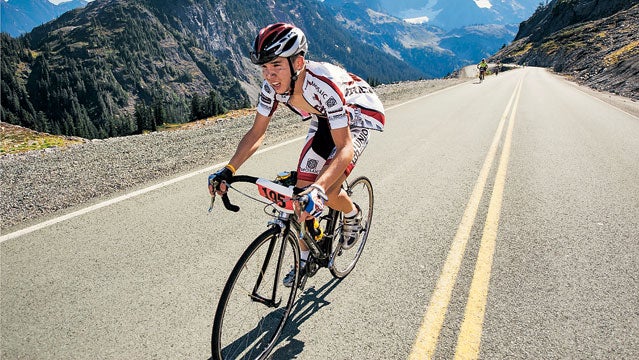 Heading out the door? Read this article on the new Outside+ app available now on iOS devices for members! Download the app.
We all know that sitting around is bad for your health, and that exercising is good for you. But what happens to people who exercise regularly and then sit around all day?
This is one of the hot new topics in exercise and public health research. The idea is that sitting around all day limits the positive effects of your workout or other forms of non-structured physical activity you might be getting.
What does the data say?
Data from "Down Under"
In a large study from Australia more than 200,000 people 45 years old or older were followed for about three years. They were categorized into four groups based on physical activity: 0 min/week – up to 149 min/week, those who got between 150-299 min/week, and those who did 300 or more min/week.
Participants were also categorized by how much time they spent sitting in a given day: those who sat to less than 4 hours per day, those who sat 4 to 8 hours per day, 8 to 11 hours per day, and 11 hours or more per day.
This gave the statisticians working on the project a 4 x 4 grid of groups to compare.  They ranged from inactive people who also sat all day long, to highly active people who did very little sitting.  
The Results
For the 150,000 healthy people in the study (including those who didn't exercise), there was a dose response relationship between more sitting and all-cause mortality. This simply means more sitting was associated with more mortality. The sitting mortality relationship was also blunted in the people who got any exercise during the week—a little bit of activity can stop some, but not all, of the negative effects of a lot of sitting.
In the more than 50,000 people who already had cardiovascular disease or diabetes at the start of the study, the interactions were more striking. Physical activity was incredibly protective in these folks and more was better than some. But sitting, especially for more than 11 hours per day, tended to wipe out the benefits of being active in the people with cardiovascular disease or diabetes. The authors concluded that:
Prolonged sitting is a risk factor for all-cause mortality, independent of physical activity. Public health programs should focus on reducing sitting time in addition to increasing physical activity levels.
All Sit and No Work?
Even if you're active outside of work, few of us have physically demanding jobs. In the last 50 years, muscle-powered manufacturing, mining, and agriculture jobs have decreased, and service jobs have increased dramatically. Overall, the number of people doing work that requires even moderate amounts of physical activity has dropped from about 50 percent of the work force in 1960 to only about 20 percent now. We are sitting more and doing less at work as well as spending more time in front of various screens at home.
Do Something!
The general trends outlined in the Australian study are starting to be confirmed by other large databases.  So, the key idea is for committed exercisers, and really the population as a whole, to find ways to build more physical activity into their day at work. Exercisers in every category of baseline health don't want to lose the positive effects of their workout—which can happen through inactivity—and those who don't exercise can benefit from doing almost anything.   
These changes may seem minor, but the following swaps may be enough to ward off the dangers of sitting:
—Ride your bike or walk to work. Car-free commuters have a 40 percent lower chance of developing diabetes and are less likely to be obese, a recent study in the American Journal of Preventive Medicine found.
—Rethink how you use e-mail. How many serve and volley e-mail exchanges are you having with people who are nearby? It might make more sense and be more time efficient to go for a walk and actually talk face to face.  
—Talk to HR. Can you convince your employer to get some treadmill desks that can be used for things like responding to email?  
—Take a mobile lunch. Taking a walk during your lunch break is a great way to break up the day and get some physical activity. It might also be a trigger to eat a lighter meal and further ward off the effects of too much sitting at work.
Summary
Optimal health is not about working out all day long. It is about building low-grade physical activity—through activities like walking—into as much of your day as possible. If you want to get the most out of your formal exercise program, it's time to incorporate movement into your daily routine.
Michael J. Joyner, M.D., is a physiologist and anesthesiologist at the Mayo Clinic and a leading voice in the world of exercise physiology. Over the last 25+ years, he's published 100s of studies many of which have focused on how humans respond to exercise. Dr. Joyner also writes at Human Limits. The views expressed in this post are his own and do not reflect those of his employer.
Lead Photo: Garrett Grove