Has the 2-Hour Marathon Already Been Broken?
Researchers say that when Paula Radcliffe ran a world record 2:15:25 marathon in 2003, she broke the female equivalent of the two-hour marathon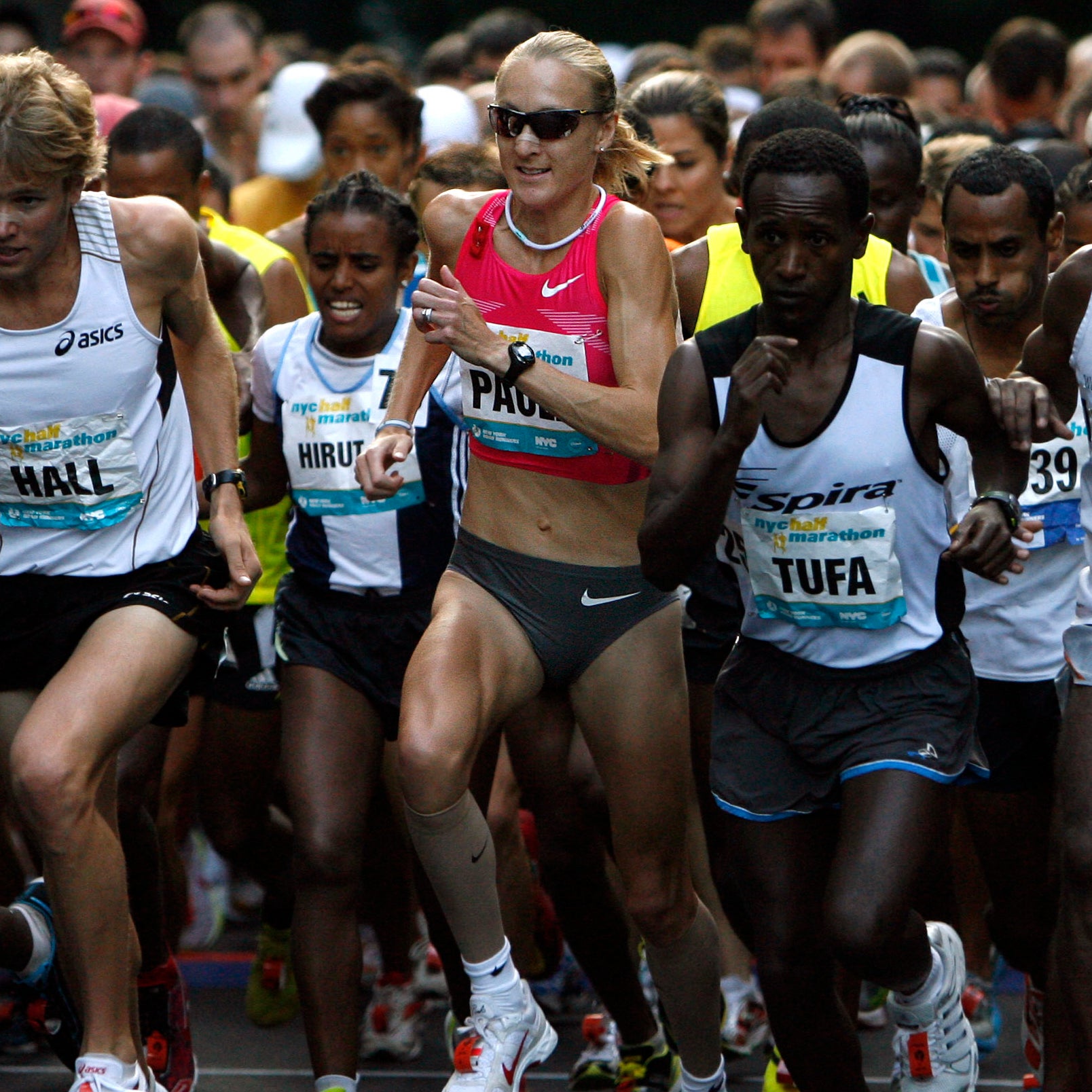 Heading out the door? Read this article on the new Outside+ app available now on iOS devices for members! Download the app.
Perhaps you've heard: Nike is trying to break the two-hour marathon. Three months ago, the company announced an ambitious stunt that it's calling Breaking2, in which Nike is taking a no-holds-barred approach—optimizing the course, conditions, and footwear—to overcoming the most elusive hurdle in running.
Even before Nike came along, the two-hour marathon captured imaginations, and it has always been assumed that a man would be the first to break the mark. "At the elite level, men are faster than women, and they probably always will be," says exercise physiologist Sandra Hunter, who has spent the better part of her 20-year career studying female athletes. "Men just have more muscle, less fat to carry, bigger hearts, and more hemoglobin."
So, a few years ago, Hunter, along with noted exercise physiologists Michael Joyner and Andrew Jones, wondered what the equivalent milestone would be for a woman. According to their findings, published in the Journal of Applied Physiology in 2015, the women's equivalent time has already been broken—14 years ago, by Paula Radcliffe.
Here's how Hunter and her colleagues figured that out: They compared the top 100 best marathon times for both sexes and discovered that, on average, the fastest women are 12 to 13 percent slower than the fastest men at the marathon distance. Using that equation, a two-hour marathon for a man becomes about 2:16 for a woman. (That time is also backed by the Mercier score, a tool frequently used to compare running times across different events and sexes.) And that's what makes Radcliffe's record time of 2:15:25 so astonishing—it's a mere 10 percent slower than the men's mark of 2:02:57, set by Dennis Kimetto in 2014 at the Berlin Marathon.
Radcliffe's run was remarkable, and the record still stands 14 years later. Which raises the question: how has it not been broken yet? "Because she was so superior," Hunter says with a laugh. (The closest anyone has come since was at the Chicago Marathon in 2011, when Russian runner Liliya Shobukhova ran a 2:18:20.)
Three main physiological components affect a person's distance-running ability: a high VO2 max (how much oxygen a person uses during maximal exercise), a high lactate threshold (the intensity of exertion at which the concentration of lactic acid in the muscles starts to exponentially increase), and running economy (how much oxygen a person uses at submaximal speeds). Radcliffe was extraordinary in all three—"a perfect storm," as Hunter says.
Her running economy in particular set her apart, and it was something she improved a lot through training: in his 2006 study, Jones found that Radcliffe's running economy improved by a whopping 15 percent between 1992 and 2003. Radcliffe began by racing shorter distances, competing in the 10,000-meter event in the 2000 Olympics and winning the World Cross-Country Championships in 2001 before running her first marathon in 2002. A few months later, she broke the women's overall world record for the marathon in Chicago with a time of 2:17:18.
According to their findings, the women's equivalent time has already been broken—14 years ago, by Paula Radcliffe.
The researchers' assertion, however, is a thorny issue that's also fraught with sociological issues. After all, women were banned from competing in marathons until 1972. When Bobbi Gibb tried to enter the Boston Marathon in 1966, she received a note from race director Will Cloney stating, "Women aren't allowed, and furthermore are not physiologically able." That gets us to the second issue: there are still holes in the data pertaining to women's athletic capabilities at this distance.
"We assume that we know what the true physiological differences are, but we may not—because women aren't participating at the same rate as men," Hunter says. "There's still a lot of work to be done to get at the true sex differences and the potential for women."
Another study, published last year in the International Journal of Sports Physiology and Performance, tried to determine the women's equivalent of the two-hour marathon but incorporated social factors in addition to physiological. Since women have been competing in marathons for a relatively short amount of time, the researchers compared elite finishing times of almost all track and field events. They found that when factoring in all running events, there's an 11 percent difference between the sexes, and therefore the women's equivalent of the two-hour marathon is about 2:13, two minutes faster than Radcliffe's time. (It's important to note, however, that running a 100-meter sprint is a lot different than running a marathon.)
Whether or not the researchers intended it, the study highlights the fact that we really don't know what elite female marathoners are capable of, because they were kept out of the sport for so many years—which is not to belittle Radcliffe's accomplishment. She is an extraordinary athlete, but she can't be the only woman out there with record-breaking potential. For a new world record, "you've got to have the right conditions and the right person come along," Hunter says. "There are more Paula Radcliffes out there. It's just do they even know they're a Paula Radcliffe? Do they have the opportunity?"