Yes You Can: Run a Half-Marathon
Everything you need to run a personal best, including a 12-week training plan, a race-day nutrition plan, and advice from U.S. record holder Ryan Hall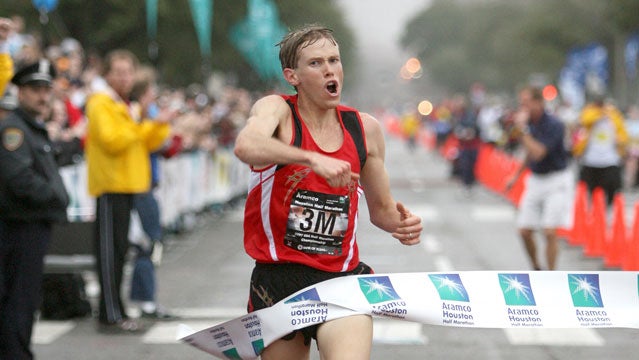 Heading out the door? Read this article on the new Outside+ app available now on iOS devices for members! Download the app.
On the top of his hand, he's written 4:42 and 4:37 in black ink. If he averages 4:42 pace, he'll likely win the race. If he averages 4:37 pace, he'll break the American record. The gun goes off and his legs begin spinning. He averages 4:33 pace for the first five miles, faster than he's ever run before, but he goes with it: it doesn't feel any harder than his training runs. Hall's parents and wife watch silently from the lead vehicle. They can't cheer or they'll interfere with the race.
Interactive Training Plans
Track your workouts, get email reminders, and watch video tutorials in our two interactive 12-week training plans from coach Matt Ebersole.
Beginner
|
Advanced
Ryan Hall leads the 2009 Boston Marathon

Ryan Hall leads the 2009 Boston Marathon
Around mile nine, Hall's stomach feels unsettled. He worries about cramping, so he prays. His stomach settles down by mile 10, and he crosses the finish line at 59:43, a new American record, and the crowd goes wild. He's crushed Mark Curp's 22-year-old American record by more than a minute. His family screams and runs out of the pace car and over to hug him.
"There was just pure joy coming out of me," Hall says. "I was so excited."
Fast forward to 2012. The half marathon is the fastest growing road race in the United States, with almost 1.4 million finishers in 2010 and more than 30 new half-marathons popping up every year, according to Running USA. You don't have to run 4:30 miles to feel the euphoria Hall experienced, but learning from the American record holder will help you achieve own personal best. In the following pages, you'll find a nutritional guide, training plans, and tips from Hall, Curp, and coach Matt Ebersole.
 "The half marathon hits the sweet spot between being manageable and being a challenge," says Ebersole, owner of Indianapolis-based coaching company Personal Best Training. "And when distance is no longer a challenge, time can become the challenge."
10 Tips To Run Your Best Half-Marathon
Train like a pro with tips from Ryan Hall, Mark Curp, and coach Matt Ebersole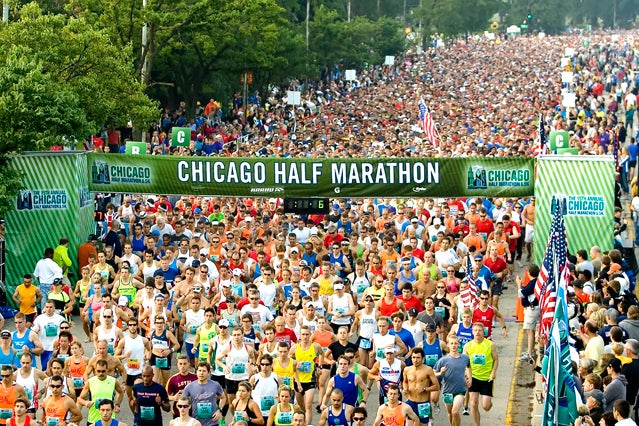 The marathon's little brother has been bumper-sticker branded 13.1. The distance is half that of a marathon, but that doesn't mean running one is half the achievement. To run a good half, you'll need the speed of a 10Ker, the endurance of a marathoner, and the wisdom of those who have gone before.
Your Coaches:
Ryan Hall, current U.S. record holder with a time of 59:43
Mark Curp, former World and U.S. record holder with a time of 1:00:5
Matt Ebersole, 20-year coaching veteran of more than 5,000 runners
10. Understand your goal
"People who aren't clear on why they're doing this really struggle," Ebersole says. Take a moment to reflect on why you want to run 13.1 miles. Is it for weight loss, a sense of personal achievement, or to motivate yourself to get more exercise? "If you can be clear on that, you'll see how each day's training fits into the goal you've set out, and you won't have too many motivation problems," he says.
9. Make it social
Get a group together, or join a local running club. When you're socially and emotionally invested in your workouts, it'll be harder for you to skip them. "One day you'll want to run because you're fired up about being a runner," Ebersole says. "The next day, you might run so you can go to Starbucks and not feel guilty." Having running buddies will help keep you from burning out or slacking off.
8. Slow down
Don't be that guy or girl who dominates every workout and then fizzles on race day. "People who have the tendency to train too hard leave their races in their workouts," Curp says. "You have to make sure you get enough rest along the way." Rest days and easy runs are built in to the training plan for a reason. And if you're a speedster stepping it up from a 10K, give yourself permission to run slower as the distances increase. "When the distance is no longer a big deal for you, you can worry about speed again," Ebersole says.
7. Race
Nothing will prepare you for the big day like racing in a smaller event. You can practice your nutrition plan, work through pre-race jitters, and learn what it feels like to push hard. "The trick is to learn to love running and racing," Ebersole says. "The other 23 hours of the day feel so much better when you put that hour in." His beginner plan has a 5K and a 10K race. Advanced runners should experiment with negative-split runs—running the last half of a race faster than the first half.
6. Get outfitted
Even in 1985, Curp wore moisture-wicking fabric that wouldn't soak up his sweat. Skip cotton and wear clothes made from materials like COOLMAX or Nike's Dri-Fit. Same goes for your socks. "And avoid something you've never worn before," Curp says. Test your race outfit on a long run, paying attention to any chaffing or fit issues. You don't want comments about bloody nipples detracting from comments about your accomplishments when you post your official finisher photo on Facebook. 
5. Train your brain
"Often we think we need to train our bodies, but then we leave out the mind," Hall says. "We all have negative thoughts, but it's what we do with them that makes a difference." Hall recommends developing the habit in training of turning every negative thought into a positive thought. When mental lows creep up during the race, you'll be prepared to combat them.
4. Pace yourself
"The half-marathon is in the gray zone, where it isn't really comfortable but it's not really hard, either," Ebersole says. New to pacing? Here's Ebersole's half-marathon rule of thumb: For the first five miles, err on the side of feeling a little too relaxed. For the second five miles, adjust your effort to maintain that speed, or turn it up a notch. Then, with 5K left, kick it into high gear. "This is where the real racing starts," Ebersole says. "It's where you'll start thinking about other people and trying to squeeze out as many seconds as you can."
Need help determining your goal pace? Try plugging 5K and 10K results into these pace-predicting calculators: The Running Times Race Time Equivalent Calculator and The Runner's World Training Calculator. They're not perfect (each one will give you a slightly different goal time), but you'll get an idea of what to shoot for in the half-marathon.
3. Get a tattoo
Before Hall ran his record-setting race, he wrote out two pace charts on the back of his hand, outlining what his splits should be at different points during the event to hit his goal time. Tell PaceTat.com your half-marathon goal time, and they'll send you a temporary forearm tattoo with mile splits mapped out at your goal pace.
2. Keep an open mind
"Don't limit yourself on the start line," Hall says. Although he did have those pace charts on his hand, he wound up feeling better than expected, and ran faster than either pace he had outlined. Don't be a slave to your watch on race day. Pay attention to how you feel, and you may end up surprising yourself.
1. Celebrate
Enjoy the moment when you cross the finish line. Hall hung around and hugged his family, while Curp ran straight back to his hotel to call his loved ones. Then post that finisher photo on Facebook and tag us @outsidemagazine so we can join in the praise. But don't be surprised if you, like Curp, find yourself haunted by the old runner's adage: You're only as good as your next race. That's the beauty of the half-marathon. "You can recover relatively quickly and be back racing a week or two later, " says Curp.
The Ultimate Half-Marathon Nutrition Plan
Everything you need to fuel up for the race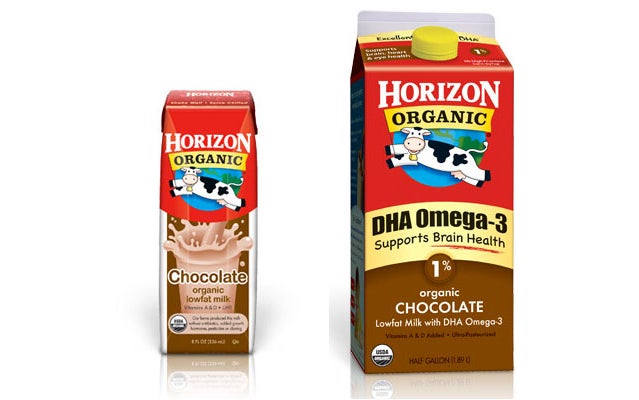 You can put in the physical and mental training, but if you don't train your stomach, you could end up spilling your guts instead of sprinting for glory. We spoke with Denver-based Registered Dietician, Beth Jauquet, to create a nutritional guide that'll take you the distance.
NIGHT BEFORE
Continue to eat the same as you did when you were in the full swing of training and your body will store the glycogen you need to fuel your race. Jauquet recommends that you eat balanced meals, meaning they contain about 50 to 65 percent complex carbs, like brown rice, quinoa, potatoes, corn, squash, and fruits and vegetables, and 30 percent fat. The rest of your calories should come from lean protein, like chicken, pork tenderloin, shellfish, or tofu.
"Pasta isn't bad," Jauquet says. "But have what your body is used to, and make it a balanced meal." If you want pasta, think pasta with marinara sauce, a lean protein, and some sautéed or roasted vegetables. Stay away from high-fiber foods the night before, as well as dairy if you know you have a hard time digesting it.
RACE MORNING
"The general rule of thumb is to eat breakfast two to four hours before the race starts," Jauquet says. Eat something familiar and easy to digest. For some people, that may be oatmeal with fruit and milk. For others, that may be cereal with yogurt and fruit, or a bagel with peanut butter and fruit. And don't forget to hydrate. Jauquet recommends drinking 16 to 24 ounces of water two hours before the race, and an additional 8 ounces of water about 15 to 30 minutes before.
DURING THE RACE
"Find out ahead of time what food will be provided at your race," Jauquet says. That way, if you trained with Gatorade and the aid stations have Cytomax, you won't be thrown for a loop. If your event provides liquids or foods you can't stand, consider wearing your own hydration belt.
Once you figure out what you'll use for fuel, follow this plan: Drink something every 15 minutes, starting 15 minutes into your race. Most people need between 30 and 60 grams of carbs per hour, Jauquet says. That's 120 to 240 calories. Figure out how many carbs you need to sustain your running during long training runs by taking in 30 grams per hour (spread throughout the hour, not all at once) then adjusting the amount by how you feel. If you bonk on 30 grams, you need to take in more. Try alternating between a sports drink and water, taking in other food, like gels, blocks, or bites of banana, with the water as needed. That said, if you're running hard and not too much longer than an hour, you might not need any calories. Hall says he only took in a couple ounces of water on his record-breaking run. Experiment to see what works best for you.
Jauquet also recommends you determine your sweat rate, so you can aim to replace the fluids you're losing as you run. Figure it out by weighing yourself naked, running for a half hour without drinking, then stepping on the scale again. For every pound lost, figure you've lost 16 ounces of fluid. Multiply that number by two to get your sweat rate per hour, then aim to drink that much as you run. Don't worry if that seems difficult, as most people have a hard time making up for their sweat rate during their run, Jauquet says. If you can take in 80 percent of what you're losing, you'll be in good shape. You can replace the rest after you cross the finish line.
Example sweat rate calculation: You lost one pound during your half hour test run. One pound = 16 ounces x 2 = 32 ounces per hour. 32 / 4 = 8 ounces every 15 minutes.
Want a simpler rule of thumb? Tim Noakes, a professor of exercise and sports science at the University of Cape Town in South Africa, has recommended drinking according to your thirst.
POST RACE
"Your muscles are most susceptible to recovery immediately after you finish exercising," Jauquet says. Protein is particularly important right now, as it will help repair damaged muscle fibers. Replace protein and carbs all at once by drinking lowfat chocolate milk as soon as possible. If you can't digest dairy, chocolate soy milk will also work. Single-serve cartons of Horizon chocolate milk and Silk soy milk don't need to be refrigerated, so you can toss one into a bag to drink at the finish. Once your stomach is settled, eat a balanced meal, just like you have all week.
Half Marathon Training Plan
12-weeks to your best half marathon, whether you're a beginner or a seasoned pro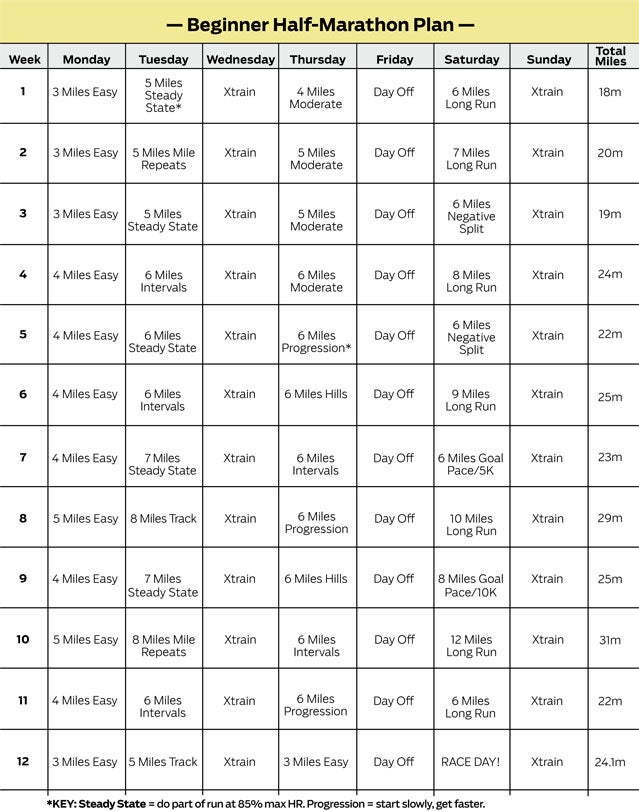 Advanced Half-Marathon Training Plan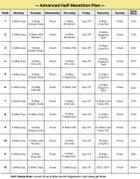 Matt Ebersole, owner of Indianapolis-based Personal Best Training, has coached over 5,000 runners and is something of a half-marathon expert, having prepared many of those runners to compete in Indianapolis's Mini Marathon, the largest half-marathon in the United States—with more than 30,000 finishers in 2011. If this is your first shot at running 13.1 miles, go with the beginner training plan. If you're a pro looking for another race, try the advanced training plan and check out one of our five favorite half marathons below.
For the best training experience, sign up for the interactive version of our beginner plan or advanced plan in the Outside Fitness Center.
The Top 5 U.S. Half Marathons
OneAmerica 500 Festival Mini Marathon
WHEN: May 5, 2012
WHERE: Indianapolis, IN
# of FINISHERS: 30,649
Houston Half Marathon
WHEN: Jan. 13, 2013
WHERE: Houston, TX
# of FINISHERS: 9,375
Rock 'n' Roll Arizona
WHEN: Jan. 20, 2013
WHERE: Phoenix, AZ
# of FINISHERS: 15,663
Walt Disney World Half Marathon
WHEN: Jan. 12, 2013
WHERE: Lake Buena Vista, FL
# of FINISHERS: 22,417
Chicago Half Marathon
WHEN: Sept. 9, 2012
WHERE: Chicago, IL
# of FINISHERS: 11,886
 
Lead Photo: Victah Sailer