How Spending 20 Minutes Per Day Outside Pulled Me Out of My Funk
I have ADHD, occasional anxiety, and my sleep schedule sucked. After a four-month experiment, I found the antidote to my problems was right outside my front door.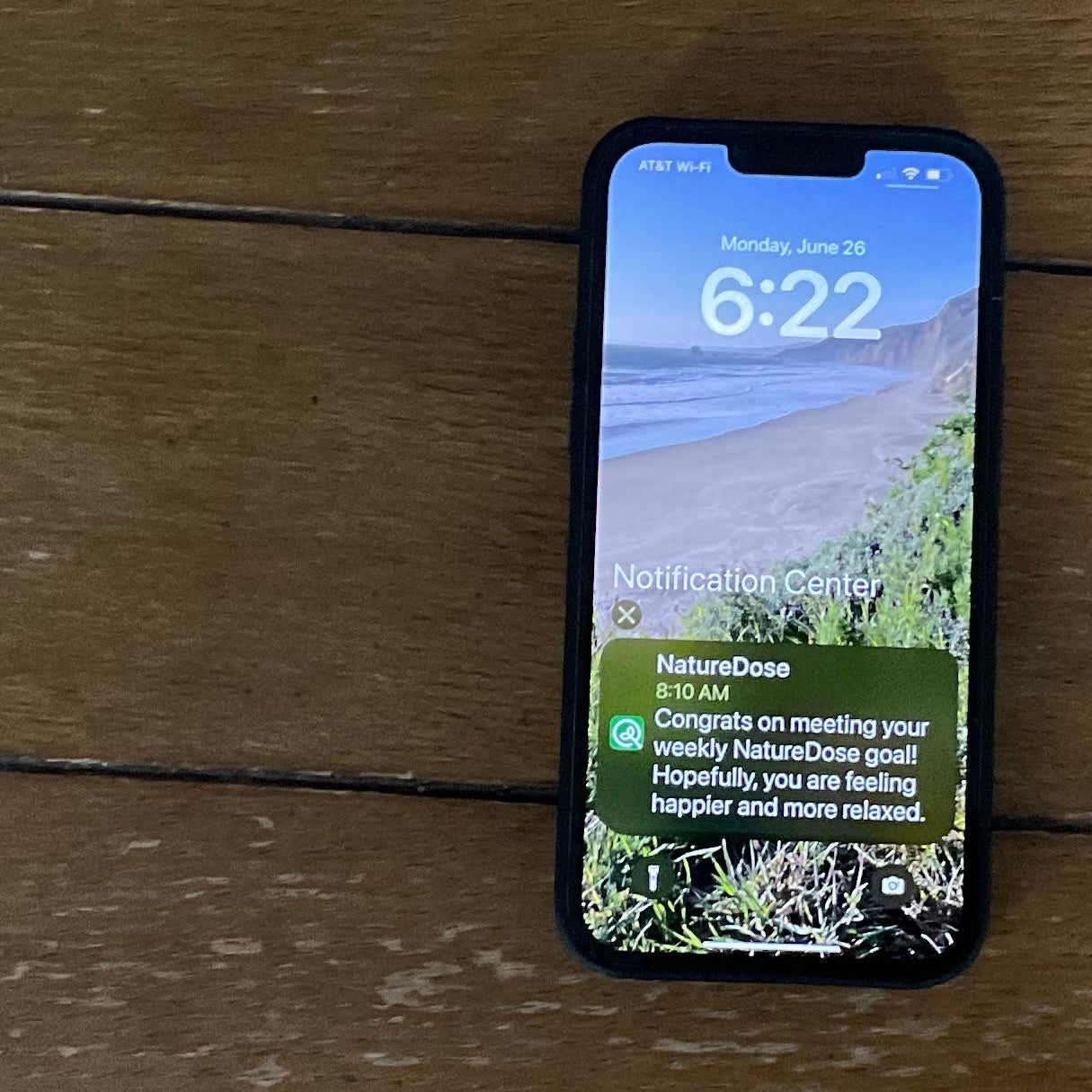 Heading out the door? Read this article on the new Outside+ app available now on iOS devices for members! Download the app.
I'm 23, a recent college grad, who's navigating the challenges of my first real job.  I spend 40 hours a week at my computer, answering emails, writing reports, and in Zoom calls. After work, it's often hard to find the motivation to do anything, even just stepping outside for some air.
When I have time to relax and unwind, I typically settle in for some scrolling or gaming. I know that I spend too much time looking at a screen and too little time exercising.  I don't consider myself a classically lazy person, though. I love to ski, play football and golf, and go camping. But I don't do those things enough.
Then my mom issued me a challenge: For one month, spend 20 minutes a day, rain or shine, outside moving my body. I would have to track my outdoor time using the NatureDose app, which tallies up my time spent in the fresh air, but also quantifies the quality of that outdoor time based on my GPS location and exposure to beneficial elements like tree cover, distance from roads and buildings, and air quality.
If I'm being honest, I didn't really think that a daily dose of nature would have much of an impact. But my competitive nature kicked in. Just 20 minutes a day? I got this. So I set my NatureDose goal for 140 minutes a week and got started.
My first walk was on a cold, gray February evening. I had just finished a long day of work and all I wanted to do was chill. The house was cozy, it was getting dark, and frankly, I just wanted to lie on the couch. But somehow I mustered the energy, laced up my sneakers, grabbed my jacket, and headed out.
Typically, going for a solo walk on a cold night is not my idea of a good time. But a few minutes in, I stopped thinking about my Xbox and started noticing the dwindling sunlight rippling across the surface of the pond. The cool breeze felt good on my face. I picked up the pace and stretched my legs and felt my tight back loosen up. By the time I got back home, I felt lighter, happier, and the stress of the day was behind me.
For the following three weeks, I continued to go on my daily walks pretty religiously. I missed a day every once in a while, when work went late or I had plans with my friends, but generally, I hit my goal of 140 minutes per week. There's a growing amount of research that shows that regular exposure to nature leads to better sleep patterns and that it improves cognitive performance.
I was seeing it happen in real time. Suddenly I was going to bed and waking up two to three hours earlier than what had become my norm and sleeping much more soundly than I had before this grand experiment began. I felt sharper during the workday, too. I was banging out reports for work in half the time.
Then came the middle of March and I hit a slump. NatureDose revealed that I spent way too much time indoors.  It was a busy, stressful time at work and the weather wasn't ideal, so I made excuses for not getting outside. And sure enough, some of my old habits crept back in: late nights in front of the screen, oversleeping, and skipping meals. I knew I was slacking on my commitment.
Luckily spring weather arrived and snapped me out of my funk. Soon, I got back into my daily hikes around the pond and saw a shift. My sleep schedule got back on track, I was eating better, feeling less stressed, and started performing better at work. I just felt like a better version of myself. People even noticed the change in me. "Dude, you seem really fired up," my friend Shawn said to me on a day that I had logged around 40 minutes outside.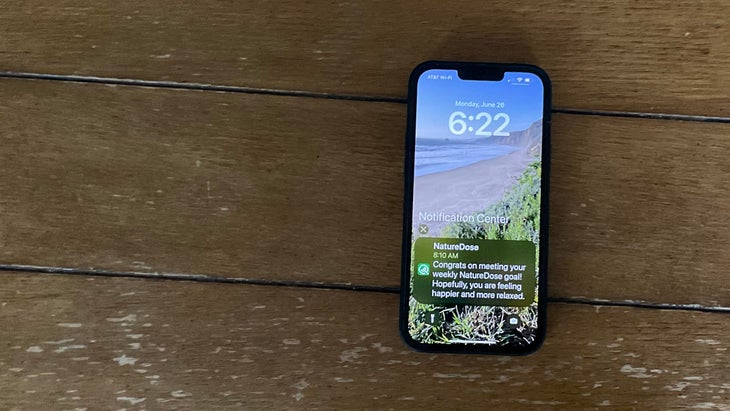 With my mojo firmly back in place, I started eclipsing my 140-minute goal by hundreds of minutes. The NatureDose app, which seemed like a hindrance at first, actually became a tool that inspired me. After four months of tracking my outdoor time against my daily habits and well being, it's pretty clear: whether it was spending time in my backyard, skiing, going on hikes and walks, or playing golf with my friends, getting outside makes me feel better in every possible way.
NatureDose is an app that measures your therapeutic time in nature. Set your weekly goal, then go outside and feel good. Download NatureDose here and be sure to link it to your Outside+ account so you can participate in fun challenges and win prizes for getting outside.
Charlie Pandit is a sustainable energy solutions analyst at EarlyBird Power and the son of Outside's head of sustainability and contributing editor, Kristin Hostetter.