The 30 Best Places to Work in 2009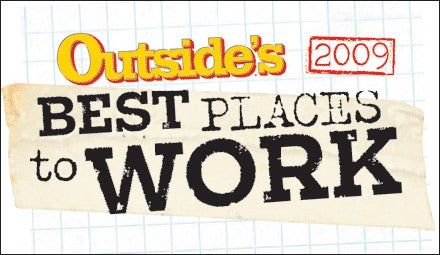 Heading out the door? Read this article on the new Outside+ app available now on iOS devices for members! Download the app.
There are two choices when confronting the current chaos in the job market: Be afraid. (Useless.) Be bold. (That's the spirit.) Because moments of turmoil present the biggest opportunities to take a new direction, to find an employer who gets your need for adventure, to finally break free of the cubicle.
How We Picked Them
The yearlong effort began with outreach. With help from the Outdoor Industry Association, we got word out to eligible applicants: nonprofit or for-profit companies with at least 15 employees working in the U.S. Our project partner, the Best Companies Group (
bestcompaniesgroup.com
), an independent research firm in Harrisburg, Pennsylvania, then sent participating companies a confidential employee-satisfaction survey and an extensive employer questionnaire to collect information about benefits, policies, and practices. The results were analyzed by the Best Companies Group, which ranked the 30 winners in order of who best enables employees to balance productivity with an active, eco-conscious life­style. The project left us…
The 30 winners of Outside's second annual Best Places to Work come in many forms adventure outfitters, tech firms, nonprofits, you name it but they all share a common belief: that the secret to success in any economy is empowering employees to live bigger, better lives. The hunch is that happy workers are good for the bottom line because they're more committed, more creative, and more capable. So even in the current financial storm, these employers say, Sure, bring the dog, take a long ride at lunch, work from home today. What's good for you is good for us. Oh, and one more thing: Many of them are hiring.
1. Intrepid Travel U.S.
FREQUENT FLIERS: "At this point, it's where haven't I been," says Dyan McKie, the adventure outfitter's U.S. sales manager. Hired in Intrepid's Melbourne headquarters in 2001 before helping launch the U.S. branch, McKie has taken full advantage of employee travel perks—a free two-week trip upon hiring, then 70 percent discounts and $1,500 annual stipends—joining guided journeys on all seven continents. She has the time: All employees are granted four weeks of vacation.
OH, THOSE AUSSIES: McKie's tasks include instilling the Boulder office with "Australian culture," meaning a flip-flop- and dog-friendly atmosphere, communally cooked lunches, and (of course) Friday happy hours.
SAVE THE RECEIPTS: Intrepid reimburses up to $500 for sports activities (e.g., gym, ski pass) and $500 for being green, whether it's riding a bike or bus to work or installing low-energy appliances at home. intrepidtravel.com
ONLINE EXCLUSIVE: FROM THE COMPANY
ABOUT
With 20 years of experience, Intrepid Travel is one of the world's leading small-group adventure tour operators. Intrepid Travel takes around 80,000 travelers to more than 100 countries worldwide, each and every year. Intrepid trips are designed to go off the beaten track, meet the locals, and travel in an unconventional way, joining locals on their transport, in their markets, and even in their homes. Intrepid employs close to a thousand employees in nearly 20 countries worldwide.
FITNESS REIMBURSEMENT
In addition to fully funding a robust health insurance plan, we encourage our employees to stay fit with our Get Active program. We have reimbursed employees for season ski passes, new bikes, gym memberships . . . whatever works for them to get them out and get them active!
GREEN INITIATIVES
We recycle and compost. We use wind energy. We have recently implemented 30 new carbon-offset trips. We aim to be completely carbon neutral by 2010. And we encourage our employees to make a difference outside of work. Over the past year we have assisted in replacing non-efficient home appliances, distributed reusable grocery bags, and rewarded our employees for using public transit or walking to work.
FLEXIBLE HOURS
We offer flexible working hours and more. We feel strongly that those who are parents in the organization should never miss a child's soccer game or teacher conference because of work. We don't keep track of hours, and we trust our employees to do the right thing. Managers are encouraged to leave by 5:30 p.m. each night so their teams do not feel compelled to stay late.
OFFICE CULTURE
We've actually created the kind of company we all dreamed about when we worked at other companies. We live the corporate values we espouse: We act with integrity. We are passionate about what we do. We encourage personal growth. We have fun. We are creative and innovative. We believe in responsible tourism. We encourage our employees to dress in a way that inspires their best work. We want them to bring their dogs to the office. Every month we enjoy a lunch prepared by two of our co-workers. We share a round of drinks together every Friday evening to celebrate a great week. Yes, we always have a great week!
2. Natural Habitat Adventures
UPPING THE OM: Last summer, travel outfitter "NatHab" relocated from Boulder 15 miles east, to the corporate campus of parent company Gaiam, a yoga-lifestyle brand. Smart move. Already-happy staffers accustomed to a "wacky" culture (roaming dogs, office keg parties) now have access to free yoga, Pilates, and other fitness classes, plus discounted meals in Gaiam's organic cafeteria.
WORK TRIPS: Every year, each employee is given a spot on a two-week, all-expenses-paid expedition to one of 30 countries. NatHab is also the exclusive travel provider to the World Wildlife Fund and the first carbon-neutral outfitter in the U.S.
ROCKY MOUNTAIN HIGH: Flex hours and telecommuting are part of a "self-directed philosophy," says director of marketing Matt Kareus. "It's Colorado—there's leeway." nathab.com
ONLINE EXCLUSIVE: FROM THE COMPANY
ABOUT
Natural Habitat Adventures specializes in environmentally conscientious small-group nature expeditions across the globe, from the high Arctic to the Antarctic, on seven continents and in more than 30 countries.
TELECOMMUTING/FLEXIBLE HOURS
Depending on their specific position, some employees have the option of structuring their schedules to work from home. About one-third of all employees telecommute for at least part of their schedule. Same with flexible hours—the main thing we are concerned with is job performance. If they can perform up to our and their expectations in a compressed workweek, then it's 100 percent acceptable.
FITNESS & WELLNESS BENEFITS
We have free on-site yoga, Pilates, and other fitness classes as well as an on-site full-service cafeteria that serves healthy organic food including a full salad bar and a variety of hot and cold options that change daily. In 2009, the plan is for all food to be purchased from organic local farms.
GREEN INITIATIVES
We have a Carbon Pollution Reduction program through which we strive to reduce our C02 emissions, offset existing emissions, and educate our travelers and the traveling public about global warming. To this end, NHA is the first carbon-neutral tour operator in the United States. We calculate the C02 emissions from all of our trip-related activities and pay to offset them through MyClimate and Sustainable Travel International.
A 100-kilowatt solar installation on top of our building provides 20 percent of our energy needs. We also purchase renewable-energy credits. Kitchen cabinets and countertops as well as all of our carpet were made from 100 percent recycled materials. All other cabinets, countertops, cubicles, and furniture have been reused or repurposed from other businesses and buildings. All paint and glues used in the building are 100 percent non-VOC (volatile organic compounds).
COMMUNITY SERVICE
We support a local nonprofit called Global Explorers both financially and through volunteer activity. Global Explorers, through its international immersion adventures, teaches students about leadership, sustainability, and conservation and inspires them to become better global citizens.
OFFICE CULTURE
NHA has managed to be respected and successful in our industry while encouraging our employees to have fun, set their own goals, and pursue flexible schedules and their passions outside of work. We've seen substantial growth each year (20 percent-plus from 2002 to 2007) and have earned major accolades while staying true to our vision that our jobs shouldn't rule our lives and that work should be fun. Employees bring their dogs to work, and leave early if they want to go mountain biking or head to the mountains to ski, without compromising the quality of what we do.
3. Clif Bar & Company
THEY NEED THOSE ENERGY BARS! And how. Clif offers its 182 Berkeley employees 32 fitness classes a week in an on-site gym/studio, supports two and a half hours per week of on-the-clock workouts, and reimburses up to $350 for race fees. Two full-time staff trainers provide one-on-one sessions and coordinate with the company's wellness manager to create constantly evolving athletic programs; this spring, one trainer gave dawn-patrol surfing lessons. "We ask people what they want," says Clif's strength-and-conditioning coach, Stephanie Wu, "and management encourages us to give it to them."
ASK JEEVES: A "concierge service" includes on-site car washing and haircuts, and subsidized take-home organic dinners. Dogs and kids are welcome anytime.
ONLINE EXCLUSIVE: FROM THE COMPANY
ABOUT
Clif Bar & Company is a leading maker of all-natural and organic foods and drinks, including the organic certified CLIF® BAR energy bar, delivering Nutrition for Sustained Energy®, and LUNA®, The Whole Nutrition Bar for Women®. Committed to sustainability, Clif Bar & Company works diligently to reduce its footprint on the planet from the field to the final product.
FLEXIBLE HOURS
Employees may opt to work a "980" schedule. In a 9/80 schedule, employees work 80 hours in nine days and take every other Friday off. This schedule assumes 9.5 hours worked Monday through Thursday and eight hours worked on every other Friday. On a case-by-case basis with manager approval, employees may occasionally work from home.
FITNESS & WELLNESS BENEFITS
Employees enjoy an on-site, fully equipped fitness facility, which includes danceyoga studio, a massage room, showers, and towel service. Clif Bar offers employees a menu of 32 complimentary fitness classes per week, including spinning, yoga, Pilates, boot camp, circuit training, and seasonal classes such as ski conditioning. Employees enjoy free personal training and receive 2.5 hours of paid workout time per week. We offer nutritional counseling; life coaching; subsidized massage services; an annual health fair with preventive health screening tests and info on holistic health options; wellness seminars on topics like healthy eating, stress and holistic health; and athletic event reimbursement up to $350 a year.
CONCIERGE SERVICES
Our "concierge services," paid for by employees, include on-site car washing once a week; organic take-home dinners three nights a week; organic vegetable delivery; on-site haircuts; and laundrydry-cleaning pickup and drop-off. At the office, children (and dogs) are always welcome. We also have a private room for nursing moms complete with nursery-inspired decor.
GREEN INITIATIVES
We have recycling bins throughout the office for paper, glass, and aluminum, and employees have desk-side recycling bins. We reuse packing materials and plastic wrap, and offer on-site battery and electronic recycling. We have compost bins in each of our kitchens and "worm bins" in our warehouse. Through these efforts, Clif Bar has diverted approximately 70 percent of our waste from local landfills.
COMMUNITY SERVICE
Employees volunteer at the organizations of their choice for as many hours as they like. In 2008, Clif Bar contributed more than 5,000 hours to community service and has an employee-participation rate of 98 percent. Beyond local efforts, Clif selects and sends volunteers to nonlocal special development projects—India, Poland, Romania, and, for the past two years, New Orleans.
OFFICE CULTURE
Clif Bar & Company believes that people should come to work as their "whole selves" and encourages employees to not only bring the professional expertise to their daily responsibilities but also to their authentic selves—their values, their uniqueness, and their passions. This allows us to connect on an emotional level to the company's Five Bottom Lines—Sustaining our People, Sustaining our Community, Sustaining our Business, Sustaining our Brands, and Sustaining the Planet.
4. Smith Optics
WELCOME TO BRO-LANDIA: "People here have a lot of respect for powder days," says communications manager Gregory Randolph. As well they should. The company makes high-performance goggles, sunglasses, and prescription eyewear; home is a classic mountain town; and founder Bob Smith started out by trading handmade goggles for lift tickets at western resorts. So if the snow is falling or the trout are biting, "the phone rings for a long time," says Randolph. An 800-square-foot gear-storage area includes workbenches and bike and snow­sports tools and sits across the hall from a locker room and showers.
PAY FOR PLAY: Employees are given stipends of $1,000 to cover sports and wellness expenditures, plus all the products they can make time to test. Says Randolph, "Recreation is encouraged." smithoptics.com
ONLINE EXCLUSIVE: FROM THE COMPANY
ABOUT
Smith Optics is a manufacturer and purveyor of sunglasses, prescription eyewear, snow goggles, moto goggles, and snow helmets, with its roots in the action sports industry. Smith designs, produces, manufactures, and sells these products in the U.S. and around the world.
FLEXIBLE HOURS
We work hard at Smith, and employees are expected to work 40-plus hours a week. Yet recreation and fun is what we sell, and our employee policy allows for extended lunch hours and, depending on job and department, flexible work hours to enable workers to get on the mountain, out on the trail, or on the river. Get your work done, get your hours in, and get your ski/bike/snowboard/fish on! We live in a pretty tempting place, and people find it pretty hard to just punch the clock.
OFFICE FACILITIES
Smith has a complete locker room and equipment/gear storage and maintenance room with tools. We are located literally minutes from a world-class ski hill, world-class nordic trail system, world-class fishing, and world-class mountain biking, not to mention across the street from a complete gym and physical fitness center. We make using these facilities as easy and convenient as possible by facilitating their use with first-class infrastructure.
FITNESS BENEFITS
We have mountain-bike/hike Thursdays, when employees can use their extended lunch hour to get out and recreate together. Employees receive an annual stipend of $1,000 to offset costs of ski passes, nordic passes, track fees, and pretty much anything else that can be loosely translated as our favorite excuse to get outside: "product testing"!
GREEN INITIATIVES
Ninety-six percent of all unpainted Smith goggle frames (snow and moto goggles) are made of recycled and post-consumer urethane. This is our largest-volume product and represents nearly 100,000 units a year. We also use 100 percent post-consumer and recycled wood fibers for the production of a majority of our sunglass, goggle, and helmet boxes and catalogs and other print materials. Smith purchases alternative-energy credits and uses energy generated in Idaho from wind- and hydropower. We do not use energy from coal power.
COMMUNITY SERVICE
We donate hundreds of thousands of dollars of our product for fundraising and nonprofit purposes. We financially support local programs like Sun Valley Ski Ed Foundation, Blaine County Food Bank, Women's Shelter, Sun Valley Adaptive Sports, and national groups like the Outdoor Industry Association, International Mountain Bike Association, American Whitewater Association, dZi Foundation, and Right to Sight.
OFFICE CULTURE
We make products for the outdoor-sports world and encourage our employees to get out and participate in these activities for a hands-on experience, working knowledge of products, healthy body, and positive overall outlook on life! It's not a typical company when the president comes over and eggs you into going skiing or your boss drags you out the door for a round of golf.
5. Tabar
CALL IT CAMELOT: "We're a 'one for all and all for one' kinda place," says president Gary Schloss. Indeed, while other companies on our list offer some jaw-dropping perks, this small, private-label glove-and-mitten manufacturer delivers with a meat-and-potatoes approach: health-care and vision plans covering 95 percent of costs, paid maternity and paternity leave, 2 P.M. closings on summer Fridays, flexible hours year-round, and generous bonus and profit-sharing plans. "We try to create a very stable platform so that people can live their lives," says Schloss.
SAIL AWAY: That's what VP of product development Bill McGown did for six months on his 2002 sabbatical, a benefit granted to Tabar employees on a case-by-case basis. tabarinc.com
ONLINE EXCLUSIVE: FROM THE COMPANY
ABOUT
Tabar is an OEM supplier of high-quality technical glove, mitten, gaiter, and accessory products to leading brands in the outdoor-sports, tactical, hunting-and-fishing, motorcycle, bicycle, and alpine-sports markets. We work from concept creation and 2D spec, through prototyping, production, logistical services and financial services related to turnkey accessory programs to complement a client's core offerings.
TEAM BUILDING
Every other year we hold a world team getaway. This is usually to a resort location, and we cover all costs for employees and the majority of the expenses for spouses, whom we encourage to attend. These are lavish events with gift packages and usually allow for free time to enjoy each other's company, as well as training, team building, and learning components. Past destinations have included the Mohonk Mountain House, in upstate New York; Cancún, Mexico; Vail, Colorado; Scottsdale, Arizona; and Timberline Lodge, on Mount Hood, Oregon. The 2010 venue will be Puerto Vallarta, Mexico.
OFFICE FACILITIES
We have areas for bike storage as well as a bath-and-shower facility.
TELECOMMUTING & SUMMER HOURS
We have some employees who telecommute a few days a week for childcare or cost-of-fuel reasons. From Memorial Day to Labor Day we add a half-hour Monday to Thursday, and close at 2:00 p.m. on Friday.
OFFICE CULTURE
The culture of the company is very employee-centric. We show our appreciation and recognition on a daily basis. Tabar treats each employee as if they have an ownership stake in the company. There are no time clocks, and we allow for individual and artistic expression. Some staffers have painted their offices lime green or pink. We compensate our people extremely well, and part of our mission statement is to provide each employee with a solid foundation from which to build their personal lives.
6. Dominion Digital
SMART TECH: In the field of technology consulting—defined by the overworked and overtraveled—Dominion stands out for its progressive policies. "We are ridiculously strong advocates of work-life balance," says recruiter Tricia Rhodes. Need to telecommute on Tuesdays? Or dedicate midday hours to childcare? No problem. In 2009, Dominion is allotting roughly $2,000 and—even more impressive—two weeks per employee for training and development. "We're a consulting firm—we need to be a step ahead," says Rhodes.
ROLLER BAG NOT REQUIRED: Dominion's focus on mid-Atlantic businesses is designed to reduce travel demands. The result: more nights at home and company-sponsored Friday-afternoon outings to the Appalachians.
ONLINE EXCLUSIVE: FROM THE COMPANY
ABOUT
Dominion Digital is a regional process-and-technology-consulting firm known for rapidly delivering value for its clients and providing right-size solutions to complex business challenges. Known for process-and-technology leadership, Dominion Digital has helped scores of companies realize dramatic gains in business-process efficiency and productivity, employing high-caliber, seasoned professionals passionate about producing results for clients.
FLEXIBLE HOURS
Team members are given the opportunity to manage their own schedules, and working hours that are conducive to their personal lives, assuming that it doesn't impact their ability to deliver to our clients. Being a technology firm, we are committed to enabling our employees to be successful outside of the office. Dominion Digital provides each team member with a laptop and reimburses business usage of cellular phones as well as home Internet service. Providing this benefit to employees allows them to be productive and efficient both inside the office and remotely… It's a no-cost perk that, we feel, increases productivity and enables Dominion Digital to help reduce energy consumption and emissions.
FITNESS BENEFITS
Dominion Digital encourages wellness for all employees and will reimburse team members up to $400 annually for memberships to a health club, YMCA, or other organization providing physical fitness and general wellness.
COMMUNITY SERVICE
Dominion Digital is committed to supporting and enhancing our community—embracing this commitment as a duty and a privilege. The firm regularly sponsors community events and promotes a Matching Gift program. Team Dominion Digital is an annual community partner with Relay for Life, the National Multiple Sclerosis Society, St. Baldricks' Foundation, and the Boys & Girls Club of Charlottesville, to name just a few.
OFFICE CULTURE
From our open, collaborative office space and whiteboard walls to the superior benefits package and "family of co-workers," Dominion Digital has continued to provide its team members with an energetic and motivating environment for its employees. The company believes that by developing healthy relationships, we will establish sustainable success for all we serve—most notably, our employees. Making employee satisfaction and motivation a strategic priority every year, we employ consultants who share our vision and commitment to service, value, passion, excellence, teamwork, and respect. Each employee is personally vested in the continued success of the firm.
7. SmartWool
POWDER HOURS: A typical winter morning at this maker of performance merino apparel: One group rolls into the locker room after a few hours carving fresh tracks on the ski hill while another preps for lunchtime skate skiing and yet another plans to sign out at 1 P.M. for afternoon turns. "We work hard and have professional jobs but still lead a mountain-town lifestyle," says communications manager Molly Cuffe.
FIRED UP: The company keeps an outdoor gas grill fueled and supplied with mesquite chips. "Yeah, the chips were my idea," says network administrator and grilling fanatic Jeremiah Baughman.
SERVICE FIRST: Employees are granted 40 hours of paid time per year to volunteer in their community.
ONLINE EXCLUSIVE: FROM THE COMPANY
ABOUT
SmartWool is a leading performance brand offering wool-based apparel, socks, and accessories. Nothing can compare to SmartWool products for the ultimate in performance, comfort, and easy care. SmartWool fiber is superior at vaporizing moisture, controlling temperature and odor, and is guaranteed not to shrink. It's also a renewable resource that illustrates the design genius of evolution.
SUMMER HOURS
SmartWool's summer hours are in effect the Friday before Memorial Day through the Friday before Labor Day and are often extended through the last day of summer, September 21. Employees are required to work a 40-hour week Monday through Friday, but they can choose to compress the week with manager approval. The office closes at 3:00 p.m. each Friday, and no meetings are allowed to be scheduled after noon.
OFFICE FACILITIES
SmartWool allows flexible schedules and locker-room facilities in an effort to encourage employees to work out and promote healthy lifestyles. Due to strong participation, more employee bike racks were added outside Steamboat Headquarters, and a new self-bike-tuning area is currently in the works.
FITNESS BENEFITS
Upon purchasing an annual gym membership, employees are reimbursed $150 of the membership fee. Each employee is given an annual "activity pass" for his or her choice of activity such as a season pass to the local ski resort, golf course, or other activity.
COMMUNITY SERVICE
SmartWool also offers employees 40 hours of paid time per year to conduct community volunteer service. SmartWool employees volunteered nearly 1,000 service hours at charities in our hometown communities. SmartWool was named Philanthropic Business of the Year for Steamboat Springs.
GREEN INITIATIVES
We helped develop and adopted Zque, the world's first wool accreditation system, ensuring best management practices for environmental, social, and economic sustainability and animal welfare. When possible, we partner with key vendors that formalize sustainability efforts. We have an offshore yarn-spinning partner who invested in a wastewater-treatment facility that returns approximately 50 percent of usable water to its facility.Smarties Commute is designed to get employees out of the habit of driving their own individual cars to and from work. Monday-morning commuter group breakfasts are paid for by SmartWool. Bike commuters receive discounts at local bike shops. At the end of the year, one lucky commuter will win a complimentary vacation for two.
OFFICE CULTURE
We are the people who live in the things we make. We are passionate believers in our products and the merino wool fiber. We really are experts at playing outside. We know how lucky we are that we live, work, and play in Steamboat Springs, Colorado. And we say thanks for our good fortune every day. The foot of the mountain is a step away, and we go there often. Our commute is often a bike ride, and a stroll is often a hike. Our kids' after-school program includes ski lessons with a former Olympian, and our kids don't even realize it. Our food-to-go is eaten on a trail, not in our car. In Steamboat Springs, our fashion cannot live without function—and having more fun is at the root of that function.
8. Paradigm Group
COLLEAGUES WITH BENEFITS: A healthy life balance is written into the core values of this small employee-benefits consulting firm. You can tell: Flexible hours, telecommuting options, 15 vacation days a year, and an in-house gym/training studio where employees can work out on company time are all part of the package. "If our folks are happy here, they're going to work hard for their customers," says Bob Levy, founder and president.
RETURNING THE FAVOR: A strong dedication to volunteer projects helps define Paradigm. As part of a team-building weekend in 2008, they helped restore a New Orleans baseball field damaged in Hurricane Katrina. paradigmgroup.net
ONLINE EXCLUSIVE: FROM THE COMPANY
ABOUT
Paradigm Group is an employee-benefits, retirement-services, and HR consulting firm.
FLEXIBLE HOURS
One of our core values is work-life balance. Flexibility and support by our president to balance work and personal-life demands make it possible for employees to pursue a healthy blend. One of his frequent sayings is "We take our work seriously, but we don't take ourselves seriously." That attitude supports employees' ability to manage their own schedules and fosters a spirit of fun in the office. Our schedule is flexible all year round, for whatever purpose. A private personal-training studio is located on the same floor as our offices. Employees may pay for memberships via payroll deduction and may work out during company time. The company provides a bountiful, healthy breakfast each Monday morning when the staff gathers for a staff meeting. The leftovers provide for snacking throughout the week.
COMMUNITY SERVICE
Community participation is strongly encouraged. Staff members tend to migrate to areas of interest, including animal welfare, the arts, children's issues, church-affiliated activity, Hands On Nashville, etc. The local United Way is one of our clients, so we participate in UW programs. One of our company trips included a workday to help clean up a baseball field in New Orleans. Part of our holiday gift to clients each year is a substantial donation to a local charity, which varies each year. Employees also adopt Salvation Army Angel Tree kids instead of exchanging gifts.
EMPLOYEE RECOGNITION
We celebrate successes and individual achievements and personal events, which are generally formally announced at Monday staff meetings. For example, one of the staff recently passed the exam to become a Certified Financial Planner. We suffered with him while he waited for the results and celebrated when he learned he had passed. We hold monthly ice cream and cake celebrations for that month's birthdays, and quite often the president gathers whoever is available and takes us to lunch. In past years we've enjoyed an annual off-site planning meeting in places such as Las Vegas, South Beach, Breckinridge, and New Orleans. This year, in view of the economic conditions many of our clients are dealing with, we will gather closer to home. Our profit-sharing awards are the primary means of recognizing achievement, and they emphasize one of our core values, which is teamwork.
9. Rally Software Development
SMART TECH: "I had poor experiences early in my career with another company's management," says CEO Tim Miller. "I told myself that not only do I not want to work for a company like that; I would never want to own one." So Miller pays his team of project-management-software developers well (average salary: $105,000), covers 100 percent of their medical- and dental-insurance and prescription costs, and spends the first 15 minutes of monthly meetings recognizing employee contributions. "If you create a great work environment, you have a greater level of productivity," says Miller.
BEYOND BONUSES: When Rally meets performance benchmarks, employees get rewarded: ski trips in the Rockies, summer outings to a lake, formal receptions, stock options.
ONLINE EXCLUSIVE: FROM THE COMPANY
ABOUT
Rally Software is the leader in Agile software development solutions, dedicated to bringing the speed, quality, and productivity benefits of Agile and Lean to large and distributed organizations. Rally's Agile products, coaching, online training portal, and Web 2.0 community guarantee its customers success with Agile practices.
FITNESS & WELLNESS BENEFITS
Rally has an on-site gym that includes a weight room, aerobic equipment, and shower facilities. Rally provides employees a $25 reimbursement each month to offset the cost of health-club memberships. It has a full cafeteria in the office that serves breakfast and lunch. Founder Ryan Martens even sells free-range eggs from his farm right out of Rally's refrigerators.
COMMUNITY SERVICE
As part of Rally's 1% Fund program, employees are encouraged to spend 1 percent of their paid work time volunteering. Every quarter, the employee who logged the most community-service hours receives recognition at the company's all-hands meeting. In 2008, Rally employees contributed 1 percent of their time, totaling 2,500 hours, to 90 nonprofits, including Boulder Shelter for the Homeless, Humane Society of Boulder Valley, American Red Cross, Hospice, Operation Respect, Adoption Exchange Guild, CSIA, and Tiny Tim Center, among others. As a company, Rally committed 1 percent of its equity to the local community as part of the Entrepreneurs Foundation of Colorado.
OFFICE CULTURE
The foundation of Rally's employee-development practices lie in one of the company's core values: to "create your own reality." Rally understands that people are the key ingredient of a successful company and goes to great lengths to hire, develop, and retain the best employees possible. Employees are not hired to fill rigid job roles, but rather are encouraged to develop as individuals. Employees can sign up for biking and running e-mail lists that are used for coordinating lunchtime and after-work group outings, including Rally's many cyclists who hit the Boulder streets in their Rally cycling uniforms. Some of the other practices that promote a healthy work-life balance: Quarterly company celebrations such as ski days and Rockies baseball games and a fully loaded game room for breaks, complete with everything from old-school arcade games to Ping-Pong to Nintendo Wii.
FLEXIBLE HOURS
Another core value at Rally is work-life balance, which means that employees are encouraged to work hard and play hard—on their own schedules. Employees have the ability to telecommute and work on adjusted schedules so they can effectively maintain balance between their personal and professional lives.
GREEN INITIATIVES
Founder Ryan Martens has a goal that Rally will become the first fully sustainable software company, and his passion for greening permeates the company. A recent initiative to encourage employees to use alternative transportation was the Rally Commuting Challenge. This monthlong program encouraged people to limit the impact their work commute has on the environment. Six gift certificates to REI were rewarded to those with the greatest reduction. Overall, Rally was able to reduce its CO2 emissions by 17 percent, or 3.1 tons. In addition, Rally diverts 800 gallons per month of typical office waste into single-stream recycling and composting. In 2008, Rally offset its server energy with wind credits and moved more IT services to the Internet by switching to corporate Google Mail and purchasing high-end video conferencing to reduce energy consumption and travel.
10. Carmichael Lynch
PRINCE PARTIED HERE: No, really. The century-old brick building that houses this advertising-and-marketing firm was once rented to the Minneapolis-born artist in the eighties. Today, the place runs on 100 percent wind energy and still buzzes with creativity, if less purple-powered funk. Carmichael Lynch develops campaigns for a slew of outdoor-industry clients, including Atomic Skis and Arc'teryx, and holds an annual talent show.
SUMMER LOVIN': Sun season is celebrated with seven extra vacation days, plus "roofgating" parties and a family movie night. "Whether this is someone's first stop in their career or the last stop, we want this to be their best stop," says Doug Spong, the firm's managing partner.
ONLINE EXCLUSIVE: FROM THE COMPANY
ABOUT
Carmichael Lynch is an advertising and brand-building powerhouse serving Subaru of America, Sierra Nevada Brewing Comapany, Noodles & Company, Aveda, Redfeather Snowshoes, International Mountain Biking Association, Harley-Davidson, SmartWool, and Camelbak, among others. Founded in 1962, the agency has been winning awards and international acclaim for inventive brand-building ever since.
OFFICE FACILITIES
Carmichael Lynch's office is an old converted warehouse in downtown Minneapolis with large, energy-efficient windows and low walls to flood the space with natural light. The agency has have a full locker room and towel service used by those who work out during the day. The locker room is also used by those who bike to work. Bike storage in the agency, near an employee's desk, is encouraged.
GREEN INITIATIVES
Carmichael Lynch is 100 percent wind-powered though Excel Energy's 'Windsource' program and the agency has been named an EPA Green Power Partner. Our energy-saving programs combined to provide the agency with the greatest allowable energy rebate in a recent energy audit—the rebate money was plowed right back into Carmichael Lynch's CFL bulb conversion program.
FLEXIBLE HOURS
Carmichael Lynch has a long tradition of a "Summer Time Off" program, whereby employees work longer days during the summer months, which allows for, essentially, seven additional summer days off on top of regular vacation days. Agency management says, "It's cold here in the winter—we need employees to take full advantage of the glorious summer!"
OFFICE CULTURE
Carmichael Lynch's culture is driven by creativity, inventiveness, collaboration, and hard work. People come here to do the best work of their careers for an enviable list of clients. Being so creatively productive and pushing the limits of strategic research and insights can be demanding and draining. That, plus the deadline-driven nature of the business, means employees need to blow off steam, have fun, and refuel often. Rooftop parties, the occasional Friday-afternoon beer cart, the infamous O'Gong Show (every St. Patrick's Day, those new to the agency must perform a skit, song, or act—one act wins acclaim as O'Gong Show champion and joins other O'Gong Show legends), and the rotating art display keep things vibrant and inspiring. In the summer, Carmichael Lynch hosts family movie nights on its rooftop patio—it's a drive-in without the cars.
11. Country Walkers
GREEN LIVING: At this specialized travel provider, based in the Green Mountains, a "late shift" policy allows for morning trail runs or ski turns at nearby Stowe Mountain Resort, and telecommuting is an option one day a week. On-the-job training for all staffers includes free passage on a Country Walkers trip. "They need firsthand experience so they can be passionate about what we sell," says director of operations Jamen Yeaton-Masi. Employes are also encouraged to pursue volunteer opportunities, like joining a local school's mentoring program, all on company time. countrywalkers.com
ONLINE EXCLUSIVE: FROM THE COMPANY
ABOUT
Country Walkers is a small company in the Green Mountains of Vermont that offers walking tours for travelers in more than 70 destinations throughout the Americas, Europe, Asia, Africa, and New Zealand. We have a staff of 20 and pride ourselves on offering top-notch customer service, a passion for our product, and unique, authentic experiences for our guests.
GREEN INITIATIVES
We pride ourselves on being green. We have an active Responsible Tourism Committee, which sets standards for our tours and office systems. Our kitchen provides dishware to discourage the use of paper products, and we recycle all paper, cardboard, and kitchen products. We are also hard at work to become a paperless environment.
COMMUNITY SERVICE
We're committed to the communities in which we walk and support many service projects and organizations around the world. For example, we belong to the Travelers' Philanthropy, which currently highlights our Dormitory Project in Patacancha, Peru—a project we funded to build a dormitory for schoolchildren in the Andes. Additionally, in celebration of our 30th anniversary in adventure travel this year, we are donating 100 percent of the proceeds from two special anniversary tours in Egypt and Vermont to local "giving back" efforts in those regions.
OFFICE CULTURE
We hold weekly Friday trainings for our entire staff. Typically these are tour destination trainings, which include tour images, regional music, food, and cultural highlights. Each staff member participates and takes turns leading the training sessions. In addition, all staff members—from the accountant to the mail room supervisor—have the opportunity to join our walking tours. Since we are passionate about our product, we believe it is essential for each employee to experience it firsthand. This may mean an eight-day trip to Crete or a 12-day trekking tour to Nepal. We have a casual, dog-friendly office. We promote open communication and have an open-door policy so everyone has a voice. To promote physical fitness, we offer a shower and locker facilities as well.
FLEXIBLE HOURS
Many of our employees enjoy our "late shift" option, which allows them to arrive at work late morning. This allows staff to bike to work or enjoy a few hours of skiing before coming to the office. Others utilize this schedule to spend more time with their children. This schedule is especially nice during the long winter days with limited sunshine. Some staff members also work what we call a "marathon" day in order to leave early on alternate days.
EMPLOYEE RECOGNITION
We organize quarterly Staff Appreciation outings, such as our Fall Foliage Hike, Winter Ski or Snowshoe Day, Spring "Giving Back" Fling, and Summer Retreat. And since we are a walking company, we encourage everyone to take their lunch breaks to walk, play tennis, bike, or just enjoy lunch outside. We also encourage participation in local walks and races, and sponsor staff joining annual corporate walks.
12. Chesapeake Energy Corporation
FUN FARM: Headquarters at one of the country's largest producers of natural gas includes a 70,000-square-foot fitness center, three gourmet restaurants, baseball and soccer fields, and a 220-seat theater. Special events include Screen on the Green, which is part carnival, part drive-in-movie night. "There's competition in our industry for young talent," says Martha Burger, senior vice president of human and corporate resources. "Making employees happy is good business." A Living Well program pays employees up to $1,000 per year for participating in volunteer activities and exercise programs.
ONLINE EXCLUSIVE: FROM THE COMPANY
ABOUT
Chesapeake Energy is the largest independent producer of natural gas in the United States. Our strategy is focused on discovering, acquiring, and developing conventional and unconventional natural gas reserves onshore in the U.S., east of the Rocky Mountains.
FITNESS BENEFITS
Chesapeake offers an on-site 72,000-square-foot Fitness Center at our corporate headquarters. In addition to the best cardio and exercise equipment, our Fitness Center offers counseling from a registered dietitian, free tanning, more than 70 group exercise classes per week, recreation leagues and tournaments, an indoor climbing wall, an outdoor sand volleyball pit, weight-loss programs, free childcare, personal trainers, youth programs, maternity programs, and online exercise and workout libraries. We support and encourage all employees to participate in recreation leagues, tournaments, and community runningcycling events by covering all team expenses and entrance fees. In addition, we coordinate various off-site activities such as Golf 101, Sailing 101, scuba diving, skydiving, mountain climbing, and other outdoor activities for employees and their families. Employees can earn up to $1,500 per year through our Living Well program. Employees can earn $300 by participating in activities (Lunch & Learns, recreation leagues, etc.), $300 for taking a comprehensive health screening, $300 for exercising at least three days per week, $500 for maintaining a healthy weight, and a $100 bonus for completing all four.
OFFICE FACILITIES
In addition to the Fitness Center, Chesapeake has a 220-seat Blue Room Theater that becomes a movie theater after hours and on the weekends. Each month we show free movies on Thursday, Friday, and Saturday nights for Chesapeake employees and their families and friends. Chesapeake has three on-site restaurants that serve gourmet meals at a discount price, subsidizing almost $2 per employee.
EMPLOYEE APPRECIATION
At Chesapeake, we work hard to design and implement programs that encourage productivity while meeting the needs of our employees and their families. Listed below are just some of the unique family-friendly benefits we offer employees. Family Screen On the Green is Chesapeake's version of a drive-in theater. The Chesapeake track and field transforms into a mini carnival and theater for employees and their families. The event includes numerous activities for children, such as inflatables, slides, and an array of carnival games. Guests enjoy live music, grilled hot dogs and hamburgers, and free snow cones, popcorn, and cotton candy. Healthy Moms, Happy Babies Maternity Fitness Program: Expectant mothers meet with a certified fitness instructor each trimester for a consultation and create an individualized exercise program that is safely designed for them and the baby. An additional fitness assessment and exercise orientation is offered postpartum once new mothers have been cleared by their physician to exercise. Boys and Girls Night Out: These special events, offered several times a year, give parents and their children a night out together. Boys Night Out is a real outdoor adventure for fathers and their sons, including a picnic, hayride, and fishing at Arcadia Farm, which is owned by Chesapeake CEO Aubrey McClendon. Father-Daughter Winter Ball is an annual event for Chesapeake fathers and their daughters. All are dressed to impress as they enjoy an evening of dinner, dancing, and rides in a horse-drawn carriage.
13. Redspin
HAPPY HACKS: An office 200 yards from the legendary Rincon surf break, twice-weekly workouts with a personal trainer, staff meetings on the beach, four weeks of vacation a year, and a commitment to the environment through financial support of nonprofits like Heal the Bay—all at a firm that does security audits for banks and corporations? It surprised us, too. "We need A-plus-plus people," says John Abraham, Redspin's founder and CEO. "So we're building a company that you want to be a part of."
ONLINE EXCLUSIVE: FROM THE COMPANY
ABOUT
Redspin is a security-auditing firm specializing in network security and compliance, providing objective IT security auditing services to financial institutions, casinos, e-commerce, ATM providers, automated clearing houses (ACHs), utilities, defense contractors, and various mission-critical enterprises. Redspin services include penetration tests, Web application security assessments, IT security assessments and compliance audits (FFIEC, PCI, HIPAA, GLBA).
FITNESS BENEFITS
Redspin provides space for working out on-site and around the office. On-site for use, Redspin offers bikes, surf boards, paddleboards, Swiss ball, etc. We have a personal trainer that works out the team on Mondays and Fridays at 6:30 a.m. at the nearby beach. Redspin sponsors (pays for) the personal training sessions available for all employees and family members to participate. Additionally, we have an organic oatmeal breakfast bar three times per week, with all the fixings: nuts, fruit, honey, spices, wheat germ, protein powder, etc. We also provide daily snacks—fruit, protein bars, etc.—and beverages: tea, Peet's Coffee, water, etc.
OFFICE CULTURE
Although we are an important part of our clients' risk-management strategy and take our work very seriously, internally we like to have fun with our work and think about our work like this: "Hey, we get paid to hack! Cash! Hacking! It's legal: Sweet!" We also take the time to go play beach volleyball to assist in dealing with stress levels, award work well done, and promote teamwork among the different departments. Our last all-company meeting was held at the beach on a beautiful day, with beach volleyball, pizza, salads, and drinks for all. We work hard and play hard. We also care about our beaches and participate in beach cleanup day and make significant contributions to environmental causes.
FLEXIBLE HOURS
We live and work in Southern California, so our "summer hours" are all year round. Also, our employees' working hours are flexible—no punching a clock—which allows people to work out before work, ride their bikes to work, work out during their lunch break, etc. We have office space set aside for storage of bikes, surfboards, paddleboards, skateboards, waves, etc. We also assist our employees in finding housing in our beachside community.
14. Adventure Life
FAMILY AFFAIR: This international-travel outfitter's home is a modified flat that feels like, well, a home. Attire is decidedly casual (it's Montana), and parents can even set up a playpen next to their desks. "Going to the office and seeing my colleagues actually improves my day," says Brian Morgan, Adventure's founder and president. All employees can opt for compressed four-day workweeks and, once a year, take a free Adventure Life trip—with a family member or friend to make sure it really feels like vacation. adventure-life.com
ONLINE EXCLUSIVE: FROM THE COMPANY
ABOUT
Adventure Life is an adventure travel company committed to providing quality small-group tours that have a positive impact on the local culture and environment. We offer tours throughout the Andes, Amazon, Central America, Galápagos, and Antarctica. We are dedicated to expanding ecological and cultural awareness, and do this by utilizing local guides, family-run hotels, and the local transportation infrastructures whenever possible.
OFFICE CULTURE
We are a small office of 17 full-time staff, and while everyone in the office has independent positions and responsibilities, it is the team effort that makes this company work and thrive. The owner of Adventure Life, Brian Morgan, is in the office on a daily basis; he has an open-door policy and invites all employees to share their questions, concerns, and suggestions. Newborns are invited to come to work with the mother until baby (and mother) are ready to start daycare. And not only are newborns welcome at work, but other children are also invited to come to work when there is a scheduling conflict with daycare or an unexpected day or two school holiday, or if the child is not feeling well enough to attend school. Whatever the reason, children are welcome to come to work with their parents, and to ensure they do not interrupt other co-workers, we provide space (and a box full of arts-and-crafts supplies) for the children in the break room. There are also a number of gatherings and functions: Whether it is a wine-tasting party or an impromptu get-together after work, Adventure Life friends and family members are always welcome to these events, at the expense of the company.
TRAVEL OPPORTIUNITIES
As an adventure travel company, it is only natural that we attract staff who have a wanderlust. To show appreciation to our employees, we provide a Travel Education Opportunity program (TEO). The TEO is a method of educating employees on the destinations we serve, but furthermore allows employees to take some incredible trips to legendary destinations throughout Latin America and Antarctica. The TEO program allots specific travel funds to each full-time employee. If an employee does not take advantage of their TEO, a portion of their TEO can carry over to the following calendar year. A travel companion is also invited to join the staff member on their trip at a significantly discounted rate. After three years of full-time work at Adventure Life, an employee is rewarded five additional vacation days when they take advantage of their Travel Education Opportunity benefit.
FLEXIBLE HOURS
Providing flex time and ability to work remotely from home allows employees to accomplish their work without sacrificing time with their families. Life does not happen only on the weekends, and a typical nine-to-five work schedule is certainly not always accommodating with life. Coordinating schedules in a family is always a challenge; the more flexibility we can provide to our employees, the healthier the work environment. The most common option employees take advantage of is to work four-day weeks. Some employees have taken four-and-a-half–day weeks. The point is: The company is flexible about fitting the needs of employees without sacrificing the company's performance.
FITNESS BENEFITS
Within the company we have developed soccer, volleyball, and softball teams. After work the staff can be found supporting each other and our passions outside of work through kayaking classes, Wednesday-night lap swims, Tuesday evenings at a local track, or simply scheduling a walk when the workday is through. Some staff members take advantage of a flexible work schedule and take time off during the afternoon to schedule in a half-hour run or bike ride. The point is, not only do we make it possible for our staff members to find a healthy balance between work and life; the office collectively supports this type of lifestyle.
15. Osprey Packs
NICE PACKAGE: "Work-life balance is ingrained in our culture," says Sam Mix, associate marketing manager. Osprey starts employees out at three weeks' vacation (they can build to over a month), grants a floating "powder day" in winter, and pays employees to bike or walk to work and to volunteer. In 2008, their Volunteer Incentives Program supported employees, who participated in 13 projects, where they did things like build trails. "When people get out of the office, they bring positive energy back into work," says Mix. ospreypacks.com
ONLINE EXCLUSIVE: FROM THE COMPANY
ABOUT
From its humble beginnings building custom backpacks and sleeping bags in Santa Cruz, California, to its current recognition as an industry leader, Osprey has always flown its own course. Our mission is to create innovative, high-performance gear that reflects a love of adventure and a devotion to the outdoors and the environment. Based in Cortez, Colorado, Osprey has more than 35 years of technical pack-making and design experience.
FITNESS BENEFITS
Discount ski passes are offered to Osprey employees, and all employees were awarded bikes in 2007. There are company-supported daily stretch and walking breaks, as well as lockers, bicycle parking, and shower facilities offered to every Team Member. Plus our unique location near world-class trail systems allow for trail runs and biking direct from Osprey Headquarters. Osprey pays for Rec Center and outdoor pool passes, allowing free access to these facilities. Sustainable Transportation Initiative pays $1 per day, encouraging Team Members to walk, run, or bike to work.
COMMUNITY SERVICE
The Osprey Volunteer Incentive Program allows every Osprey Team Member eight paid hours per year to volunteer either on company-organized volunteer projects or on approved volunteer projects under their own volition. Osprey also encourages its Team Members to go above and beyond, building a true culture of volunteerism. 2008 saw the program complete 13 separate and wildly varying volunteer projects donating approximately 240 hours of community service.
TIME OFF
Osprey base time off becomes available after a 90-day probationary period, allowing the new Osprey Team Member almost three weeks of vacation during the first year. Additionally, eight paid holidays are added to the mix, for just about one month off per year to start. Osprey also strives to achieve a healthy work-life balance by providing Team Members with a floating "powder day" holiday, allowing people to time this day off with a big snowstorm!
TESTING TRIPS
The Osprey Outings Team organizes several extended and overnight outdoor trips per year. This season alone, we did a raft trip of the Lower Dolores River in southwestern Colorado, a backcountry ski trip to the Ridgway Hut in the San Juan Mountains, and a canyoneering trip in the canyons of southwestern Utah. One of the reasons Osprey is headquartered between the canyonlands of Utah and the Rocky Mountains is not only because of the extensive product testing options available but also because of the quality of life that our big backyard offers.
16. Virgin HealthMiles
THE BEST MEDICINE: This division of the Richard Branson empire creates wellness programs for other businesses. Fortunately for employees here, Virgin "walks the walk," says marketing manager Katie Tierney. Employees can earn $400 in rewards by participating in the award-winning wellness program (natch), spend workday hours in the fitness center or on the indoor running track, and telecommute one day per week.
ONLINE EXCLUSIVE: FROM THE COMPANY
ABOUT
Virgin HealthMiles provides employee health programs that pay people to get active. The company's award-winning, Pay-for-Prevention™ approach, based on physical activity and healthy lifestyle change, attracts an average of 40 percent of employees who participate, which helps organizations reduce medical costs and improve employee productivity and satisfaction. Virgin HealthMiles focuses on getting members active and engaged in being healthy so they can adopt long-term healthy behaviors that will positively impact their company's bottom line.
EMPLOYEE INCENTIVES
Employees are eligible for both individual and corporate performance-based bonuses twice during the fiscal year. Additionally, employees have the opportunity to earn cash rewards with our corporate wellness program. If employees participate in our wellness program and reach a key milestone in the program (Level 4 of 5), we cover 80 percent of their health insurance costs, and that benefit carries over to the next year.
FITNESS SCHEDULES
As a provider of corporate health and wellness programs, we believe strongly in "walking the talk." We offer an on-site fitness center and a running track, and we encourage employees to be active throughout the day, whether they'd like to use the fitness center, take a few laps on the track, or go outside for a walk. Additionally, through our health insurer, employees who belong to a health club can receive up to $150 back each year.
GREEN INITIATIVES
We have recycling bins placed throughout the office and we ensure waste is properly recycled. We also have a kitchen fully stocked with dishes and silverware to eliminate unnecessary use of disposable products, and we actively monitor our carbon footprint and are reworking our product packaging to incorporate more renewable resources.
FLEXIBLE HOURS
We allow our employees to work from home at least one day per week. We also offer flexible hours, and employees have the option to work compressed workweeks at the discretion of their department manager.
COMMUNITY SERVICE
Virgin HealthMiles believes in making a difference for consumers and the communities in which we work. Any employee who wishes to participate in community service may receive the day off paid in full. Virgin HealthMiles actively participates in the initiatives of Virgin's charitable organization, Virgin Unite. Additionally, we sponsor internal step challenges with our employees in which they compete to raise money for causes. We also hold annual clothing, food, and toy drives and collect monetary donations to donate to the organization we raise awareness for each year. HealthMiles members can also choose to donate their rewards to charity.
EMPLOYEE RECOGNITION
We provide recognition and rewards at least annually, and do so on numerous occasions throughout the year for exemplary service at company meetings, monthly events, and via e-mail to the entire company. We also provide a "Star" award annually, in which the recipient is recognized for their exemplary service and receives an all-expense-paid trip to the U.K. meet with Sir Richard Branson. We also have quarterly lunches with the Virgin Group CEO, Stephen Murphy, to recognize outstanding employees and promote intracompany communication. Additionally, as part of the global Virgin Group, Virgin HealthMiles employees have access to group-wide discounts from partners for numerous products such as airline tickets, vacations, consumer products, and more.
OFFICE CULTURE
Virgin HealthMiles is committed to recognizing and developing our employees and their active lifestyles, and we are committed to making a difference for our members, corporate clients, and the communities in which we work. We promote a fun, open, and collaborative atmosphere that places the emphasis on valuing and recognizing employees and their accomplishments, as well as corporate accomplishments. As part of the global Virgin Group, Virgin HealthMiles approaches everything we do in the spirit of the Virgin brand. Sir Richard Branson's world-renowned lifestyle brand is revered as the consumer's champion, and we always try to adhere to the core brand values of fun, value for money, quality, innovation, competitive challenge, and brilliant customer service. We are committed to providing unique experiences with fun, innovative, high-quality products and services, and believe that are employees are intregal in designing, developing and providing that experience for our customers.
17. USANA Health Sciences
GAMES ON: This manufacturer of nutritional supplements promotes worker wellness through more than free vitamins. They have a sand volleyball court out front, a 24-hour fitness facility with a full basketball court, classes for kickboxing and yoga, and free massages every Tuesday. "We have a genuine hope from executives on down for each person to be healthy," says employee-relations specialist Melisa Torres. In 2008, the company installed solar panels on its warehouse, keeping 19 metric tons of CO2 out of the atmosphere in the first year.
ONLINE EXCLUSIVE: FROM THE COMPANY
ABOUT
USANA Health Sciences develops and manufactures high-quality nutritional supplements, healthy weight-management products, and personal-care products, which are marketed by independent associates (distributors) in 13 international markets. With these science-based health products, USANA creates a rewarding financial opportunity for its associates, shareholders, and employees.
BONUSES AND INCENTIVES
Employees receive generous profit-sharing bonuses annually that are based on the sales and profitability of USANA. This program has allowed employees to earn an average of more than 12 percent of their base pay over the last several years. We offer an Employee Referral Bonus to employees who refer a candidate for employment who is hired. $200 is awarded to an employee for referring a non-exempt employee, and $1,000 is awarded to employees who refer an exempt employee.
FLEXIBLE HOURS
Several departments, including our manufacturing department, are working a compressed workweek of four 10-hour days. This cuts down on our carbon footprint, saving both commute emissions and the energy costs of manufacturing on Fridays.
FITNESS BENEFITS
We have a 2,500-square-foot strengthcardio area that includes 25 strength machines, dumbbells/free weights, functional training equipment, and six cardio machines. We offer a Nintendo WiiFit and full locker room facilities. We also have an indoor basketball court/group fitness instruction area that will include yoga, aerobics, and kickboxing classes once the sound system is installed. Two personal trainers work in the gym to assist employees. Employees and their families may enjoy the facility 24 hours a day. USANA was also one of only three companies recognized by the Utah Health Department for having an excellent Mothers Room to assist nursing mothers.
CONTINUING EDUCATION
For undergraduate programs, USANA will pay for the cost of two classes per semester and half the cost of books. For graduate programs, USANA will pay up to $10,000 a year and half the cost of books for job-related graduate degrees. Employees who receive reimbursement for graduate degrees must stay at the company for two years after graduation. Students must also be full-time employees and receive a C or better in their classes.
GREEN INITIATIVES
USANA's solid-waste recycling plan includes systems for recycling confidential and non-confidential office paper, cardboard, fiber drums, plastics, and aluminum from office manufacturing, and warehouse operations. In 2007, USANA recycled more than 30 tons of office paper, nearly 140 tons of cardboard, and nearly 3,000 fiber drums. USANA installed solar panels on its warehouse in 2008 to provide green power to its building; so far, the solar panels have prevented more than 40,000 pounds of CO2 from being emitted into our atmosphere. USANA purchases 750 blocks of wind energy (75,000 KWh) per month. In 2007, this sponsorship offset the release of 800 tons of carbon dioxide to the atmosphere, the equivalent of planting more than 175,000 trees. The company underwent a major expansion in January 2008, installing high-efficiency windows, occupancy and photo sensors for lights, and solar panels. A major part of the project included xeriscape landscaping, where grass around USANA's 3.25 acres of property was replaced with rocks, mulch, trees, low-water plants, walking trails and a sand volleyball court, saving us 1.5 million gallons so far.
COMMUNITY SERVICE
USANA has two community service initiatives: Kennedy Junior High (KJH) and Children's Hunger Fund (CHF). Employees donate their time to the kids at KJH by tutoring or playing sports. Employees may buy dress-down stickers for $2, which helps buy coats for the kids at Kennedy and to the Utah Food Bank. USANA's partnership with CHF has raised more than $8 million since 2001 from corporate, employee, and distributor donations.
OFFICE CULTURE
USANA was one of 21 Utah companies to receive a 2008 WorkLife Award in 2008 from the Utah Department of Workforce Services and the Office of Work & Family Life, in recognition of the company's outstanding work-life balance for employees. We are willing to work with individuals' personal needs in order to provide them with a positive work-life balance. Aside from creating a supportive and friendly work atmosphere, USANA invests a great deal in a truly unique wellness program that helps employees achieve their personal health goals. Employees leave at 5 p.m., regardless of whether they use our on-site workout facilities. USANA encourages employees to get home to their families.
18. TriSports.com
THE CONVERSION: "Before they ever walked into our warehouse, about 95 percent of our staff had a background in endurance sports," says the retailer's COO, Nik Hobbs. To encourage even more positive habits, TriSports awards $5 in store credit for every hour of volunteer work, worth up to $10,000 per year. "In December we visited a local park and handed out 100 sack lunches to the homeless that we'd loaded into our Burley trailers," says HR manager Susan Meeker.
ONLINE EXCLUSIVE: FROM THE COMPANY
ABOUT
We carry the highest-quality triathlon equipment, triathlon gear, triathlon apparel, and all of the hard-to-find necessities that every triathlete needs, including triathlon wetsuits, bike travel cases, aero race wheels, hydration systems, aerobars, triathlon-specific clothing, and much more. We are also an industry leader in both road-bike and triathlon-bike fitting.
BONUSES AND INCENTIVES
Each year we set company-wide or department-wide goals. The goal can encompass sales, commuting miles, volunteer hours, and return rates, to name a few. If the goal has been met, the rewards for each employee have ranged from a cash payout to a four-night cruise for two. Ten percent of net profits are split among eligible employees who have worked with the company for eight months or more. An employee's portion of the profit is based on how much they make and how long they have been with the company. The plan is designed to reward those that have been with the company longer and helped its growth.
SPORTS AND FITNESS PARTICIPATION
Being a triathlon store, our business is centered around health and fitness. We encourage every employee to participate in either triathlons or other endurance events. We offer organized group runs and bike rides from the shop on a weekly basis, and we have a spin class once a week after store hours. TriSports.com also has a bike commuter program in place that encourages employees to bike to work. We have a dual-lane "endless" swimming pool, treadmill, and stationary bike trainers for employees to use. We also have a full locker room with shower where employees can shower before starting or returning to work.
VOLUNTEERING BENEFITS
We compensate employees $5 in store credit for every hour they volunteer in the community, with a company cap at 2,000 volunteer hours per calendar year. This is not paid time off, but giving a triathlete money to spend in a tri store is big.
GREEN INITIATIVES
With our Green Box Program, our customers are able to opt for a used box for their shipment. We also participate in Soles for Souls to recycle used shoes to others in need. We send all of our used bike parts to Resource Revival to make awards, clocks, and other art items. We reuse all packaging material when possible, and our recycle bin is four times larger than our garbage dumpster. We also use compact fluorescent lighting throughout most of the building; provided natural light in all workplace areas; purchased furniture made from recycled materials and/or able to be recycled after use; installed recycled carpet; installed super low-e glass throughout our storefront; multiple-zone air conditioning so areas of the building that aren't in use can be turned off; and dual light controls in office areas to minimize light usage.
COMMUNITY EVENTS
Every year we host a triathlon where 100 percent of the proceeds are donated to charity—75 percent to the Challenged Athletes Foundation and the other 25 percent to the local Show Low Youth Recreation and Sports Foundation. This year through Pyramid Coaching we donated 10 bikes for the Jr. El Tour program to help underactive kids develop an enthusiasm for health and fitness through learning to ride bikes. We set up an aid station at the Ironman Arizona race and for doing so recieve $500 to be donated to our chairity of choice.
OFFICE CULTURE
TriSports.com has seen a tremendous amount of growth in its 8 1/2 years, and as we've grown we have always tried and most often succeeded in promoting people from within the company to new management and supervisory positions that open. Many employees work for us because they like the culture and the lifestyle we provide and they have a love for the sport. We have a "Fun Squad" that plans events for both the employees and their families. Our biggest asset is the feeling of family within our culture. Most of our employees are involved in either triathlon, biking, swimming, or a related sport; therefore we find ourselves working, training and playing together, yet manage to maintain the level of respect needed to maintain and grow a company. At TriSports.com, any two individuals can engage in a conversation about how some facet of the company should work; it speaks volumes for morale and company retention. Ours truly is an open-door environment. TriSports.com has attracted a very diverse group of people, from students to doctors to former business owners to architects to scientists to engineers. We don't just sell things to promote a healthy lifestyle—we live that healthy lifestyle.
19. Mountain Hardware
KNOW YOUR STUFF: At this maker of performance apparel, product testing is imperative. "I've taken product managers to Rainier in storms," says director of merchandise Ted Ganio. "They need to understand what it means to be pelted by ice." HQ is on the edge of San Francisco Bay. Inside: loaner bikes for rolling to lunch and a rec room with a climbing wall and Ping-Pong table. Outside: the 240-mile-plus (and growing) Bay Trail, a kayak launch, and rooftop solar panels.
ONLINE EXCLUSIVE: FROM THE COMPANY
ABOUT
Mountain Hardwear makes cutting-edge mountaineering and outdoor equipment, apparel, and accessories for the most extreme conditions. Mountain Hardwear was established in 1993 by a group of outdoor-industry veterans and is based in Richmond, California. The company distributes its products in the United States and more than 40 countries worldwide.
FITNESS BENEFITS
We have a workout room with equipment and showers, a climbing wall, and Ping-Pong. An on-site yoga class is offered (based upon employee interest and scheduling), and a massage therapist is on site on Fridays, offering inexpensive massage to employees. Outdoor equipment, including bikes, kayaks, and camping equipment, is available for use. Departmental and company organized outdoor activities are common and encouraged to promote teamwork, test products, and support the company's Gives Back employee arm.
GREEN INITIATIVES
The company is 100 percent solar powered. Designers and marketing managers are committed to using fewer resources, and recycled materials whenever possible, as they design and package our products. Our designers are committed to researching and testing recycled content for use in our products. We have found several recycled options that provide excellent quality, and currently several styles are made with partially recycled polyester fleece, shell fabric, or insulation. In 2008, two employees initiated an Alternative Commuting Program (ACP), which is funded by the employee arm of the company's Gives Back program. Employees earn $2 a day for carpooling, biking, kayaking, walking, or using public transportation to get to work. Inside bike storage is available, as well as loaner bikes for exercise or errands. A shuttle to the nearby public transportation hub is available in the morning and evening.
COMMUNITY SERVICE
Mountain Hardwear employees can take up to 40 hours of paid time off annually to volunteer for a community project or an effort that supports the company's Gives Back initiative. Funds are available for employee-initiated projects as well. In addition, employees who organize a company volunteer project or participate in three company volunteer projects are eligible for Adventure Credits, which cover up to $1,000 in expenses toward a personal, mountain-oriented goal.
OFFICE CULTURE
Employees are highly valued. It is a very family-oriented atmosphere, and dogs are welcome. An outdoor culture is prevalent and encouraged with wall graphics. Gear is available, and the company has organized activities throughout the year. Employees are encouraged to test product samples and report back to the design department and partake in special employee versions of marketing promotions.
20. Eagle Creek
HIGH FIDELITY: Employee loyalty at this travel-gear manufacturer is considered paramount; hence the on-site gym, company-paid yoga instructor, $2,500 tuition reimbursements for continuing education, and an incentive-based volunteer program. Staff members with the most community-service hours are awarded a $1,000 donation to the charity of their choice. Oh, and the annual three-week-long horseshoe tournament, with cash prizes for winners, doesn't hurt. "Everyone here is pretty competitive,"says human resources manager Parm Gulshan. "It's an interesting few weeks." eaglecreek.com
ONLINE EXCLUSIVE: FROM THE COMPANY
ABOUT
Eagle Creek is the industry leader in adventure travel gear, luggage, and accessories and has been in business since 1975. We are a global organization with distribution in more than ten countries.
COMMUNITY SERVICE
Our corporate culture promotes volunteering in many ways. Each month, employees have the opportunity to take paid time to volunteer for a charity of their choice. Each year we hold a food drive to benefit North County Community Services. Employees donate supplies and volunteer time to get our local community involved. Additionally we have a volunteer recognition program for completing community service hours through VF Corporation. Associates who accumulate the highest number of community service hours will be honored with a donation of $1,000 on their behalf to the qualified charity of their choice. All active full-time and part-time associates who average 20 hours per week and who have been employed for at least one year prior are eligible. This is done through a nomination process.
EMPLOYEE RECOGNITION
We are oddly proud of our annual horseshoe tournament. From the draw of a hat, all employees are paired into teams and compete for the coveted plastic Horseshoe Trophy. The tournament ends with a companywide barbecue and trophy presentation. We have an "Eddy Out" committee that organizes such events each year—appropriately named from the kayaking term meaning a time of collecting oneself and relaxing between rapids. This committee is made up of a cross-functional group of individuals within the company whose sole purpose is to come up with fun and morale-boosting events throughout the year. Some examples include Halloween costume and pumpkin-carving contests, a Cinco de Mayo event with a salsa-and-guacamole-cooking competition, Easter egg hunts, and other holiday-related events.
OFFICE CULTURE
As we are a casual, family-oriented company, and we provide accommodation if necessary to allow employees to bring their kids and sometimes pets to the office. The culture has a focus on the outdoors, and we have a passion for preserving the environment through our sustainability efforts. We also see a lot of cross-functional work teams—because we have a "down to earth" (not corporate) environment and are relatively small, we have more team and committee involvement in our company's initiatives. This is great because everyone is involved and everyone has some level of ownership in our business.
21. Restoration Services
CLEAN & GREEN: It's demanding but meaningful work: meticulously erasing the environmental damage done at former uranium-enrichment sites through decontamination, demolition, and recycling. Perks include a $24 monthly health-club stipend, $3,500 in annual tuition reimbursement, travel vouchers, and some project-completion bonuses.
ONLINE EXCLUSIVE: FROM THE COMPANY
ABOUT
RSI was formed by us more than 11 years ago as a very small woman-owned company that plans and executes highly complicated regulatory and field projects at radioactive-contaminated federal cleanup sites. Our goal was to offset the highly stressful positions engaged in the performance of this work by incorporating the owners' positive life strategies. Using this model, we've grown to 100 employees working on five of the nation's largest and most complicated environmental projects.
OFFICE CULTURE
We believe in the power of positive energy. At RSI our employees are encouraged to work hard, play hard, and enjoy life. This philosophy has manifested itself at the K-25 project in Oak Ridge. Decontamination and demolition of the former uranium enrichment site was named as one of the worst jobs in the United States; however, RSI employees were noted by the customer as "being happy" in the work environment. We firmly believe that our employees' mental and physical sense of well-being is a key to our success.
FITNESS BENEFITS
Employee health and safety is our number-one goal. RSI employees are encouraged to follow an overall wellness program that incorporates personal lifestyle choices into workplace safety. We are involved in Tennessee on the Move, a program that holds various seminars on health and nutrition as work-life issues. Specifically, we've instituted a program for regular attendance at a regional fitness center. If an employee attends a fitness center eight times per month, the membership charges are fully reimbursed. In addition, we emphasize personal and workplace safety topics at a monthly safety meeting for all employees, focused on continued safety awareness as a proactive culture.
COMMUNITY SERVICE
The optimistic energy of our employees prompted the formation of the employee-led Outreach Committee, which offers a "hand up, not a handout," to those in need. Funds are raised through selling of snacks and drinks throughout the year and at special events—silent auctions, lunchtime meals, after-hours activities. These funds go to such projects as Angel Tree, co-workers who need help, and other community projects. Our propensity to "give back" is becoming a reality in the startup of RSI University, a program that encourages hiring and cross-training of economically displaced workers.
FAMILY FRIENDLY WORKPLACE
RSI ownership and management are all working parents who deal with the anxieties of daily life. We believe that minimizing those concerns is a driver in maintaining a positive workplace environment and promoting a sense of well-being. We offer management-approved flexible work schedules to cover personal appointments, such as doctor visits and child-related needs. We also have many family-friendly practices that encourage our employees to spend quality time together; for example, our outreach committee holds a family game night, which is geared not only to employees but to their children as well.
22. Fitness Anywhere
ATHLETES ARE US: Makers of the TRX Suspension Trainer, FA offers free fitness classes, sports-related flex time, a well-appointed gym, and assistance paying for other active endeavors. Employees are encouraged to eschew internal combustion; the kid- and dog-friendly office has ample bike storage—but just ten parking spots.
ONLINE EXCLUSIVE: FROM THE COMPANY
ABOUT
Fitness Anywhere Inc. produces and sells Suspension Training® equipment and programs to trainers, athletes, the military, and active individuals. Suspension Training is a workout that develops strength, balance, flexibility, and core stability simultaneously. It requires the use of the TRX® Suspension Trainer™, a highly portable performance training tool that leverages gravity and the user's body weight to enable hundreds of exercises for every fitness goal.
FITNESS BENEFITS
It is a work-hard/play-hard organization. The team at Fitness Anywhere values a healthy lifestyle. As a fitness company, we encourage everyone within the organization to continue to test out our latest programming and products on a weekly basis, which means daily and weekly workouts. The company offers free fitness classes and pays partial costs to any health-related activities (e.g., marathons, health classes, health education, etc.). The TRX Training Center, an on-site fitness center, offers free classes to anyone who works full time at the company. Team Triathlons, lunchtime runs, and TRX workouts are one side of our culture here. But we like to play too. We have a co-ed soccer team (we also tend to win!), and we have competed in team triathlons and 5K runs together. Most of these events end with a beer or an iced tea, depending on what camp you're in, but we all truly enjoy the team aspect of the company.
OFFICE CULTURE
Our company is heavily involved in the outdoors (skiing, climbing, surfing, cycling, triathlons, etc.), and we encourage our employees to maintain a healthy work-life balance. To accommodate scheduling, employees either come in early or stay later to handle their work and enable them to take the time off for their extracurricular activities. It is not a formalized program but self-monitored. Working on the roof deck during summer is a secret luxury at our office. There are five dogs in our office—Blue, Rosco, Cole, Barbie, and Bucky—and they usually tend to be running around like children, or sleeping under someone's desk. Jeans are dressy. Where else can you wear your lululemon pants to the office and hop on a TRX at any moment of the day? Yoga poses are more frequent in our executive meetings than coffee, but we do like our coffee. Stability balls outnumber desk chairs. Being at your desk sweaty is perfectly fine. Our CEO wears workout gear four out of five workdays.
COMMUNITY SERVICE
Along with supporting local charities, races, and nonprofit events, Fitness Anywhere recently launched the Wounded Warrior Fund; $5 of each "TRX FORCE Kit" that is purchased online goes into the Fund. The Fund provides support via education, training, and fitness products to support wounded soldiers who are going through recovery; more than 100 soldiers have already benefited from this program. To support our animal lovers, we recycle old TRX's (made of industrial-grade nylon) into dog leashes and donate them to community dog walkers, SPCA's, and groomers throughout San Francisco.
FLEXIBLE HOURS
We allow for flexible work time, which helps parents get to their kids' soccer games or take them to school, doctors' appoitments, etc. The company also supports a "start early, leave early" policy for ski season and for our summer sun lovers.
23. OluKai Premium Footwear
SOLE SURFERS: This four-year-old anatomical-sandal maker's commitment to environmental responsibility is born out of the Hawaiian-bred founder's wave-chasing way of life. The company devotes time, resources, and a percentage of sales to organizations engaged in the preservation of traditional Hawaiian culture. As if that weren't enough, employees enjoy "Surf Wednesdays." olukai.com
ONLINE EXCLUSIVE: FROM THE COMPANY
ABOUT
OluKai is committed to creating quality footwear products while leaving the smallest footprint possible on the planet. We strive to be environmentally responsible as manufacturers and pledge to actively support and work for a clean environment and a better quality of life. We build premium footwear for the ocean lifestyle.
GREEN INITIATIVES
To reduce the use of plastics, primarily water bottles, we have provided our staff with reusable aluminum water containers for their drinking water. We also use reusable plates, ceramic cups, and silverware to reduce the use of paper and plastic products. We recycle our paper and cardboard and participate in our community's trash-recycling program. Our product catalogs are produced using FSC-certified papers and printers. We use 100 percent recycled content and soy-based ink on our boxes and hangtags. When we manufacture our product, we make sure all of our leathers come from environmentally conscious ISO 14001–certified tanneries, and we use natural latex rubbers and repurposed compounds in our outsoles. We also encourage and reward OluKai employees who use a more sustainable form of transportation at least one day per week, such as carpooling, mass transit, or walking or riding their bike to work. Employees who partake in this program are rewarded with a variety of things—gift certificates, company product, and reserved parking—and receive company-wide recognition.
COMMUNITY SERVICE
We established the OluKai 'Ohana Giveback Program to support people who are working to preserve and enjoy Hawaiian culture. Our 'Ohana includes the Hawaiian Lifeguard Association's Junior Lifeguard Program, Maui Cultural Lands, and Team OluKai of the Hawaiian Sailing Canoe Association. Each year we contribute time, resources, and a percentage of our sales to support the 'Ohana initiatives. On May 16–17, 2009, we are holding our inaugural OluKai Ho'olaule'a Ocean Festival at Kanaha Beach Park, Maui, Hawaii. Part of the proceeds raised will benefit our 'Ohana Giveback Program.
OFFICE CULTURE
We have a casual atmosphere that contributes to a family-like environment, which welcomes pets, who roam our facilities as office companions. Children of staff members are welcome to come to OluKai on days other than the official bring-your-child-to-work day. Our small office structure builds strong interpersonal relationships and allows for a communication system that supports individual input and ideas. Weekly, we encourage all staff to experience "Surf Wednesdays"—morning surf sessions at Trestles and San Onofre beaches. In addition, we celebrate every quarter with a company Beach Day. We like to play as hard as we work and also support our shared passion for the ocean lifestyle, our brand's foundation and philosophy.
24. Patagonia
BY THE BOOK: Founder Yvon Chouinard's manifesto Let My People Go Surfing says it all. The outdoor-apparel icon's HQ is connected via a run/bike path to some of SoCal's best waves, and the 434 employees here are encouraged to take advantage of them. The company also walks its well-known eco-talk, with Chouinard's leadership in 1% for the Planet, a dedication to wind energy and recycling, and an on-site organic café.
ONLINE EXCLUSIVE: FROM THE COMPANY
ABOUT
Patagonia is a designer, distributor, and retailer of high-quality, technical outdoor clothing, lifestyle clothing, and travel gear for men, women, and kids. We use environmentally preferred fabrics—such as recycled polyester, organic cotton, hemp, and organic wool—and seek to serve as a model of sound environmental and business practices. Patagonia Inc. is privately owned by Yvon and Malinda Chouinard.
FLEXIBLE HOURS
Patagonia allows employees to compress their weeks on an as-needed basis to help maintain the work-life balance. For example, an employee may work late one day so as to leave early on another. Many of our employees leave early on Fridays to get a jump on the weekend and make up the time earlier in the week. Our compressed workweeks are not so much a formal option, but they fall into our unique flex-time policy.
FITNESS BENEFITS
In our Ventura offices, we have a basketball court, volleyball court, yoga studio, weights and aerobic equipment, an organic cafeteria, and on-site showers. We offer yoga, aerobic, and Pilates classes, and we are located next to one of California's best surfing spots via a bike and running path. Our Reno Customer Service Center is within close proximity to the Sierra, leading to all sorts of outdoor activities such as climbing, kayaking, fly-fishing, and backcountry skiing.
COMMUNITY SERVICE
Employees have the opportunity to take a fully paid leave of up to two months to work full- or part-time for a nonprofit environmental group of their choice. We also have Conservación Patagonica, a program that sends employees from all parts of the company to travel to Estancia Valle Chacabuco, a 173,000-acre sheep ranch in the heart of Chile's Patagonia region.
GREEN INITIATIVES
We recycle everything we can. All employees have paper-recycling bins beneath their desks. Our bathrooms are equipped with recycling containers for used paper towels, which are made with 100 percent post-consumer recycled paper, and we purchase recycled paper. We also recycle our polyester and organic cotton T-shirts, and are working to expand that to 100 percent of our products. At present, approximately 67 percent of our styles for our fall 2008 line contain efiber (recycled polyester, organic cotton, hemp, and chlorine-free wool). Our Ventura campus is mostly powered by wind energy, and in addition we have a 66-kilowatt solar installation that generates part of our energy for one of our buildings. Our Reno Distribution Center has a 20-kilowatt solar array on their campus that generates a small portion of the energy used at the facility. In addition, we purchase renewable-energy credits (RECs) from Bonneville Environmental Foundation, Environmental Grants Program, Employee Match Program, 1% for the Planet, the Conservation Alliance, and Clothing Donations.
EMPLOYEE RECOGNITION
Individual efforts of our employees are acknowledged in a variety of ways. Some examples include gift certificates for meals or travel, departmental or company-wide parties, and public recognition at company meetings. We award $1,000 after ten years of employment, and $2,500 after 20 years, and we have parties to celebrate these anniversaries. This past year, we've celebrated 26 ten-year anniversaries, nine 20-year anniversaries, and one 30-year anniversary! We also offer discretionary bonus payouts from time to time. Events are sometimes marked in unusual ways. For example, when we installed an array of solar panels at company headquarters, we brought in a Ben & Jerry's ice cream truck to distribute their new flavor, "Fossil Fuel," to all employees during an educational presentation about solar energy.
OFFICE CULTURE
We know employees are proud to work here; when asked what they do for a living, they often reply, "I work at Patagonia!" They don't say they're an accountant or a sales rep; their reply denotes the respect they feel as individuals in this community that is known worldwide for its commitment to its employees' growth and development. Our owner and founder, Yvon Chouinard, recently wrote a book entitled "Let My People Go Surfing," a great metaphor for the company's general philosophy of, and commitment to, achieving good balance between work and life. It is culturally accepted for employees to take time off during their workday to pursue that balance, whether it is to take time off to spend with their children, go surfing or running, or participate in one of the company's on-site sponsored exercise classes. We trust employees to figure out a schedule that allows them to get their jobs done and also take care of themselves and their families. We also have a Traveling Parent Support Program, whose intent is to provide an avenue for parents to feel comfortable being able to balance the needs of their families with the requirements of their professional position, especially when they are the person solely responsible for the child's care. Accordingly, the company will pay for expenses incurred by a non-employee caregiver (spouse, parent, etc.) or a company caregiver as they accompany the employee parent and their children on business-related travel. By offering a program such as this, it extends a helping hand to our employees to help them truly balance work and life challenges. Our four-month leave-of-absence policy is also available to employees who may want to pursue a personal endeavor such as a multi-month climbing expedition, a surf trip to an exotic locale, or providing extended care on-site care to a family member. Knowing their job is being held for them and receiving their medical benefits gives many employees the freedom to follow their dreams or responsibilities in a way they never thought possible.
25. Amer Sports Winter and Outdoor
FULLY EQUIPPED: Mothership of adventure-gear brands Salomon, Atomic, and Suunto, Amer promotes a healthy work-play balance by offering flex time and providing bikes, skis, snowboards, and various electronics for employee use—especially fitting given that the Wasatch Mountains are right out the back door. amersports.com
ONLINE EXCLUSIVE: FROM THE COMPANY
ABOUT
Amer Sports is the world's leading sports equipment company. Amer Sports Winter and Outdoor, with its brands Salomon, Atomic, Arc'teryx, Mavic, and Suunto, is the world's leading manufacturer of winter and outdoor products. The continuing trend toward outdoor-oriented lifestyles forms the basis for the success of this business segment. Amer Sports Winter and Outdoor's core sports are alpine skiing, cross-country skiing, snowboarding, hiking, cycling, trekking, trail running, and diving.
FLEXIBLE HOURS
Telecommuting is an option and available for positions that may require it. This option is dependent upon business needs. Many team members have access to the ASWO computer system from their homes, home offices, and while traveling. Additionally, team members are provided BlackBerrys or cell phones. The flexibility ensures that key positions have the resources to perform and maintain a work-life balance. "Summer hours" begin in April and continue through September. Team members flex their time worked during the week to receive Friday afternoons off (or an alternate day). The philosophy behind the summer-hour program is to enhance team members' outdoor experiences. ASWO encourages the team to get into the environment by hiking, mountain biking, rock climbing, trail running, diving, and golfing, utilizing the ASWO sport brands' products. Snow Days are also provided for the team members. On these days, team members have the opportunity to spend their "paid" hours outside. Many go skiing or riding.
FITNESS BENEFITS
Fitness is very important to the company/team members. On-site locker/shower facilities are available to ease the transition from outdoor recreation to work. Bikes and helmets are available for use after hours, on weekends, or during lunch. Skiing and snowboarding equipment, wrist-top computers, heart-rate monitors, geocaching are available for all employees. Stability balls are an alternative option to desk chairs. Health and wellness holistic approaches are vital for the team. Benergy, an online health-and-wellness portal, is available via the Internet. This contains info on: improving personal health, encouraging healthy lifestyles, benefits, tips and hints, Annual Health Fair, health and dental vendors, pet health, environmental and community education, free flu shots, cholesterol, vision, BMI, and monthly info emphasizing fitness. Well-balanced, healthy lifestyles are encouraged. Salomon Center Gym Memberships are 100 percent paid for team members, and include a basketball court, fitness classes, pool, and personal trainer. Discounted passes are offered to team members' families.
COMMUNITY SERVICE
Community service and partnering closely with organizations throughout the local community is strongly emphasized. Time off is allowed for participation and membership in several community and volunteer programs. ASWO is a member of Ogden's Fresh Air Club and donated 25 bike racks to the community. Community initiatives that ASWO supports include: Ogden Nature Center, Weber Pathways, Boy Scouts, Vertical Challenge, High Adventure Mountain Film Festival, and the Sustainable Ogden Committee, among others.
GREEN INITIATIVES
Amer Sports products, when created, developed, and manufactured, are geared toward responsible solutions. These are part of the different "sustainable" initiatives we have launched to better the environment: Bamboo layers in skis and snowboards, organic fibers in apparel, shoe boxes out of recycled cardboard, and recycled rubber for footwear. Every desk has a blue recycling bin. On-site glass/paper/cardboard/plastic/tin and aluminum recycling bins are provided. And as a Visionary partner in Rocky Mountain Power's Blue Sky Program, ASWO purchases credit that develops energy from wind power sources.
EMPLOYEE RECOGNITION
Team members have the opportunity to nominate others for a Team Member of the Quarter award. The winner receives a $200 certificate for Amer Bucks, money to be used to purchase our products. Once a year, team members have the opportunity to nominate a co-worker for Team Member of the Year. Team members are nominated based on their performance and how they follow our values: determination to win, team spirit, fair play, and innovation. The winner receives a $1,000 certificate in Amer Bucks, a parking spot for the year, and eight hours of flexible time off, and their photo is displayed on the ASWO Wall of Fame bulletin board.
OFFICE ENVIRONMENT
Amer Sports recognizes the importance of physical well-being and maintaining a balance between work and leisure time for a healthy and gratifying personal and professional life. The casual atmosphere of our company, in the sporting goods industry, enables team members to feel at ease and comfortable in the environment in which they work. A healthy work environment/life is supported by our "open-door" policy. Team members and leadership are able to go to each other, at any time, with any issue without feeling shut out or unimportant. Many meetings include using the company bikes in the summer months. The benefit of no mandatory overtime also increases morale. The good morale and opportunities within the company allow team members the benefit of the outdoors and a pleasant place to build their careers. Amer Sports Winter and Outdoor is located just 30 minutes from various ski resorts. Close by, prolific hiking and biking trails offer opportunities for team members to enjoy non-motorized (silent) sports and our products. Bouldering fields, various crags, and the awesome mountains create the perfect environment for rock climbing. What better place to work than here?
26. Deckers Outdoor Corporation
HAPPY FEET: Deckers makes comfortable footwear—including Teva, Simple Shoes, and Ugg—and the laid-back, green ethos of its shoes extends naturally to the work environment. Casual dress is the norm, gym memberships are subsidized, recycling centers are abundant, and a fleet of bicycles is at the ready. deckers.com
ONLINE EXCLUSIVE: FROM THE COMPANY
ABOUT
Deckers Outdoor Corporation builds niche products into the global lifestyle brands Teva®, Simple® Shoe, UGG® Australia, TSUBO®, and Deckers® Brand by designing and marketing innovative, functional, and fashion-forward footwear for both high-performance outdoor activities and everyday casual lifestyle use.
FITNESS INCENTIVE
Corporate headquarters employees are offered a subsidized gym membership to a local gym with several locations. Employees pay a small portion as a payroll deduction, and the company pays the monthly membership fee.
TUITION REIMBURSEMENT
Tuition reimbursement is available to employees requiring continued andor additional education that is directly related to their position. Deckers will pay all or a portion of the tuition and additional required fees on a case-by-case basis.
GREEN INITIATIVES
Simple Shoes uses the following recycled materials in their footwear: recycled inner tubes, 100 percent post-consumer recycled cardboard boxes, recycled PET and latex elastic, post-consumer paper, recycled car and bike tires, and recycled carpet padding.Employees who purchase hybrid vehicles receive a $1,000 donation to the charitable organization of their choice.
COMMUNICATION
Deckers has a very relaxed and flexible communication program. At each quarter end, the CEO calls an All Hands meeting of all employees in the corporate office to hear information on a range of topics, including financial earnings information, changes within the company, etc. The All Hands meeting often ends with a luncheon for employees. This type of meeting may be called at any time the CEO feels fit, and we feel this is a unique aspect of Deckers that contributes toward open communication and information to employees at all levels.
EMPLOYEE RECOGNITION
At Deckers Outdoor Corporation, employees are encouraged to nominate a co-worker who has made exceptional contributions and efforts to the organization each quarter. This Quarterly Employee Recognition Program is available to all employees in all locations of the company. This is announced during the All Hands meeting held each quarter, and the winner receives a plaque and a cash bonus. All nominees receive a letter recognizing their nomination that is signed by the CEO.
OFFICE CULTURE
Deckers Outdoor is a unique organization due to our casual, friendly, event-oriented work environment. The company hosts several employee events throughout the year, aimed to socialize and reward everyone for their continued efforts in their departments. These events include, but are not limited to, summer company picnic, holiday party, Halloween party where employees are encouraged to dress up in costu
27. Oakley Inc.
EYES ON THE PRIZE: Answers on this eyewear-and-apparel giant's questionnaire sounded like hyperbole: "Our unique, playful spirit can be found throughout our unconventional headquarters." But it's all true. Oakley's 400,000-square-foot fortress runs on geothermal power and is home to a sprawling fitness center, 400-seat theater, and an army of employees who can "test eyewear" on the surrounding motocross track or nearby trails.
ONLINE EXCLUSIVE: FROM THE COMPANY
ABOUT
Based in Orange County, California, Oakley was created to serve the demands of world-class athletes, and they are the DNA of the company's brand culture. Oakley has a very laid-back Southern California vibe that consists of a young and extremely active workforce. Employees are very passionate about what they do and enjoy the anti-policy, sports-focused work environment. Oakley earned its heritage of authenticity in the sports world by reinventing products from scratch, achieving superior quality and genuine innovation that delivers the unexpected. The company's headquarters is a true reflection of this, with a one-of-a-kind design that leaves many visitors questioning when it was built.
FACILITIES
The 400,000-square-foot headquarters sits atop a hill across the street from Whiting Ranch Wilderness Park, with views of the Pacific Ocean and Catalina Island on a good day and beautiful rolling hills on a bad day. On the drive up to the front entrance, you will pass a motocross track, paved jogging trail, and helipad. Once you reach the traffic circle, you will notice a giant torpedo placed in the center as a landmark, surrounded by the company's custom sports marketing trucks. Inside the building, the lobby features cathedral-style ceilings, flat-screen TVs, explosive-proof light,s and B-52 ejector seats in the waiting area. Oakley has a newly remodeled fitness center with free weights, weight machines, cardio machines, flexibility balls, flat-screen TVs, showers, and lockers. Employees use their lunch break to mountain-bike across the street at Whiting Ranch Wilderness Park, and Oakley provides on-site bike storage. In the cafeteria, there are more flat-screen TVs and a Ping-Pong table for impromptu competitions.
OFFICE CULTURE
Summer bonfires can be found at Oakley's giant fire pit in the back patio, along with a mini-car racetrack. Oakley's 400-seat hi-tech theater is the ideal venue for action sports industry movie premieres. Impromptu concerts by visiting musicians or Olympic athlete sightings can happen any day of the week in Oakley's hallways. Dogs and kids are a welcome addition as well. Individuality and self-expression can be found throughout the building and in employees' extreme cubicles. Because Oakley is rooted in sports, it attracts many outdoor enthusiasts and ex–pro athletes who form running, cycling, mountain-biking and walking groups that use the facility and surrounding area to work out before/during/after work. Oakley also has a softball team in the Action Sports Softball League that competes against other companies in the action sports industry.
DRESS CODE
There is no dress code at Oakley. Flip-flops and boardshorts are encouraged.
28. Industrial Revolution
WELL-TIMED: Understanding that the best adjective to describe a weekend is "long," this camping-supplies manufacturer offers a menu of compressed workweek options: four ten-hour days and one off; or eight nine-hour days, one eight-hour day, and a day off (yup, it adds up to 80). Bus passes are fully subsidized, and carpoolers are reimbursed for gas money. industrialrev.com
29. SRAM
HIGH ROLLERS: SRAM is one of the world's largest bike-component manufacturers. No surprise, then, that riding to work is the norm for the 85 employees at the downtown-Chicago headquarters, which offers a bike-storage room with workbenches for tune-ups, plus shower facilities to help you avoid the sweaty-headed "commuter guy" look. sram.com
30. National Outdoor Leadership School
MOUNTAIN READY: Employees in the eco-friendly Lander headquarters have the spectacular Wind River Range as their after-work playground, and NOLS offers the flex-time options (four ten-hour days) to enjoy it. Many staffers arrive early and leave early to take advantage of the local skiing, climbing, and biking. Vacation time is generous (23 days for new employees), and "Beer Fridays" are frequent.
ONLINE EXCLUSIVE: FROM THE COMPANY
ABOUT
NOLS, a nonprofit school, takes people of all ages on real wilderness expeditions, develops leadership, and teaches outdoor skills and environmental ethics. NOLS graduates are active, positive leaders with an environmental ethic and outdoor skills that last a lifetime. NOLS instructional skill areas include: wilderness medicine, mountaineering, sea kayaking, canoeing, rafting, kayaking, backpacking, skiing, rock climbing, sailing, and many more.
OFFICE FACILITIES
Our facilities have workout rooms with weights, rowing machines, treadmills, bikes, Stairmasters, or a climbing wall or a swimming pool. All of our facilities have locker/shower rooms. Employees can eat in our dining rooms for a nominal fee. In addition, we provide coffee, tea, and hot chocolate at no cost all day long. Department celebrations are rampant, and hardly a day goes by without birthday cake or some other snacks available. Beer Friday is a common event.
COMMUNITY OUTREACH
Our employees are very active in the community: They volunteer with the ambulance, fire department, and SAR, and they coach sports and volunteer in the school system. They are involved in local service groups such as Kiwanis and Rotary; serve boards such as AEE, Wilderness Risk Management, Yellowstone Business Partnership, etc. We do not have a formalized volunteer program. We allow our staff flexibility to balance their workload and volunteer time.
GREEN INITIATIVES
We recycle at all facilities, and half of our locations have composting systems in place and produce soil additives for on-site organic gardens that feed our staff and students. As an educational institution, we don't manufacture a product. We have completed a schoolwide sustainability audit that informs our sustainability initiative, setting aggressive goals for reducing our environmental footprint. The initiative includes a climate protection goal to reduce carbon emissions annually. It also sets goals for working with product manufacturers in an effort to encourage them to develop more sustainable supply chains. Headquarters is a green building with numerous environmental design features including: building orientation that maximizes natural lighting; sun shades, insulation, tinted glass, and a rooftop garden to help minimize heat loss and gain; storm drainage that's returned to irrigation canals; carpet, ceiling tiles, and tables made from recycled materials; flooring made from recycled tires; few private offices to reduce square footage.
SCHEDULES
We offer children-friendly scheduling, i.e. time off to volunteer in the child's class, attend parent-teacher conferences, attend school events, or take a family member to an appointment. Children are welcome in the workplace. Many staff can work from home if necessary. We offer course discounts up to 75 percent for family members, including extended-family members such as nieces and nephews, parents, and others to take a NOLS course or WMI of NOLS course. We offer flexible work hours for most employees so they can balance their work-life needs. Staff can use NOLS equipment at no charge—backpacks, stoves, sleeping bags, skis, fishing gear, etc. Most of our locations provide easy access to backcountry areas. Staff get 50 percent off their lift ticket at one of the major ski areas in Wyoming.