The Best Sun Protection for Outdoor Athletes
These pros spend their days in the high alpine and dry desert. Here's how they protect their skin.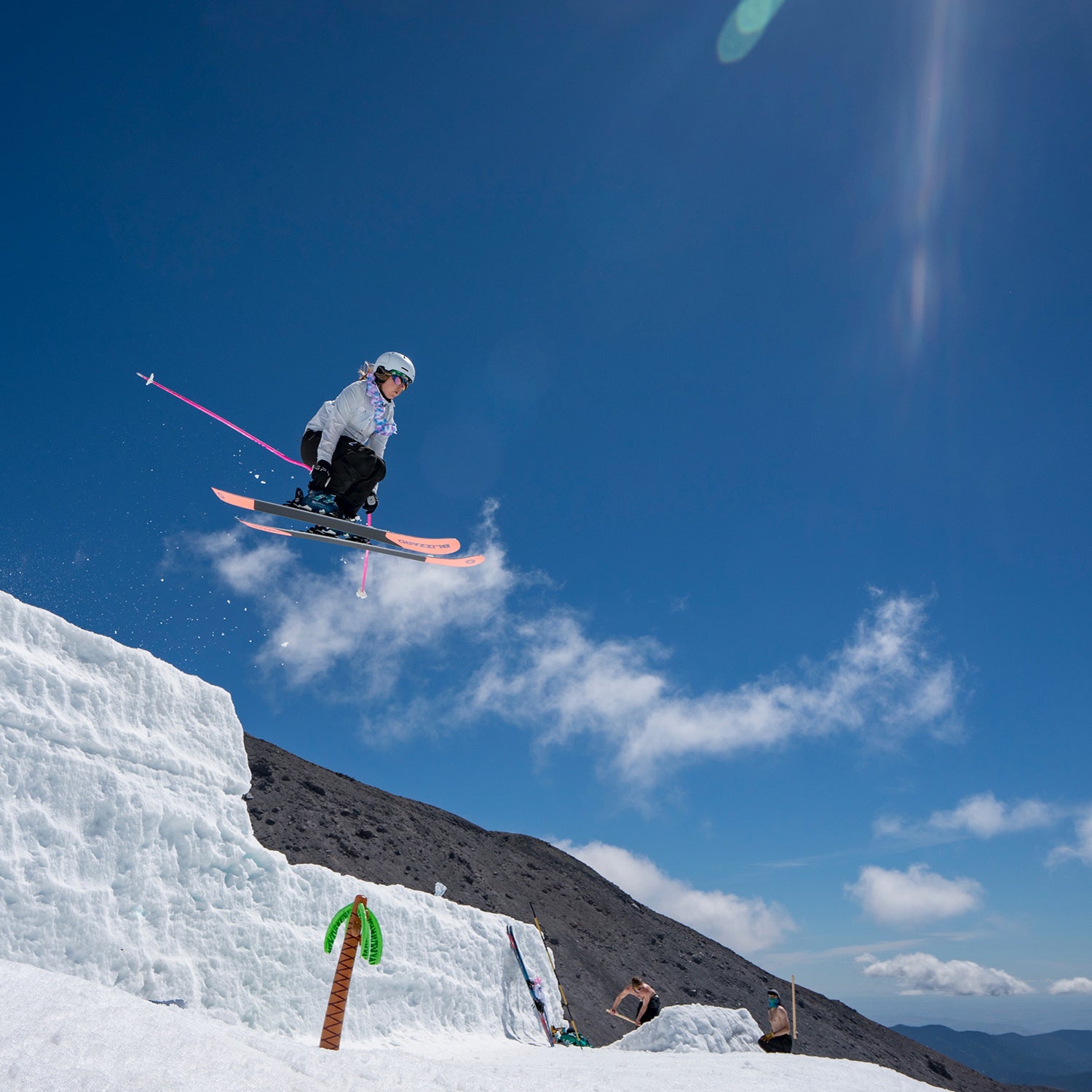 Courtesy Party Beach Ski Camps/L(Photo)
Heading out the door? Read this article on the new Outside+ app available now on iOS devices for members! Download the app.
Midsummer sunshine means sunburns and heat exhaustion for outdoor athletes. Fortunately, there are plenty of ways to shield your skin from rays and keep your body temperature cool. Just ask these professional skiers, runners, and climbers.
Naawk Sunscreen and Lip Balm, Plus Moisturizer and Serum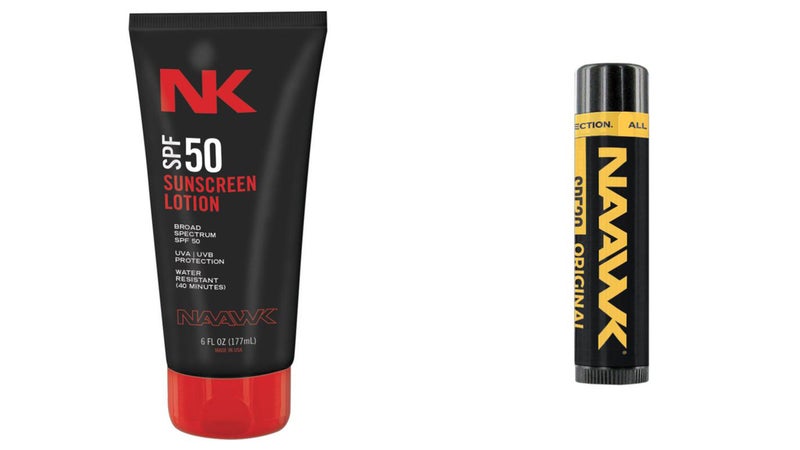 Lyndsay Strange, Olympic Ski Coach
Lyndsay Strange co-founded Party Beach Ski Camps, a summertime ski-race clinic at Oregon's Mount Hood that has her working on a glacier all day, every day. For sunscreen and lip balm, Strange trusts Naawk products. Made in Salt Lake City, Utah, Naawk sunscreens ($10) are free of parabens, a preservative that can mimic estrogen and is linked to breast cancer. The brand's SPF 30 lip balms ($2.50) are also paraben-free and don't contain petroleum, which isn't as effective at moisturizing as you may think. Instead, these products are packed with moisturizers like coconut oil, sunflower seed oil, and shea butter. "The high-SPF lip balm has great flavors like lavender and green tea," Strange says. "Also, the sunscreens smell super-good: fruity and tropical."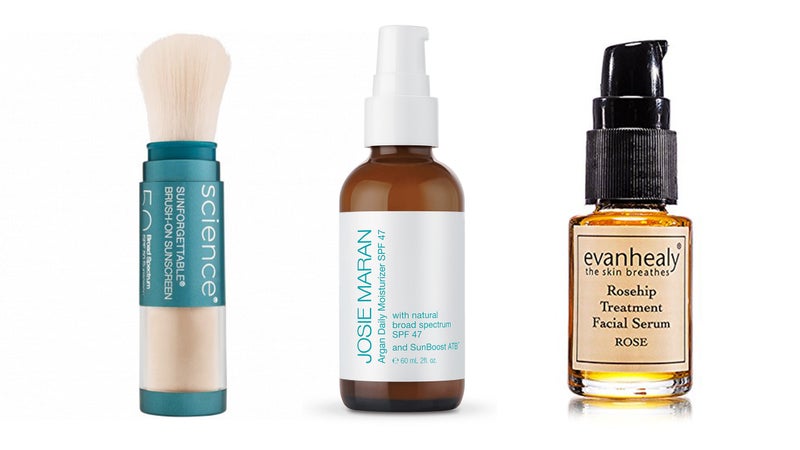 Strange also uses tinted sunscreens like Colorescience Sunforgettable SPF 50 mineral powder ($65), which is chemical-free and water- and sweat-resistant. Strange can brush it on her skin alone or over makeup and get protection from the sun, infrared light, and even blue light from screens and LEDs. When all else fails, "The key to getting through a sunburn is moisture, and not necessarily aloe," she says. Strange recommends Josie Maran Argan Daily Moisturizer SPF 47 ($32), as well as anything with rose hip oil. "I use Evan Healy rose hip serum ($30) most nights to help reverse sun damage and discoloration. It's a godsend," she says.
Mineral Powder Moisturizer Serum
---
Nuun ($20) and Black Diamond Alpenglow Hoodie ($85)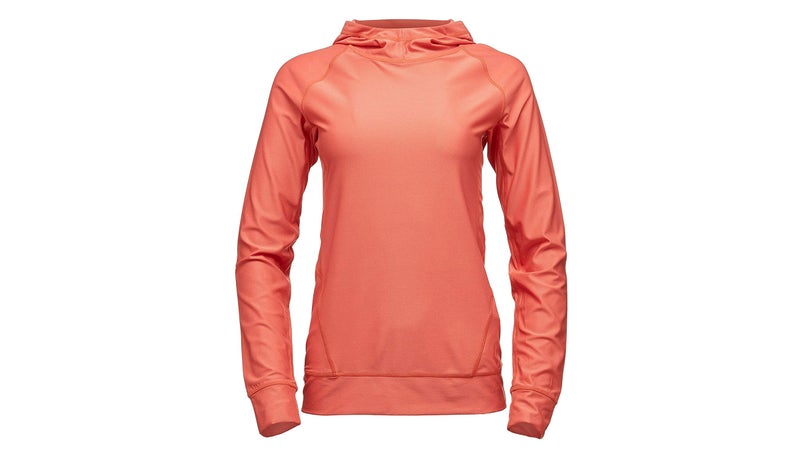 Jaymie Shearer, Climber
After a long day of climbing in the Utah desert, climber and photographer Jaymie Shearer takes care of her body from the inside out. "Rehydrating is crucial if you want to keep going the next day," she says. Shearer drinks water containing Nuun hydration tablets to replenish the electrolytes and nutrients she burned that day. To shield herself from the desert heat, she also wears the Black Diamond Alpenglow Hoodie, made with UPF 50 fabric that also wicks away moisture. "I hardly go anywhere without my BD sun hoodie and buff," Shearer says.
---
Columbia Freezer Zero Neck Gaiter ($30)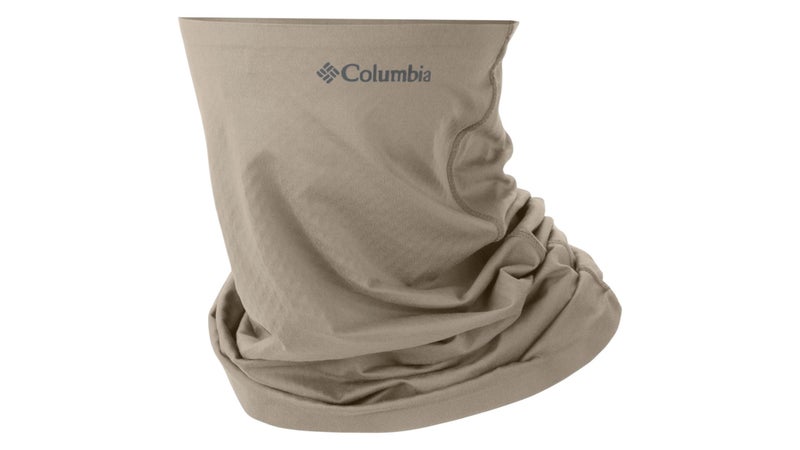 Joe McConaughy, Ultrarunner
Joe McConaughy covers up with a black neck gaiter or a hat while logging long days in the summer heat. And, yes, the color makes a difference. "Wearing something around your neck or on your head makes a little more sense than you think," says McConaughy, who holds the fastest known time on the Appalachian Trail. The hat or buff blocks the sun while also helping to absorb sweat. McConaughy is sponsored by Columbia and recommends the brand's products, like this neck gaiter made with the company's patented Omni-Freeze Zero, which reacts to your sweat and lowers the temperature of the fabric. The material also offers UPF 50 sun protection.
---
Julbo Sherpa Glacier Sunglasses ($65) and Patagonia Duckbill Trucker Hat ($35)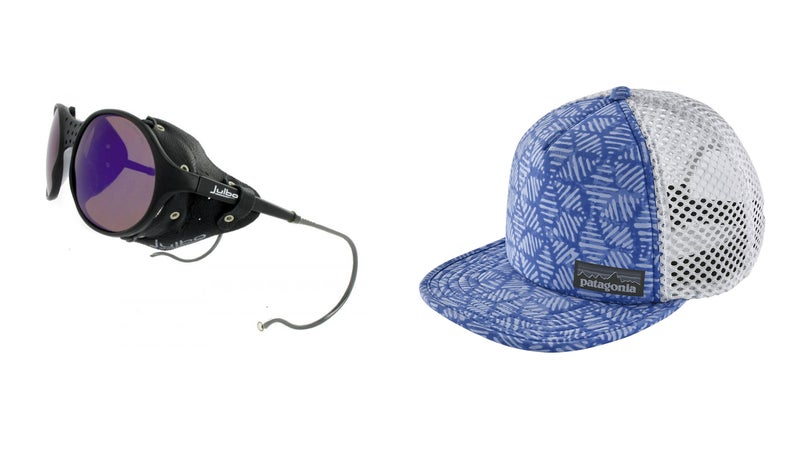 Caroline Gleich, Skier
Caroline Gleich is the first woman to ski all the lines in Andrew McLean's classic guidebook to the Wasatch, The Chuting Gallery. She's also a Julbo ambassador and usually rocks a pair of classic glacier sunglasses from the century-old, family-owned French brand. Made with lightweight polycarbonate lenses, the Sherpa comes with removable side shields to block glaring light from all directions. The flexible temples allow Gleich to adjust the fit when she's wearing a helmet.
Gleich also wears the Duckbill trucker hat from Patagonia, another of her sponsors. Made with 92 percent recycled nylon and foam, the hat's classic flat brim holds its shape even after being crammed in a pack. "This hat is awesome because you can wash it when it gets all sweaty," Gleich says.
---
Surfer's Salve ($12 for a 4-Ounce Tin)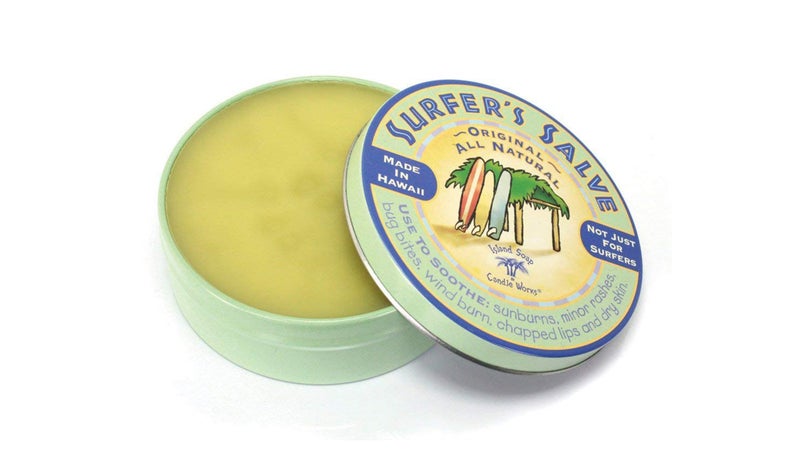 Drew Petersen, Skier
The Salt Lake City–based big-mountain skier has fair skin that's prone to get "as red as a lobster" during sunny days at high altitude. When he's past the point of no return, Drew Petersen opts for Surfer's Salve from Hawaii, made with olive oil, plantain leaf, beeswax, aloe, rosemary, lavender, and vitamin E. "It sure seems to relieve a sunburn quicker than anything I've used, even if I forget to reapply sunscreen on my nose on a long day of ski touring," he says. "I especially rely on it in the winter to keep me out in the mountains skiing every day."
Lead Photo: Courtesy Party Beach Ski Camps/L