Can the Sun Clean My Workout Clothes?
I like to ride my bike to and from work. I use the same outfit for both rides, which my coworker says is nasty. If I lay my clothes out in the sun while I'm working, won't the sun kill the bacteria on them? (Please say yes or I'll lose a bet.)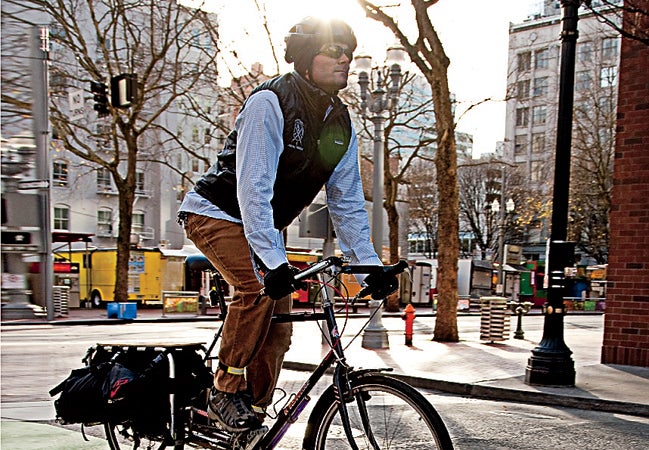 Heading out the door? Read this article on the new Outside+ app available now on iOS devices for members! Download the app.
What if we said you're semi-right? In your favor, "the sun does have the ability to kill bacteria," says Dr. Philip Tierno, clinical professor of microbiology and pathology at NYU. Ultraviolet light can destroy bacteria by damaging their DNA beyond repair—though there are a few caveats.
The Earth's atmosphere blocks much of the most intense ultraviolet rays that are often used to kill bacteria in commercial settings where all bacteria must be eliminated, like when sterilizing medical equipment. Also, your clothes must dry completely in the sun to kill bacteria. If you leave your clothes out on a humid day, and they don't dry out, you may make your bacterial situation worse. "If it is a humid environment the bacteria may actually grow to some extent," writes University of Arizona microbiologist Dr. Charles Gerba in an email. Additionally, Gerba writes, the sun's rays won't penetrate the inside of your clothes. All of this means: Don't count on the sun killing all of the germs on your workout clothes.
If you're simply riding your bike to work, chances are the only bacteria on your clothes are of the harmless odor-causing variety. In that case, drying your clothes out in the sun is perfectly acceptable. In fact, Tierno points out, the Earth's ozone can "work almost like a bleach," destroying germs and giving off a fresh smell.
But if you work out at a gym, "the presence of MRSA is a concern," Gerba writes. "You want to wash those clothes in hot water and bleach." And the use of those sun-dried workout clothes should end after your evening ride home, as over time they'll accumulate what Tierno refers to as "cellular debris," cells from your body that you'll be able to see if you shake out your shirt "like a collection of dust on a pillow that's been sitting out." Bacteria love dead skin cells, so you'll have to wash your clothes in water to get rid of them.
THE BOTTOM LINE: Yes, the sun's ultraviolet rays can kill bacteria on your workout clothes, but only if your clothes dry completely in the sun. And don't count on the sun killing everything; you should regularly wash your workout clothes in hot water and bleach to rid them of any potentially harmful bacteria you've picked up while working out. 
Lead Photo: Jordan Siemens