Creating the Perfect Office Culture
First it made a kick-ass camera gadget. Then it made some money. Now, with a finely honed mission, Peak Design has set its sights on employee happiness and positive environmental progress. Is a workplace utopia within reach?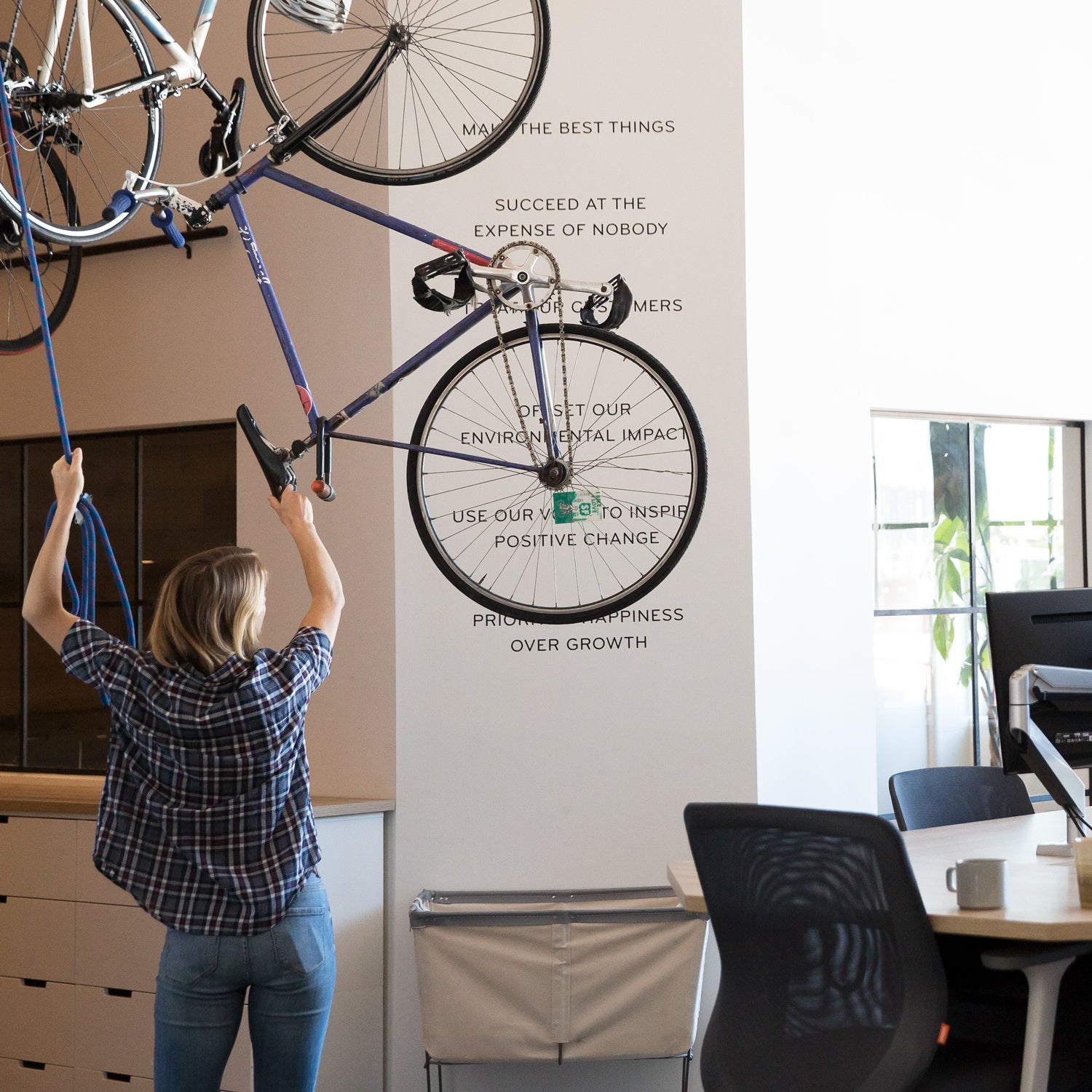 Annie Nyborg/Peak Design(Photo)
Heading out the door? Read this article on the new Outside+ app available now on iOS devices for members! Download the app.
It's not about the bikes. Or the beer. Or the view of the bay.
California gear-maker Peak Design has the sort of trappings you'd expect at a start-up where employees profess passion for their workplace: exhilarating San Francisco location, flexible hours, heavy use of Google Hangouts, über-modish offices where pulleys hoist commuters' bikes to the ceiling and an eco-chic toilet flushes with waste water from the sink. There's even a CFO who brews beer on the job and a CEO—founder Peter Dering—who talks about "prioritizing the happiness of workers."
What really distinguishes Peak Design is that Dering's declaration isn't his; it's his employees'. All 25 of them. They conceived it as part of a mission statement they crafted last year after setting out to answer the question: Why the hell are we doing this? Of course, it sounds like something Dering would say. When he started his company in 2011, he was a refugee from corporate culture and he wanted his new venture "to be a place where I could experience freedom and happiness," he says. "I wanted to work in an egalitarian environment."
The origin story for Peak Design is classic, if not entirely unique, as far as start-up eureka moments go. Dering is a civil engineer who quit his previous job and was traveling in New Zealand when he found a problem to solve. The thing that was driving him nuts: his camera. Stuffed in his backpack, it wasn't handy; banging from a strap around his neck, it was a pain. His solution became PD's first product, Capture—a rigid clip to secure any DSLR camera to a backpack strap or belt.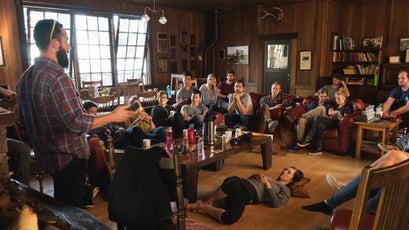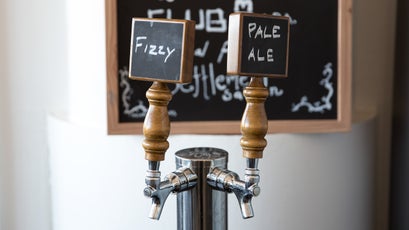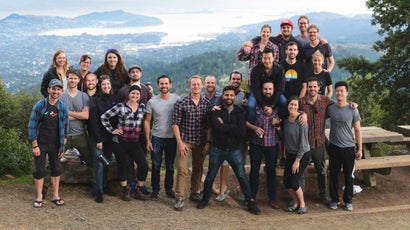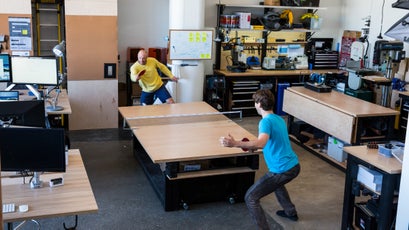 He self-funded the first $50,000 of product development himself, but, he says, "I had no go-to-market strategy." So he turned to Kickstarter, which was also in its infancy at the time. Over 5,000 backers—many of them professional photographers—pledged nearly $365,000 to get their hands on Capture. That was in 2011. Since then, PD has created a suite of products—camera straps and leashes for shutterbugs, as well as bags and backpacks versatile enough for anyone drawn in by sleek design and high function. Most of these new products have been launched via Kickstarter campaigns.
What does this have to do with employee satisfaction? A lot, as Dering and others see it. Crowdfunding gives the team freedom to develop products they're passionate about, and to bring them to market when they're ready without inflexible deadlines or quarterly reports to investors. "We have a business model where we're not beholden to outside investors to make our decisions," says marketing director Adam Saraceno. "We take part in shaping our company." Last year the release of three new products kept everyone burning the midnight oil. "There are times when we crank down," says Saraceno, "and times when we go out and camp somewhere."
The commitment to Kickstarter has also helped the team cultivate a dedicated customer community—they have a mailing list of 200,000—that offers product ideas and suggestions for gear they'd like to see PD create next. The company's website links to the spectacular portfolios of some of the photographers and adventurers who serve as "ambassadors" for the brand, testing gear and offering feedback to designers. 
It's a relationship Dering and the PD team do not take lightly. Three years ago, when a batch of camera straps sent to Kickstarter backers proved defective, the team responded swiftly, warning users and promising to make good. No precious energy was wasted on finger-pointing or public relations strategizing. "We just told it like it was," says Saraceno. "'We effed-up big time. Do not use your product! We'll take care of you.'" The company halted production, fixed the issue, and offered users replacement straps and DIY fix-it kits.
Peak Design has developed fast; nearly 100 percent annual growth since its beginning six years ago, and anticipating $40 million in sales this year. Dering owns 100 percent of the firm, but he's created an unusual "phantom stock" program that distributes 30 percent of the value of the company to employees—an arrangement that gives them shares that they can sell within the company and occasionally a cut of the profits through a kind of dividend sharing plan. Previously the company has launched one new product a year, but 2016's simultaneous introduction of three—the Everyday Backpack, Sling, and Tote—was a big step forward. It generated nearly $7 million on Kickstarter and ushered PD into new territory: Making gear that's good for photographers—and for the rest of us, too. For a company where "expansion" is not the prime directive, it seemed like the right time to sit down and consider the point of all the hard work.
Cue that "Why the hell are we doing this?" soul-searching retreat, a session that produced PD's six-point mission statement: Make the best things. Succeed at the expense of no one. Treat customers as peers. Offset our environmental impact. Use our voice to inspire environmental change. Prioritize happiness over growth.
None of these were new notions at the company; the retreat simply articulated the values of an outfit that was expanding, facing new challenges, and working with new people who may not have been around when PD's cultural DNA took shape. "We started to realize that this company was going to be big—or bigger," says staffer Annie Nyborg. "And we realized we needed to talk about what we wanted to do."
Nyborg is a perfect example of the mission statement in action. Her title is director of corporate responsibility and community. She works with PD's off-shore fabricators to make certain they're meeting environmental standards—and that the business is doing right by the people who are doing the work. Under the "succeed at the expense of no one" dictum, the company audited the factory in Vietnam making their products, saw that wages weren't meeting standards, and issued a 10 percent bonus to workers. Nyborg is also taking the lead on the company's social justice and green initiatives. Peak Design is a member of the Conservation Alliance, and is part of 1% For the Planet, which means they're committed to giving back a portion of revenues to non-profit environmental groups. PD has also developed Give A Shot, a program that matches volunteer photographers with small, cash-strapped organizations that need better images to get their progressive green messages across.
For some at Peak Design, Dering says, this commitment to environmental issues has been a big draw. Others, he says, "can take it or leave it." But on the whole, the team seems to share one source of satisfaction. "Everyone feels like they're doing something special," he says. "And they want to keep doing it."
Lead Photo: Annie Nyborg/Peak Design
Trending on Outside Online