The Dog He Never Wanted
When his wife Amy showed up with a Labrador Retriever, Jeff Supergan wasn't sure it made sense. He had never had a dog before, and, being confined to a wheelchair, didn't know if he could handle it. But when Amy's doctors discovered an unexpected brain tumor, the dog ended up taking care of them both.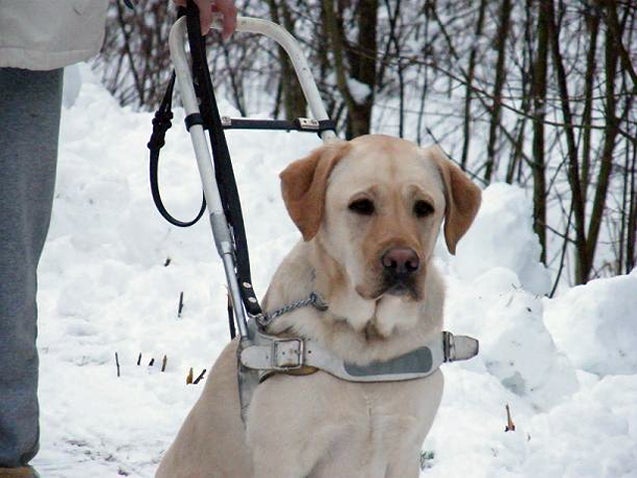 Heading out the door? Read this article on the new Outside+ app available now on iOS devices for members! Download the app.
Gem might be all-business, but she's isn't above a game of fetch. It's in her blood; she is a black Labrador Retriever after all. The other things she does so well—opening and closing doors, helping with the laundry—not so much. So, you can't give all the credit to genetics. At least some has to go to the trainer.

A service dog pressing a button to open an automatic door.
The same can be said for most any dog, trained or not. Someone is always behind the heel. But for some people, the stakes are higher—a disregarded command can be the difference between life and death. Service dogs like Gem may have four paws and a tail to wag, but they're not exactly pets. They are highly-trained professional work animals.
Gem is Jeff Supergan's service dog. But she isn't his first. A yellow Lab named Yellowstone came before her and now works with Jeff's wife, Amy. Gem is new to the family, but Jeff's journey to owning her began 24 years ago when he fractured his C6-C7 vertebrae diving into a lake, limiting how he can use his arms and legs. The injury threatened his independence and required life-changing decisions.
Take choosing a wheelchair. When you don't know the details, they can all look identical. But Jeff had to pick between an electric-powered wheelchair and a manual variant, each with distinct drawbacks and strengths.
"He didn't want to be in an automatic wheelchair because once electric, you're always electric," says Amy. "He wouldn't be able to use his arms and muscles" because an electric wheelchair isn't designed to be actively powered by its driver.
For 12 years, the manually-powered wheelchair worked for Jeff. Its downsides—on steep terrain and over long distances—were balanced by Amy, who could help push Jeff. Together, they led an active lifestyle—hiking together and even going camping in Alaska. Jeff didn't even consider purchasing a service animal.
"I never had a dog before," he says. I didn't know what they could do. I didn't know they'd help. I thought it was going to be a hindrance."
Amy thought otherwise. Jeff didn't always enjoy going out in public; he thought people stared. She figured a dog would divert the attention and make him feel more comfortable. She was determined. So together with her daughter, she brought home a eight-week-old puppy on his birthday, and the dog peed all over. Her name was Yellowstone, and she was a yellow Lab.
Meanwhile, Amy was falling ill. "All of the sudden, I got sick and couldn't help Jeff as much," she says. "When we got Yellowstone and put her into training—that very week we found out I had a brain tumor. A week later I was having surgery."
Without Amy's support, Jeff's earlier choice of a manually-powered wheelchair seemed like the wrong one. With Yellowstone entering training, the couple decided to have her taught to pull Jeff, almost like a sled dog. Slowly, she became Jeff's independence. Amy couldn't help push Jeff on his hikes through the forest preserves, but Yellowstone could. Jeff contributed some of the horsepower, and Yellowstone chipped in with the rest.
Together, they would hike up to six miles. "I couldn't do it without her. I'd be really sore. It would take more than twice the amount of time to do it," he says.
Without Yellowstone, Amy says Jeff wouldn't have been able to maintain his hikes. It would have been a major blow. "I like to be in the outdoors," he says. "Getting out into the forest is a lot of freedom. When you're walking alone, you can just view nature—see deer and birds."
Beyond hiking, Yellowstone gave Jeff greater independence at work. Instead of relying on someone else to push him up the ramp to the office and to open the door, he can do it on his own with Yellowstone's help. What's more, she changed how other people interact with Jeff. Amy credits Yellowstone with helping him to meet more people because they "come up to us happy about the dog," she says.
Over the years, the one-time skeptic became a convert. "For a dog he never wanted, they've really bonded," Amy says. But after eight years of service, Yellowstone started having trouble with pulling. She couldn't fulfill all of Jeff's needs.
UNDER THE AMERICANS WITH Disabilities Act and Amendment, all assistance dogs—guide dogs (for the visually impaired), signal dogs (for the hard of hearing), or dogs otherwise trained to provide assistance to an individual with a disability—are treated equally by the law, regardless of their certification status.
Even establishments that ban pets are required to admit service dogs. But that doesn't always happen, says service dog owner Kaney O'Neill. They "sometimes hassle you about bringing dogs in," and require a polite but firm reminder that service animals must be admitted under the law.
O'Neill was a 21-year-old Navy airman apprentice in Virginia when Hurricane Floyd blew her off a balcony, leaving her with minimal use of her arms and hands. Getting a service animal made perfect sense. Unlike Jeff, she had grown up with Labs and always loved dogs, so "the idea of having an animal do things I can't do" was natural to her. But the wait was long—several years, in fact.
Eventually, O'Neill made her way to TOPS Kennel in Grayslake, Illinois. They just happened to have a dog ready. When she visited the kennel, he jumped into her lap and home. Now, O'Neill can't imagine living without Pele. "He gives an added layer of independence. You feel more confident doing things on your own," she says.
He's changed her life. With Pele at her side, she feels comfortable driving. And he's helped to break down the "social barrier that exists between able bodied and disabled people" because he gives everyone something to talk about, she says.
O'Neill has a three-year-old boy, and Pele helps watch over him too. When the boy's father sued for custody, he argued that O'Neill was an unfit caregiver due to her injury. Her lawyers argued otherwise, and drew on O'Neill's deep, multi-layered support network. A crucial part of that network: Pele. She won.
YELLOWSTONE NATURALLY DEVELOPED A deep bond with Jeff, but she was no stranger to his wife. When Amy was sick and sometimes confined to bed all day, Yellowstone would lie by her side. She developed an uncanny ability to notice when Amy wasn't feeling well and even predict health scares, like when she licked Amy awake before she suffered a seizure.
Now, Yellowstone is Amy's service dog. Because bending over is difficult for Amy, Yellowstone helps with the laundry by pulling clothing from the dryer for Amy to fold. It's a task she relishes in and often fights over with Gem. She's also there to pick something up if Amy drops it. This ability is a fan favorite. People at Costco will jokingly ask Amy to drop her credit card for Yellowstone to pick it up—no easy task from off a slick floor.
For the last three years, Gem has taken Yellowstone's place. But because of an injury to her back, Jeff may be in the market for another dog—no easy purchase. It's nothing like picking up a pup from the shelter. There's the wait (two years for a dog is normal), price tag (upwards of $20,000), and training.
Gem, Yellowstone, and Pele were all trained at TOPS Kennel, where Jane Smerge has worked for 18 years. For 30 years, she's taught children with special needs. And for the last 12 years, she's worked both jobs part-time. The work is personal. Because of a genetic illness, Smerge was often home sick. In the spare time, she would train her dogs to do tricks. It became a natural progression to go into professional training.
Over the course of a year, she has time to train only two to three service dogs. It's an incredible commitment, and doing more would be financially impossible. TOPS doesn't charge for training, and the costs add up. But without the kennel's generosity, neither O'Neill nor Jeff and Amy would have dogs.
The process starts when someone contacts the kennel. Then, TOPS looks for a dog. But not any animal will do. The dog needs to be mellow, calm, and stable. The training is long—up to a year of intense sessions, not to mention weeks of additional training with the owner and years of follow-up. The training begins with basic obedience, the "foundation for everything," Smerge says.
From there, Smerge teaches individual skills, like flipping a light switch. Learning a single skill can take two months. It's all about breaking a task down into its smallest components.
Take flipping a switch. First, Smerge will train the dog to put its feet on the wall by using a treat to reinforce the behavior. Next, she'll put the treat near the switch so the dog's nose can hit the light. Soon, she'll switch the treat out for a bit of cheese around the switch. Each step of the way, she verbally praises the dog. Three weeks to a month later, she'll begin to phase out the food until the dog can flip a switch on verbal command. (Each dog is different. Some breeds are more responsive to toys than treats, for example.)
But it isn't just the lights she's training them for. Each dog is specifically tailored to her owner. And each owner is then trained to work with his dog—at first for two hours a day, five days a week, Smerge says. Adjustments are inevitable, some minor and others more complicated. Most dogs heel on the left. But Jeff needed Gem to heel on his right. That means training Jeff to give a new command and Gem to take it.
Because many owners can't make corrections on their own if the dog makes a mistake "the training has to be as close to perfect as possible," Smerge says. "It was initially very stressful. It's still hard. Hard but wonderful work."
Trending on Outside Online