Finding Your Dream Job Has Never Been So Easy
Want a job in the outdoor industry? Check out these resources.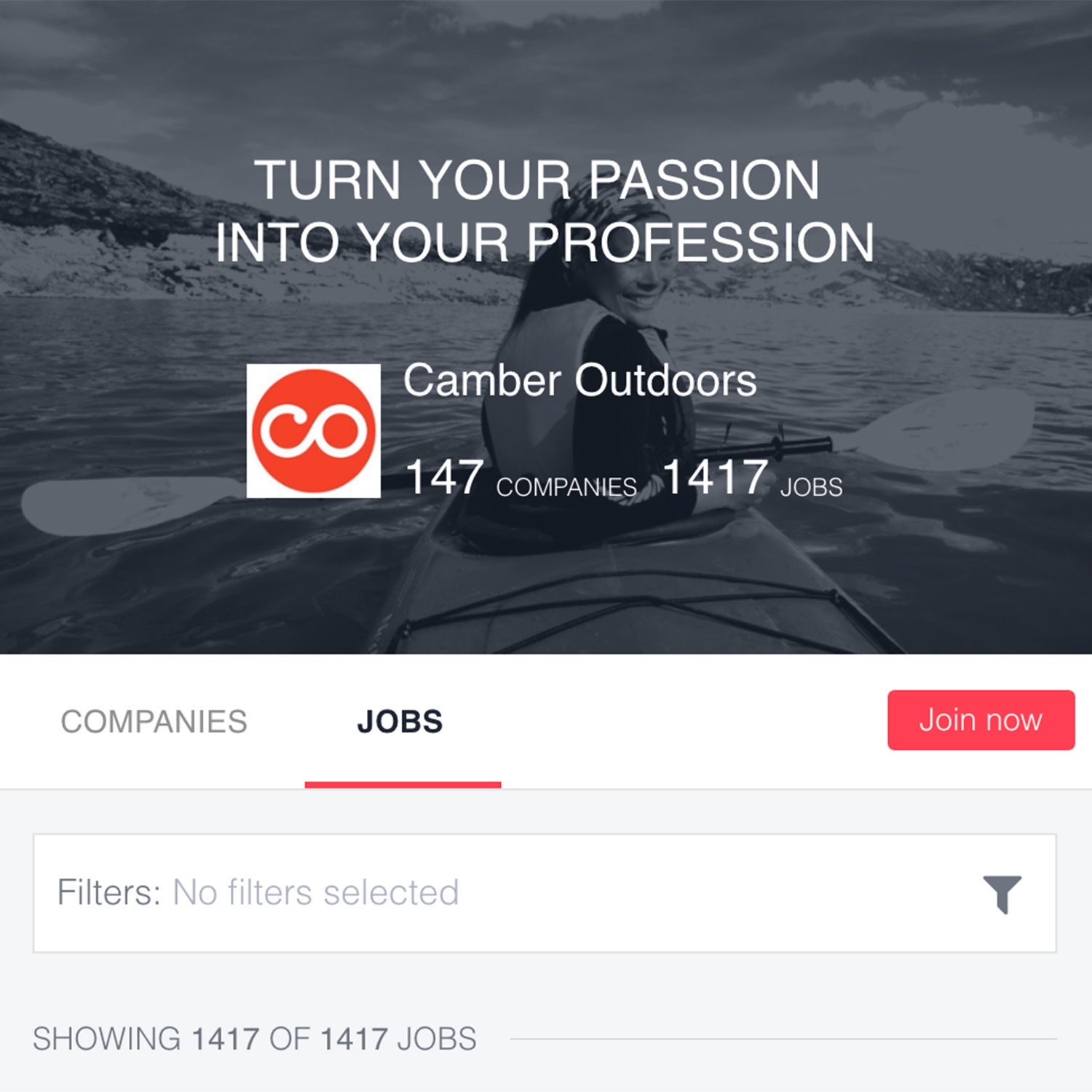 Heading out the door? Read this article on the new Outside+ app available now on iOS devices for members! Download the app.
The occupations that might first come to mind when you think outdoor jobs—raft guide, trail builder, ski patroller—often involve low hourly wages and seasonal employment. Yet as an industry, outdoor recreation brings in $880 billion per year and supports 7.6 million jobs—and plenty of those positions come with benefits and year-round employment.
Now, a host of databases and Facebook groups are making finding work in this space easier than ever. 
"I was on the job hunt and I was having trouble turning up many fruitful opportunities," says Ali Carr Troxell, founder of the 2,000-strong Facebook group Basecamp: Outdoor Jobs and More and an outdoor gear editor at Wirecutter. She also worked as an editor for Outside for six years. 
"I didn't feel there was a good, dynamic place to job-hunt within this industry," she says. "There wasn't a place for creative types—editors, writers, photographers, public relations—to mingle on the job front that was outdoor industry specific." 
Last year, she invited 300 of her closest industry friends to the group and asked them to each add ten members interested in learning more about outdoor opportuintes. The group grew organically from there, expanding beyond those initial creative types to encompass "all facets of the industry—guiding, ski patrol, retail, graphic designers, internships, product design, even tech if it's outdoor-oriented," according to Troxell. 
Hosting the group on Facebook makes the job hunt more personal and, Troxell hopes, helps eliminate some of the nepotism that exists in such a tight-knit professional community. It allows newcomers to make personal connections, ask questions, and get a foot in the door instead of pitching resumes into faceless online portals and crossing their fingers. It's become a hub for more than traditional job hunting: the group has spawned local networking events, helped freelance creatives find contract work, and connected PR reps to new clients.  
Troxell's Basecamp is by far the most personal, and diverse, of the outdoor-industry gig sites around, but there are a handful of other online resources making the job hunt a little easier. Here are five of the best.
Camber Outdoors Jobs Board
Camber Outdoors aims to create opportunities for women in the outdoor industry and it provides ample resources, including a mentoring program, to help women land their dream jobs. It has 150 companies in its network, ranging from big brands like Patagonia and the North Face to nonprofits like the Mountaineers and the International Mountain Bicycling Association. But don't worry, dudes—men can browse their job postings, too. 
Outdoor Industry Jobs
One of the most comprehensive outdoor jobs database out there, Outdoor Industry Jobs has posted over 30 job opportunities in the last month. Whether you want to guide bike tours, work as an editor for an outdoor publication, or design gear, Outdoor Industry Jobs is a valuable resource. That said, folks in marketing, PR, and more creative fields will have less luck than someone looking for a job in sales or management.
SNEWS Outdoor Industry Job Board
SNEWS' job board is similar to Outdoor Industry Jobs: regularly updated, with dozens of new jobs posted every month, including ones offering seasonal employment, retail store management, and full-time editing and design. Where they diverge? SNEWS has a much more user-friendly website. 
Outdoor Ed Jobs
Niche and to the point, Outdoor Ed Jobs does exactly what it claims to: connects you with educational job opportunities ranging from climbing instruction at a summer camp to a full-time position as a teacher at a forest school.  
Malakye 
Malakye bills itself as a place to job hunt in the outdoor and lifestyle industries, listing not-so-outdoorsy brands like Skechers alongside classics like REI. It also flips the script LinkedIn style, letting job-seekers build a profile and giving brands access to a database of talent, so, if you're lucky, your next job might just come to you.
Lead Photo: Courtesy Camber Outdoors