How Having Fun Makes You Healthier and Smarter
Five scientifically proven ways to up the fun in your life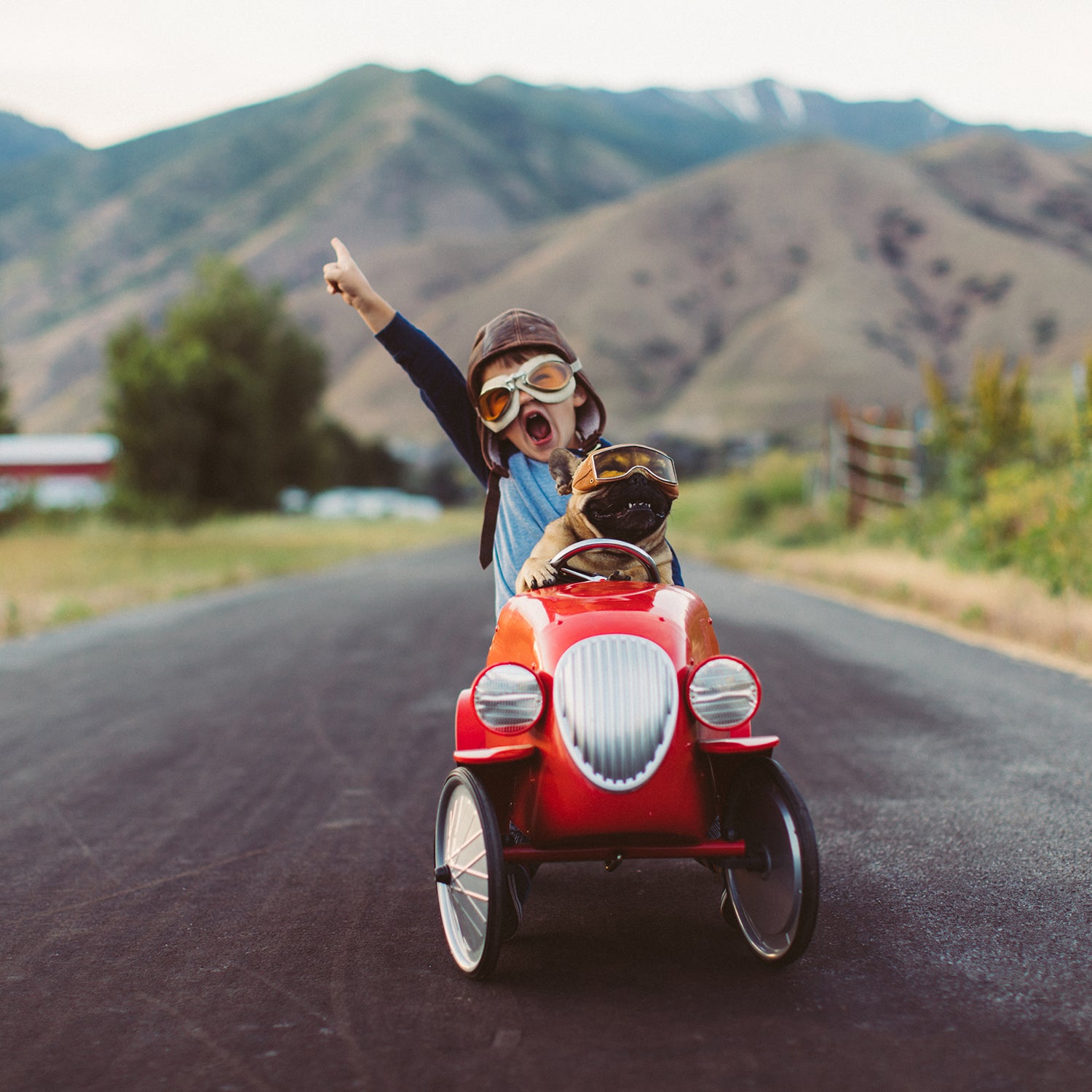 Heading out the door? Read this article on the new Outside+ app available now on iOS devices for members! Download the app.
Let's face it: it's been a rough couple of years. With an ongoing pandemic and now the war in Ukraine, anxiety levels are understandably at an all-time high. We want to help, so we looked into some ways to lighten things up and boost your health by upping the fun in your life. Best of all, these scientifically proven techniques are easy.
1. Smile When You're Learning Something New
If you've ever tried unsuccessfully to acquire a skill or become proficient in a sport, odds are you weren't having fun. Cognitive studies on mood and emotion in learning reveal that, regardless of the activity, taking a lighthearted approach boosts focus and retention. When a lesson or an experience is fun, dopamine increases; as that neurotransmitter circulates in your brain, it improves your mood and enhances your capacity to tune in to big concepts and small details alike. There's also reward involved: additional dopamine is released when you learn more. And educational games and physical activities engage more of the senses, which activates auditory, kinetic, and other sorts of learning to facilitate retention.
2. Make Playtime a Priority
Research suggests that playing like a kid can help adults live better lives. A 2013 Swiss study published in the European Journal of Humor Research showed that playful adults lived happier, more satisfying, and healthier lives. During the study, 255 adults were asked to share their interest level in playful activities, then assess the state of their current mental and physical health. Researchers explained that playfulness—broadly defined as the ability to derive amusement from a situation—is prevalent in mental activities like playing music or video games, and physical activities like sports or outdoor hobbies. The study's results followed a trend: Adults with little or no interest in mental or physical activity scored low in life satisfaction and psychological wellness. Those with an appreciable interest in nonphysical playfulness scored high, and playful adults who were physically active scored the highest.
3. Why Laughing Matters
The more you laugh, the longer you'll live, according to a study published in 2016 by a group of Norwegian behavioral scientists. The researchers looked at the influence of humor on the life spans of more than 53,000 people over a 15-year period. They found that those who had a meaningful amount of humor in their lives showed a lower risk of death from infection or heart disease. Why? Perhaps because humor can ­reduce stress-related hormones that suppress the immune system. A study published in 2020 by Stanford and University of Chicago scientists that focused on veterans with post-traumatic stress disorder showed similar results. Researchers used nitrous oxide on three veterans in treatment, who self-reported quick relief from symptoms, a benefit that lasted up to a week.
4. Fuel Your Feel-Good Hormones
It's well-known that high stress levels negatively influence biology, causing the release of the fight-or-flight hormone cortisol. With an imbalance of hormones, the body has trouble regulating mood, metabolism, and immune response. But when we have fun, according to a 2016 study done by scientists at Sahmyook University in Seoul, South Korea, the body releases the feel-good neurotransmitters dopamine and serotonin, which leads to elevated mood and a healthier cell-proliferation process. Hormonal balance is crucial for our immune system's strength and our ability to recover after strenuous athletic activity, as is cell growth, which helps the kidneys, lungs, and other organs regulate body functions. Meanwhile, some studies suggest that serotonin released by enjoyable activities could help promote neurogenesis, or cell growth in the brain.
5. Join the Crowd
For most people, communal fun is more appealing than individual fun in a variety of activities, including climbing, running, cycling, and team sports like soccer and basketball. In a 2016 study by researchers at the University of Rochester and the University of Arizona, 257 participants were asked to play a game in groups and then by themselves. Participants reported that social interaction, with a friend or a stranger, was more fun than solitary activity. The study showed that the more you connect with friends or make new ones, the more fun you have.
Lead Photo: RichVintage/Getty