How to Cheat Death and Other Priceless Advice from Mick Fanning
Take it from the world-champion surfer: there's a right time for working, competing—and fighting for your life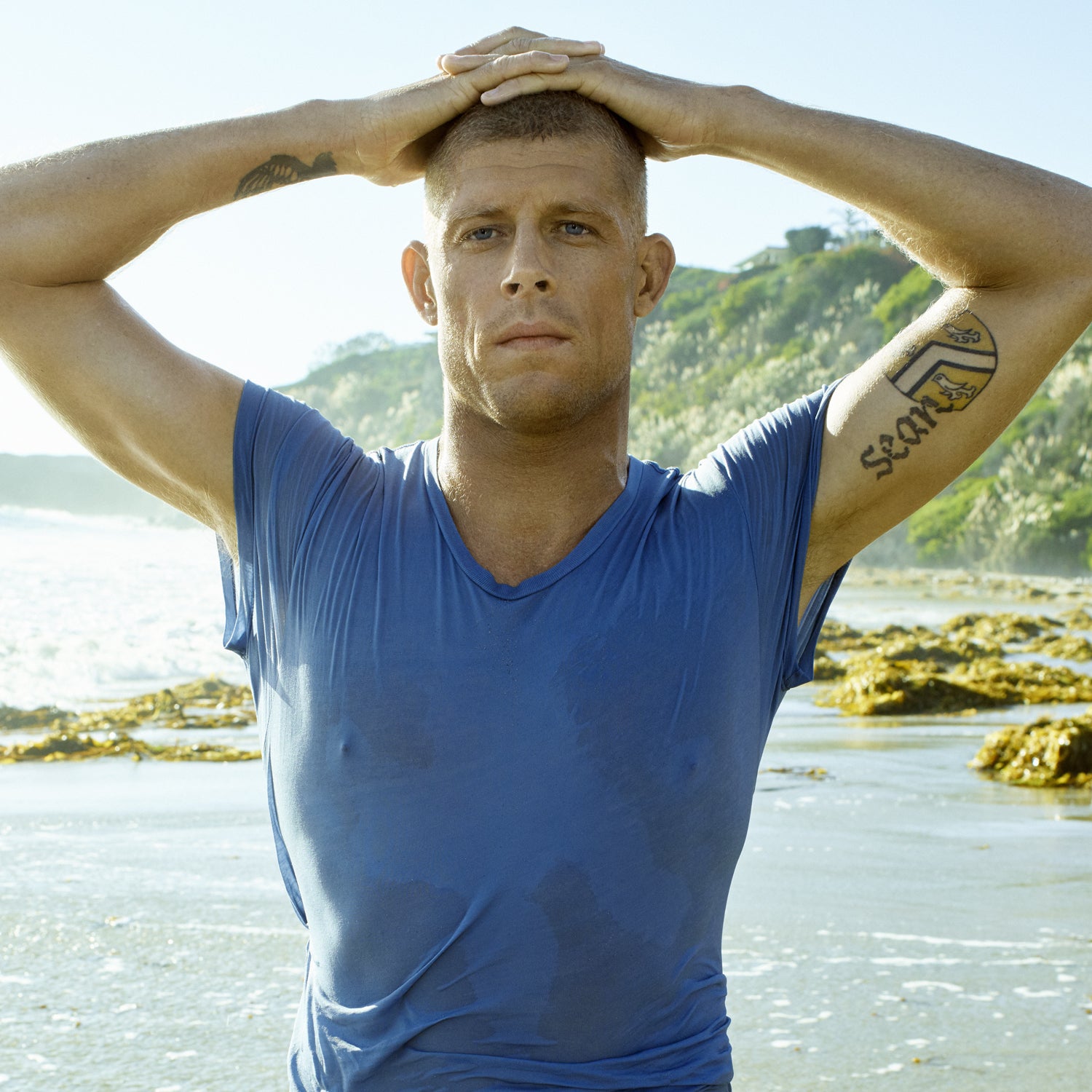 Heading out the door? Read this article on the new Outside+ app available now on iOS devices for members! Download the app.
There's no shortage of life advice these days. Some of it is even valuable. What's harder to find are honest lessons from people who've learned the hard way how to achieve success and happiness no matter what's thrown their way.
Take Mick Fanning, current number two on the World Surf League rankings. At 34, the Australian has already lived through more than most. In 1998, he lost his older brother, Sean, to a car accident. Six years later, he ripped his hamstring from the bone while surfing in Indonesia, nearly ending his career before it had really launched. And recently—you and the entire Internet have seen the footage—he fought off a great white shark at Jeffreys Bay, South Africa, on live TV.
Through it all, he only seems to get better. He turned a teenage reputation for hard partying into one for maniacal training. During the peak Kelly-Slater-comeback years, he won three world titles, completing dramatic late-season charges at Pipeline for two of them. And yes, he punched a shark. In short, he's a man worth listening to.
---
You can plan out so many different things in your life. When something like that shark happens, you wonder, Am I really into this map that I'm following? Or do I just want to wing it? I think it was a sign for me to wing it.
Afterward, we had a barbecue at the place I was staying in Jeffreys Bay. I had a lot of good friends around. It was sort of like a wake. But I was still there. There would be moments where everyone was laughing, then everyone would be crying.
I lost my brother at an early age, then had a pretty bad injury where I didn't know if I was gonna still have my career. I don't like sympathy. I always think, It happened, so get on with it and keep moving forward.
Yeah, I was a bit wild when I was young. I still enjoy having a good time, it's just more about picking when to do it and when not to do it. It all changed when I had my injury and had to sit for six months on the sideline. I watched some heats from previous events, and I realized that if I was a little bit more spot-on, then I could've put myself in a better position for a world title. That was the big turning point. Sort of like, OK, you're there to work, so just go to work. You can always play when you're not in work mode.
The 2 a.m. jitters. The little things that keep you up at night and don't let you sleep. These are why you go that extra yard to be a little bit better.
"I don't like sympathy. I always think, It happened, so get on with it and keep moving forward."
When I was going for my first title, former world champion Mark Richards was giving me advice. He's a hero of mine, and when I was stressing about the competition, he'd always tell me, "Concentrate on yourself. If you're doing the right job, then you don't have to worry about anyone else. Let them worry about you." 
You just gotta go with your gut.
When you're younger, you base everything around results. Titles aren't the biggest thing in the world anymore. Sometimes we think that our jobs are the most important part of our lives. To tell you the truth, jobs are just something that we do. The main thing is fun. The smartest people are the ones who give everything up and go hiking or take a long trip. They always seem to land on their feet.
I see a sports psychologist named Michael Gervais. His motto is "Everything you need is already in you." You don't have to be superhuman, just be open to searching for what you've already got.
We spend so much time working on ourselves. It's sort of stupid if you don't pass the knowledge on to someone.
My birthday this year was during the event in Fiji. The waves weren't that great, so we thought we'd have a sports day. We played bocce ball and darts and Ping-Pong. It was good to get rid of the whole competitive-surfing side and just have fun with a whole bunch of mates you don't go out to dinner with every day.
You need someone pushing you. Joel Parkinson and I have been sparring partners since we were 13. He'd always beat me, and it fired me up. I wouldn't be where I am without him.
Regrets? Not really. You make mistakes. Everyone makes mistakes. If you don't make the same mistake twice, then you're learning.
You can be serious, but is it fun learning? Is it fun getting better? Is it fun going through what you need to do to reach different goals in life?
If you're living and breathing, then you've still got a chance. If you've got a chance, you've got to back yourself.
Lead Photo: Peggy Sirota