Mental Health Care Is Becoming Accessible in Nepal
In Nepal, where mental-health issues are widespread following a long civil war and the 2015 earthquake, one organization offers counseling alongside primary care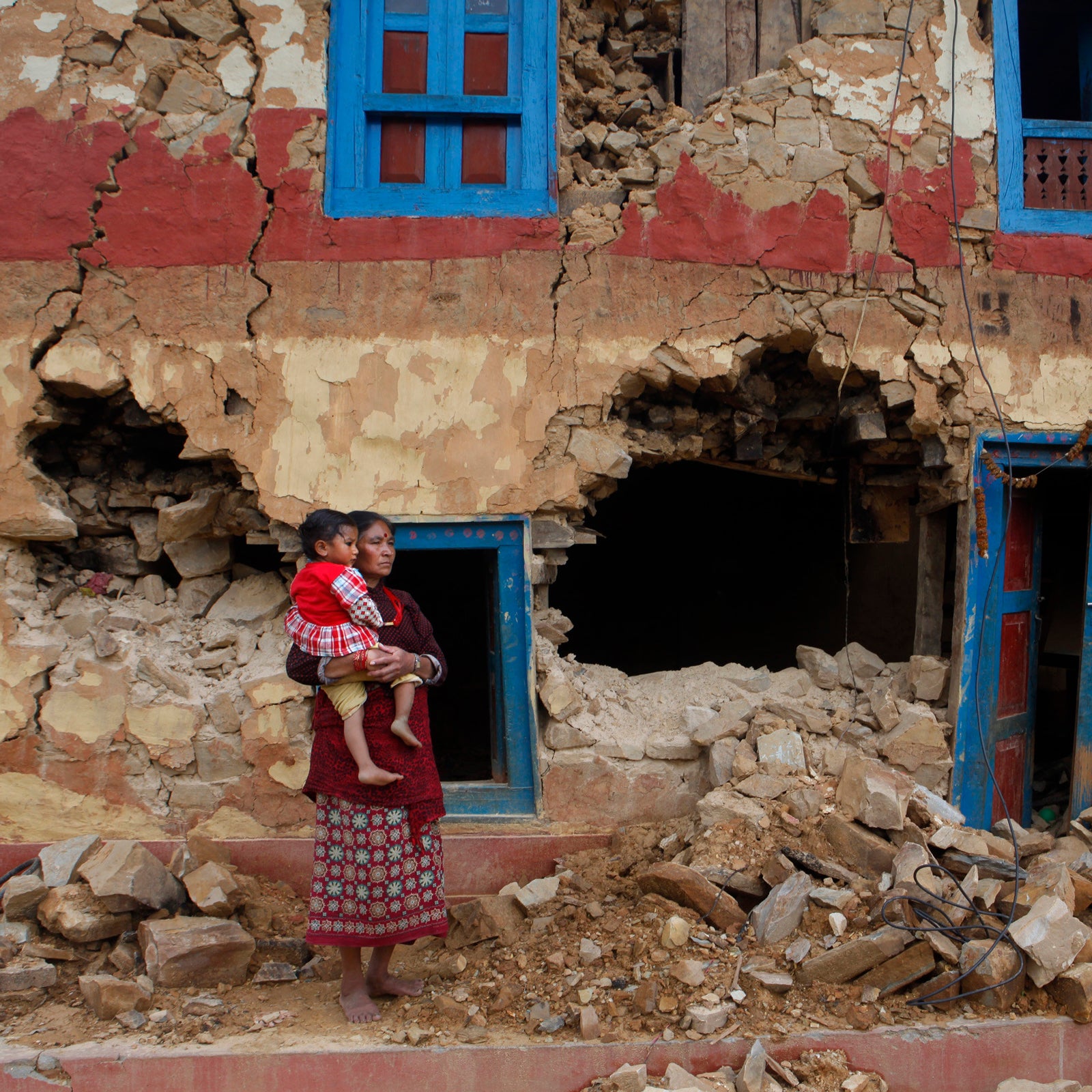 Niranjan Shrestha/AP(Photo)
Heading out the door? Read this article on the new Outside+ app available now on iOS devices for members! Download the app.
On the day Binsa tried to end her life, it took two hours for her cousin and sister-in-law to walk her to the emergency room in Dolakha, a remote, mountainous district of Nepal just east of Kathmandu. 
Binsa, whose name has been changed to protect her privacy, was 24 when her husband died in an accident. After her in-laws took away her young son to raise him in India, Binsa's life felt empty and meaningless. When she reached the hospital, she met with doctors hired by the New York– and Nepal-based nonprofit Possible Health, who referred her to its peer mental-health counselors, located just down the hall.
Every morning and afternoon, Sunita Jirel, a counselor who told Binsa's story through a translator, worked with Binsa on calming techniques including deep breathing, meditation, and progressive muscle relaxation. With the help of another counselor, they addressed the reasons Binsa went to the hospital—trauma, anxiety, and suicidal ideation, among others—and the ways she might begin improving her mental health. The counselors also recommended that doctors prescribe two medications for anxiety and depression. After three days, Jirel says, Binsa was well enough to return home. She came back in a week to follow up and has returned every month or so for therapy sessions for the past year and a half.
In Nepal, the poorest country in South Asia and home to only a handful of psychiatrists and psychologists, mental health care is vanishingly rare. The Nepalese government set aside roughly $500 million for all health care in 2019—compared to the U.S. government's $1.5 trillion health budget—with less than 1 percent dedicated to mental health.
Yet psychological conditions afflict Nepalis at higher rates compared with the rest of the world. Researchers analyzing several recent studies on mental health in Nepal for the scientific journal The Lancet found that more than one-third of Nepalis experience some issues with mental wellness, including anxiety (28 percent) and depression (30 percent). In comparison, about 7 percent of people worldwide have anxiety disorders, and an average 3.2 percent of men and 5.5 percent of women experience depression. Nepalis also have a "high burden" of PTSD—nearly one-third of the country suffers from the condition. In discussing these high rates, researchers pointed to a decade-long civil war that tore the country apart and a magnitude-7.8 earthquake that rattled it once more in 2015, as well as a lack of mental health care throughout the country.
The Nepalese government set aside roughly $500 million for all health care in 2019—compared to the U.S. government's $1.5 trillion health budget—with less than 1 percent dedicated to mental health.
But despite the high prevalence of mental-health issues, there is still a stigma against seeking the appropriate care in Nepal. "People with mental-health problems are generally poorly treated, pitied, and even despised in Nepal," says Kul Chandra Gautam, former assistant secretary-general of the United Nations and author of Lost in Transition: Rebuilding Nepal from the Maoist Mayhem and Mega Earthquake (he also formerly served on Possible's advisory committee). "They are often seen as a burden to families and are ostracized by their neighbors."
Possible Health, which now has more than 350 employees, launched in 2008 with a focus on chronic diseases, malnutrition, and maternal and child health in Achham, a region hit hard by the civil war. It later added mental health care, in 2016. Immediately after the 2015 earthquake, the nonprofit expanded primary-care offerings to another hospital, in Dolakha, where the majority of health-care facilities were damaged or destroyed by the quake. Although Possible always planned to add mental health care at the hospital, the earthquake made this need more urgent, and it started offering services in 2017, shortly before Binsa arrived.
According to Gautam, the nonprofit opened at a time when mental health in Nepal was still being neglected. "It is a completely unaddressed issue we have to conquer. We simply don't have enough mental-health specialists in the country—even in urban areas and major hospitals," he says. "Mental health has not been a government priority, given other pressing priorities."
While the World Health Organization and other nonprofits recommend integrating mental health care into primary care, that often means physicians simply prescribe medications for anxiety and depression. Possible's model is unique for the country because it offers psychosocial counseling under the same roof. And those counselors speak with psychiatrists every week about each case, to help them catch mistakes or something they might have missed. No other program in Nepal does that, says Bibhav Acharya, a psychiatrist and cofounder of Possible.
There are only 54 psychiatrists and psychologists in the entire country, says Acharya, and many doctors in Nepal receive no psychiatric education at all.
Acharya says that improved mental-health services have been a "silver lining" of the 2015 earthquake, with the event bringing international attention—and some funding—to the gaps in Nepal's health care. There are only 54 psychiatrists and psychologists in the entire country, which has more than 28 million people, he says, and many doctors in Nepal receive no psychiatric education at all. But experiencing the quake themselves helped improve the doctors' empathy. "They finally realized how scary it is to have anxiety, how scary it is to be traumatized, to witness death and loss," Acharya says. A crisis like the earthquake—or, before it, the Maoist civil war—can uncover previously hidden and untreated mental issues, he says.
Addressing mental health as part of overall health care makes it easier for patients to find relief and for Possible to skirt around the difficulties associated with discussing mental-health problems in the country. For example, counselors avoid talking outright about depression, which is still a taboo subject; instead, they focus on symptoms, like sleeping problems or headaches. From there the counselors can explore treatment options such as therapy and medications.
Typically, the two Possible counselors in Dolakha each see between seven to ten patients per day. Peer counselors undergo a six-month psychosocial training, and they keep in close contact with a regional psychiatrist, calling every week to discuss each patient's case. The psychiatrist visits every three months for training and observation, but both of Dolakha's counselors are from the region, which is helpful to understanding patients' backgrounds and building trust.
In the future, Possible will train more community health workers, especially those able to go to patients' homes and villages, to recognize and begin treating mental-health issues alongside physical issues. This year it began operating a third hospital, in Achham. "The overall goal is to develop a blueprint for what remote health care delivery looks like," Acharya says.
The counselors continue to work with Binsa, who has changed dramatically from the day she checked into the hospital. "She's totally improved," Sunita Jirel says. Binsa still has not been able to see her son, but recently she was able to speak with him on the phone. At her most recent appointment, she told the counselors that she now has a reason to keep living. "She thinks that, no matter what the shortcomings are in her life, she will fight through them," Jirel says. "She feels stronger."
Lead Photo: Niranjan Shrestha/AP