A New Nonprofit Is Betting on Psychedelic Therapy
Launched by Specialized CEO Mike Sinyard, Project New Day promotes the use of hallucinogens like mushrooms to treat addiction and PTSD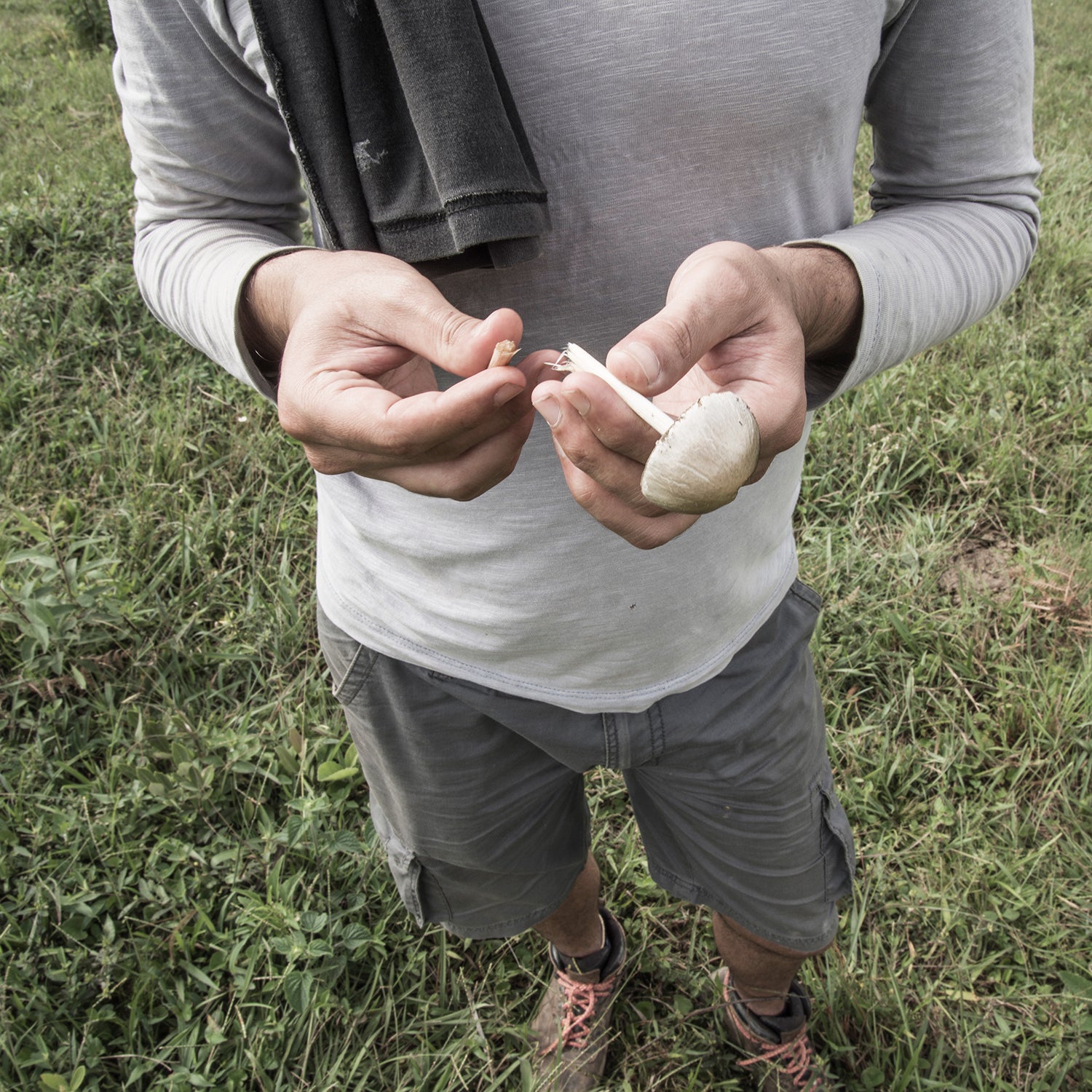 Renan Rosa/Cavan(Photo)
Heading out the door? Read this article on the new Outside+ app available now on iOS devices for members! Download the app.
When Dylan Jouras first agreed to undergo psychedelic therapy, he was apprehensive. But the 26-year-old veteran from San Jose, California, was also ready to try almost anything. It was April 2019, and Jouras was coping with PTSD from two combat tours of Afghanistan that ended in 2012. While deployed, he sustained traumatic brain injuries, shrapnel to the side of his face, and hearing loss. When he got home, constant migraines landed him a Percocet prescription, which later developed into an opioid addiction. Jouras was in and out of recovery and spent five years sleeping an average of three hours a night. Antidepressants numbed him into a shadow of himself. Then his best friend died by suicide, which triggered the worst of Jouras's memories from combat. "We didn't think Dylan was going to live through that week," says Arleen Pietrzak, his mother. That's when Specialized Bicycles founder Mike Sinyard reached out to the family, saying he knew of a cure for PTSD. 
For Sinyard, 70, promoting psychedelic-based treatments had become something of a passion project. Although he doesn't say whether he has taken magic mushrooms or ayahuasca personally, the bike-industry leader says he's seen great success with their psychoactive use as an emerging treatment for PTSD, addiction, and depression. Now he's launching a foundation called Project New Day, which is focused on expanding access to psychedelic-assisted therapies. 
Project New Day was actually founded in 2019, but its official announcement last Wednesday was timed to immediately follow a pivotal moment in the fight for legalization. On January 28, the city council of Santa Cruz, California, voted unanimously to decriminalize natural psychedelics, making arrests for use or possession of natural psychoactives like psilocybin mushrooms the lowest priority for law enforcement. The decision puts the city in the company of two others—Denver, Colorado, and Oakland, California—but Sinyard says he expects legalization to expand to the entire state of California and eventually Colorado and New York. Advocates from Project New Day were at the city-council meeting in Santa Cruz, ready to coordinate with local groups to provide education and resources on psychedelic treatments.
The power of psychedelics to combat substance abuse and PTSD isn't a new cause for Sinyard—it's one he's been researching for years as an offshoot of Outride, the foundation he created in 2015 to promote cycling as a nontraditional therapy for ADHD. Outride began with Sinyard's realization that a bike was an effective tool for combating both his and his son's ADHD symptoms. But he says pharmaceutical companies had no incentive to fund studies on cycling—it couldn't be bottled and sold the way Ritalin could. Outride, then called the Specialized Foundation, became an effort to fill in the gaps by partnering with neuroscientists on cycling-based ADHD studies and programs. This year 35,000 kids across the country will go through Outride's school program, which has since expanded to address obesity, depression, and addiction.
Similarly, Sinyard believes that psychedelic treatments can work in unexplored ways, without the side effects of pharmaceuticals. He told Outside that, after watching people in his life struggle with opioid addiction—and growing increasingly disillusioned with the abuses of Big Pharma companies—he turned to the research of Dr. Gabor Maté, a Canadian physician who has used the plant-based hallucinogen ibogaine to treat addiction. "I'd witnessed it firsthand with the people in my life," says Sinyard, speaking of the impact of addiction, "and thought, There has to be a better way to help people reset. That's why we called it Project New Day."
Sinyard started connecting people he knew who were struggling with substance use with researchers doing similar psychoactive interventions. One of those people was Jouras, whose stepdad was at the time interviewing for a position at Specialized. Jouras and Pietrzak were returning from a frustrating VA appointment with yet another prescription for antidepressants when they got Sinyard's call and decided to take him up on the offer.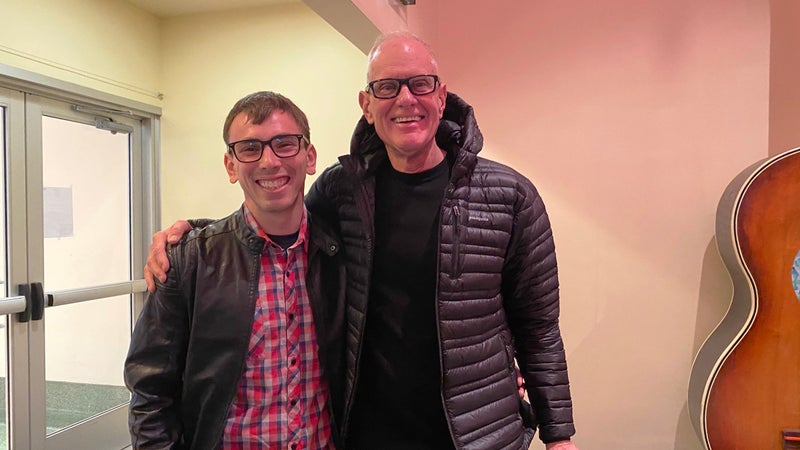 To understand how the therapy enabled the combat veteran confront his PTSD, it helps to know how psychoactives work and what usually happens in a session. "It's not like people who have these issues can take a bunch of mushrooms and go into the woods and be OK," says Sinyard. "It's a very precise way of being ready and working with a therapist who can help you." 
Dr. Alli Feduccia, Project New Day's leading research scientist and cofounder, has been studying therapeutic uses of MDMA, the active drug in ecstasy and Molly, since 2004. She says the drug releases a number of chemicals, particularly serotonin, which quiets the brain's fight-or-flight response to fear. This helps lower unconscious defenses around traumatic memories so they can be explored in further detail with a mental-health professional. "Some people describe it as 20 years of therapy in a short amount of time," Feduccia says. "The discussions are really long—like six to eight hours instead of a 90-minute session—so people can get into a lot of deep material in that amount of time."
The research outcomes are promising. Feduccia cites six phase-two clinical trials on PTSD that she helped conduct with the nonprofit Multidisciplinary Association for Psychedelic Studies (MAPS) from 2004 to 2017: of the 72 participants who received an active dose of MDMA during therapy, 54 percent no longer met PTSD criteria afterwards. The success rate was more than double that of the 31-person control group, which received similar talk therapy but either without the psychoactive, or with a very low dose. In 2017, the U.S. Food and Drug Administration (FDA) awarded MAPS' work its Breakthrough Therapy Award, for treating PTSD more effectively than the only currently available pharmaceutical treatment of antidepressants. Two other organizations studying psilocybins for treatment-resistant depression and major depression disorder both received the same award in 2018. 
Some of this research has raised concerns about the potential for negative side effects or abuse. In June 2019, the heads of the National Institutes of Health and the FDA responded to an inquiry from Hawaiian senator Brian Schatz as to their findings on psychedelics. Their letter states clearly that the organizations aren't recommending psychedelic drugs be moved from their classification as Schedule I drugs, or what the DEA classifies as "drugs with no currently accepted medical use and a high potential for abuse." For MDMA alone, the NIH and FDA heads point to inconclusive data and the potential for kidney and brain damage, among other health risks. But MAPS counters that the letter makes claims based on incomplete, uncontrolled research and animal experiments with too high dosages. 
Sinyard knows that some of his advocacy sounds unorthodox. He's heard it from the families of adult substance abusers for whom he's tried to propose psychedelics. But he sees a big distinction between taking prescription drugs on an ongoing basis and using a hallucinogen several times in a controlled setting. "The first response from the parent is, 'This sounds crazy—they already have a drug problem!'" he says. "But these aren't drugs in the same sense. With an opioid, you take it and you feel nothing—you feel on a cloud. But you take the psychedelic plant medicines, and you're living through the problem, so there's no escape."
For Jouras, breakthrough wasn't immediate. He started with a holotropic breathwork session, a type of rhythmic breathing designed to achieve a natural, almost hallucinogenic state, then moved on to MDMA-assisted therapy with a doctor. In his first MDMA session, he was able to explore and discuss the trauma surrounding his best friend's death. By his second session, he could dive into his experiences in Afghanistan and let go of his feelings of self-blame. Now clean, Jouras spoke out about his positive experiences at the Santa Cruz council meeting. 
"I think this could save thousands of lives if it became legal and mainstream—and even improve the quality of them, without the side effects of antidepressants and antipsychotics," Jouras told Outside. "You're walking around in this zombie shell of yourself when you're on antidepressants. Yeah, you're living, but you're not really living. With psychedelic therapies, especially mushrooms, it's resparking your curiosity and making it so you want to be back in nature and connect to people. Psychedelic-assisted therapy got me living again."
Project New Day expects decriminalization of hallucinogens to spread across the country, so it's creating tool kits to educate people on safety issues and preparing materials about how communities can establish peer-recovery and support groups. It's also working to raise awareness about the research and focusing on getting grants. Board members are particularly excited about the potential for helping veterans and other at-risk populations. 
Sinyard will continue to be a believer—and one willing to put his own funds behind promoting the relevant studies. "These are medicines," Sinyard says emphatically of psilocybin mushrooms and other hallucinogens. "I'm not advocating them for partying but for healing—I'm advocating for the healing potential of these plants given on this earth."
Lead Photo: Renan Rosa/Cavan
Trending on Outside Online