Should I Work Out When I'm Sick?
How to know when it's okay to keep pushing and when you're better off taking it easy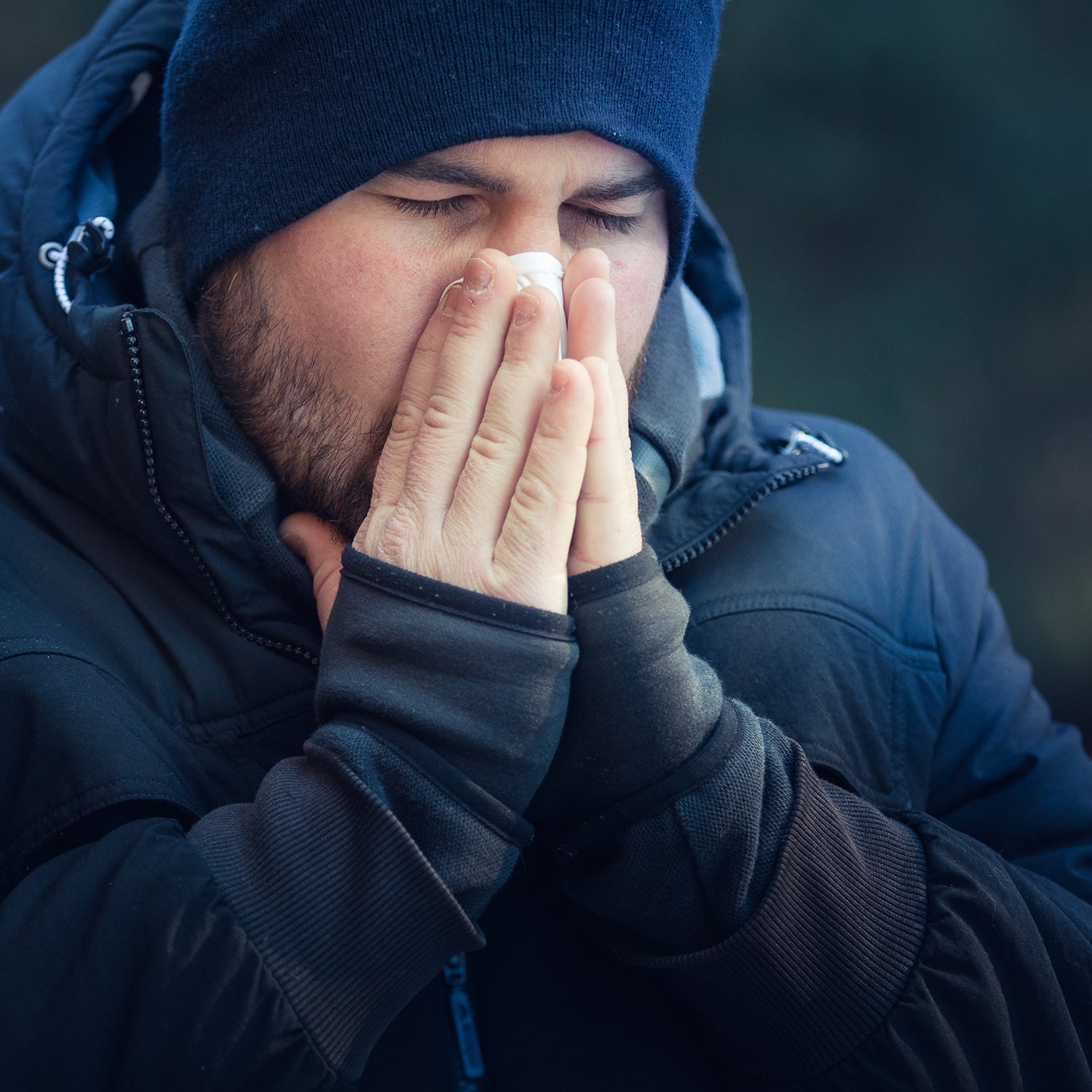 Heading out the door? Read this article on the new Outside+ app available now on iOS devices for members! Download the app.
Athletes train to push through signs of discomfort and fatigue. That kind of grit is what helps competitors set FKTs, send new routes, conquer longer distances, and pull off a photo finish. But it's also what makes it so hard to convince athletes that they may be better served taking a day or two of rest.
When you feel sickness coming on, exercise may be just what you need—a brisk run helps clear out the sinuses or kick a little energy back into your body—or it may lay you up for days. We consulted Kim Harmon, the head football physician at the University of Washington and a professor in orthopedics and family and sports medicine, on how to tell the difference.
First, follow the symptoms. "If they're below the neck, it may be a better idea to skip a workout. Whereas if you have a head cold or sinus issues, basically above the neck, then it's generally okay to work through those," Harmon says.
Then, look for fever. "If you have a fever over 101 degrees, it's not a good idea to continue to exercise. It's probably going to be detrimental rather than beneficial," Harmon explains. If you don't have a thermometer handy, some common signs of fever include chills, sweating, overall weakness, and headache.
Finally, determine if you have any muscle soreness. "That indicates that whatever virus you have is in the muscles, so using them isn't helpful—in fact, it can be dangerous," Harmon says. It's not uncommon for a virus like the flu or the common cold to take up residence in your body, causing inflammation and soreness in major muscles, including possibly the heart. Exercising through those symptoms puts those compromised areas at risk.
"A lot of times your body will tell you," Harmon says. "What I usually tell people is that if they work out and it just wipes them out, they're not ready to come back. They need to back off. I use a next-morning rule: If you don't feel great during your workout, that's probably alright. But if you feel worse than when you started the next morning, whatever you did was too much and you're not ready to go back."
And, of course, every case is different. While these are useful guidelines, athletes with preexisting medical conditions like asthma, diabetes, or the sickle cell gene should be particularly careful when exercising through an illness.
According to Harmon, athletes are a tough bunch to convince to take it easy. She often prescribes rest for high performers who wouldn't otherwise rest, relying on sound logic when someone needs a little extra convincing.
"Athletes by nature are trained to push through pain and discomfort. You have to reframe the issue, because athletes are really willing to feel uncomfortable in the name of reaching their goals," Harmon says. "Athletes just have to realize that, oftentimes, giving themselves a break is going to be better for them in the long run than trying to blow right through it."
Lead Photo: sestovic/iStock