These Office Spaces Will Actually Get You Fit
Creating a workplace that truly makes us happy and healthy takes a lot more than standing desks and on-site yoga. Thankfully, new research has sparked a growing design revolution.
Heading out the door? Read this article on the new Outside+ app available now on iOS devices for members! Download the app.
A bike commuter's dream office might look like this: you enter a parking garage from the street, ride down a ramp, and store your bike in a secure room.
Or, if your bike is clean (there's a fully equipped wash station), you ride straight into the elevator, then exit into the lobby and hop on an indoor bike lane that twists an eighth of a mile through the building, passing by repair stands, coffee counters, and a capacious locker room with abundant shower stalls and fresh towels. Arriving at your desk, you dismount and hang your bike on an adjacent hook.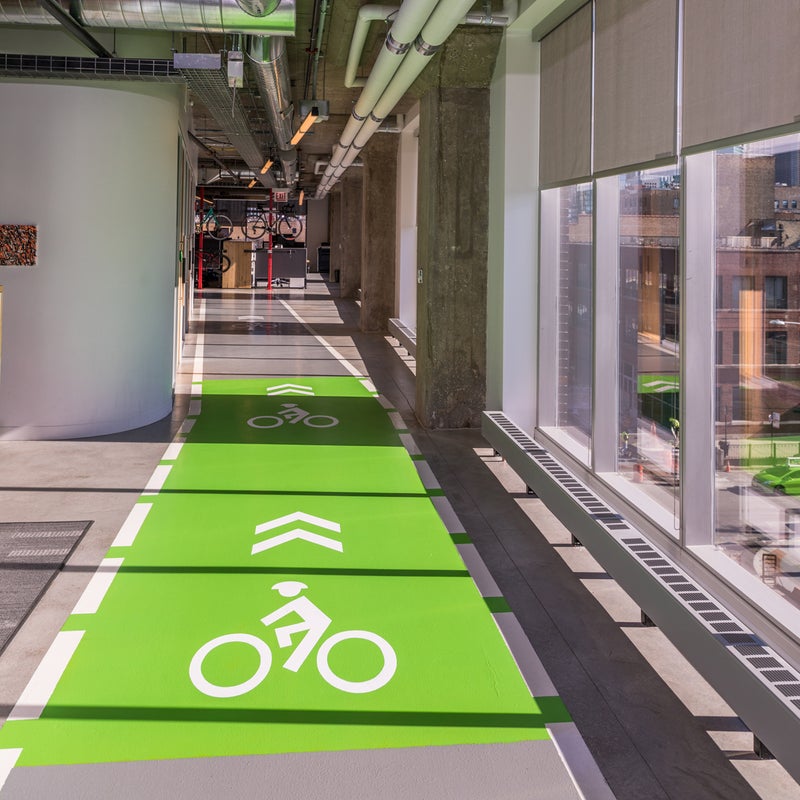 Welcome to the global headquarters of SRAM, the bicycle-component manufacturer. Here, in a former industrial neighborhood in Chicago's West Loop, some 150 of the company's more than 3,500 employees occupy one floor of 1K Fulton, once a huge cold-storage warehouse that kept much of the local meat-packers' wares on ice before it was converted in 2015. Joe Connell, who headed the SRAM headquarters design team for architectural firm Perkins and Will, tells me that when the building was slated for renovation, "it was the first time the chillers had been turned off in about 80 years. There were ice stalagmites and stalactites as big as us." The ice harkened back to a time when the neighborhood was, as Connell notes, "the mecca of American bicycle manufacturing," home to dozens of bike brands, including Schwinn.
Not surprisingly, the SRAM office practically pulses with bike culture. There are walls full of jerseys signed by pros like Alberto Contador, and the first thing you see when the elevator opens is a time-trial bike ridden by Bradley Wiggins. The door handles to the bathrooms are wrapped in handlebar tape. Stem caps are used as cabinet pulls. And that bike lane? It reinforces the cycling theme but is also functional. "We have a full engineering workshop here," explains David Zimberoff, SRAM's vice president of marketing. "We are literally designing and building and prototyping. When it's February and you don't want to go outside, it's easy to just hop on a bike and test a shifter."
It may also seem a no-brainer that many employees bike to work. "More than 60 percent of our employees ride in some fashion," Zimberoff estimated. Much of that is multi­modal (e.g., bike to train), while roughly a quarter of those are point to point. Zimberoff, who lives ten miles away, rides nearly every day. (Although not today, as post-work he's headed to a Foo Fighters show in Wisconsin.) 
Even for a bike company, bike commuting does not happen by default. There are significant hurdles: weather, storage, ­personal hygiene, rock concerts. As behavioral economics has shown, people will gravitate—or can be "nudged"—to choices that are fam­iliar, frictionless, and clearly defined. To make people healthier, the mantra goes, "make the healthy choice the easy choice."
"When I was being educated as an architect," says Joanna Frank, "how your building might impact health was not part of the equation."
You want people to use standing desks? A Dutch study found that more employees stood when the default desk setting was standing. Want people to eat less? Smaller plates might help. Want staff members to get a flu shot? Place the pop-up clinic where most of them will pass it.
To facilitate bike commuting, Zimberoff notes, "we identified the barriers and removed them." While Chicago's weather is beyond design fixes, everything else has been optimized to make cycling to work as smooth as a well-oiled drivetrain. There are zero car parking spaces in the underground garage allotted to SRAM—but two bike spaces for each employee. Where rush-hour lines would form for showers at the com­pany's previous space, which it occupied until mid-2015, there is now typically spare capacity. Every employee has a full-size locker with a small built-in alcove to keep floors clear of shoes. There's a washer and dryer. Connell says his team "upped the airflow" to avoid the funk of SRAM's last facility. For their efforts, Perkins and Will and SRAM were recognized with an Excellence Award by the Center for Active Design, which praised the "fun, active, high-performance environment" that "caters to the staff's already robust bike-commuting habits." 
As a walkthrough of the 70,000-square-foot space reveals, however, creating a healthy workplace is about more than the bike. Certain things are becoming almost pro forma in the contemporary officescape, like adjustable desks with a standing option and a room for nursing mothers. There's a rooftop garden, empty on this chilly late-autumn day. "Want some kale?" Zimberoff asks before pointing out nearby beehives. There's a low-cost gym in the building. There is a cafeteria that's big enough to accommodate every employee, which helps build community and promotes healthier food choices. "Our previous space could seat 20," Zimberoff notes. "You'd eat at your desk because you couldn't fit." Fresh fruit is free, but you pay for other snacks.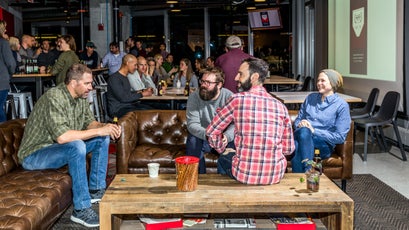 All of these things, and a host of additional, subtler touches, are not simply clever designs or nice amenities, but part of an emerging movement—backed by science and codified into measurable standards—to engineer a healthier, happier, and, by extension, more productive workplace.
When architects and developers consider the quality of a space, Connell says, this is taken to mean they are appraising what is known as "the artifact of the building." How many watts per square foot are you using? Are you saving water? Are you reducing glare? Building standards like LEED provide benchmarks for measuring the sustainability of materials and systems. (LEED awarded 1K Fulton a gold rating.) But, Connell says, "Having a good building doesn't mean you have great health outcomes." And so a new group of standards has emerged, measuring not simply how good a building is for the environment but how good it is for people. The two most respected certification systems, Fitwel and the Well Building Standard, are not so much concerned with Ping-Pong tables, beanbag chairs, and kegerators. Rather they lay out head-achingly specific guidelines on an array of wellness metrics—everything from reverberation time (how long it takes sound to decay from its original source), to the allowed "light reflectance values" of furniture, to what percentage of an "outdoor space amenity" must be covered in shade.
According to Connell, the healthy building equation has flipped. Instead of measuring the "artifact of the building, thinking that if you do that right, people will be well and happy," he said, the new thinking is, "if people are feeling well, the building is doing the right thing." 
---
Virtually from the moment that the ­office, as a concept, shimmied itself into existence, it has been plagued by the idea that it might be detrimental to one's health. In Cubed: A Secret History of the Workplace, Nikil Saval notes that 19th-century clerks, as a class, were viewed suspiciously as not being "real men who do real work." He quotes one Manhattan merchant who, in 1848, wrote that workers with "sedentary habits" should undergo training so that "the puny limbs of him who is not accustomed to exercise are soon changed into well developed and finely formed ones." The office and its attendant fears of physical degeneration may have even, suggests Saval, created what we now know as the gym.
But workplace health did not become a full-fledged concern until nearly a century later, says Ron Goetzel, a senior scientist with the Johns Hopkins Bloomberg School of Public Health who also works with IBM Watson Health. "Back in the 1960s and 1970s, companies had what were described as ­executive fitness programs, where they would pay for semiregular screenings of heart disease," he says. "They wanted to make sure their senior executives weren't having heart attacks all over the place." In 1979, Johnson and Johnson changed the game. It decided to create a pilot health program for its employees, Goetzel says. The company subsequently reported declines in absenteeism and health care costs. 
While wellness programs are subject to ongoing debate about how much of a return on investment they can produce, they are now more or less standard: a 2014 report by the Rand Corporation noted that four out of five companies with at least 1,000 employees have them. Workplace wellness is a $6 billion industry in the U.S. alone. "The question is: What do they mean by wellness?" Goetzel asks, noting that things like free flu vaccines and fitness centers offer only marginal impact. What tends not to work, he notes, are one-off The Biggest Loser weight-reduction campaigns or basic financial incentives to participate in programs. "Money gets your attention," he says, "but long-term there's not a lot of evidence that it's going to promote your health."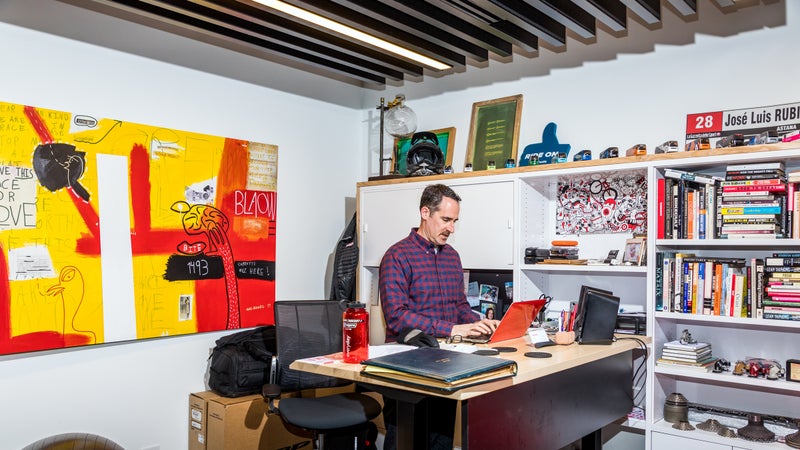 In the past decade, the concept of wellness has expanded beyond narrowly defined concepts of physical health and into "emotional, social, financial, and even spiritual health," Goetzel says. Still, physical health looms large, mostly because it is such low-hanging fruit: the average person spends more time on Facebook each day (40 minutes, according to ComScore) than engaged in exercise (according to the Bureau of Labor Statistics). 
But you don't need an indoor climbing wall or a yoga studio to make a workplace healthier. You could simply have stairs. "The reason stairs are so exciting is that they are such an efficient form of exercise," says ­Joanna Frank, executive director of the Center for Active Design (CFAD), which operates the Fitwel standard. Taking just six flights of stairs a day, she says, is enough to offset the average annual weight gain of an American. She tells me this in a conference room at a WeWork shared office space in a building on Wall Street, not far from where Herman Melville's Bartleby—the protot­ypical office slacker—and all his 19th-century contemporaries would have worked. In their day, taking the stairs would have been routine. But like so much else in our obesogenic modern lifestyle, stairs were eclipsed by motorized technology, shunted to the ­corners of buildings for emergency egress, dark and unloved.
Stairs rank prominently in the scorecard of Fitwel, which grew out of a five-year ­research collaboration between the Centers for Disease Control and Prevention (which was studying unhealthy buildings) and the U.S. government's General Services Administration (which owns a lot of unhealthy buildings). Fitwel translates years of public-health research, Frank says, into actionable design strategies for architects and developers. Projects are scored on numerous metrics. A building will get points for having a staircase connecting the entrance to every floor that is commonly used. It will get more points if that staircase is equally or more visible than elevators or escalators. It will get even more points if the stairwell has art, music, rubber tread, and other amenities, and even more points still if it is prominently situated or visible through glass. All this goes back to those nudges from behavioral science: people are more likely to take the stairs if they can see them, and if they seem safe and pleasant. "Think of an Apple store," Frank says. "You don't look for an elevator."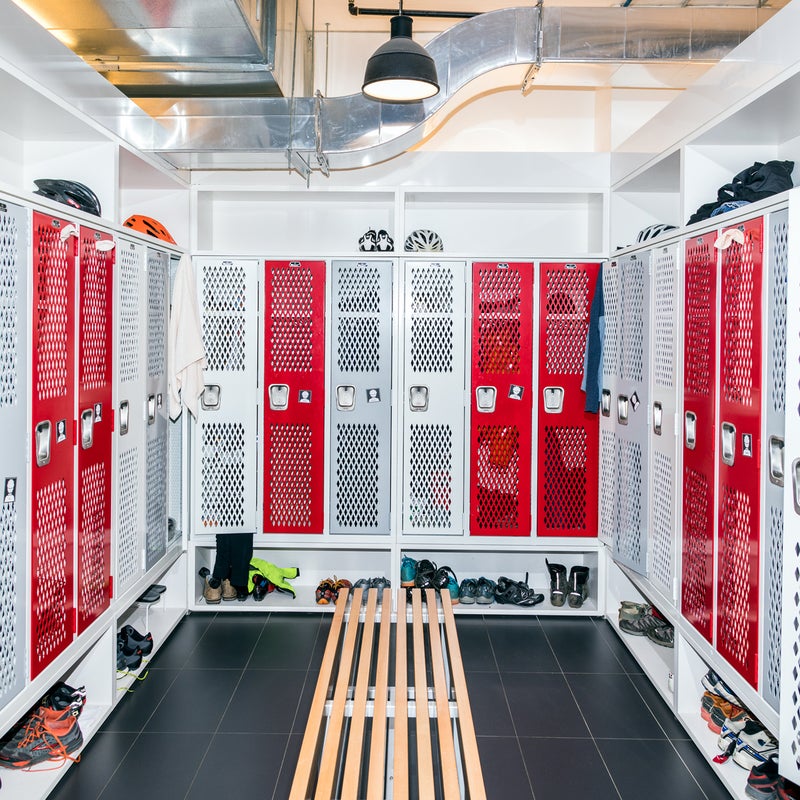 This is hardly rocket science, as Frank admits, but it is bringing together two disciplines—design and public health—that previously had little contact. "When I was being educated as an architect," she says, "how your building might impact health was not part of the equation." 
The promise of Fitwel is that, beyond wellness programs, it can turn the work environment itself into a kind of wellness program. CFAD, like many small businesses today, has its offices in a shared space, a WeWork in lower Manhattan. While WeWork does offer certain "community" events, it by no means offers the wellness perks of a large, progressive employer. Nonetheless its Wall Street location—a high Walk Score, proximity to subways and a pocket park, lovely views of the water—would boost its rating on Fitwel, as would the lactation room. (The barista in the lobby pulling complimentary shots wouldn't be counted but still seemed a nice perk.) "In surveys a majority of millennials say they'd trade other benefits for a better workplace," Frank says. "The market wants to be in a space that is overtly health-promoting."
---
Poring over the scorecards of what makes for a healthy workplace, I started thinking about my own. My Brooklyn office is also my home, so my commute involves moving from room to room. Yet my street address scores a nearly perfect 99 on Walk Score—and so 10,000 daily steps comes fairly naturally. The quiet classical music I play doesn't run afoul of Well Building Standard's threshold for "disruptive music limitation." I don't have a standing desk, but I get up once in a while—to strum a guitar, to fail at five-ball juggling. Mindful eating can be a challenge—as an at-home freelancer there are few barriers to my having a second or even third breakfast—but the on-site fitness facility (i.e., my road bike on an indoor trainer) is just upstairs. Having individual control over one's thermostat is a big plus for workplace well-being, yet here is one snag: my wife, who also works at home, prefers things on the warmer side. 
But perhaps the single most salient feature is precisely where I choose to work, where I am most productive, where I have written this and countless other articles: stationed at the kitchen table, directly ­facing a sliding glass door, with a view of the plants on our deck, a row of street trees, the occasional antics of birds and squirrels, and a narrow expanse of sky.
In the early 1980s, Roger Ulrich, a professor of architecture, was looking for real-world applications for an emerging experimental finding: exposure to nature makes people feel better. "Which groups of people experience a lot of emotional duress and might benefit from a view of nature?" ­Ulrich wondered, according to a 2010 interview he gave to Healthcare Design magazine. He quickly hit on the idea of postoperative hospital patients, an interest that was more than academic: as a teenager he was plagued by a kidney ailment. "There were long periods spent at home in bed feeling quite bad, looking out the window at a big pine tree," he said in the interview. "I think seeing that tree helped my emotional state."
Ulrich combed through the medical records of a decade's worth of patients recovering from gallbladder surgery in a suburban Pennsylvania hospital. There were two sets of patients in rooms that were essentially alike save for one feature: one group of rooms looked out onto a natural landscape, while the other group faced a brown brick wall. As he reported in a 1984 paper in the journal Science, the patients who could see trees "had shorter post-operative hospital stays, had fewer negative evaluative comments from nurses, took fewer moderate and strong analgesic doses, and had slightly lower scores for minor post-surgical complications."
Ulrich's findings were like a quiet revolution, helping launch what would become known as evidence-based design. It began in health care—precisely because medicine is based on evidence—but slowly spread into the wider field of architecture. After all, if nature could be therapeutic and stress-relieving for patients, why wouldn't it have the same effect on employees? 
Taking just six flights of stairs a day, says Frank, is enough to offset the average annual weight gain of an American.
Bill Browning, a founding partner at Terrapin Bright Green, one of the country's leading consultants of biophilic design—using actual or representative elements of nature in the built environment suggests it does. He points to an emerging array of evidence. In one trial, a California electrical utility found that the productivity—and revenue per desk—of call-center workers went up simply by slightly rotating their desks so they had a better view out the window. (Having the view, he explained, "quiets the prefrontal cortex," making us more attentive. It also relieves the eye strain of staring at computer monitors.)
In urban environments, where the scenery is often lacking in living things, design can tap into the patterns of what we find pleasing in nature. At SRAM's office, for example, where the horizon is dominated by the shape of the new McDonald's corporate headquarters rising in the distance, Connell had stressed to me the importance of openness and views, that little is more inherently natural than seeing light shift over the course of a day. As far as I could tell, every employee could see outside from their desk. In addition to its roof garden, the company built an outdoor balcony off the cafeteria. Standing desks are topped with repurposed wood. (Browning hints that we are bewitched by the fractal patterns of wood grain.) Then there's the frequent lunchtime bike ride, which gravitates to the path along Lake Michigan, the one place in Chicago with wide vistas and little to no trace of humans.  
Last year, Terrapin was called in to add biophilic elements to a new Clif Bar commercial bakery in the town of Twin Falls, Idaho. Browning says it's the first time biophilic elements have been applied from the start in a food-manufacturing facility. Yet what works in an office doesn't necessarily work in a sterile food-production facility. That means "no natural materials, no plants, you can't even put artwork up on the walls—­microbes might collect," says Browning. "You end up with a white space with big metal walls." Terrapin was able to work out a plan that included windows. "That doesn't sound radical," Browning says, "but you might get condensation on them, which could lead to microbial growth." For employees on the night shift, Terrapin installed large video monitors that show customer-submitted photographs of people in the wild enjoying Clif products. Nature photos are not as effective as actual views, "but they still have a significant impact," he said.
How much? The greatest challenge for evidence-based design is the evidence. ­Getting randomized, longitudinal studies of real workers in the real world is tricky. Thus the office of the future, it turns out, may take shape in a laboratory—albeit one that looks much like any other office—in downtown Rochester, Minnesota. In 2015, working with Delos, the company behind the Well Building Standard, the Mayo Clinic opened the Well Living Lab, which features, according to a press release,"5,500 square feet of sensor-rich, reconfigurable lab space where researchers can conduct studies with human subjects in simulated, real-world, built environments." 
As Brent Bauer, the lab's medical director, told me, "We spend approximately 90 percent of our day indoors." And so Mayo scientists hope to understand how those indoor environments affect our health—everything from lighting to dispersed scents (one of the lab's partners is International Flavors and Fragrances) to the benefits of biophilic design. Its first subjects were Mayo employees, transplanted with their belongings for about six months to the new space. Despite the fact that the building was brimming with sensors that enabled researchers to tell "when a door has been opened or closed, who's sitting in what chair," Bauer says that within a few days it simply became their workspace. 
More studies are underway in the Mayo lab, with findings likely to be published in a few years. Meanwhile, as members of its own staff occupied the space, the researchers tinkered with variables like the temperature, the glare from outside sunlight, even the volume of simulated phone conversations. The people inside the lab—in the name of science, maybe even in the name of altruism for future generations of employees—did what we all do at the office: they tried to find some measure of comfort, and got down to business. 
Contributing editor Tom Vanderbilt (@tomvanderbilt) wrote about Airbnb in July 2017