Sunscreen On a Plate
Some good foods contains natural SPF—and you should be eating more of them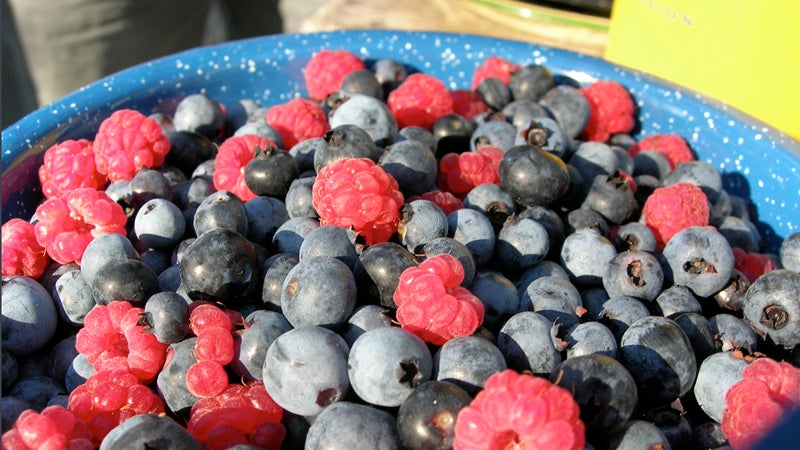 Heading out the door? Read this article on the new Outside+ app available now on iOS devices for members! Download the app.
Summer may seem like the best season for your skin. But under that well-tanned surface, the sun is actually wreaking havoc on your cells.
"When you leave lettuce in the sun too long, it wilts and turns brown because the light is causing oxidative damage. This is similar to your skin exposed to sunlight," says Elizabeth Johnson, Ph.D., who researches antioxidants at Tufts University. On your skin, the damage manifests in the short term as a red-hot sunburn, but long-term, it can cause cancer.
And while sunscreen helps prevent the light from penetrating, what comes to the rescue once free radicals have taken over? The hero has to come from your plate in the form of antioxidants—like vitamin C, E and beta-carotene—which block free radicals from causing more damage. "Antioxidants float through your blood and amass in tissues, including the skin," she says. This means when the sun damages your cells, antioxidants are already on the front line to battle damage.
Plus phytochemicals—a nutrient group that includes antioxidants—may ramp up your body's natural protection systems against cancer-causing damage, adds Karen Collins, registered dietitian, Nutrition Advisor to the American Institute for Cancer Research. In fact, a 2010 study from Tel Aviv University found that participants who follow diet rich in antioxidants and omega-3 fatty acids, like that in the Mediterranean region where melanoma rates are extremely low, have lower incidences of skin cancer.
One of the best foods for protection? Tomatoes. A new British study found that people who ate ¼ cup of tomato paste—which offers high levels of the nutrient lycopene—for two weeks saw less oxidative damage. And a 2012 UK study found women who eat a tomato-heavy diet have 33 percent more protection against UV exposure than those who skip the fruit.
But since nutrients all have different functions and interactions, it's important to eat all colors of the rainbow. "Many phytochemicals manifest as pigments, so eating fruits and vegetables of all colors guarantees that you're diversifying your nutrient intake and better fortifying your skin," says Johnson.
The best skin protectors include dark leafy greens, beta-carotene-rich carrots and cantaloupe, and polyphenol-packed berries and citrus fruit. And skip supplements in favor of whole foods. Most phytochemicals are bioactive, meaning they're most effective coming from whole foods, and the high doses of most supplements can be harmful to your health.
Protection doesn't occur overnight, Collins adds. In fact, most studies supporting nutrition's benefit on sunburns or cancer prevention don't see results until participants have been eating the food for at least 8 weeks, she adds.
Most importantly, there is no better protection against developing skin cancer than limiting your exposure to UV light, Collins adds. And, while a nutrient-rich diet can help fortify your cells, slathering on sunscreen as well will give your skin the best chances to stay healthy.