I Lived the #Vanlife—and Still Worked My Nine-to-Five
Instagram makes it look so easy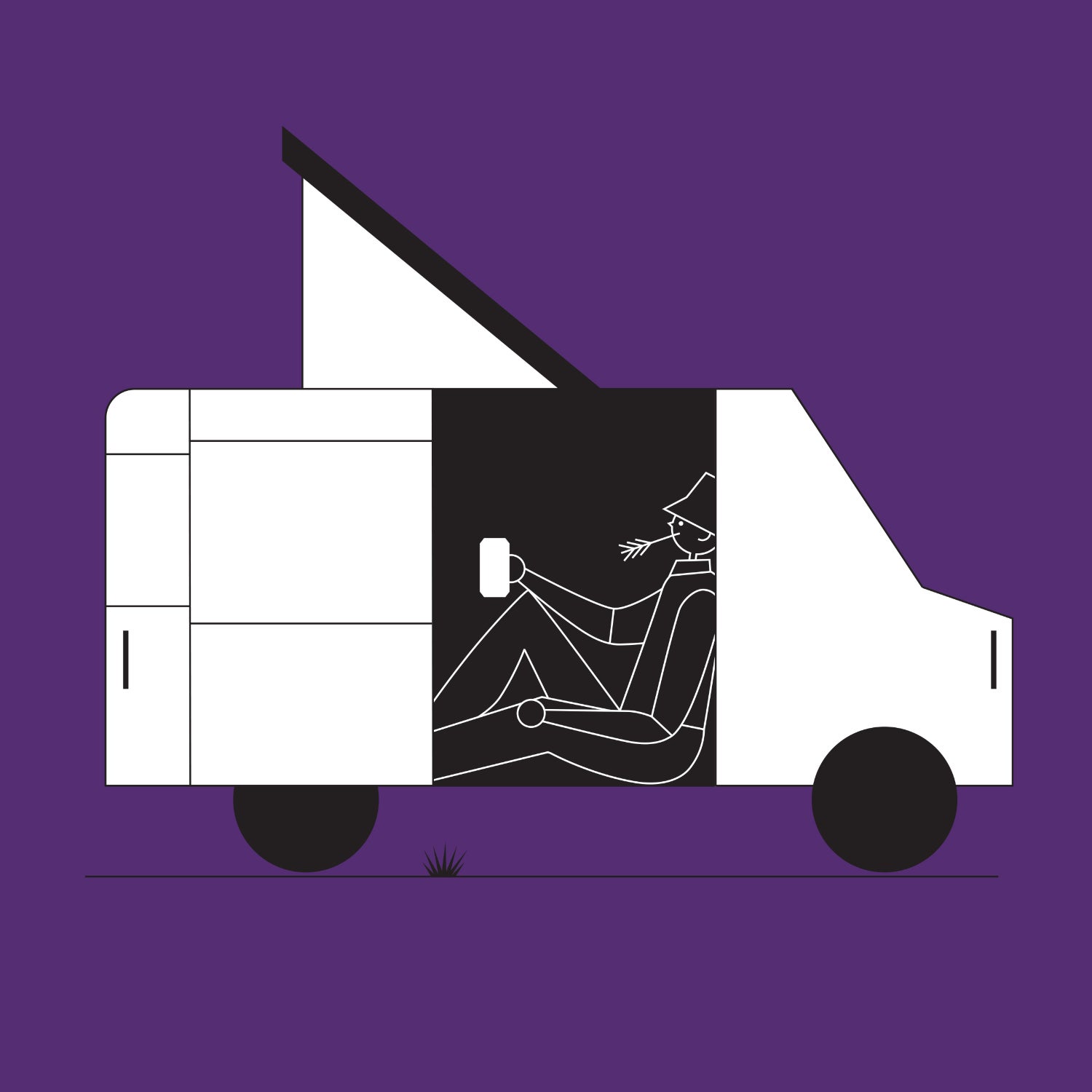 Heading out the door? Read this article on the new Outside+ app available now on iOS devices for members! Download the app.
I caught the #vanlife bug last winter. In the midst of the pandemic, cooped up in my combination home-office with two roommates, I figured that the freedom, solitude, and self-reliance of a never-ending road trip would be the ultimate panacea. But there was a catch: all the vanlifers I followed on Instagram seemed to be either trust funders or freelancers, unencumbered by a demanding work schedule. I, on the other hand, didn't want to give up my full-time gig as a podcast producer.
So the following October, I decided to embark on a ten-day trip designed specifically to determine whether I could live in a van and maintain a nine-to-five job. I packed a duffel full of clothes, a small library's worth of books, and an array of podcasting equipment. Then I picked up my rental abode—a fully equipped Mercedes Sprinter from VanCraft in Denver—and was off.
The first few days were a dream. I drank coffee in front of a different view every morning, worked at a handful of charming libraries, and took wandering walks on my breaks. It soon became apparent, though, that it's hard to maintain a regular work schedule while staving off loneliness and backaches cooped up in a 50-square-foot space. There was no boundary between work and leisure: at different times, my bed, kitchen counter, and passenger seat all served as my desk. Still, I mostly enjoyed the challenge. One night outside Leadville, Colorado, the sun went down on a campsite that was far from inspiring in daylight. Now I found that I had a front-row seat to an amphitheater full of stars. Nearby, two people were sitting around a fire, strumming a guitar and singing folk songs. Soaking up the outdoors on a weeknight tipped the scales of work-life balance in a positive direction.
Then, at midnight on the second to last night of my beta test, the rear window of my temporary home suddenly shattered from high winds, and with it any semblance of the peace I'd attained over the previous nine days. I raided a dumpster for cardboard to patch it up before catching a few hours of sleep, then drove back to Denver to return the van a day early. When I handed over the keys, I was grumpy and exhausted, and I hadn't showered in days.
Living in a van brought higher highs and lower lows than working from home. In that tiny space, minor inconveniences quickly became catastrophic. Yet the freedom and novelty of being constantly on the move made me feel like a well-rounded person every day of the week, instead of just a weekend warrior trying to cram all my adventures into two too-short days. I'm still not sure I'll make the leap to vanlife anytime soon. But for now, during idle moments at my desk, I find myself scrolling through Craigslist for vans, dreaming once again of life on the road.
---
Roaming Essentials
Three products that made my traveling office functional
Signal Booster
At campsites with cell service, I used my SureCall Fusion2Go Max ($500) to boost my bars and turn my phone into a hotspot, often resulting in faster Wi-Fi than at libraries and coffee shops.
Standing Desk
Working from bed or while hunched over a laptop is terrible for your back. Stand Steady's X-Elite Essential Standing Desk Converter ($200) turned my kitchen counter into an adjustable platform—a lifesaver.
E-Reader
Though I packed plenty of paper books, it was my Kindle Paperwhite ($140) that I used most on the road. A must for bookish vanlifers short on space.