Sponsor Content: Ricola
Wellness for You and the Planet
If the wellness industry doesn't prioritize the health of the environment, is it really looking out for yours?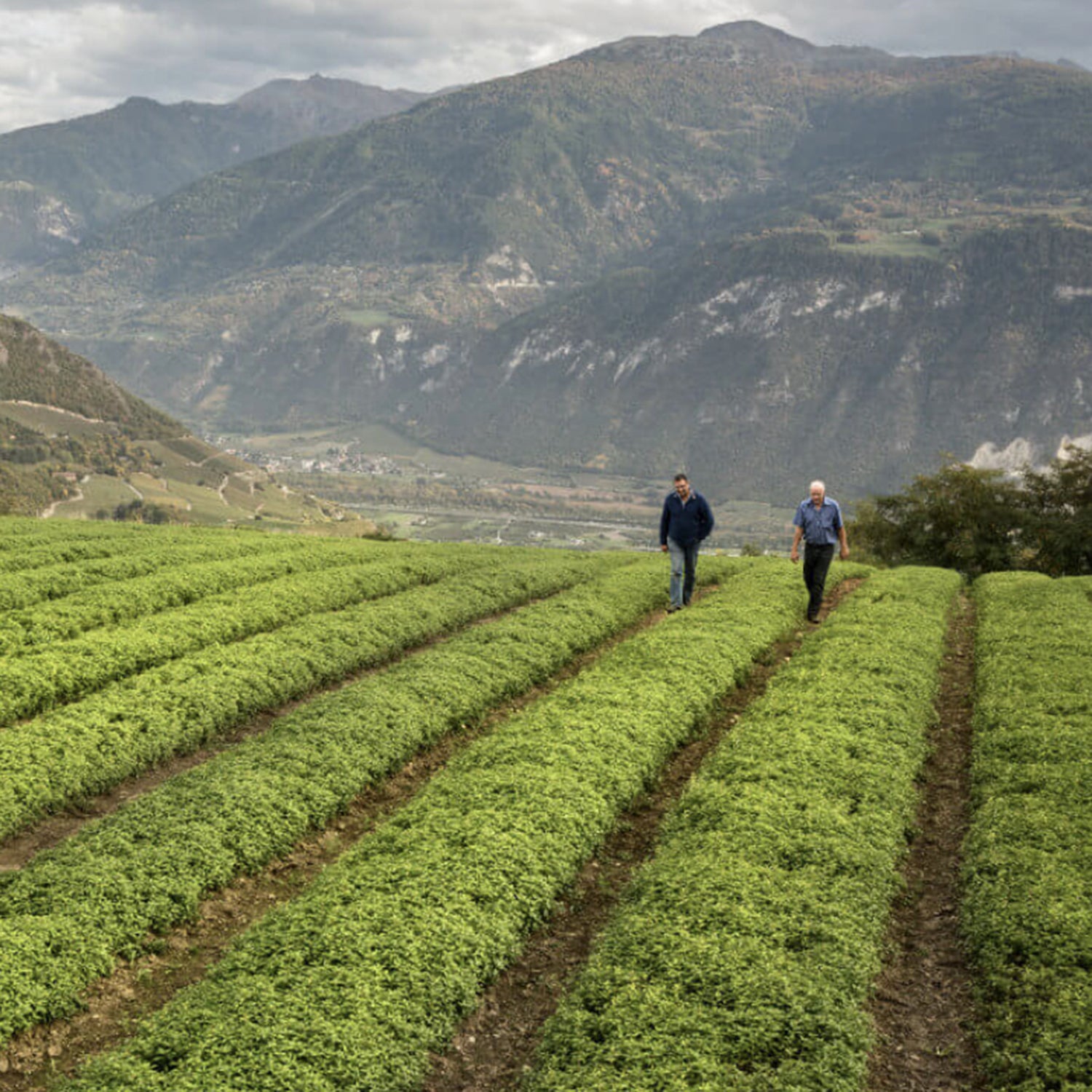 Ricola
It's no secret that our health matters in every aspect of our lives. As more people tune in to what their bodies need, the wellness and self-care industry continues to boom. According to estimates by McKinsey & Company, the wellness industry has an estimated global value of $1.5 trillion, with 5 to 10 percent growth annually. Growth in an industry that's all about healthier living is great. But economic growth in any industry usually comes with environmental costs, which should give you pause. If an uptick in sales for wellness products harms the environment, how much wellness is truly provided? Fortunately, some companies, like the nearly 100-year-old Swiss wellness brand Ricola, are setting a new standard. 
Discover healthy living as seen in the Swiss Alps.
Healthy Planet, Healthy Humans
The Ricola philosophy: you can't truly have a wellness industry unless it's rooted in environmental sustainability. For the company, this tenet is part of its DNA. After all, its everyday care products all rely on a traditional family recipe made with ten locally harvested Swiss mountain herbs. Without the clean air and pure water of Switzerland's high-elevation landscape, those herbs just wouldn't have the same potency.
Sustainability is at the core of everything Ricola does. Without a healthy environment, Ricola can't deliver the wellness benefits at its standards.
Ricola centers its business practices on the idea that a healthy planet is crucial for healthy living, and the products are better for it. That sounds good, but the world is full of companies touting sustainability. How do you tell the good from the greenwashing? Look carefully and see how these goals are put into practice on the ground. 
From Seed to Shelf
For Ricola, it all starts before the seeds are even planted. Most modern agricultural operations select grow sites for the convenience of the location. Then they dump synthetic fertilizers into the ground and pump in water until the soil at the site can support the desired crop. Ricola rejected that approach. Instead, the company chose to put the herbs in charge: Ricola's five growing regions were carefully chosen to match each herb's preferred natural conditions. Valais's dry climate is perfect for sage and thyme, for example, while the rainy foothills of the Jura Mountains are ideal for peppermint. 
The growing system works in harmony with nature, rather than against it, reducing unnecessary water consumption and chemical waste. Plus, all the sites are located in the Swiss countryside, far from cities, traffic, and sources of pollution. 
Next come herb care and harvest. More than 70 percent of Ricola's seedlings are planted by hand—a method that has a very low carbon footprint compared to common machine-assisted planting. The herbs are then tended by farmers who specialize in caring for the tiny, delicate plants without harsh chemicals. And rather than utilizing fertilizers, farmers help the soil replenish itself naturally by rotating crops.
The result is healthy, fresh plants that go on to be used in the proprietary ten-herb blend that is a base for Ricola's products.
Small and Sustainable
Many of Ricola's partner farms are family operations that pride themselves on being small and sustainable. Take the Morard Farm in Valais, for example. Owner Frederic Morard now runs his father's mint fields—the same ones he worked as a boy. And in Emmental, where the peppermint and lemon balm that eventually go into Ricola's soothing throat drops are grown, the Schutz family weeds and plants together and even enlists the help of neighbors when it comes time to harvest.
When the herbs are harvested, they're transported to nearby Laufen to dry. The shortness of the journey both reduces carbon emissions and ensures the herbs stay fresh. The drying facility runs on 100 percent renewable energy. Later, all Ricola products are packaged in boxes that are 95 percent FSC-certified (FSC stands for Forest Stewardship Council, a certifying body that verifies the sustainability of paper products).
The Bottom Line(s)
Ricola also ensures that its farms meet high growing standards and follows fair-labor best practices, such as using fair-trade honey in its Honey Herb and Cherry Honey Throat Drops and investing in bee health and research through the company's environmental and cultural nonprofit, the Ricola Foundation.
Every choice points to the emerging idea of a triple bottom line, or the three Ps (people, profits, and planet), a business concept that has been  gaining traction among companies in the outdoor and wellness fields. This philosophy—one Ricola firmly believes in—comes from a growing body of research about the importance of environmental justice. Without supporting people and employees, you can't truly support the environment. 
Ricola is such a big part of so many people's everyday wellness routines. This is especially true in the dry climate of mountain towns and places where wildfire smoke has become a fact of life. For Ricola, the best way to support its customers' health is not just to provide the products they need, but also to support the environment they rely on to get outside and improve their health and well-being in the first place.
The takeaway? Next time you're shopping for self-care products, whether it's a bath bomb or soothing throat drops, don't just look for something that will make you feel better in the moment. Look for brands that have your best interests in mind in the long term. That's the only way to truly give yourself the gift of wellness—both today and for years to come. 
---
A family company since 1930, Ricola is one of the world's most innovative confectionery producers. Ricola exports over 60 different specialist herb products to more than 45 countries in Europe, Asia, and America. All of the products are produced in Switzerland. Ricola uses the best Swiss herbs to contribute to the well-being of consumers across the world.
Lead Photo: Ricola
Trending on Outside Online