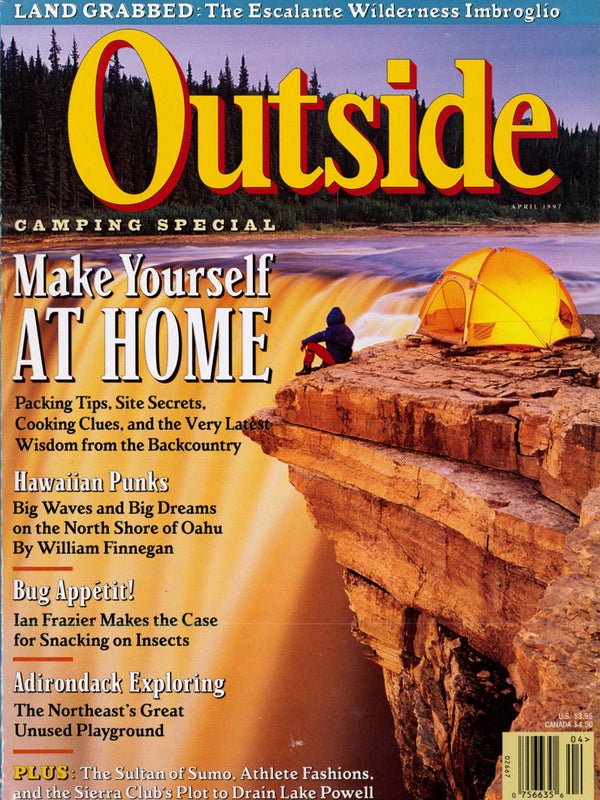 Outside Magazine, Apr 1997
---
Features


Oh, Wilderness
To many, President Clinton's recent creation of Grand Staircase-Escalante National Monument meant a glorious victory, safeguarding 1.7 million acres of canyons, arches, and Anasazi ruins, a stunning vestige of the unspoiled West. To the locals, however, it was nothing less than a declaration of war.
By Frederick Turner

Life Among the Swells
Every year on the North Shore of Oahu, the world's best surfers show up at the Pipeline Masters, trying to keep–or carve out–their place in the big-wave pantheon.
By William Finnegan

It's Hard to Eat Just One
A surprisingly digestible explanation, as provided by an entomological epicure, a muncher of mayflies, a gourmand of grasshoppers. You know, a guy who eats bugs.
By Ian Frazier

Another Herbal Wrap, O Immortal One?
American-born sumo champion Chadwick Rowan speaks out about life as an idol in a sport that's part religion, part war, and part art–all within a ten-second flurry of belly v. belly.
By Brad Wetzler

Camping Special: Happy Camping
Since we hold the why to be self-evident, a guide to the who, what, where, and when of living the backcountry good life.

Continued Cool, with Occasional Tsunamis
Not to be alarmist, but when the daily news begins to read like the Old Testament–Epic floods! Drought-induced wildfires! Frozen sheep!–it's enough to make you wonder: What's the deal with the weather these days?
By Debra Shore

That's a Lovely Fish. Is There a Scarf to Match?
This season's ready-to-wear offerings for sport, planet-saving, and just plain hanging out, brought to you from ground zero for all of the above, the southern California coast.
Photographs by Norman Jean Roy

Departments
Dispatches
A proposed new road to Prince William Sound promises to bring a stampede of visitors–and a nasty fight that could shape the future of tourism in Alaska. Japanese hipsters pay top dollar for sweaty old sneakers. The Sierra Club takes on a quixotic cause, but is it really serious? Extreme-skiing whiz Chris Davenport rises to the top with, of all things, flawless technique. An inquiring journalist wants to know: Why does our president hate camping?
Plus: Five-time Tour de France winner Miguel Indurain calls it quits, a trio of starving refugees hits the African bush version of the lottery, an "American" squad places second in the Raid Gauloises, eco-glitterati Woody Harrelson and Brigitte Bardot are found not guilty–but shouldn't start celebrating yet, and more.

Destinations
The Big Apple's backyard wilderness: With mountains that rise as precipitously as the Rockies and refreshingly little development, it's hard to believe the Adirondack High Peaks are just five hours from Manhattan. A guide to hiking, biking, and climbing New York's decidedly nonurban jungle. Indoor climbing, in-line skating, and beach volleyball venues for San Francisco's wet-and-chilly spring. A guide to flying around the world on the cheap.
Plus: Hut-to-hut touring in the South Pacific, early-season mountain-biking and rafting at North Carolina's Nantahala Outdoor Center, rubbing elbows with directors and biologists at the International Wildlife Film Festival, and more.

Field Notes
The name Okinawa had been part of his life longer than his own given name. Now a hero's son embarks on a pilgrimage to the Pacific, trying to find some connection to a father he never knew.
By Craig Vetter

Out There
Our man was determined to dive the depths of the infamous Bad Blue Hole. And a few insignificant words–like unwise, dangerous, and horse-eating monster –weren't about to stop him.
By Randy Wayne White

Bodywork
Dealing with the burn: training tricks to help you break through high-performance's most formidable wall. An interval-training regimen that trades a little pain now for a lot less later. Three effective ways to gauge your all-important anaerobic threshold. Kayaking world champion Scott Shipley's five-week program to get your shoulders in shape. But Fido likes it! The latest in processed energy foods: PowerBones.

Review
The tent you really need: Unless you're planning to bag Denali, there's little excuse for lugging anything more than one of the many fine super-light, two-person models on the market today. Eight of the best five-pounds-or-less shelters from Bibler, Kelty, Marmot, Mountain Hardwear, The North Face, Walrus, Garuda, and Sierra Designs. Tips for taking care of your new nylon home away from home. Six pocket-size binoculars powerful enough to let you spot treasures, or trouble, ahead. A lightweight camp stove with–rejoice!–two burners.
Plus: The fat-tire in-line skate to take off-road; a kayak paddle that incorporates the best of both wood and synthetics; No Mercy: A Journey to the Heart of the Congo, by Redmond O'Hanlon; The Island of the Colorblind, by Oliver Sacks; and more.