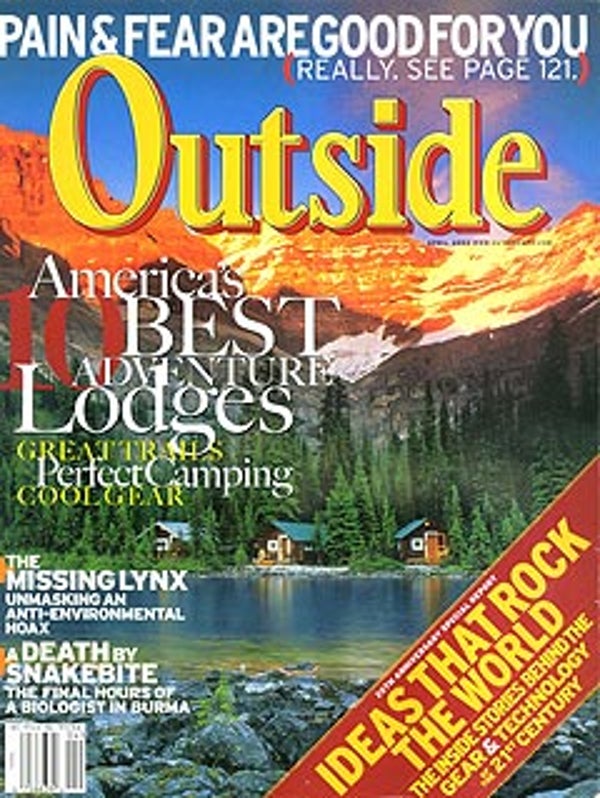 Outside Magazine, Apr 2002
---
F E A T U R E S
25th ANNIVERSARY SPECIAL REPORT
THE BIG IDEA
Meet the visionaries, gear gurus, scientists, risk-taking adventure entrepreneurs, and blessed masters of bigthink and hype who created the new world of adventure—and are taking it places we never knew it could go.
THE OUTSIDE INNOVATORS
Jake Burton, Bob Gore, Yvon Chouinard, Phil Knight, Jim Jannard, and a horde of creative disrupters. ALSO: the explosive evolution of skiing, backpacks, mountain bikes, adventure filmmaking, and whitewater boats.
BULL MARKET
How the Austrian energy-drink company Red Bull leveraged extreme sports to build a billion-dollar brand. By Rob Walker
RISK MANAGEMENT
Adventure athlete Will Gadd wants to profit from doing all the things you do for fun. Is that so wrong? By Brad Wetzler
ACTUALLY IT IS ROCKET SCIENCE
Inside MIT's Center for Sports Innovation, where young brainiacs are reshaping the future of gear. By Brad Wieners
PLUS Eight new faces revolutionizing adventure sports; a history of modern gear, from 1875-2002, and more.
BIT
When death came for herpetologist Joe Slowinski, he was in Myanmar, doing the thing he loved most: tracking down and studying the world's most poisonous snakes. A colleague recalls the final days of a scientific explorer who believed in risk. By Mark W. Moffett
NASTY, BRUTISH, AND LOUD
As the backcountry echoes with the din of motorized fun vehicles (and the howls of their critics), we follow the noise to West Virginia's Hatfield-McCoy Recreation Area—a newly created off-road Disneyland where ATV mud hogs run wild and free. Yee-haw! By Bill Donahue
D E P A R T M E N T S
Dispatches
Ten months after the royal massacre leveled Nepal's adventure-travel economy, the government is opening 103 new peaks to lure back climbers. Is it safe to return? Plus: Lance Armstrong plays domestique for a frustrated teammate; conservatives turn a biologist's error into a "lynxgate conspiracy"; new books by Judy Blunt, Richard Flanagan, and Sara Wheeler; cinematics paddle for paradise in Valhalla , the latest in extreme kayaking; and this month's RADAR.
THE WILD FILE
Is it ever too cold to snow? Why are there no fireflies in the West? Does drinking hot tea in hot weather cool you down? By Brad Wetzler
DESTINATIONS
Exploring pristine backcountry doesn't have to mean restless sleep and dehydrated camp food. Our guide to the TEN BEST WILDERNESS LODGES in North America proves you can have your remote adventure and live in grand style to boot.
THE HARD WAY
As downpours wash away his shot at a New Zealand summit bid, a lifelong mountaineer wrestles with the sport's toughest question: Is turning back an act of courage, or the ultimate failure? By Mark Jenkins
OUT THERE
On a scuba tour in New Jersey's murky waters, the author pays homage to the sunken S.S. Mohawk—the looted wreck where his family's bad luck began. By Patrick Symmes
REVIEW
Stop the insanity! The latest in lightweight camping gear will shave pounds off your pack. Plus: An all-mountain watch Dick Tracy would love; BMW's Streetcarver skateboard; and more.
BODYWORK
Fear, anxiety, pain, and fatigue—they're the dreaded dark side of sports. But don't panic. Coping with them is easier than you think.