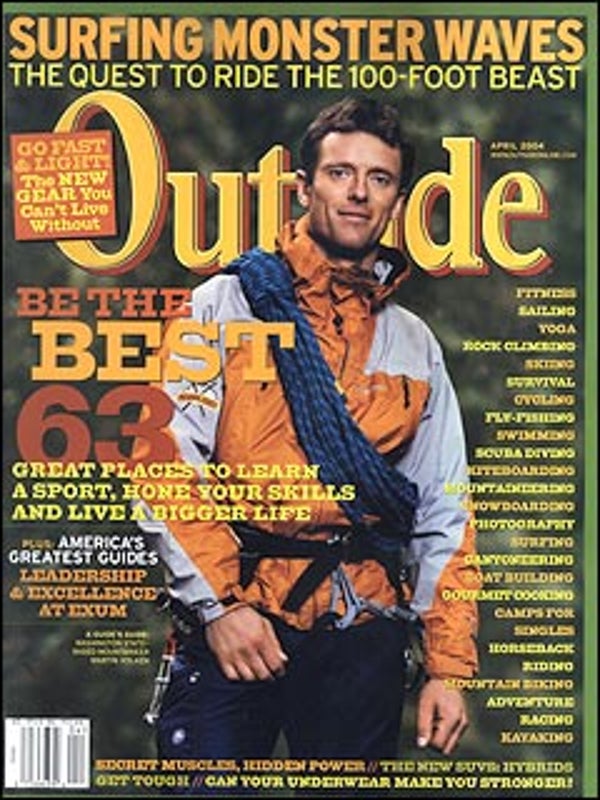 Outside Magazine, Apr 2004
---
F E A T U R E S
SURF & DESTROY
From Australia to Oahu to Hollywood, big waves are hot, and the Billabong Odyssey is riding the moment with a brilliant plan: Hire a rapid-response team of daredevil surfers, give them $3 million to play with, and tell them not to come back until they've conquered the planet's deadliest swells.
By Steve Hawk
THE THRILL OF THE SKILL
It's time to take your enthusiasm up a notch. We've sussed out more than 60 of the country's best adventure camps—cool schools to supercharge your surfing, skiing, cycling, and other sports. PLUS: Camps for singles; wisdom from veteran guides; and where to learn gourmet backcountry cooking, new languages, space walking, and more.
THE HOUSE OF ROCK
Want to join the elite staff at Exum Mountain Guides? Better have a world-class climbing résumé and a client-friendly vibe. If you survive the grueling ten-year apprenticeship, the most coveted rock-jock job in America is yours.
By Kevin Fedarko
WHO'S YOUR DADDY?
Raising three sons to be adventurous and eco-sensitive is great—until they get big enough to howl about your many crimes against nature. One father's tips for coping when your own brood wilds you in the woods.
By Mark Singer
D E P A R T M E N T S
DISPATCHES
High-flying freeriders lead mountain biking's HUCK-FUELED COMEBACK . PLUS: Scrappy enviros plot a massive greenbelt along the old IRON CURTAIN ; finally, HYBRID SUVS are here; the shocking last wishes of KEIKO the killer whale; and more .
THE WILD FILE
What do ants do in the winter? Can rivers flow uphill? What spot in the earth's oceans is farthest from land? Are there any animals that can kill people without touching them?
By Brad Wetzler
DESTINATIONS
The insider's guide to getting wild in southeast ALASKA'S ISLAND MAZE : sailing among icebergs, fishing for salmon, and paddling rocky fjords in the Alexander Archipelago. PLUS: Killer deals on trips to BELIZE and the Rockies; a PHOTO SAFARI ; and more.
OUT THERE
There's a surprising new flare-up in the raging battle over cheating in big-time sports: the SEX CHANGE . Consider the case of Michelle Dumaresq, a feisty pro mountain biker who used to be a man.
By Jon Billman
REVIEW
Bust out of town with SUPERLIGHT EQUIPMENT and clothing designed for the single-day adventure blitz. OUTSIDE STYLE: The perfect suit for the international man of mystery, plus travel-tough watches and shades.
BODYWORK
Pssst! It's high time you paid heed to your SECRET MUSCLES , the all-powerful, oft-overlooked engines that trigger performance breakthroughs. PLUS: Tough-guy undies , and more.